Vietnam News Today (Jan. 6): Vietnam, Cambodia Strengthen Anti-drug Cooperation
Vietnam News Today (Jan. 6): Vietnam, Cambodia strengthen anti-drug cooperation; Fulcrum for Vietnamese economy to see robust growth ahead in 2023; Hanoi offers Thang Long Citadel night tour for foreign visitors; Vietnam aims for growth of 7% during 2021-2030 period.
Vietnam News Today (Jan. 6) notable headlines
Vietnam, Cambodia strengthen anti-drug cooperation
Fulcrum for Vietnamese economy to see robust growth ahead in 2023
Hanoi offers Thang Long Citadel night tour for foreign visitors
Vietnam aims for growth of 7% during 2021-2030 period
HCM City is trendiest Asian destination of 2023
First batch of Cao Phong orange shipped to UK
HCM City cares for disadvantaged people, policy beneficiaries ahead of Tet
RoK – Vietnam's largest foreign tourist source
High-quality human resources to help Vietnam draw more FDI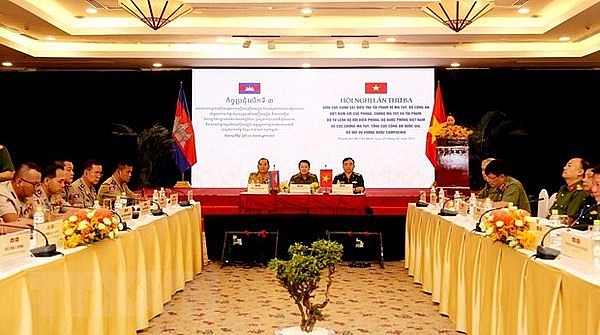 An overview of the conference. Photo: VNA
Vietnam, Cambodia strengthen anti-drug cooperation
Vietnamese and Cambodian anti-drug forces gathered for their third meeting in Ho Chi Minh City on January 5.
Addressing the event, Major General Nguyen Van Vien, Director of the Counter-Narcotics Police Department (C04) ) under the Public Security Ministry, said the cooperation between Vietnam and Cambodia has been fruitful.
Last year, the C04 coordinated with the Anti-Drug Crime Department under Cambodia's Ministry of Interior to raid four major drug trafficking rings. Police in 10 localities along the Vietnam-Cambodia border detected more than 2,000 other cases involving more than 3,000 persons, cited VNA.
Lieutenant General Khing Sarat, Director of the Anti-Drug Crime Department of Cambodia, highlighted the efficiency of information exchange between the two sides at national and local levels in recent years. As a result, Cambodian authorities conducted a spate of successful raids, arrested suspects, and seized a variety of elicit drugs.
He said that in order to further the effectiveness of anti-drug crime activities along the Vietnam-Cambodia border, the Cambodian side will continue to focus on fine-tuning investigation into major cases to hunt down ring leaders. They will also endeavour to strengthen measures to control the import and trading of precursor chemicals to elicit drugs.
Major General Vien said that the two should increase the exchange of drug-related information in a regular, accurate and timely manner through hotlines between the two countries and Border Liaison Offices (BLO) in border localities.
In the time to come, the C04 will coordinate with Cambodian police to conduct joint anti-drug operations and arrest criminals, he said, adding that currently, 16 such criminals are on the run in Cambodia.
Regarding the situation in Ho Chi Minh City, Colonel Hoang Tam Hieu, Deputy Director of C04, said that the main source of drugs in the city is from the "Golden Triangle" area through Cambodia and smuggled across the border into Vietnam to be sold inside the country, especially Ho Chi Minh City, and transported to third countries and territories such as Australia, Taiwan (China) and Japan.
He said that recently, many foreigners, mostly Taiwanese, have abused Vietnam's openness and loopholes in entry-exit and import-export management to form fake companies to produce and sumggle drugs.
Fulcrum for Vietnamese economy to see robust growth ahead in 2023
Last year saw the local economy overcome unprecedented fluctuations caused by the COVID-19 pandemic, political conflicts, and a global economic crisis, although it was able to recover strongly, thereby becoming a bright spot for the regional and global economy.
That represents the fulcrum for the Vietnamese economy as it seeks to accelerate and develop, not only in the 2023 but also in the 2021 to 2025 period. Despite these ambitions, many economic forecasts hint that the difficulties and challenges ahead are even greater than those posed last year.
In its latest report, the International Monetary Fund (IMF) forecasts that this year will see 143 economies, accounting for 92% of global GDP, become weaker than expected.
The world's three largest economies, including China, the EU, and the United States, will all slow down significantly, whilst the risk of recession amid high inflation and increasing political instability remains present, according to VOV.
The nation's economy will not be able to remain unscathed with such macroeconomic challenges, especially when the economic openness is more than 200% of GDP. Despite facing plenty of difficulties and challenges ahead, the nation is still confidently entering 2023 with new expectations.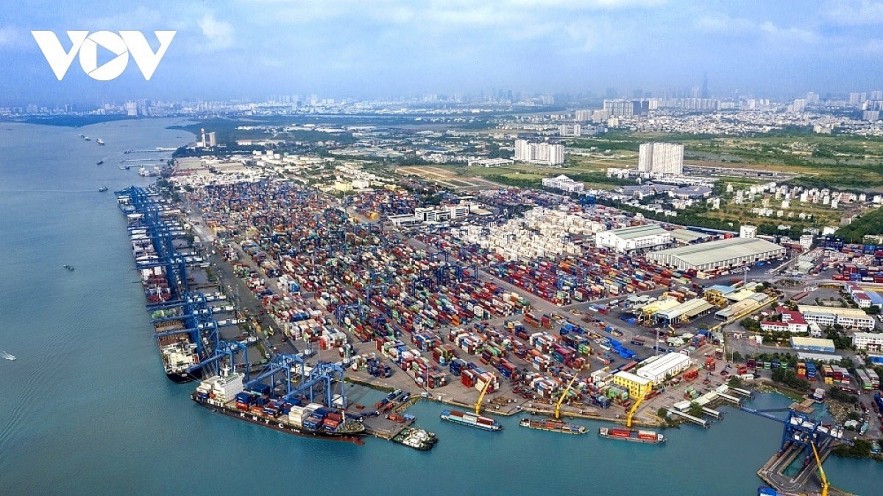 Photo: VOV
The country has solid fulcrums which serve as a foundation for the national economy to continue to recover and accelerate moving forward, with the nation boasting an economy of more than US$400 billion, with a growth rate of 8.02% recorded in 2022, the highest in more than a decade.
From 2020 to 2021 the Vietnamese economy struggled with numerous difficulties as it tried to adapt to maintain production and business activities in parallel with pandemic prevention and control, with 2022 witnessing a strong recovery.
The scale of Vietnamese goods being traded exceeded the US$700 billion mark to reach more than US$730 billion in 2022, with a surplus of more than US$11.2 billion. Notably, per capita income in 2022 soared by 9.5% compared to 2021.
Most of all, the effort and determination of an acting and brave Government, the consensus of the entire political system, and country's position internationally is continuously being strongly affirmed and consolidated.
There are many fulcrums and many opportunities for 2023, a pivotal year in the five-year plan from 2021 to 2025, with a series of solutions set to be implemented to resolve difficulties and challenges and to take advantage of opportunities for further development in the time ahead.
Growth drivers, including investment, import and export activities, consumption, institutional reform, and the improvement of the business and investment environment will also be promoted.
As a means of creating foundations to boost the acceleration and development of the economy, the National Assembly has decided to spend more than VND700,000 billion on public investment. Strategic infrastructure projects, especially key transport infrastructure, such as the North-South Expressway in the East, coastal roads, belt road construction projects in Hanoi and Ho Chi Minh City, dynamic projects on airports, railways, and waterways, will also be implemented.
This will not only create a growth engine for the year ahead, particularly as the Vietnamese economic growth still depends heavily on investment, but more importantly, will also contribute to gradually synchronise and modernise the infrastructure system. This will create new corridors and development spaces for the economy in the time ahead.
The Socio-Economic Development and Recovery Program will also continue to be accelerated in 2023 to help reduce costs and support cash flow for production and business activities.
Along with these factors, there will also be "supportive" policies put in place for people and the business community as they seek to overcome difficulties, such as reducing value-added tax, and environmental protection tax for gasoline.
Opportunities are also being opened, with China making initial moves to reopen its economy. The country's trade and investment will therefore have new advantages, especially when the nation is a leading trade and investment partner of many major economies.
Moving forward, 2023 will certainly see an array of challenges. However, with three years of experience in overcoming issues ranging from the COVID-19 pandemic, the Government's consistent and flexible management of the pandemic, and the unity of the entire political system, the whole country is steadily moving forward with new opportunities for stronger development.
Hanoi offers Thang Long Citadel night tour for foreign visitors
Foreign tourists now can enjoy a 120-minute night tour at the Thang Long Imperial Citadel in Hanoi, which promises enticing cultural, culinary and architectural experiences.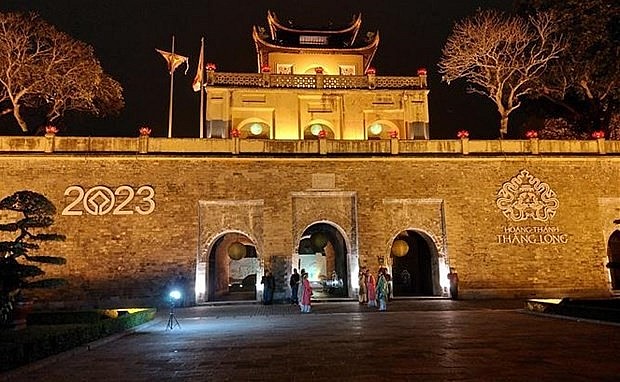 The citadel at night. Photo: VNA
The Thang Long - Hanoi Heritage Conservation Centre freshly launched the new journey around the capital's renowned royal space on January 4. It begins at 6pm every Tuesday and Thursday or according to the pre-booked tour schedule.
Travellers are set to depart from Doan Mon (Main Gate), the entrance to Cam thanh (Forbidden area) – the King's residence. Their evening path will include a visit to an archaeological excavation area, an exhibition hall of rare antiquities with some dating back over 1,000 years, the Kinh Thien Palace, and the archaeological site at No. 18 Hoang Dieu street.
The foreign visitors will also be treated to a puppetry show, a royal meal under the canopy of the Bodhi tree, and souvenir products representing luck and prosperity, among many other features, VNA reported.
Earlier, when Vietnam fully reopened its tourism in April last year, the centre launched a night tour for domestic visitors available every weekend and receiving high evaluation from attendees.
The citadel, a complex of historic imperial buildings located in the centre of Hanoi, was first constructed in 1011 under the reign of King Ly Thai To of the Ly dynasty (1009 – 1225). The site, one of the ten special national heritage sites proclaimed by the Prime Minister in 2009, was inscribed on the World Heritage List by UNESCO's World Heritage Committee in 2010. Its outstanding universal values are reflected in its historical longevity, its continuous role as a seat of power, and its multiple cultural layers.
Vietnam aims for growth of 7% during 2021-2030 period
Vietnam is targeting an annual average economic growth of 7% during the 2021-2030 period, according to a draft of the national master plan presented at an extraordinary session of the National Assembly on January 5.
By 2030, the country's GDP per capita is expected to reach 7,500 USD and the digital economy will account for 30% of GDP, said Minister of Planning and Investment Nguyen Chi Dung, who was tasked with presenting the plan.
During the 2031-2050 period, Vietnam will strive to record an annual economic growth of 6.5-7.5% and raise the GDP per capita to 27,000-32,000 USD, making Vietnam a developed country with high income.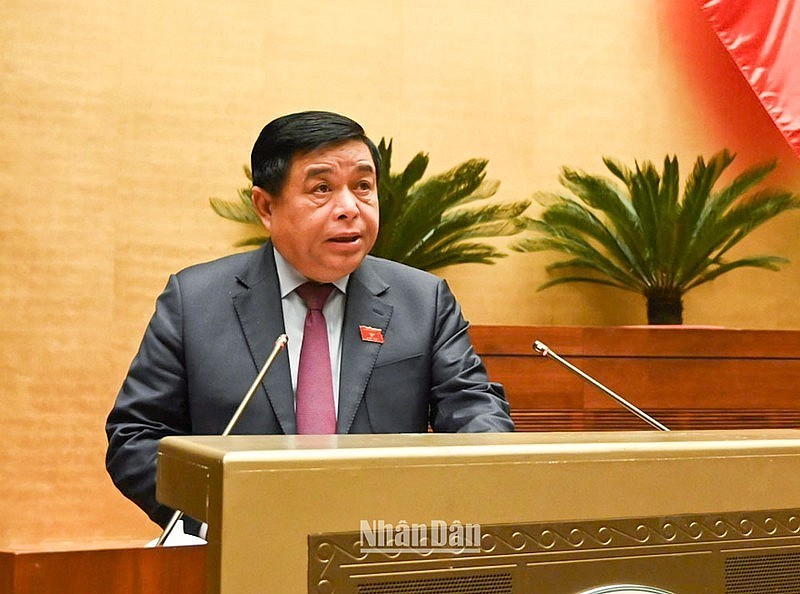 Minister of Planning and Investment Nguyen Chi Dung. Photo: NDO
According to the draft plan, the national development space must be organised in an effective and unified manner, ensuring intra-regional linkages, and focusing on several areas with advantages in terms of geographical location, socio-economic infrastructure and high-quality human resources.
The plan also calls for harmony between rural and urban areas, connecting the land area and the marine space, and linkages between domestic and international economic corridors, cited NDO.
To realise the set goals, the plan outlines several groups of tasks, including forming the national infrastructure framework, pushing through economic restructuring and developing economic corridors along the north-south axes, east-west economic corridors, coastal economic belts and industrial-urban-service belts in major urban centres.
In his presentation, Minister Dung also gave a summary of the development orientations and space distribution of key industries, the space organisation orientations by region and the national urban system development orientations.
Travel off Path: HCM City is trendiest Asian destination of 2023
Ho Chi Minh City has been named as the trendiest Asian destination this year, as compiled by famous United States-based travel website Travel off Path.
According to information given by the website, although Asia has yet to fully reinstate normality like in Europe, there's no denying that the situation is in a much better place now than it was at the beginning of the year.
For instance, it added that several Asian countries which had completely banned tourism in response to the health crisis now welcome them back with open arms, without all of the usual pandemic-era bureaucracy.
Based on popular online travel agency Kayak's recent data, Travel off Path released the top seven Asian destinations for visitors to consider in the upcoming year.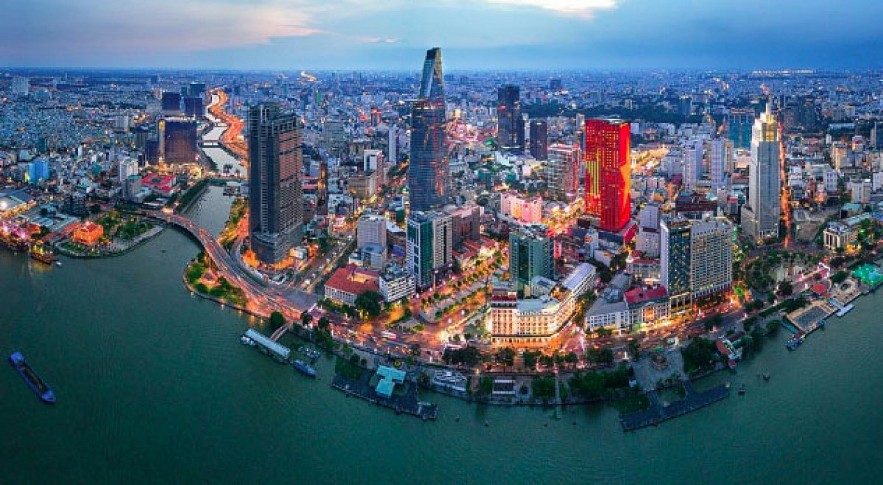 Ho Chi Minh City is the trendiest Asian destination of 2023. Photo: Internet
Ho Chi Minh City topped the list to be named as the trendiest Asian destination for 2023, becoming the most sought-after destination overall, cited VOV.
According to details given by the travel website, when visiting tourists will be able to enjoy a wide assortment of architectural influences, such as Buddhist, French colonial, and Communist-era modernist.
It also quoted Kayak searches as sayings that Ho Chi Minh City is an absolute leader with a staggering 769% increase in clicks, 480% more compared to Taipei in Taiwan (China), the Vietnamese city's closest competitor.
"Americans are heading to Vietnam in droves in 2023, and we can understand why: COVID regulations no longer apply, international flights have resumed, and most importantly, it is perfectly safe to visit," Travel off Path stressed.
Rounding off the list of the top seven trending destinations were Tel Aviv of Israel, Tokyo of Japan, Bangkok of Thailand, Hong Kong (China), Singapore, and Taipei of Taiwan (China).