Vietnam News Today (Jan. 6): Vietnamese Field Hospital, MSF Save Lives in South Sudan
Vietnam News Today (Jan. 6): Vietnam confirms 16,997 new Covid-19 cases; HCM City optimistic about tourism recovery; Vietnamese field hospital, MSF save lives in South Sudan; Coach Park to make major national team changes.
Vietnam News Today (Jan. 6) notable headlines
Vietnam confirms 16,997 new Covid-19 cases
HCM City optimistic about tourism recovery
Vietnamese field hospital, MSF save lives in South Sudan
Coach Park to make major national team changes
Program supports children affected by Covid-19
Vietnam supports US to overcome natural disaster consequences
Viettel's technological inventions earn exclusive patents in US
Improvements in traffic safety recorded nationwide in 2021
Construction on projects linked to Tan Son Nhat airport to start this year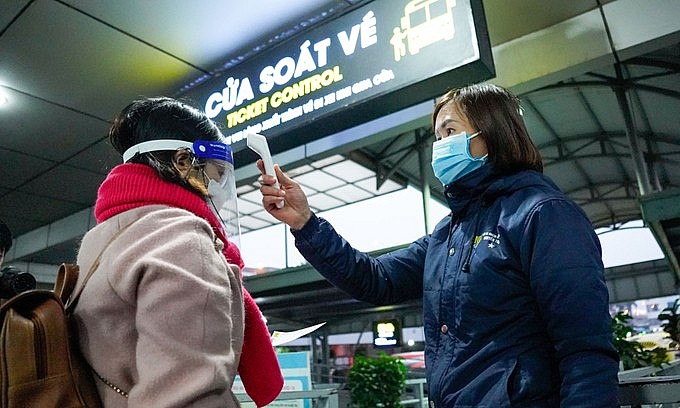 A staff checks temperature of a bus passenger at Nuoc Ngam Bus Station in Hanoi, December 31, 2021. Photo: VnExpress
Vietnam confirms 16,997 new Covid-19 cases
The Health Ministry announced 16,997 new domestic Covid-19 patients Wednesday in 63 cities and provinces, down 4,699 cases from Tuesday.
Most of the new cases were detected in Hanoi, at 2,505. It was followed by Tay Ninh with 862 cases and Hai Phong, 792 cases.
In the past 24 hours, 230 Covid-19 patients have died, including 25 in Ho Chi Minh City, cited VnExpress.
Since the pandemic started last year, the death toll in Vietnam has climbed to 33,475, or 1.8 percent of all infections.
In the latest wave that hit the country in late April, more than 1.81 million cases have been confirmed and 1.44 million of them have recovered.
So far, 69.8 million people, or over 72 percent of the population, have been fully vaccinated.
HCM City optimistic about tourism recovery
Following the successful launch of New Year tours, tourism agencies in Ho Chi Minh City are upbeat about local tourism recovery in the first quarter of 2022, especially in the period leading up to the coming lunar New Year holiday (Tet).
Positive signs for HCM City tourism
The number of travelers interested in inter-province tours has increased sharply over recent days, said a representative of TSTtourist Company, reported by Tuoi Tre newspaper.
From now until the end of the week, a total of 20 Lunar New Year tours are set to be launched by the company, revealed the representative.
Similarly, other travel firms such as Saigontourist, Vietravel, and Fiditour have also received bookings from domestic visitors who are keen to depart from HCM City to other northern provinces such as Dien Bien, Sa Pa, and Quang Ninh.
Tran Thi Bao Thu, director of marketing and communications at Fiditour Travel Joint Stock Company, shared that tourism demand during the New Year holiday picked up thanks to good weather coupled with attractive tour prices. The company has worked alongside its partners to attract visitors with discounted packages and promotions.
""I hope the Covid-19 pandemic will be well controlled during the coming Lunar New Year so that travel companies can implement their business recovery plans and improve their products and services," Thu said.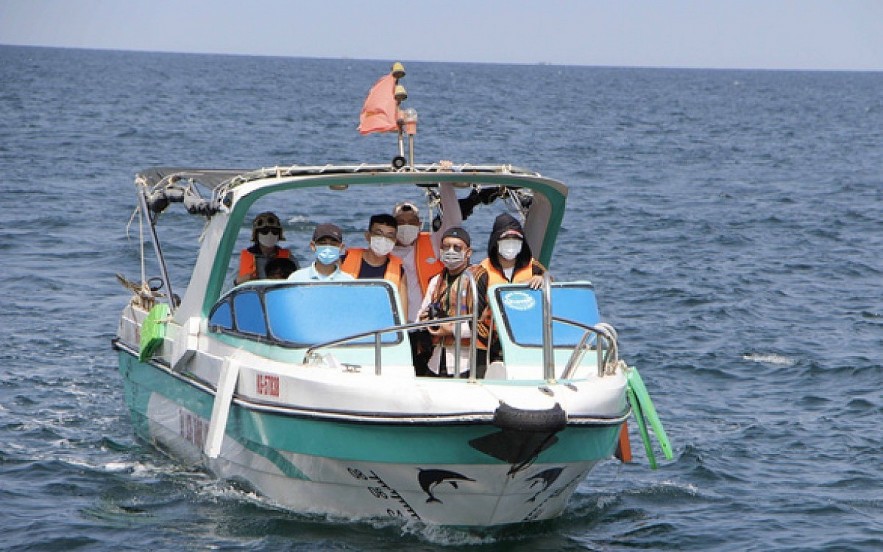 Phu Quoc island welcomes over 26,000 holidaymakers during the three-day New Year holiday. Photo: Tuoi Tre
Meanwhile, Saigontourist has also coordinated with Vietnam Airlines to launch a Flash Sale program that offers customers three-day combo packages worth from only VND2.68 million. Visitors will therefore have the chance to stay in four-or-five star-hotels and resorts in HCM City and other attractive destinations.
Localities to seize the chance
In order to welcome visitors during the Tet holiday, Ong De Ecological Tourism Village in Can Tho City has invested in a film studio. The site is notable for featuring three themes, including Spring 2022, Weddings, and Da Lat for guests to check in. In addition, 3,000 baskets of raspberry flowers and Da Lat chrysanthemums are also being put on display in the village to create a spring atmosphere in which visitors can enjoy.
Elsewhere, Dong Thap and Kien Giang provinces are also well-prepared to welcome a huge number visitors during the country's most important festival of the year.
Bui Quoc Thai, director of the Kien Giang Department of Tourism, said that the province received roughly 37,000 visitors during the three-day New Year holiday, with Phu Quoc island welcoming over 26,000 holiday-makers.
Vietnamese field hospital, MSF save lives in South Sudan
Staff members of Vietnam's third level-two field hospital at the United Nations Mission in South Sudan (UNMISS) have recently assisted doctors at a hospital run by the Médecins Sans Frontières/Doctors Without Borders (MSF) in conducting a successful caesarean section for a mother with severe kyphosis.
Receiving a request from the MSF hospital for support on January 3, an operation team of four Vietnamese doctors was immediately sent to the scene.
The 35-week pregnant woman, 22, was having a fetal distress. Her kyphosis condition as the sequelae of spinal tuberculosis made it hard for doctors to perform the surgical operation. The patient could neither lie on her back in the normal position nor receive spinal anesthesia. Therefore, doctors decided to employ endotracheal anesthesia using a rudimentary ventilator system, with the anesthesiologist team continuously squeezing the balloon by hand during the nearly two hour surgery.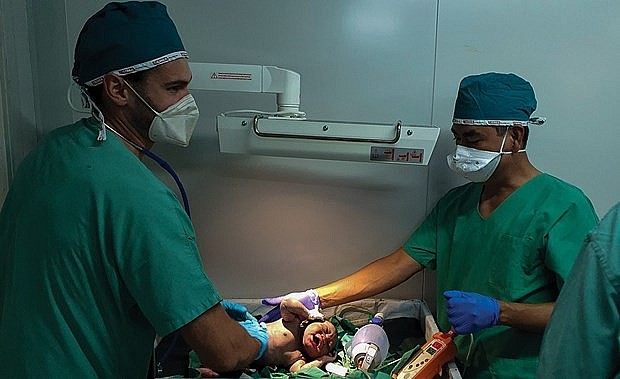 The 4kg South Sudanese baby boy is crying following 15 minutes of active neonatal resuscitation after his birth. Photo: Vietnam's third level-two field hospital at UNMISS
The surgical team delivered a 4kg baby boy who did not cry. After 15 minutes of active neonatal resuscitation, he finally cried out, filling the operation room with joy.
According to Nguyen Thanh Nam, head of the surgical department of the third level-two field hospital, his hospital was facing many challenges due to a shortage of human resources. Some members with Covid-19 were being isolated for treatment and one quarter of the staff was on leave, according to VNA.
Pou James, a staff member at the operating room of the MSF hospital, said he is very impressed with the Vietnamese surgical team for their professional manner and willingness to save the lives of local people.
The UNMISS Chief Medical Officer sent a letter to acknowledge the contribution of Vietnam's level-two field hospital No. 3, asking the facility to continue assisting the MSF hospital in other surgeries.
On October 1, 2018, Vietnam deployed its first level-two field hospital with 63 staff members to the UN peacekeeping mission in South Sudan in October 2018. The third hospital of this kind began their mission in April last year.
Coach Park to make major national team changes
Head coach Park Hang-seo will implement big changes in the national team after their AFF Cup failure, starting with the captain.
"I want to make some changes. Que Ngoc Hai will no longer be captain of the national team. I want him to focus on the field more," Park said.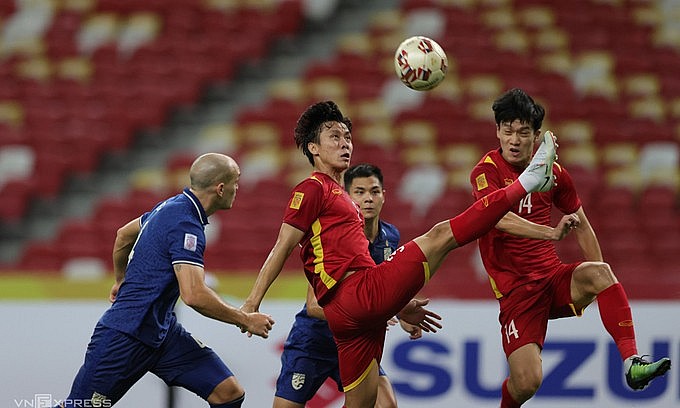 Que Ngoc Hai in an attempt of clearance during the first leg of AFF Cup between Vietnam and Thailand on December 23, 2021. Photo: Leo Shengwei
Although Park hasn't announced the new choice for captain, he affirmed big changes are coming to the national team.
"There will be players who won't get called up anymore," he added.
Hai, 28, is one of Vietnam's best defenders at the moment. In 2018, he was called up for the AFF Cup. After the team won the tournament, he wore the captain's armband of the national team in the next big competitions from 2019 to 2021.
In AFF Cup 2020 last month, Hai fulfilled his role and helped the team make it past the group stage without conceding. In the first leg of the semifinals against Thailand that Vietnam lost 0-2, Hai experienced a controversial situation when he kicked the ball into Supachok Sarachat's face when the latter lay down on the field. He didn't receive any punishment for the act, cited VnExpress.
Recently, Hai had parted ways with capital club Viettel FC and returned to his hometown club Song Lam Nghe An.
The national team will return to training for the next World Cup qualifying game against Australia on Jan. 27 and China on Feb. 1. After six consecutive losses, Vietnam are at the bottom of group B.
Program supports children affected by Covid-19
The 2022 "Mua xuan cho em" (Spring for Children) program will target children affected by the Covid-19 pandemic, heard a press conference in Hanoi on January 15.
In its 15th edition, the program is scheduled to be held at the Hanoi Opera House on January 9 night, the National Fund for Vietnamese Children (NFVC) under the Ministry of Labour, Invalids and Social Affairs (MoLISA) said at the press conference.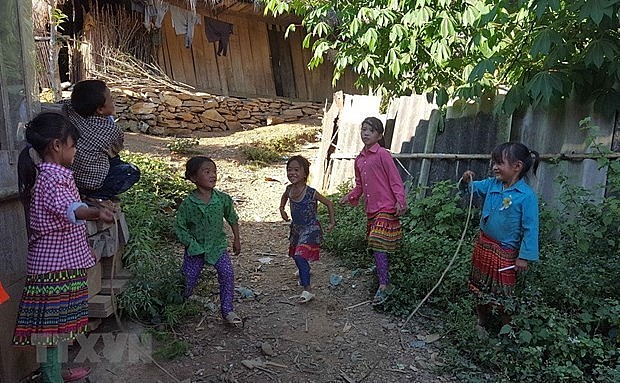 Photo: VNA
The event is expected to receive nearly VND80 billion (US$3.51 million) from organizations, individuals, businesses and donors at home and abroad to support needy children.
NFVC Director Hoang Van Tien said since its inception, the program has mobilized more than VND1.2 trillion and provided help for nearly 1 million children, VNA reported.
The January 9 event aims to call for support to orphans in general and those who have lost their parents to COVID-19 in particular, he noted.
Last year, the fund mobilized more than VND92 billion and assisted 115,000 children affected by the pandemic through different programs and projects like building classrooms and entertainment areas, financing surgeries and presenting bikes and scholarships to the disadvantaged children.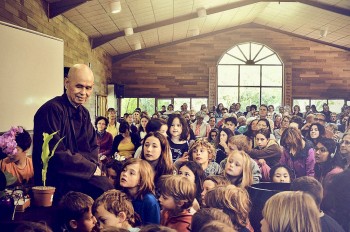 Viet's Home
The master of meditation "passed away peacefully" at the Tu Hieu Temple in Hue – where his spiritual journey began and Vietnam's Buddhist heartland, the Plum Village Community of Engaged Buddhism said.