Vietnam news today (January 3): Numerous key Vietnamese products to enjoy advantages from UKVFTA
Vietnam news today (January 3) features news include new Covid-19 variant detected in Vietnam, EVN to digitize all facilities on transmission lines by 2022, draft tightens insurers' responsibility, Vietnamese products to enjoy advantages from UKVFTA.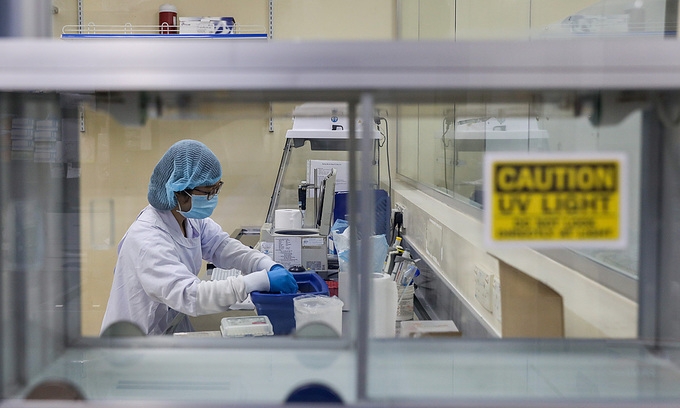 A medical worker tests novel coronavirus samples in a lab in HCMC, April 2020. (Photo: VNE)
Viet Nam reports new Covid-19 variant first seen in UK
The National Steering Committee for Covid-19 Prevention and Control said Saturday that it had found an infection case with new and more transmissible variant of the virus that first emerged in the UK.
The aforesaid case is a 44-year-old woman in Nguyet Hoa Commune, Chau Thanh District of the Mekong Delta province of Tra Vinh, VGP reported.
She was among 305 passengers onboard the flight VN50 from the UK that landed at the Can Tho International Airport on December 22.
She was confirmed positive for Covid-19 on December 25, 2020 and have been treated at the Tra Vinh Hospital for Tuberculosis and Lung Diseases.
Her husband, who is living in the UK, had tested positive for Covid-19, according to the National Steering Committee.
Also on December 25, the National Steering Committee urged domestic research institutes to promptly coordinate with foreign partners to clarify whether the UK's new Covid-19 variant had entered Viet Nam.
EVN to digitize all facilities on transmission lines by 2022
The Vietnam Electricity Group (EVN) is planning to have all equipment on transmission lines and 80 percent of 110 kV circuit facilities digitized from now to 2022.
By 2025, EVN will have digitized 100 percent of facilities on medium- and higher-voltage power lines, according to EVN Chairman Duong Quang Thanh.
As reported by Nhan Dan, the group will press on with applying digital technologies like Internet of Things, big data, and cloud computing, he said, noting that it will use artificial intelligence (AI) in monitoring and examination and make use of photo taking devices and smart drones to repair lines.
It will continue research on building information models and digital worker platforms to serve its staff while developing AI applications for image analysis and data governance, according to VNA.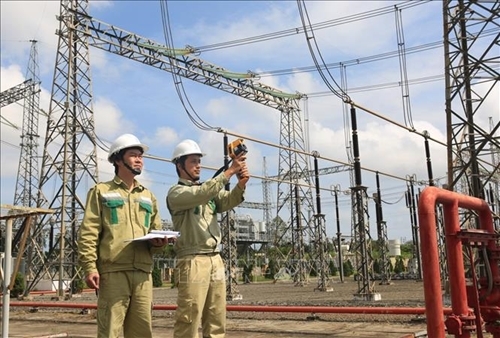 By 2025, EVN will have digitized 100 percent of facilities on medium- and higher-voltage power lines (Photo: VNA)
Draft tightens insurers' responsibility for indemnifying motor vehicle owners
The Ministry of Finance (MOF) has proposed changes to Decree 103 of 2008 regarding compulsory civil liability insurance of motor vehicle owners. Specially, the draft decree revises current provisions on validity period of insurance certificates, indemnity procedures, and insurers' responsibility for compensation and insurance limits.
Flexible regulations on validity period of insurance certificates
For the sake of convenience of both the insured and insurance companies, the draft proposes that civil liability insurance certificates of motorbike owners would be valid for one year to three years. For automobiles, the minimum validity period of insurance certificates would be one year while the maximum period would correspond to the validity period of vehicles' technical safety and environmental protection inspection certificates. When joining traffic, vehicle owners must carry their valid insurance certificates and show them to traffic police and other competent functional agencies when requested.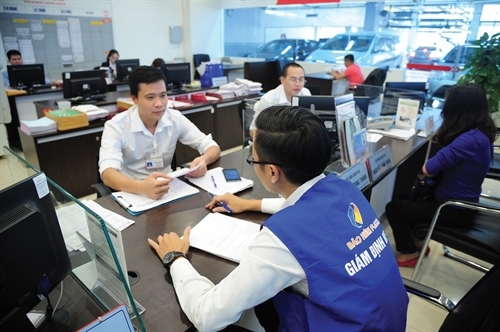 (Photo: Vietnam Law Magazine)
Simplification of indemnity procedures
In case of non-fatal injuries, insurance companies may themselves compile indemnity dossiers without having to collect relevant documents from state authorities. Such a dossier comprises documents related to the motor vehicle and driver concerned, documents proving damage to life, health and/or property of the insured and a record of inspection of the cause of the accident and degree of damage, made by the insurance company after reaching agreement with the insurance buyer and the insured. However, in case of fatal accidents, insurers would have to collect copies of accident-related documents from related state agencies, mostly public security agencies.
When an accident occurs, a motor vehicle owner would immediately report the accident to not only his insurer but also the nearest police office or local administration for joint handling while seeking measures to rescue the injured, mitigate damage and protect the accident scene.
Insurers' compensation responsibility and insurance limits
The draft emphasizes that insurance enterprises would have to closely coordinate with vehicle owners or drivers and the third party to identify causes of the accidents and determine the degree of damage. Insurers would have to cover all expenses for damage assessment.
Within three working days after receiving a notice of accident from its client, an insurance company would make advance payment of compensation to help the victim(s) (the third party) pay medical examination and treatment expenses, according to Vietnam Law Magazine.
Numerous key Vietnamese products to enjoy advantages from UKVFTA
The nation looks set to enjoy a wealth of opportunities to increase export turnover of numerous key products to the UK through the enforcement of the UK – Vietnam Free Trade Agreement (UKVFTA).
According to the Ministry of Industry and Trade (MoIT), 2019 saw the UK mainly import garment products, such as suits, jackets, blazers for women or girls, outerwear, gowns for women or girls, tights, pullovers heads, cardigans, giles, and similar items from the Vietnamese market.
With regard to footwear, despite ranking second in the world in terms of exports, Vietnamese footwear exports only account for 8% of global export turnover, while China makes up roughly 40%.
Concerning seafood products, the MoIT assessed that the country enjoys advantages in experience, production capacity, and abundant supply. Import demand for the UK's seafood products remain fairly large, at roughly US$4.4 billion annually, while the country's export value accounts for only 6.7%.
Vietnamese frozen tra fish, also known as pangasius, could be a benefactor of greater export opportunities to the UK as the nation is the leading supplier of the product, offering reasonable prices, whilst the production process of many Vietnamese firms is accepted by both the EU and UK markets.
For wood products, the UK represents a market that needs to import a large number of finished products and timber materials each year, whilst the country is currently the sixth largest wooden furniture exporter in the world with an export value of US$421.8 million, holding 3.6% of the UK's import market share, VOV reported.
Hanoi FC signs Brazilian forward from Viettel FC
Brazilian forward Bruno Cantanhede has joined Hanoi FC from city rivals Viettel FC on a two-year contract.
Bruno Cunha Cantanhede, or simply Bruno, has been in Hanoi's sights since the end of V. League 2020, pending contract expiry.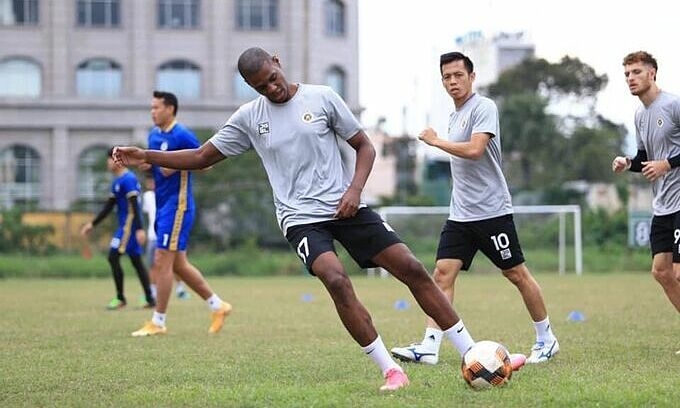 Bruno Cantanhede (with the ball) during a training session of Hanoi FC. (Photo courtesy of Hanoi FC)
The 27-year-old forward joined Viettel in mid-2019. In only 14 games of V. League 2019, he netted 15 goals and became the top scorer of the season. Although his form dropped in 2020 with only nine goals, he helped Viettel beat Saigon FC by 1-0 in the last game of the season to win the V. League 2020 title on Nov. 8.
After losing the V. League title to Viettel, Hanoi boosted their firepower by recruiting Brazilian attacking midfielder Geovane Magno from Saigon FC. In addition to two new foreign attackers, they also signed a few domestic players and called back many talents on loan to Saigon, Hong Linh Ha Tinh and Quang Nam FC last season. Hanoi will start the new season in the Super Cup game with Viettel on Jan. 9, VNE said.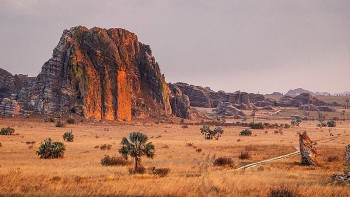 World
Madagascar is an island country lying off the southeastern coast of Africa, and is also the fourth largest island in the world, after Greenland, New Guinea, and Borneo.