Vietnam News Today (Jul. 5): Vietnam Remains Among Major Global Production Facilities
Vietnam News Today (Jul. 5): Vietnam's strong economic recovery grabs international headlines; Vietnam to send 155-strong delegation to 11th ASEAN Para Games; Typhoon Chaba not hit Vietnam, weakens to tropical depression; Vietnam remains among major global production facilities.
Vietnam News Today (Jul. 5) notable headlines
Vietnam's strong economic recovery grabs international headlines
Vietnam to send 155-strong delegation to 11th ASEAN Para Games
Typhoon Chaba not hit Vietnam, weakens to tropical depression
Vietnam remains among major global production facilities
Vietnam wins 13 awards at "Two country circuit" photo contest
Vietnam, Cambodia to maintain effective cooperation in every field
Ho Chi Minh City proposes int'l transit terminal in Can Gio district
Vietnamese leaders send congratulations to US on 246th Independence Day
Aquatic exports reach nearly US$5.8 billion first half of 2022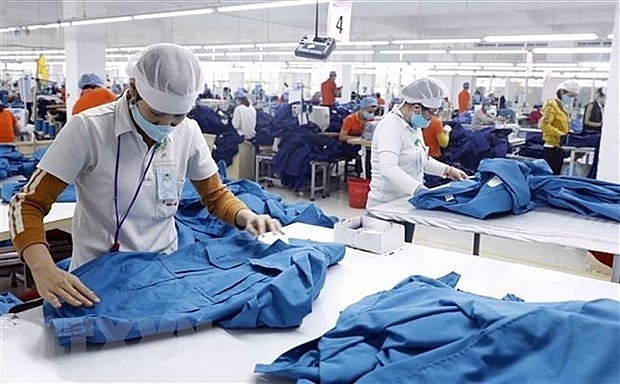 Photo: VNA
Vietnam's strong economic recovery grabs international headlines
International media outlets have made an in-depth analysis of Vietnam's strong economic recovery in the first half of the year, noting the local economy is gradually securing pre-Covid pandemic growth.
In its recently published article, Japan's Nikkei Asia highlighted Vietnam's robust export growth, especially of garments and textiles. The article said Vietnam's garment and textile exports were projected to hit all-time high of US$22 billion in the first six months of the year, up 23% from a year earlier.
Meanwhile, Channels News Asia reported that the Vietnamese economy grew at the fastest pace for 11 years in the second quarter. It quoted the General Statistics Office of Vietnam, saying the national economy expanded by 7.72% in the second quarter and 6.42% in the first half of the year.
It also quoted the World Bank, saying Vietnam's economic recovery "remains strong" despite uncertainties caused by the ongoing Russia-Ukraine conflict, Covid-19 lockdowns in China and inflationary pressure.
Dorsa Ti Madani, the World Bank's Chief Economist in Vietnam, attributed Vietnam's impressive growth to a big rebound in exports, the gradual recovery of domestic consumption and the lifting of Covid-19 restrictions.
Alain Cany, chairman of the European Chamber of Commerce in Vietnam (EuroCham), also praised Vietnam's economic achievements, pointing to the fact that its economy performed better than regional peers, especially in the domestic manufacturing sector. He stressed that the government intervened quickly to reduce the environmental protection tax on fuels to help keep inflation under control.
In its article, newswire Borneo Bulletin described Vietnam's foreign direct investment (FDI) attraction as a bright spot in the overall prosperous economic picture. Titled "Vietnam's economy is recovering strongly", Borneo Bulletin said the opening five months of the year saw Vietnam attract US$7.71 billion in FDI, up 7.8% compared to same period last year.
The article also outlined that Vietnam is required to exert a greater effort to enhance its competitiveness and retain FDI inflows.
Sharing the same perspective, Prof. David Daoice from Harvard University underlined the need to increase competitiveness to both retain and continue to attract FDI inflows by engaging deep in the global value chain amid the global trend of production shifting,
He revealed that Toyota has partnered with Vietnamese companies to purchase components for its automobile production while Apple also unveiled plans to move their iPad production line to Vietnam.
The International Monetary Fund (IMF) has recently forecast that Vietnam would surpass Malaysia, Philippines, abd Singapore to become the third largest economy in Southeast Asia with a GDP reaching more than US$571 billion by 2025.
These remarkable achievements are expected to give fresh impetus to the growth of Vietnamese economy in the remaining months of the year and next year despite challenges of inflation and global economic fluctuations ahead.
Vietnam to send 155-strong delegation to 11th ASEAN Para Games
The Vietnamese delegation to the approaching 11th ASEAN Para Games is set to comprise 155 members, including 122 athletes, according to the National Sports Administration.
With 14 sports, the 11th ASEAN Para Games is scheduled to take place in Indonesia from July 26 to August 7, according to NDO.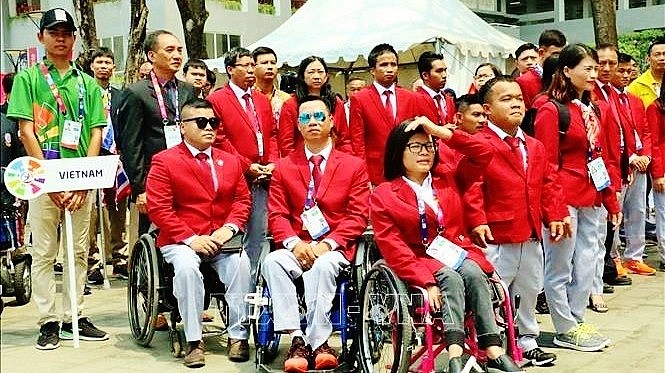 Vietnamese athletes attend the flag hoisting ceremony of the 9th ASEAN Para Games in Malaysia in 2017. Photo: VN
Apart from the 122 athletes, the delegation will also include 18 coaches, two doctors, and 13 cadres. They will compete in eight sports, namely athletics, swimming, powerlifting, badminton, table tennis, chess, judo, and archery.
The administration said the athletes of Vietnam have made thorough preparations, and all are determined to achieve the best possible results to gear up for the fourth Asian Para Games in China's Hangzhou and the Paris 2024 Paralympic Games.
They will also have a chance to learn from and enhance solidarity with other Southeast Asian countries, it noted.
A send-off ceremony for the delegation is expected to take place at the National Sports Training Centre in Ho Chi Minh City on July 23.
Typhoon Chaba not hit Vietnam, weakens to tropical depression
Typhoon Chaba weakened into a tropical depression on July 3 morning, moving north of northwest with its eye located in the south of China's Guangxi province, which borders northern Vietnam.
At around 4am, its wind speed fell to below 39km per hour, according to the National Centre for Hydro-Meteorological Forecasting (NCHMF).
The north-western and north-eastern provinces should expect scattered thunderstorms and downpours, with rainfall from 10 – 30mm, and even 50mm in some locations, on the July 3 evening and night, reported VOV.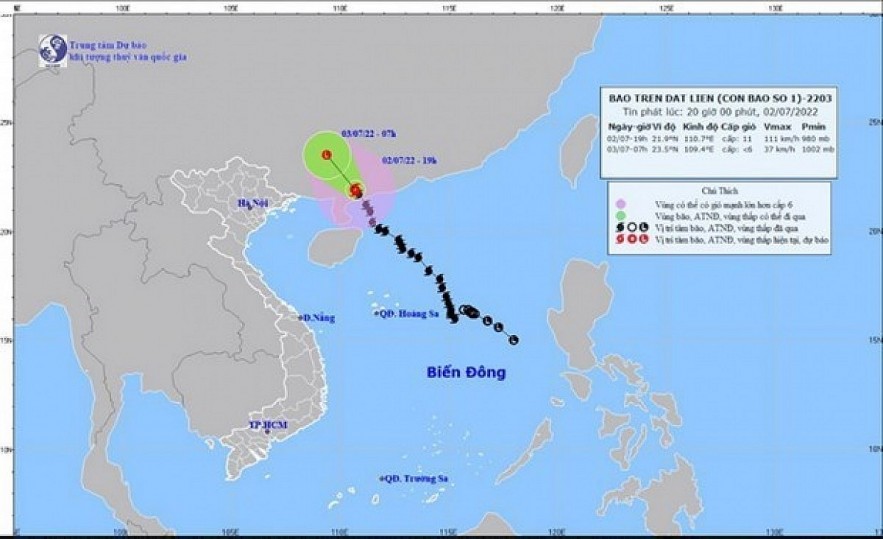 Typhoon Chaba weakens into a tropical depression on July 3 morning. Photo: NCHMF
From July 4 – 7, the north will be likely to see heavy rain, the NCHMF forecast, adding that there is the possibility of tornadoes, lightning, hail and strong winds.
The mountainous northern provinces are at risk of being struck with flash flood and landslides, it said. Flooding is also expected at low-lying areas.
Vietnam remains among major global production facilities
The nation continues to be "named" in the list of major global production facilities, with six-month export turnover reaching US$185.94 billion, marking a year-on-year rise of 17.3% and a trade surplus of more than US$ 700 million.
Numerous export items see strong growth
Despite suffering the negative impacts of the Covid-19 pandemic, the Russia-Ukraine conflict that pushed the prices of raw materials and input fuels to unprecedented highs, difficult international freight transport, the nation's export activities enjoyed strong growth during the first half of this year.
According to data compiled by the General Statistics Office, the first half of the year saw export turnover reach US$185.94 billion, an increase of 17.3% compared to the same period from last year, while import turnover hit US$185.23 billion, up 15.5% on-year.
The balance of trade in goods recorded a trade surplus of roughly US$710 million, with 28 items with export turnover of over US$ 1 billion, accounting for 90.6% of the country's overall export turnover.
Major export sectors recorded positive growth, despite some times facing scarcity of input materials, cited VNN.
Truong Van Cam, vice chairman of the Vietnam Textile and Apparel Association (Vitas), said that during the reviewed period, Vietnam supplied textiles and fibers valued at US$22.3 billion globally, representing a year-on-year increase of 23%, while import turnover stood at US$13.44 billion and trade surplus hit US$8.86 billion.
The group of phones and components maintained export turnover of nearly US$28.6 billion, up 14.1% on year; computers and components reached US$27,064 billion, up 13%; machinery, equipment and other spare parts increased by 24.3% to US$ 21.3 billion; footwear reached US$12 billion , up 14.4% on year.
The group of farm produce also brought in nearly US$28 billion, up 13.9% over the same period in 2021, with a trade surplus of US$5.57 billion.
These figures show that Vietnam has become a large-scale and difficult-to-replace commodity supply address in the global market.
Vietnam continues to be one of the top countries in Southeast Asia for FDI attraction, especially in the manufacturing sector, according to HSBC.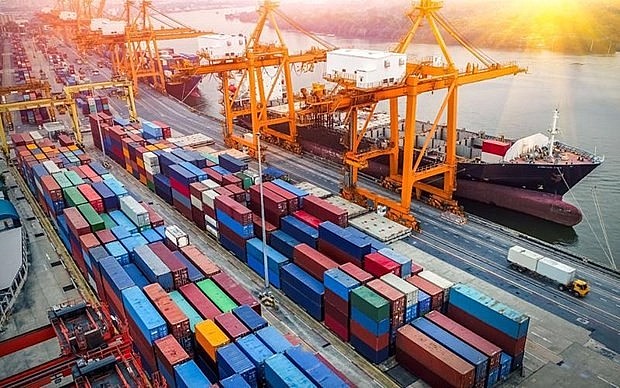 Photo: VNA
The country has become a rising star in global supply chains, gaining a substantial global market share in many sectors including textiles, footwear, and consumer electronics, the bank noted in a report.
Research shows that new FDI has been flowing into the country since the 2010s, with the lion's share focused on the manufacturing sector, consistently equivalent for 4-6% of GDP.
Much of the investment initially entered the low-value textile and footwear market. However, the nation has climbed up the value chain, growing into a key manufacturing hub for electronics in the last two decades.
Earlier, regarding Vietnam's export prospects, the Asian Development Bank (ADB) emphasized that in 2022, the Asian region will witness a remarkable export recovery and Vietnam will continue to take advantage of opportunities to bolster exports.
Local businesses need to get more support
In 2021, Vietnam's exports reached US$336 billion, up 19% compared to 2020 and the export growth target set for 2022 stands at 8%.
To be able to fulfill the set plan, Vietnamese businesses are currently in dire need of urgent support policies in order to create momentum for production from preferential capital flows, thereby having resources to invest in hoarding raw materials amid energy, raw material prices continuing to spike due to the pandemic and the Russia-Ukraine conflict.
In order to iron out snags caused by the "price storm" of raw materials and input fuels, businesses and business associations in the textile, garment, footwear, electronics, tourism industries simultaneously asked competent agencies to reduce the price of gasoline and raw materials, and logistics costs.
If gasoline prices remain too high for the time being, it will affect the prices of many raw materials and fuels that are input items for local businesses.
Vietnam wins 13 awards at "Two country circuit" photo contest
Vietnamese photographers have won 13 medals and certificates of honour in travel, portrait and free categories at the 7th "Two Country Circuit" photo contest 2022.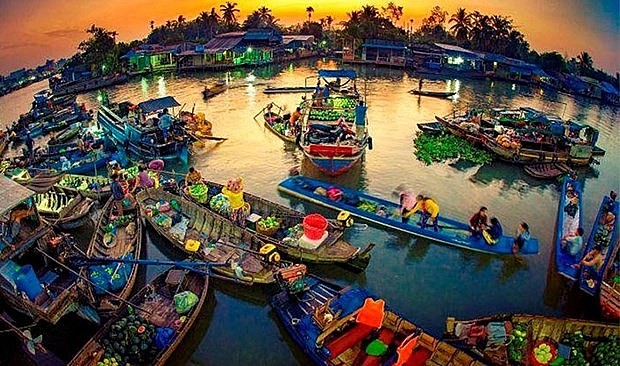 A photo titled "Phong Dien floating market" by Tran Anh Thang is given a certificate of honour. Photo: qdnd.vn
The award-winning works mainly capture beautiful moments of Vietnamese nature and country such as "Stork season in Van Long" by Nguyen Dang Hao and "The procession of dragons to the wharf" by Vu Hai which won gold medals. "Phong Dien floating market" by Tran Anh Thang and "Water season in Mu Cang Chai" by Ngo Thanh Huong received certificates of merit.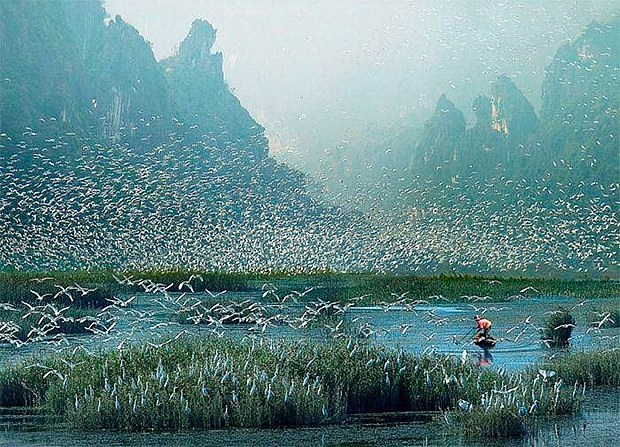 A photo entitled "Stork season in Van Long" by Nguyen Dang Hao wins gold medal. Photo: qdnd.vn
The event, which was organised by Novi Sad, Kotor and Podgorica photography clubs of Serbia and Montenegro and sponsored by the International Federation of Photographic Arts (FIAP), drew entries from 37 countries and territories worldwide.
Friendship
Ambassadors of Kuwait and Israel came to present their credentials to the Vietnam's president.