Vietnam News Today (July 19): Hanoi Tightens Covid Restrictions, Bans Public Gatherings Over 5 People
Vietnam News Today (July 19): National Covid-19 count crosses 51,000 after 2,472 new cases recorded; Hanoi tightens Covid restrictions, bans public gatherings over 5 people; Flights to southern provinces curtailed as Covid-19 spreads and Local shrimp exports likely to reach US$4.2 billion this year.
Vietnam News Today (July 19) notable headlines
National Covid-19 count crosses 51,000 after 2,472 new cases recorded
Hanoi tightens Covid restrictions, bans public gatherings over 5 people
Flights to southern provinces curtailed as Covid-19 spreads
Local shrimp exports likely to reach US$4.2 billion this year
Bac Giang strives to become modern-oriented industrial area by 2030
Vietnam greatly values comprehensive partnership with US
Vietnamese Ambassador aims to bolster co-operation with Italian region of Sicily
Business end of Covid protocols hampers firms in Covid hotspot Bac Ninh
HCMC residents suffer as online groceries orders fail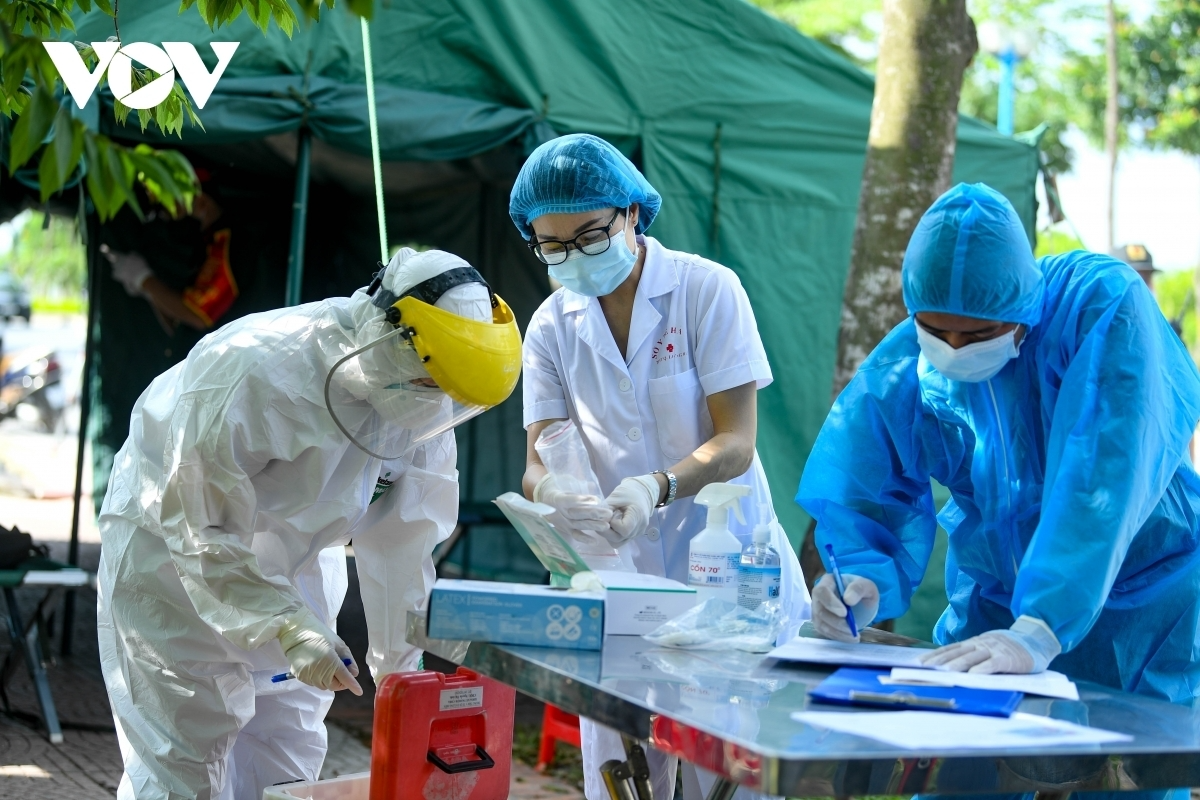 Photo: VOV
National Covid-19 count crosses 51,000 after 2,472 new cases recorded
The national infection tally rose to more than 51,000 after the Health Ministry confirmed a further 2,472 fresh cases of Covid-19, including 18 imported on July 18 morning, with Ho Chi Minh city continuing to suffer the most infections at 1,756.
Ho Chi Minh city accounted for the majority of domestic cases at 1,756, trailed by Binh Duong (281), Dong Nai (75), Long An (48), Tay Ninh (42), Ba Ria - Vung Tau (41), Vinh Long (38), Dong Thap (36), Tien Giang (31), Khanh Hoa (29), Ben Tre (17), Phu Yen (16), Can Tho (12), and Kien Giang (10).
Furthermore, single-digit cases of local transmission were reported in other localities, including Hanoi, Binh Dinh, Soc Trang, An Giang , Bac Ninh, Dak Nong, and Bac Giang, cited VOV.
Among the total figure, 2,226 community cases were detected within quarantine or lockdown areas.
Besides, the HCM City Center for Disease Control on July 18 morning registered to add a list of 626 coronavirus patients who had been previously detected in quarantine zones to the National System of Covid-19 Case Management.
Earlier the southern metropolis, the epicenter of the ongoing fourth coronavirus wave, recorded on July 17 a total 2,786 new domestic cases, the highest number in a day since the virus recurred in late April.
The southern region, particularly HCM city, is bearing the brunt in the most challenging coronavirus wave, with new cases soaring steadily in the thousands over the past few days.
During an online meeting of the National Steering Committee for Covid-19 Prevention and Control held on July 17, Deputy Prime Minister Vu Duc Dam requested Ho Chi Minh City continue to tighten management to prevent cross-infection in quarantine and locked down zones.
Over 4.26 million people have been vaccinated against Covid-19 to date, of which nearly 305,000 have received two shots. July 17 saw more than 27,350 people inoculated against Covid-19.
The country has so far seen 48,964 domestic infections and 2,038 imported ones. The number of infections since the latest wave of Covid-19 outbreaks increased to 47,394, including 7,538 having fully recovered from the virus.
Hanoi tightens Covid restrictions, bans public gatherings over 5 people
The Hanoi People's Committee Sunday asked citizens to stay home, avoid public gatherings of over five and maintain a distance of at least two meters between people starting Monday.
The latest restrictions followed the capital city recording 37 new Covid-19 cases Sunday.
The administration recommended that people only go outside when it was really necessary, for emergencies, buying food or medicines, working in factories and businesses allowed to operate, according to VnExpress.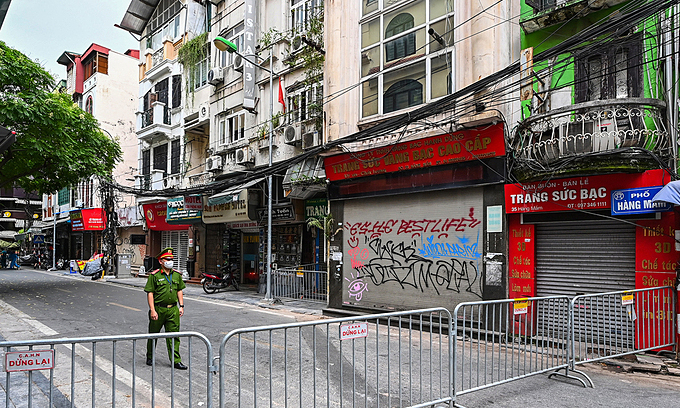 A part of Hanoi's Hang Mam street was locked down after a Covid-19 case was detected on July 18, 2021. Photo: VnExpress
Weddings will have to postponed. Funerals cannot have more than 30 people and will be supervised strictly by health officials. People leaving the city or returning to it must make health declarations and sign a commitment to follow Covid-19 prevention guidelines with the authorities.
All non-essential services will be temporarily closed. Restaurants can only sell takeaways.
Businesses and services that are allowed to stay open include factories, manufacturers, traffic works, construction sites, essential services such as food, pharmaceuticals, electricity, water, fuel, gasoline. Medical declaration by QRCode is required for all of them.
Offices and agencies have to make plans to have employees to work 50 percent from home. Trade centers, supermarkets, traditional markets and wholesale markets in the locality shall sell only essential items. Online shopping and delivery are encouraged.
Transporting goods from other localities to Hanoi will require medical declarations. The driver and co-driver must test negative for Covid-19 not more than three days prior to travel.
Vehicles from other localities can go through Hanoi to other places, but cannot pick up or drop anyone off in the city.
The capital also requires a reduction of 50 percent in operating capacity and occupation of seats in public buses, except in special cases like vehicles carrying experts, workers, quarantined people, goods and production materials. The use of personal vehicles is also restricted.
Flights to southern provinces curtailed as Covid-19 spreads
All flights to Ca Mau and Rach Gia airports will be suspended from July 19 to August 1, and the number of flights to several southern provinces will be cut.
The two airports are in the southern provinces of Ca Mau and Kien Giang. Civil aviation authorities said Sunday that the Hanoi-Phu Quoc and Hanoi-Can Tho routes will have one flight a day.
The 13 flights a day on the HCMC-Hanoi route will still be maintained to meet the demand of many people trying to return to Hanoi from HCMC, they added.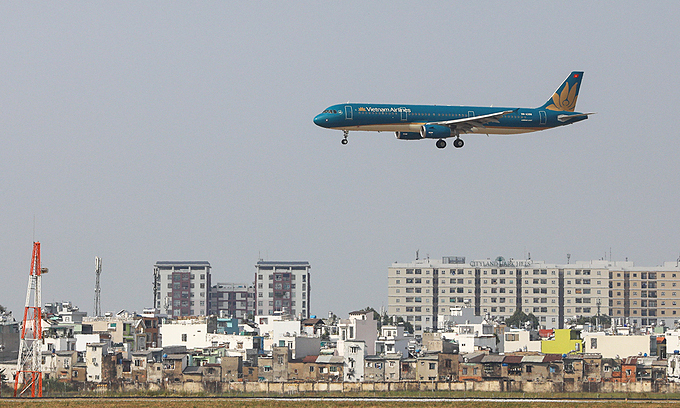 An aircraft prepares to land at HCMC's Tan Son Nhat Airport. Photo: VnExpress
One to two flights can be operated on routes from HCMC to localities like Da Nang, Quy Nhon, Cam Ranh and Buon Ma Thuot, cited VnExpress.
A representative of the Civil Aviation Authority of Vietnam (CAAV) said flights to southern provinces and cities will bestrictly supervised. Air carriers and airports will be facilitated in transporting people who want to return to their hometowns from HCMC and other southern localities.
All passengers on domestic flights will have to test negative for Covid-19. Major airports like Noi Bai in Hanoi and Tan Son Nhat in HCMC have the Covid-19 testing service.
Based on proposals from localities, the CAAV has stopped operating flights from HCMC to Thanh Hoa, Hai Phong and Quang Ninh. The Hanoi-HCMC route will be the only one connecting the north and the south.
Since the new wave began in late April, Vietnam has recorded 50,150 domestic Covid-19 cases. Nineteen southern provinces will impose social distancingcampaigns, starting Monday.
Local shrimp exports likely to reach US$4.2 billion this year
Vietnamese shrimp exports are anticipated to increase by 12% to reach US$4.2 billion this year compared to last year's figures, accounting for more than 40% of the domestic seafood industry's export value, according to industry insiders.
According to information provided by the Directorate of Fisheries, the local shrimp sector will continue to face numerous difficulties over the course of the year due to the complex nature of the Covid-19 pandemic and unpredictable international trade competition.
This will be especially prevalent due to changes occurring in quarantine requirements coupled with food safety regulations being imposed on imported products in several countries.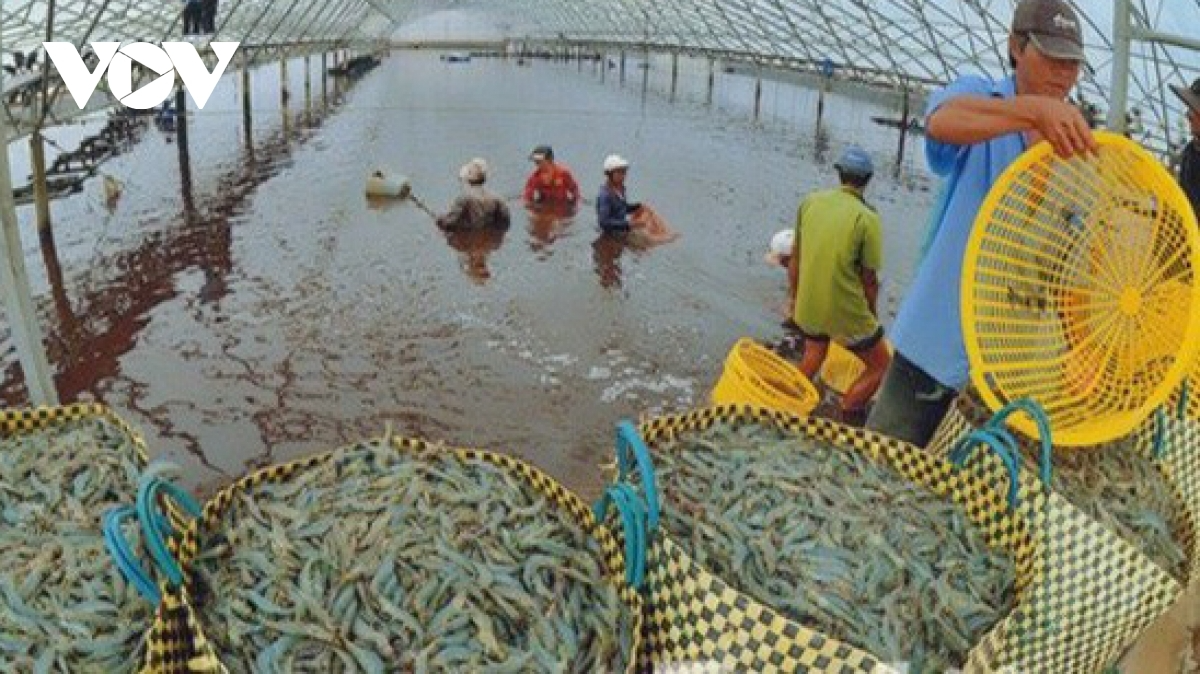 Photo: VOV
Most notably, China, one of the nation's major shrimp import markets, has tighten regulations on importing frozen products, including shrimp, due to the Covid-19 pandemic, a move which has caused shrimp exports to the market to decrease by over 20%, cited VOV.
Furthermore, the Republic of Korean (RoK) market now also requires shrimp products to meet heat treatment regulations in order to be exempt from quarantine requirements.
During the first half of the year, brackish water shrimp output surged by 12% to 371,000 tonnes against the same period last year, with total shrimp export turnover reaching US$1.5 billion.
Shrimp exports ahead in the second half of the year are projected to enjoy robust growth, with the export target anticipated to reach between US$3.8 billion and US$4 billion.
The United States, Japan, China, the EU, and the RoK are considered as the largest consumers of Vietnamese shrimp.
Nguyen Hoai Nam, deputy general secretary of the Vietnam Association of Seafood Exporters and Producers (VASEP), said local shrimp products are exported to 106 markets worldwide, an increase of five markets compared to the previous year.
Aside from these challenges, the domestic shrimp industry will see plenty of opportunities to expand markets for shrimp and tra fish products moving forward thanks to the signing of numerous free trade agreements (FTAs).
Bac Giang strives to become modern-oriented industrial area by 2030
Identifying industrial development a key economic drive, the northern province of Bac Giang eyes turning itself into an industrial locality following a modern and sustainable orientation.
Goals have also been set for the sector's gross regional domestic product (GRDP) to grow by 19 percent annually during 2021-2030 and for its value to exceed VND 652.15 trillion (US$28.3 billion) by 2025.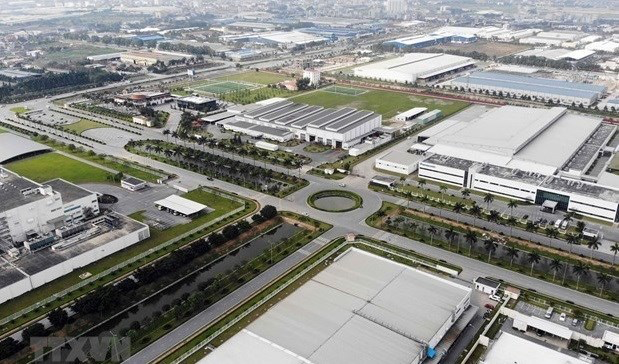 Photo: VNA
Bac Giang aims to set up 23 new industrial parks (IPs), expand five IPs, and merge six industrial clusters into a 6,518-ha IP, pushing the total number of local IP to 29 spanning 7,840 ha by 2030.
Meanwhile, 29 new industrial clusters will be established and three other expanded, covering a total area of 1,853 ha. By 2030, Bac Giang hopes to house 66 clusters spanning 3,209 ha, according to VNA.
The local IP development follows a model that consists of an IP and an urban-service area with modern technical and social infrastructure. Prioritised industries include mechanics and manufacturing, and farm produce and food processing. Investment attraction, high-quality human resources building, and technological transfer and application are also focal points.
According to the provincial Department of Industry and Trade, to date, Bac Giang has six IPs covering 1,322 ha; five of them have become operational. They have attracted 409 projects from domestic and foreign investors worth VND 9.4 trillion and nearly US$ 6 billion, respectively.