Vietnam News Today (July 26): HCM City to Ban People From Going Out at Night
Vietnam News Today (July 26): Covid-19: 3,552 new cases recorded, tally rises close to 100,000; HCM city to ban people from going out at night; Hanoi allows shipping of retail deliveries; Vietnam reaches tech transfer agreement on US Covid-19 vaccines: minister.
Vietnam News Today (July 26) notable headlines
Covid-19: 3,552 new cases recorded, tally rises close to 100,000
HCM city to ban people from going out at night
Hanoi allows shipping of retail deliveries
Vietnam reaches tech transfer agreement on US Covid-19 vaccines: minister
Central Da Nang city lures investment in mid Covid-19
Covid cloud to cast H2 shadow over labor market
3 mln Moderna vaccine doses reach Vietnam
Social distancing order leaves Hanoi desolate
Optimal conditions to be given to localities in Covid-19 fight: PM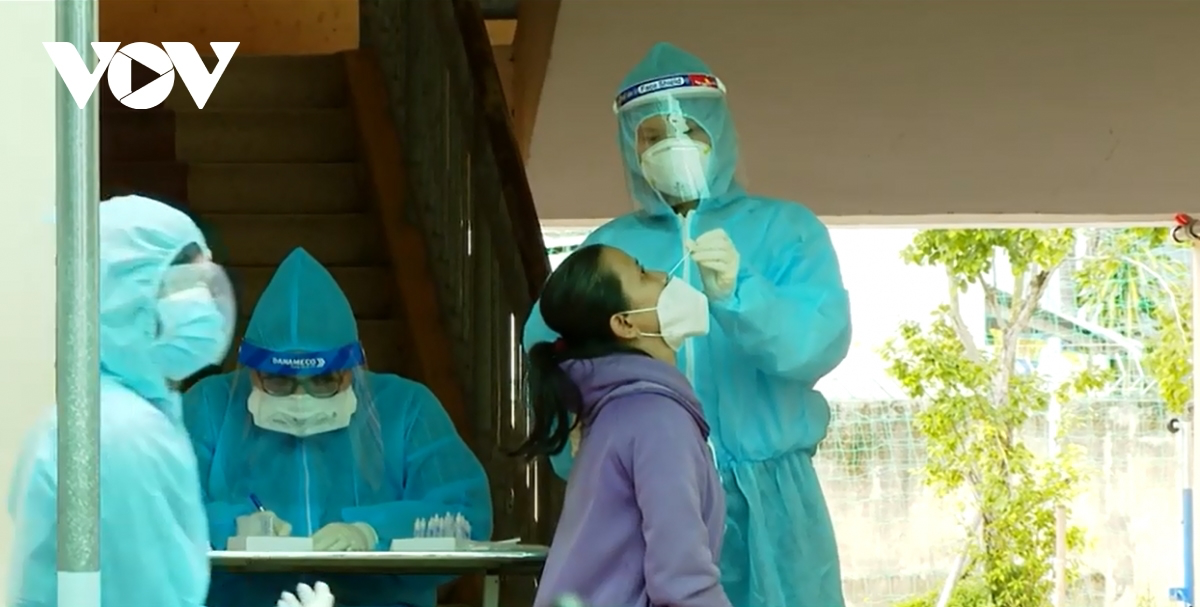 Southern Vinh Long province has stepped up Covid-19 testing after many new cases were recorded every day. Photo: VOV
Covid-19: 3,552 new cases recorded, tally rises close to 100,000
Vietnam confirmed an additional 3,552 locally transmitted Covid-19 cases in 31 cities and provinces nationwide during the past 12 hours, raising its cumulative tally of infections to 98,465.
Most of the local infections were recorded in southern localities, the Ministry of Health (MoH) said in its 06.00pm Covid-19 update on July 25.
Ho Chi Minh city led all cities and provinces in case number at 2,227, followed by Binh Duong 368, Tay Ninh 186, Ba Ria – Vung Tau 126 and Dong Nai 119.
Elsewhere, central localities detected tens of local infections each, including Phu Yen 95 and Khanh Hoa 90, cited VOV.
Earlier in the morning of the same day, the MoH confirmed 3,973 local infections and six imported cases, raising Vietnam's 24-hour count to 7,525.
July 25 is the third consecutive day that has seen Vietnam's daily caseload exceed the 7,000 mark.
Data from the MoH show that during the past 24 hours, HCM city, the country's largest coronavirus hotspot, registered 4,555 locally acquired infections.
Binh Duong was the second hardest hit locality, documenting 1,249 cases, followed by Tay Ninh 313, Dong Nai 253, and Tien Giang 218, all located in the south.
As of 06.00 pm on July 25 Vietnam has documented 94,717 new locally transmitted cases following the resurgence of the virus in late April and 98,465 cases since the onset of the first outbreak in January 2020.
As many as 19,342 patients have recovered from the disease, including 1,755 cases announced on July 25, and 370 patients have died of Covid-19 and underlying illnesses.
In other developments:
An additional 3 million doses of Moderna vaccine arrive in Vietnam
HCM city considers extending social distancing rules for two more weeks
Covid-19 vaccination rate remains low in Vietnam, at 5%
The PM is likely to be empowered to impose stricter Covid-19 measures
HCM city to ban people from going out at night
HCMC will ban people from going out between 6 p.m. and 6 a.m. the next day starting from Monday, said the city's chairman Nguyen Thanh Phong.
"From Monday's evening, people absolutely cannot go out from 6 p.m. All activities will have to be suspended, except for emergency medical care or pandemic fight operations," Phong said.
The decision was made as HCMC has been recording thousands of new Covid-19 patients each day despite going through 17 days of social distancing under Directive 16. The directive requires residents to stay at home and only go out for basic necessities such as buying food or medicines or to work at factories or businesses that are allowed to open.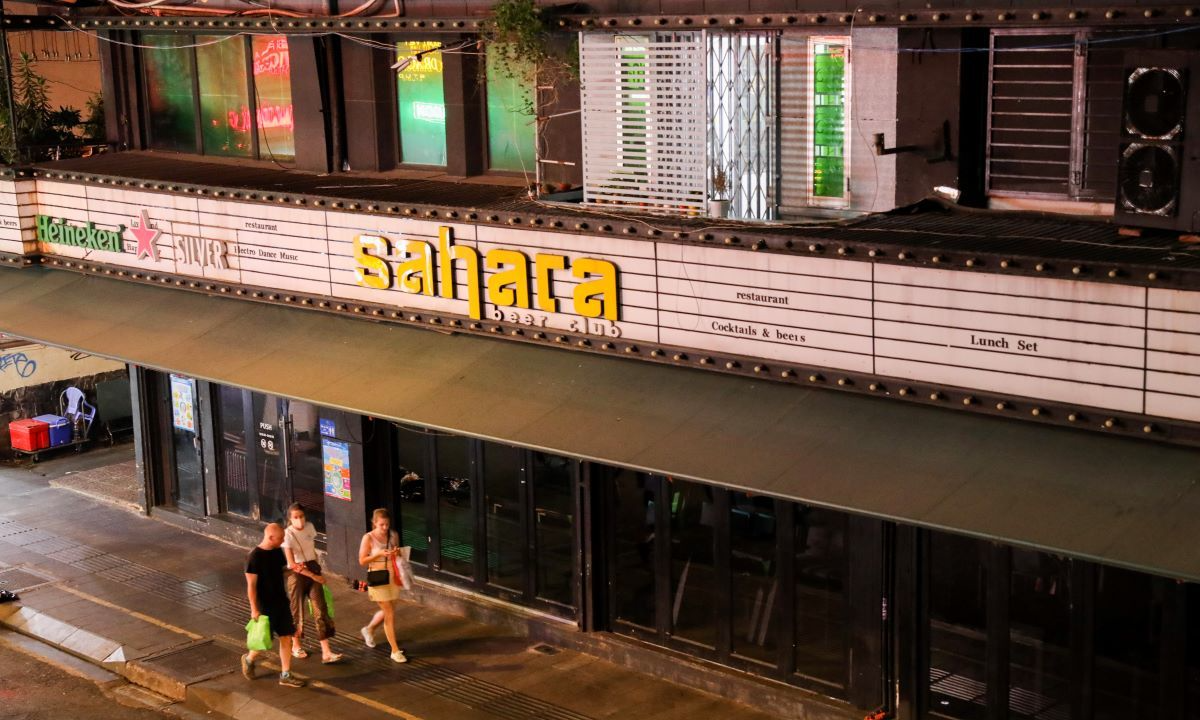 Bars and karaoke parlors in HCMC's Bui Vien walking street are closed under the city's order due to Covid 19, March 15, 2020. Photo: VnExpress
Phong said around the city, there are still many people traveling on the streets, hanging out.
"That's very dangerous, that's the reason the outbreak has continued to grow. Without control, the situation will get worse, forcing us to deploy even stronger measures that might cause impacts on multiple aspects," he said.
Phan Van Mai, deputy secretary of the HCMC Party Standing Committee, said in the next two weeks, the city will deploy patrol taskforce to make sure the social distancing order is strictly followed, and anyone violating the regulations could be detained, reported VnExpress.
Mai said the city will increase goods supply, support people facing difficulties, and handle emergency medical situations better amid the lockdown.
While traffic volume in HCMC had decreased by 84 percent in the early days of the social distancing order, it had increased to a 70 percent decline on Saturday, Dam said.
"We did not follow the rules strictly from the beginning. Without being strict, it will be tough to contain the pandemic," Dam said, asking the southern metropolis to tighten lockdown restrictions and enforcement.
Hanoi allows shipping of retail deliveries
The delivery staff of e-commerce platforms (like Lazada or Tiki) and supermarkets will be allowed to continue to work in Hanoi, under a decision made by the municipal Department of Transport.
Vu Van Vien, director of the transport department, said that under social distancing restrictions, deliveries of retail goods and groceries will be allowed however the delivery of take-away food and beverages will remain banned, reported VNS.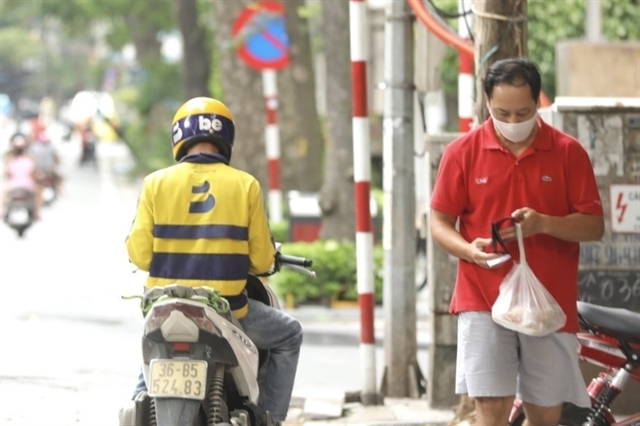 Delivery staff can work after registering with the Hanoi Department of Transport and receive an allowance from the department. Photo: VNS
The department on Sunday also issued a document requesting registration of employees allowed to transport essential goods for supermarket services and postal businesses by motorbikes.
Under Document No 3462/SGTVT-QLVT, which was sent to the Hanoi Department of Industry and Trade (DIT) and post and telecommunications units, the department is compiling a list of delivery workers for supermarkets in the city, along with a list of parcel delivery staff, including their full name, address, mobile phone number, vehicle plate number and working area.
Units that register employees to be allowed to work must be responsible for managing and monitoring the pandemic prevention work of staff, and responsible if cases of the disease occur.
Based on the list, the Department of Transport will send a confirmation message to the delivery staff's mobile phone number so that they can show it to the police in case it is needed.
Vietnam reaches tech transfer agreement on US Covid-19 vaccines: minister
Health Minister Nguyen Thanh Long said Sunday that Vietnam has reached an agreement on technology transfer for coronavirus vaccine with the U.S. and will start production next year.
While he did not divulge specific details of the agreement, the minister said at the first session of the 15th National Assembly that a factory with the capacity to produce 200 million doses is under construction and will commence operations in the first half of 2022.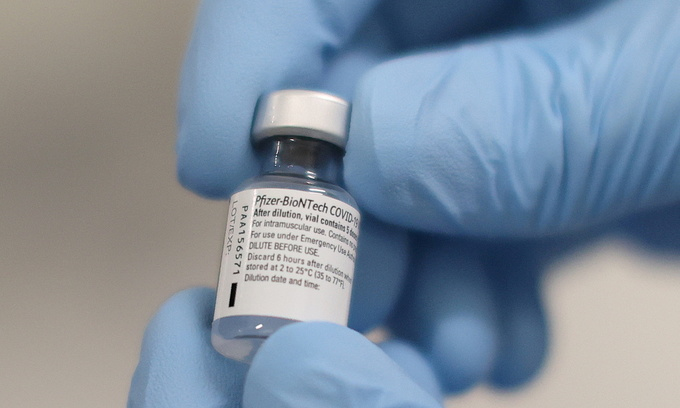 A vial of the Pfizer/BioNTech Covid-19 vaccine is seen ahead of being administered in Belfast, Northern Ireland, December 8, 2020. Photo: Reuters
He said Vietnam has also reached agreements on technology transfers for the coronavirus vaccine with Russia and Japan.
The Hanoi-based Vabiotech company had packaged its first batch of Sputnik V Covid-19 vaccines last week. The batch will be evaluated in Russia before mass production begins in Vietnam. The tech transfer for the vaccine will be completed by the end of this year, Long said.
Up to now, Vietnam has secured deals for 130 million doses of vaccines and is in talks with other manufacturers on deals for a further 40 million shots, he said, adding that the shots are expected to arrive in 2021 and early 2022, cited VnExpress.
To date around 4.5 million doses have been administered, but only about 372,353 people have been fully vaccinated.
Vietnam's ongoing vaccination campaign targets 70 percent of its 96 million population.
Central Da Nang city lures investment in mid Covid-19
The US's Vector Fabrication Inc has been scouting locations in central Vietnam for a Micro-Electro-Mechanical Systems (MEMS) factory with an estimated investment of US$60 million, according to the Head of the Da Nang Hi-tech Park and Industrial Zones Authority (Da Nang HPIZA), Pham Truong Son.
Son said that the municipal People's Committee has asked the board for an introduction to the park for the US investor from California.
It's a positive recovery sign for foreign investment in the city during the coronavirus pandemic that has hit the city and many provinces in Vietnam, Son said.
Despite the outbreak of Covid-19 in the city, potential foreign and domestic investors have been eyeing establishing manufacturing factories at the central city's industrial zones and hi-tech parks. In all, a total of US$145.3 million from 16 foreign direct investment projects and VND481 billion (US$21 million) from 12 domestic projects flowed into the city in the first six months of this year, Son said.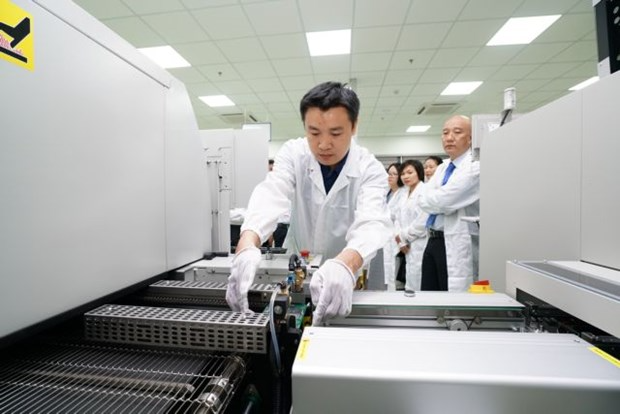 An engineer monitors a production line at a circuit board factory at the Da Nang IT Park. The central city's IZs and IPs have still lured investment in spite of the coronavirus outbreak. Photo: Trung Nam Group
He also said the Fujikin Incorporated from Japan planned to inaugurate the first R&D centre at Da Nang High-Tech Park in the order of US$35 million to produce air valves using semiconductor production lines, as well as medical equipment, robots, new energy technology using hydrogen, and Artificial Intelligence (AI), cited VNA.
Earlier, Da Nang HPIZA agreed to an investment proposal from Intex Development Company, a member of Intex Group from the US to build a factory for US$12 million at Hoa Khanh Industrial Zone.
It would produce 1.9 million water filter boxes for above ground pools and 2.4 million water and air pumps per year.
In June, local bakery Bao Ngoc company agreed to pour VND160 billion (US$7 million) into building a plant in Da Nang and supplying 12,000 tonnes of products per year.
Another local logistics company, Vinalog, decided to build a logistic service centre on 15,000 square meters at the Hoa Khanh IZ with VND75 billion (US$3.3 million).
The logistics centre would provide a storage and commodities packaging system with a 300,000 tonne capacity each year.
According to the HPIZA managing board, a Da Nang joint-stock steel producer will build a steel factory with US$42.5 million investment at Lien Chieu IZ. The steel producer said it would supply 500,000 tonnes of steel for construction each year.
Some key manufacturing companies at the city's hi-tech park and IZs have been implanting the 'three-on-site' policy for labourers to continue operations during the most recent Covid-19 outbreak.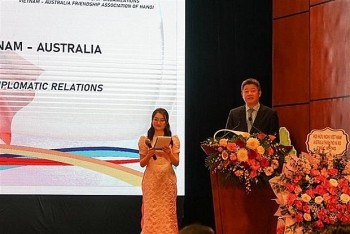 Friendship
A friendship exchange programme has been held recently in Hanoi to celebrate the 50th founding anniversary of the Vietnam-Australia diplomatic relations (February 26).