Vietnam News Today (Jun 8): Vietnam to Build Three Regional Innovation and Startup Support Centres
Vietnam News Today (Jun 8): Vietnam and RoK enhance cooperation through MICE tourism; UNDP one of Vietnam's most important partners on development path: ambassador; Vietnam to build three regional innovation and startup support centres; HCM City, RoK province beef up cooperation.
Vietnam News Today (Jun 8) notable headlines
Vietnam and RoK enhance cooperation through MICE tourism
UNDP one of Vietnam's most important partners on development path: ambassador
Vietnam to build three regional innovation and startup support centres
HCM City, RoK province beef up cooperation
Downgrading COVID-19 to Group-B infectious disease to change healthcare system
Japan remains important market for Vietnam's tourism
Vietnam, RoK share experience, initiatives on smart city development
Int'l organisations: public investment to propel Vietnam's long-term growth
Vietnamese FM meets with OECD Secretary-General in Paris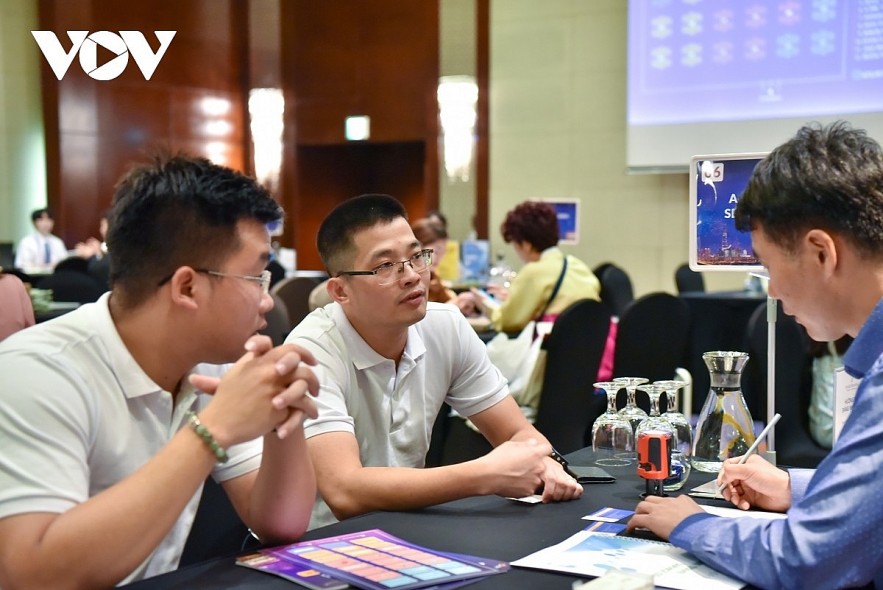 Korea MICE Roadshow in Hanoi on June 6 has gathered 24 travel agencies from the RoK, as well as more than 150 tour operators in Vietnam.
Vietnam and RoK enhance cooperation through MICE tourism
The Korea Tourism Organization (KTO) in Vietnam officially restarted its MICE tourism programme, a type of tourism combining meetings, incentives, conferences and events, via a roadshow held in Hanoi on June 6 to promote MICE tours between the Republic of Korea (RoK) and Vietnam.
Lee Jae Hoon, head of KTO in Vietnam, said the roadshow serves to connect travel agencies of the two countries, and to promote more MICE tours to the RoK.
According to KTO representatives, the Korean Government declared 2023 and 2024 the Visit Korea Year in an effort to boost visitor numbers. In response, KTO will organise tourism promotion events in other Asian countries, especially Vietnam.
The June 6 event in Hanoi brought together representatives of 24 travel agencies from the RoK, as well as more than 150 tour operators in Vietnam.
Many promotions planned this year were publicised at the roadshow in a bid to attract Vietnamese tourists, cited VOV.
Budget carrier Vietravel Airlines has conducted charter flight from Nha Trang in Vietnam to Daegu in the RoK since April this year, whilst it has made plans to open flights on routes from Vietnam to Incheon late this year, to cash in on the peak tourism season this year.
Hoang Thuy Duong, director of Ehoo LTS travel agency, noted that the firm has devised many plans as it seeks to attract Vietnamese tourists to the RoK.
In September, Ehoo LTS will launch fresh tourism products following charter flights on the Hanoi-Incheon, Ho Chi Minh City-Incheon, and Da Nang-Jeonju routes so that tourists have more options to travel to the RoK.
With regard to MICE tourism, the travel agency will organise cultural exchanges, including a show of Ao Dai (traditional Vietnamese long dress) in the RoK.
The Korean travel firm will coordinate with businesses and training institutions in Vietnam to organise events in the field of aesthetics and beauty in the RoK this December, she also revealed.
Another Korea MICE Roadshow is scheduled to take place on June 8 in Ho Chi Minh City in a bid to strengthen Vietnam-RoK cooperation through MICE tourism.
The RoK is currently viewed as a major MICE tourism hub in Asia thanks to its high-quality infrastructure system in many cities, including Seoul, Busan, Jeju, Incheon, Gyeonggi, and Gangwon.
UNDP one of Vietnam's most important partners on development path: ambassador
The United Nations Development Programme (UNDP) has been and will continue to be one of the most important and trusted partners of the Government and people of Vietnam on the country's development and integration pathway, Ambassador Dang Hoang Giang has affirmed.
Addressing an interactive dialogue between the UNDP Executive Board and UN member states held in New York on June 6 on the occasion of the 45th anniversary of theVietnam - UN relations, the Permanent Representative of Vietnam to the UN pointed out impacts of such global issues as the COVID-19 pandemic, climate change, geo-political tensions, and food and energy crises.
As a speaker at the meeting to share the country's success story, he said that in this context, the Vietnamese Government has implemented a number of measures to protect people's health, curb the pandemic, and consistently pursue a policy of "protecting the people's health first".
It has allocated substantial social protection coverage to support affected enterprises, workers, and vulnerable groups, according to VNA.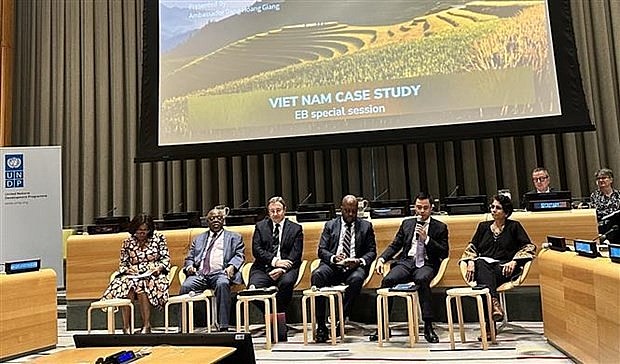 Ambassador Dang Hoang Giang (second from right), Permanent Representative of Vietnam to the UN, speaks at the dialogue. (Photo: VNA)
To address both health and socio-economic priorities, the Government has invested intensive efforts in sourcing adequate vaccine supplies. These efforts include the "vaccine diplomacy" strategy to reach out to different sources to ensure adequate vaccine, through COVAX, UN agencies and international partners, enabling the country to carry out the largest vaccination campaign in its history, and thereby achieved a near universal full vaccination by March 2022, Giang noted.
With regard to climate action, he went on, despite constrained fiscal space, the Vietnamese Government has kept in view the longer-term development priorities and made bold commitments at the 26th UN Climate Change Conference (COP26) in 2021 to achieve net-zero carbon emissions by 2050. This was followed by the Just Energy Transition Partnership in December 2022 with a pledge of 15.5 billion USD in financing to advance the climate ambition.
Thanks to these timely and efficient policies and strategies, Vietnam has achieved positive results in post pandemic recovery, he said, elaborating that economic growth reached 8.02% in 2022 – the highest in the past 10 years, macroeconomic stability has been ensured and debts sustainably managed, multi-dimensional poverty index reduced by 1.2% compared to 2021, and Vietnam kept its high human development status in 2021.
These results could not be possible without the support of its trusted partners, especially the UNDP, according to the diplomat.
The Government of Vietnam and the UNDP share a thorough understanding of the central importance of government ownership, and of public sector administrative and technical capacity; and the criticality of learning from policy and programmatic experiments, and sharing lessons learned.
"In this regard, we believe that for any partnership to produce tangible results, it should be based on mutual confidence, mutual respect and shared understanding. In conclusion, we fully recognise the important role of the UNDP to support an inclusive, comprehensive and sustainable development for Vietnam, as well as for many other member states," Ambassador Giang added.
At the dialogue, representatives of the UNDP and countries highly valued Vietnam's achievements in post-pandemic economic recovery, social security ensuring, and climate change response through appropriate and timely policies, its sharing of experiences in building up self-reliance and independence, and promotion of a strong and effective partnership with UNDP in different aspects of sustainable development.
Vietnam to build three regional innovation and startup support centres
Vietnam will soon set up three regional innovation and startup support centres aimed at making full use of local resources and encouraging innovation and creativity, creating the prerequisite for the replication of the model across the country.
These hubs will be built in Hanoi, Da Nang, and Ho Chi Minh City, said Minister of Science and Technology Huynh Thanh Dat, while answering National Assembly deputies' questions in Hanoi on June 7, reported VOV.
The Ministry of Science and Technology has completed all necessary procedures, with decisions set to be made in June or July at the latest, said Minister Dat.
He briefed deputies on the four-year operation of the National Innovation Center at Hoa Lac Hi-Tech Park in Hanoi, outlining that the centre has produced many models worth being replicated across the country, although each locality has its own characteristics that must be adjusted to best suit their conditions.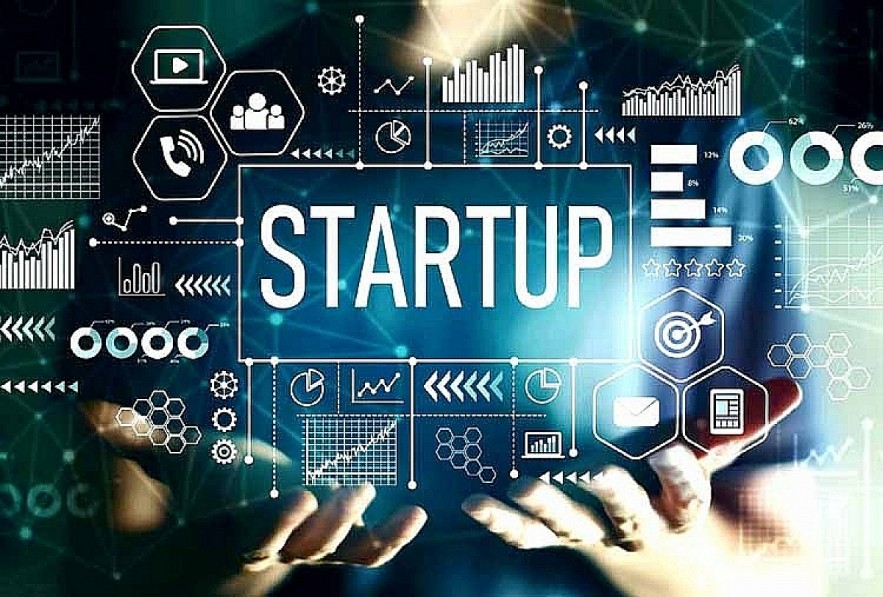 Vietnam has emerged as the innovation startup hub in Asia and the Pacific. (Illustrative image)
"It is necessary to have specific policies for innovation activities, including tax reduction policies, connection with venture capital funds, and development of co-working spaces for scientists, researchers, and investors," said the Minister.
Presiding over the inquiry, National Assembly Chairman Vuong Dinh Hue said the National Innovation Center at Hoa Lac Hi-Tech Park represents the Government's big project aimed at supporting and developing the nation's start-ups and innovation ecosystems, thereby contributing to the growth models based on science and technology.
It is anticipated that the scheme will house domestic and international innovative businesses, laboratories, offices of large corporations, as well as a working place of leading experts and scientists. The centre will officially be inaugurated shortly and its success story should be replicated in regions across the country, he suggested.
At the same time, he said it is imperative to encourage foreign businesses to invest in research and development centres, as well as innovation centers nationwide. He cited Samsung as a case in point having poured mammoth investment into its research and development centre in Hanoi that is capable of housing up to 3,000 domestic and foreign engineers and scientists working on information technology.
"Learning from the Hoa Lac National Innovation Center, we will consider further deploying regional innovation startup centers in Da Nang, Ho Chi Minh City and other regions," said Hue.
HCM City, RoK province beef up cooperation
Vice Chairman of the Ho Chi Minh City People's Committee Vo Van Hoan on June 7 received visiting Vice Governor of the Republic of Korea (RoK)'s Chungcheongbuk-do province Kim Myung-kyoo.
Hoan told the guest that the strong growth of the Vietnam-RoK relationship, particularly its upgrade to comprehensive strategic partnership in 2022, has created new opportunities for practical and effective cooperation between the southern economic hub and Korean localities.
HCM City is willing to foster join work with Chungcheongbuk-do in fields of mutual interest and potential such as high technology, semiconductor production, and green agriculture.
In the coming time, he suggested the two localities strengthen exchanges, build coordination mechanisms, promote potential areas, and sign a friendly cooperation agreement, VNA reported.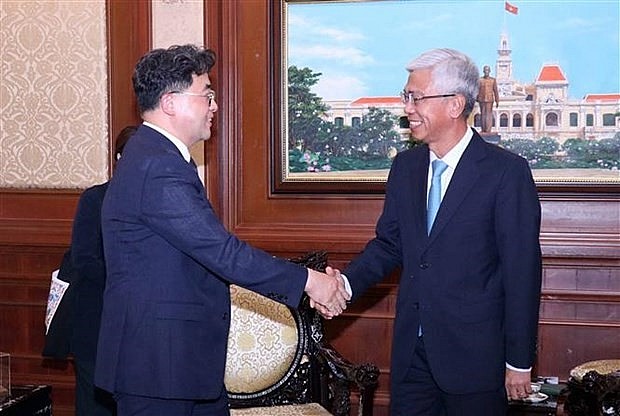 Vice Chairman of the Ho Chi Minh City People's Committee Vo Van Hoan (R) and Vice Governor of the Republic of Korea (RoK)'s Chungcheongbuk-do province Kim Myung-kyoo at their meeting in the southern city on June 7. (Photo: VNA)
Kim, for his part, expressed his wish for a stronger multisectoral collaboration between his province and the Vietnamese metropolis, hoping that their small but effective initial cooperative projects will lead to larger ones in the future.
With strength in semiconductor production and biotechnology research, Chungcheongbuk-do enterprises wish to have specific bilateral cooperation contributing to the common development of HCM City, noted the RoK official.
He affirmed that the RoK province is ready to cooperate with HCM City to study and implement joint activities in fields of mutual interest and soon sign the friendship cooperation pact with the Vietnamese locality.
Downgrading COVID-19 to Group-B infectious disease to change healthcare system
Downgrading COVID-19 from a Group-A infectious disease (very dangerous infectious disease) to Group B (dangerous infectious disease) will usher in a number of changes to the country's health sector.
On Saturday, the National Steering Committee for COVID-19 Prevention and Control approved the downgrade in the classification of COVID-19.
Associate Professor Do Van Dung, who leads the Faculty of Public Health at the HCM City's University of Medicine and Pharmacy, spoke to the Zing online newspaper regarding the implications of this downgrade. He said that, under the new Group-B categorisation, the Government will no longer be obliged to shoulder the main responsibility for patient treatment, which includes providing free treatment facilities and completely underwriting all medical costs.
Patients now have to pay for their medical expenses or the cost of vaccination, he said.
However, COVID-19 patients are no longer required to be quarantined. They will still be free to move around normally, he said.
Under the previous classification of COVID-19 as a Group-A infectious disease, citizens were obligated to adhere to stringent health safety regulations set by the Government. Such measures included mandatory testing, quarantine, and hospitalisation for infected individuals, underscoring the profound threat the disease posed to public health, its high potential for transmission, and associated mortality, Associate Professor Do Van Dung said.
Associate Professor Tran Dac Phu, former head of the General Department of Preventive Medicine, pointed out that diseases categorised under Group B do not qualify for free treatment, according to current law.
He suggested that, with the reclassification, authorities need to reassess the financial implications of this shift. Professor Tran stressed the need for the government to contemplate permitting health insurance to absorb the costs of COVID-19-related medical expenses. He highlighted the relevance of this consideration, given the significant percentage of the population covered by health insurance.
Plan for the new period
Professor Phu said the Ministry of Health is advised to issue a specific plan for vaccination against COVID-19 shortly.
"The ministry should regulate who is obligated to receive the vaccine, those for whom it is recommended, who will be given vaccinations for free and who has to pay," he said.
He said the World Health Organisation recommends that countries be cautious and switch from urgent COVID-19 pandemic prevention and control to a sustainable and long-term control strategy, cited VNS.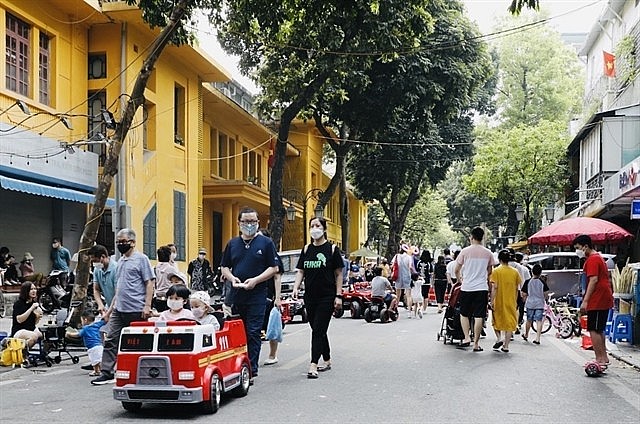 People on the walking street around the iconic Gươm (Sword) Lake in Hanoi. Photo: VNS
Therefore, Vietnam needs to issue appropriate policies and plans to prevent and control COVID-19.
It aims to both closely monitor the pandemic situation for an appropriate response and control the pandemic in every situation in an inexpensive way but still protect the health and interests of the people, he said.
Dung said at this time, wearing masks is no longer mandatory. However, he still encouraged people to obey the ministry's 2K messages – Khau trang (Mask) and Khu khuan (Disinfection) to protect their health.
Everyone should wear a mask when going to crowded and high-risk places and maintain the habit of washing hands to avoid infectious diseases, he said.
Associate Professor Nguyen Viet Hung, deputy head of the Hanoi Association for Infection Control, also said that the most appropriate measure at this time is following the 2K message.
He said Vietnam is located in a tropical climate, where there are many infectious diseases. Thus, people's awareness is believed to be very important in preventing these diseases, he said.
Mild symptoms
Phu said the COVID-19 pandemic in Vietnam has been controlled.
Most new COVID-19 cases have mild symptoms or no symptoms, and do not result in overloading of the healthcare system, he said.
Severe and fatal cases are mostly found in people with underlying diseases, unvaccinated and immuno-compromised people or the elderly, he said.
"These cases can be severe if infected with any other infectious disease virus such as influenza, not just SARS-CoV-2," he added.
Dung said currently, the number of new COVID-19 cases recorded in the country is at a low level. The mortality rate is also lower than other diseases such as tuberculosis and pneumonia.
Vietnam has already experienced the peak of the pandemic. The country now has a high vaccination rate, most people strictly follow regulations on pandemic prevention and control, he said.
"So, the situation of the pandemic is the country is not worrying," he said.
Hung said: "Current COVID-19 symptoms are very mild, possibly like a common cold."
Most severe patients appeared in the early stages of the pandemic, when the highly-virulent Delta variant predominated, and the coverage rate for people at risk was not high, he said.
Now, the Omicron strain and its variants are dominant. He said this strain has negligible virulence and mild symptoms, mainly attacking the upper respiratory tract.
Symptoms of infection are like the seasonal flu, he said.
Statistics from the health ministry showed that from the beginning of this year to May 29, the country recorded 85,493 new cases of COVID-19.
The monthly average number of new cases is 17,000, about 48 times lower than in 2022 and 8.5 times lower than in 2021.
There were only 20 deaths due to COVID-19, and the mortality rate dropped sharply to 0.02 per cent. The fatal cases are all patients with underlying diseases or who have not been vaccinated.