Vietnam News Today (June 9) notable headlines
Vietnam-India scientific webinar seeks solutions to deepen defence ties
Vietnamese, Chinese Foreign Ministers hold talks
Industrial developers winning big from rising rentals
42 firms resume operations in Covid-19 epicenter
Quang Ninh reopens tourist destinations to intra-provincial visitors
Hanoi takes action to raise PCI ranking
Tra Vinh shrimp output up over 6,000 tonnes
Budget revenue rises on robust banking, securities, real estate and automobile sectors
Vietnam becomes bright spot for foreign investors despite Covid-19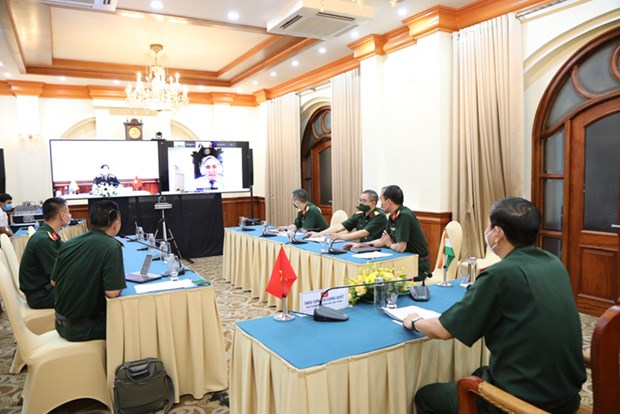 Director of the Institute for Defence Strategy Maj. Gen. Vu Cuong Quyet chairs the webinar from Hanoi. Photo: mod.gov.vn
Vietnam-India scientific webinar seeks solutions to deepen defence ties
The Ministry of National Defence's Institute for Defence Strategy (IDS) and India's Centre for Land Warfare Studies (CLAWS) jointly held a webinar to seek ways to deepen the ties between the two countries in the coming time.
The event was co-chaired by IDS Director Maj. Gen. Vu Cuong Quyet and CLAWS Director V.K. Ahluwalia.
The two sides exchanged views on regional and international issues of mutual interest and highly spoke of the strong and sustainable growth and the effectiveness of the Vietnam-India Comprehensive Strategic Partnership, cited VOV.
They discussed policies and measures to reinforce the bilateral relations in the future, while emphasising practical moves made by the two countries to show support for each other amid the Covid-19 pandemic.
Maj. Gen. Quyet said the Vietnam-India relations have grown constantly despite impacts of Covid-19, with security-defence remaining one of the pillars of the Comprehensive Strategic Partnership.
The webinar provides the two sides a chance to find ways to boost the bilateral defence cooperation, taking into account each nation's situation, he said.
Ahluwalia, for his part, hailed the Government of Vietnam's measures to contain the spread of the coronavirus, with the major contribution from the Vietnam People's Army. He voiced his belief that the two countries' defence ties will continue to expand in the coming time.
Vietnamese, Chinese Foreign Ministers hold talks
Vietnamese Minister of Foreign Affairs Bui Thanh Son held talks with Chinese State Councillor and Minister of Foreign Affairs Wang Yi on June 8 during his attendance at the Special ASEAN-China Foreign Ministers' Meeting and the Mekong-Lancang Cooperation Foreign Ministers' Meeting in Chongqing, China.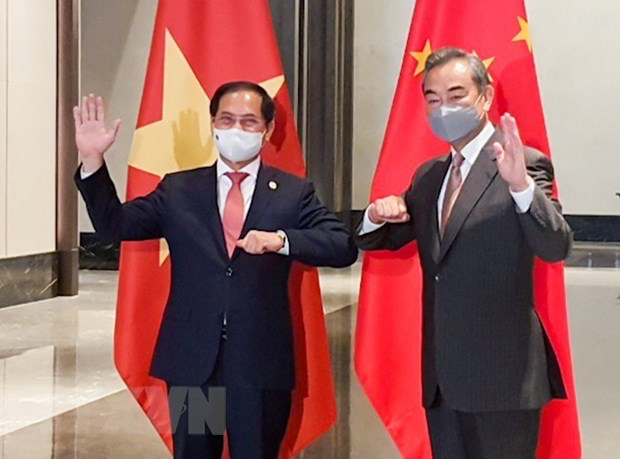 Vietnamese Minister of Foreign Affairs Bui Thanh Son (L) and Chinese State Councillor and Minister of Foreign Affairs Wang Yi. Photo: VNA
Son congratulated the Communist Party of China on its 100th founding anniversary on July 1, 2021 and its achievements in socio-economic development and Covid-19 prevention and control.
Wang congratulated Vietnam on the successful organisation of the 13th National Party Congress.
The two ministers extensively discussed bilateral ties and regional and global issues of shared concern, reported VNP.
Affirming the importance of Vietnam-China ties in each country's foreign policy, they expressed delight at the development of the friendly neighbourliness and the comprehensive strategic cooperative partnership over the past years.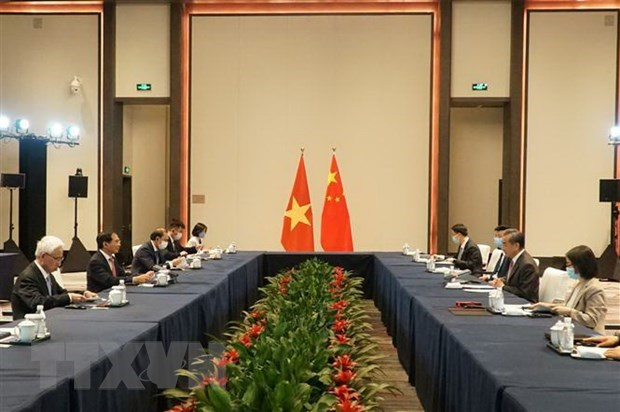 At the talks. Photo: VNA
Both sides agreed to uphold the two foreign ministries' important role in coordinating and promoting Vietnam-China ties, devise specific measures to implement high-level common perceptions such as facilitating exchanges at all levels, promoting exchanges and cooperation between the two countries' ministries, departments, and localities, and jointly fight the Covid-19 pandemic.
They pledged to lift economic-trade and investment ties in a practical, healthy, and balanced manner and foster people-to-people exchanges while maintaining cooperation at multilateral forums, especially at the UN and within the framework of ASEAN.
The two ministers consented to maintain peace and stability in the East Sea and soon reach a practical and effective Code of Conduct in the East Sea (COC) in line with international law, including the 1982 United Nations Convention on the Law of the Sea (UNCLOS).
Industrial developers winning big from rising rentals
Industrial properties continue to be a "bright spot" in Vietnam's real estate sector, with mounting rental enquiries and increased capital market activity.
2021 is forecast to be another bumper year for the sub-sector, with Vietnam continuing to scoop up global manufacturing relocations, and industrial developers with large land banks are looking forward to an even brighter future, according to the latest report from real estate consultants Savills Vietnam.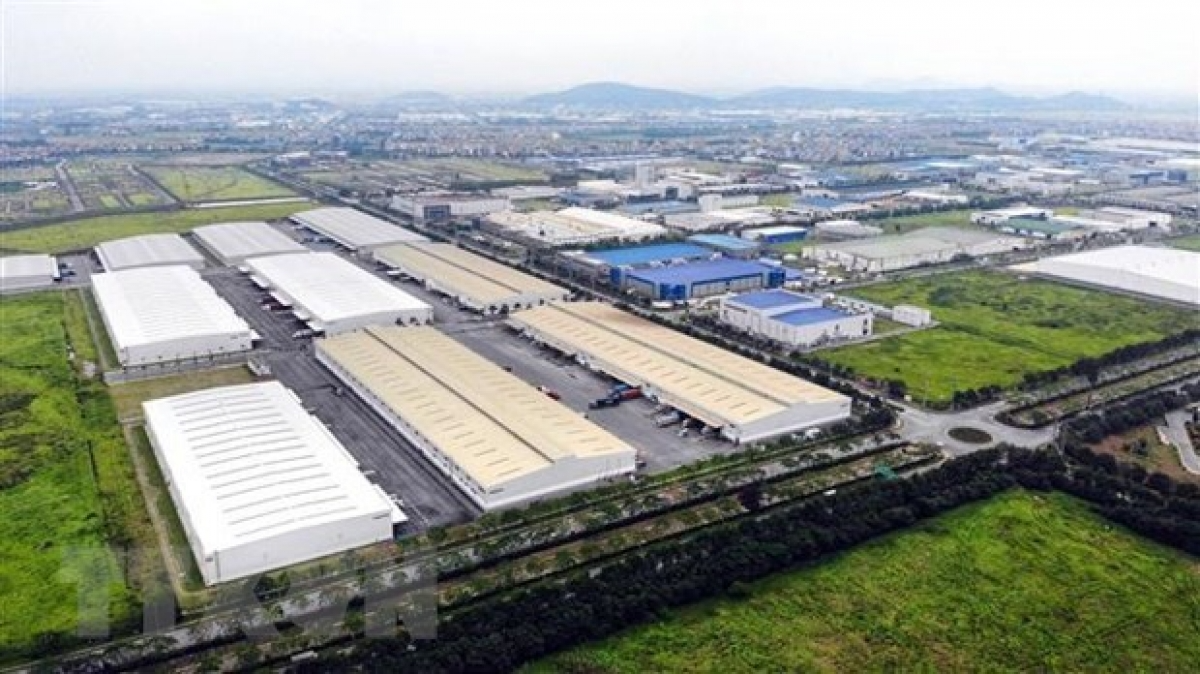 Photo: VOV
The report stated that average occupancy rates have increased significantly since 2018. In the north, average occupancies last year were up to 90% in Hanoi, 95% in Bac Ninh, 89% in Hung Yen, and 73% in Hai Phong. The rate in Ho Chi Minh city was 88%, Binh Duong 99%, Dong Nai 94%, Long An 84%, and Ba Ria-Vung Tau 79%.
Vietnam now has about 260 operational IPs and 75 others under construction. The national occupancy rate averages over 70%, according to VOV.
The sudden increase in rental enquires for land, ready-built factories, and warehousing has been accompanied by price escalations in IPs near major cities. In the north, prices in Hanoi of US$129 per sq m were up 13.1% year-on-year, of US$95 in Bac Ninh were up 9.2%, of US$83 in Hung Yen were up 6.4%, and of US$96 in Hai Phong were up 3.2%.
In 2020, HCM city saw rental prices of US$147 per square meter, while in other southern industrial areas, the price in Binh Duong of US$107 per sq m was up 4.9% year-on-year, of US$98 in Dong Nai was up 6.5%, and of US$65 in Ba Ria-Vung Tau was up 18.1%.
Rising demand for industrial properties gave a major push to overall performance by developers. The Kinh Bac City Development Holding Corp (KBC) reported revenue in excess of VND2 trillion (US$87 million) in the first quarter of 2021, almost quadrupling the figure in the same period last year. Of this, over VND1.9 trillion came from land rentals and property transfers, a three-fold increase year-on-year.
42 firms resume operations in Covid-19 epicenter
A total of 42 businesses with 7,600 workers have reopened in the northern province of Bac Giang after downing shutters for three weeks to prevent Covid-19 transmission.
The businesses are located in the province's four industrial parks-Van Trung, Quang Chau, Dinh Tram and Song Khe-Noi Hoang. New Wing Interconnect Technology, electric components manufacturer for Taiwan's Foxconn, has the highest number of employees among the reopened firms at 1,300.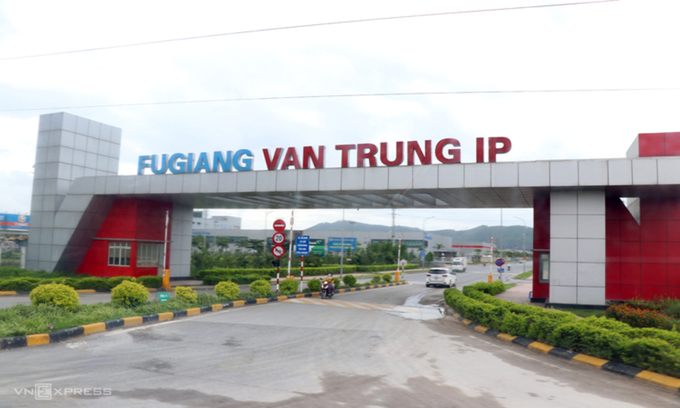 Van Trung Industrial Park in the northern province of Bac Giang. Photo: VnExpress
Enterprises that resume operation have to strictly observe all Covid-19 prevention measures. The workers are required to keep their distance while working in the factories and eating in the cafeterias. Some enterprises have provided workers with dormitories, while others have renovated their factories into accommodation units for the employees.
However, many enterprises are facing a shortage of workers upon reopening, mostly because a part of their workers are still quarantined. Besides, many employees are unable to pass Covid-19 checkpoints and get to work. Some communes have asked that enterprises are only allowed to pick up workers from other provinces if they have tested negative for the novel coronavirus twice, with the latest test a day before entering the commune, VnExpress reported.
Bac Giang Chairman Le Anh Duong has requested localities to promptly conduct the second Covid-19 test for workers who are currently staying home so as to increase the local factories' workforce.
Bac Giang province had recorded 3,288 Covid-19 cases as of Tuesday noon since the start of the fourth outbreak on April 27.
Quang Ninh reopens tourist destinations to intra-provincial visitors
Authorities in northern Quang Ninh province reopened local tourist destinations, relics, historical sites and golf courses from Tuesday to intra-provincial travelers.
The decision came as Quang Ninh, home to the world famous Ha Long Bay, around two hours from Hanoi, passed one month without new community transmissions.
Coffee shops, restaurants, eateries, sports services, gyms, fitness centers and billiards clubs in the province have all been permitted to resume operation. However, bars, karaoke parlors and dance clubs remain shut until further notice.
Quang Ninh closed all tourist destinations and suspended boat tours to UNESCO heritage site Ha Long Bay and its lesser-known sister Bai Tu Long Bay from May 6.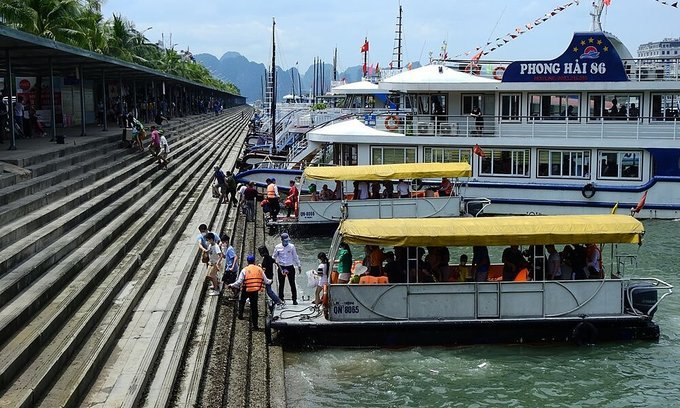 Tourists visit Ha Long Bay in Quang Ninh province, April 30, 2021. Photo: VnExpress
During the fourth coronavirus wave, the province recorded one domestic infection. The province currently requires all arrivals from coronavirus-hit localities to quarantine themselves for 21 days at centralized facilities.
Starting last Saturday, all flights connecting Ho Chi Minh city with Quang Ninh were suspended after new infections rose at an alarming rate in the southern metropolis.
Since the latest Covid-19 wave started six weeks ago, 5,951 cases have been recorded in 39 cities and provinces across Vietnam.
Rosie Nguyen