Vietnam News Today (June 4) notable headlines:
Vietnam, New Zealand enhance joint work at multilateral forums
Vietnam, Japan to augment military medicine cooperation in Covid-19 combat
Ho Chi Minh city's retail market vibrant despite Covid-19
Vietnam orders 170 million doses of Covid-19 vaccine
Ho Chi Minh city to automate labour-intensive industries
40 tonnes of fresh Vietnamese lychees to enter Australian market
Vietnamese lychees increase presence in SingaporeSingapore
Three Vietnamese universities enter THE's Asia University Rankings 2021
Flights between Hai Phong and Ho Chi Minh city temporarily halted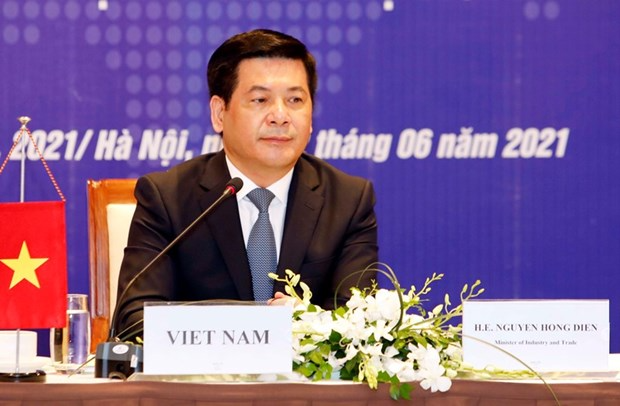 Minister of Industry and Trade Nguyen Hong Dien. Photo: VNA
Vietnam, New Zealand enhance joint work at multilateral forums
Vietnam and New Zealand have pledged to enhance cooperation within the framework of free trade agreements (FTAs) as well as offer mutual support at multilateral forums such as the WTO and APEC.
Minister of Industry and Trade Nguyen Hong Dien and New Zealand Minister for Trade and Export Growth Damien O'Connor made the pledge during recent phone talks on the sidelines of the 27th APEC Ministers Responsible for Trade (MRT) Meeting.
They noted that as Vietnam and New Zealand are active members of new FTAs such as the Comprehensive and Progressive Agreement for Trans-Pacific Partnership (CPTPP) and the Regional Comprehensive Economic Partnership (RCEP), the two need to step up their strategic partnership, which was founded on July 22, 2020, and the bilateral agriculture cooperation agreement signed on February 24, 2021.
Dien hailed New Zealand's efforts to host APEC meetings via videoconference this year and believes that practical achievements will be made during APEC Year 2021, cited VOV.
The two ministers also touched on important APEC initiatives this year, especially the Plan of Action to realise the APEC Vision 2040, the trade ministers' statement on facilitating the circulation of necessities, and several new initiatives regarding green, sustainable, and inclusive growth, Vietnamplus.
O'Connor, for his part, shared his impressions of Vietnam's economic development over past years and hoped that the country would actively join in discussions at MRT 27 about APEC 2021's priority initiatives, especially amid the global pandemic.
Concluding the phone talks, both sides agreed to direct relevant units to improve joint work to achieve the goals set in the bilateral economic-trade cooperation strategy.
Vietnam, Japan to augment military medicine cooperation in Covid-19 combat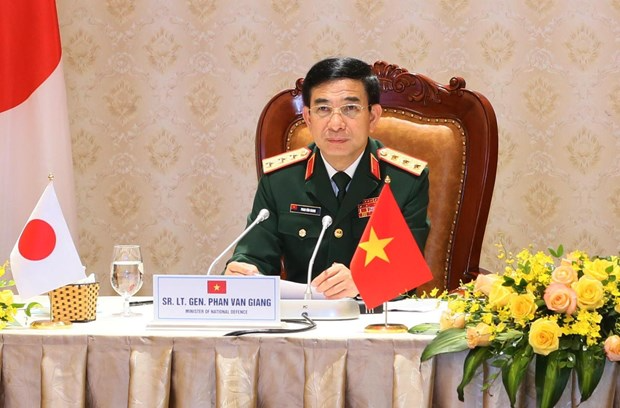 Vietnamese Minister of National Defence Sen. Lt. Gen. Phan Van Giang at the online talks with Japanese Defence Minister Kishi Nobuo on June 3. Photo: VNA
Vietnamese Minister of National Defence Sen. Lt. Gen. Phan Van Giang talked via videoconference with his Japanese counterpart Kishi Nobuo on June 3, agreeing to further intensify cooperation in military medicine to combat Covid-19 and other disease outbreaks.
The two ministers discussed the regional and international situation and informed each other about their respective countries' efforts to prevent and control Covid-19. They also highly valued Vietnamese and Japanese military medicine experts sharing knowledge and experience in the pandemic response via teleconferences.
They agreed to carry out bilateral and multilateral defence cooperation activities as soon as the Covid-19 pandemic is brought under control, with priority given to all-level meetings and UN peacekeeping operations; effectively maintain the dialogue and consultation mechanisms among the staff of the countries' naval, infantry, and air forces; organise exchanges among the naval, air, and coast guard forces; and hold capacity improvement programmes, cited VOV.
The officials also emphasised on the need to sign an agreement on the transfer of defence equipment and technology between the Vietnamese and Japanese governments soon.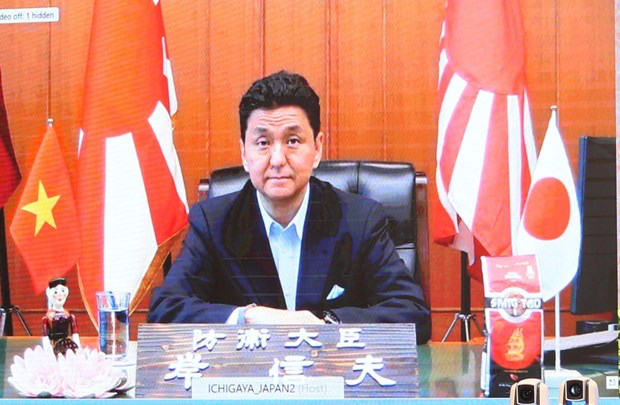 Japanese Defence Minister Kishi Nobuo at the online talks with his Vietnamese counterpart on June 3. Photo: VNA
Appreciating his counterpart's positive evaluation of the countries and the militaries' relations, Giang thanked Japan for assisting and supporting Vietnam to fulfil its role as ASEAN 2020 Chair.
He held that the two sides should coordinate together to well perform the co-chairmanship of the Experts' Working Group on Peacekeeping Operations within the framework of the ASEAN Defence Ministers' Meeting Plus in the 2021 - 2023 period.
The Vietnamese minister also voiced his hope that Minister Kishi will continue paying attention to and promoting the countries' defence cooperation in a substantive manner that matches each side's interests, for the sake of regional and global peace and development.
Ho Chi Minh city's retail market vibrant despite Covid-19
Vietnam and Ho Chi Minh city in particular are considered to hold promise for retailers from home and abroad on the back of the large, young population and rising consumer price index amid the Covid-19 pandemic.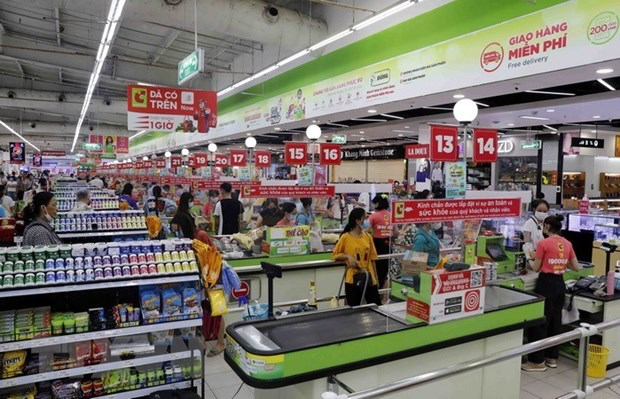 HCM city's retail market has seen a number of mergers and acquisitions recently. Photo: VNA
The municipal Statistics Office reported that the total retail sale of goods and services in the city reached over VND 456.1 trillion (US$19.8 billion) in the first five months of this year, up 8.9 percent year-on-year. The May figure topped VND 89.9 trillion, down 0.1 percent month-on-month but up 13.1 percent year-on-year.
Five-month trade revenue hit VND 255.5 trillion, up 9.5 percent compared to the same period last year. Accommodation and dining services earned more than VND 32.1 trillion, up 30.8 percent year-on-year, cited Vietnamplus.
Most notably, the city's retail market saw a number of merger and acquisitions, while retailers and companies are competing to win market share via opening new points of sale and marketing trademarks in residential areas.
Director of Commercial Leasing at Savills Vietnam Tu Thi Hong An said the retail real estate sector in HCM city is receiving foreign investment flows from new franchises in dining, fashion, and accessories.
Vietnam orders 170 million doses of Covid-19 vaccine
Vietnam has been promised 170 million Covid-19 vaccine doses and would receive over 120 million doses this year from multiple sources, according to the Ministry of Health.
Among them, global vaccine access mechanism Covax would provide 38.9 million doses for free. Vietnam has already received around 2.5 million doses from Covax in April and May, all produced by British-Swedish firm AstraZeneca.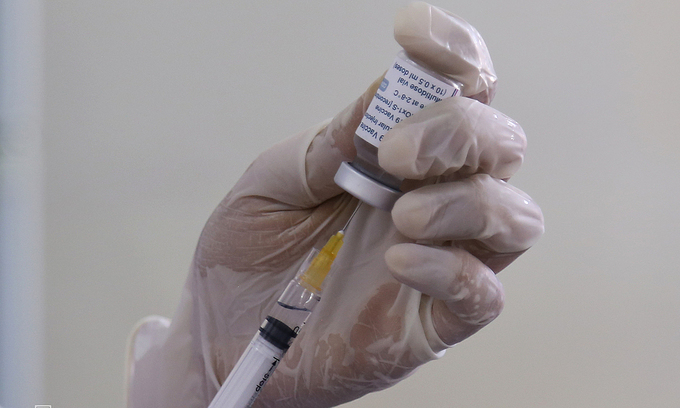 A medical worker extracts an AstraZeneca Covid-19 vaccine dose at a medical center of Quang Tri. Photo: VnExpress
Besides the doses provided by Covax, Vietnam has also ordered 30 million doses from AstraZeneca itself. So far, the country has received over 400,000 doses, cited VnExpress.
The health ministry has also recently reached an agreement with Russia to receive 20 million doses of the Sputnik V vaccine within this year, though the exact time frame has yet to be announced.
Pfizer/BioNTech said it expects to provide Vietnam around 31 million doses this third and fourth quarter, with 15.5 million doses arriving in each quarter.
Vietnam aims to secure 150 million Covid-19 vacicne doses to cover 70 percent of its population within this year, according to the health ministry. The ministry would not only seek sources for the Covid-19 vaccines, but also strive to be a part of the vaccine tech transfer process so Vietnam could produce the vaccines itself.
Minster of Health Nguyen Thanh Long said that since May, the ministry and relevant ministries and agencies have actively engaged in talks to get access to Covid-19 vaccine sources, and made every effort to secure more vaccines, thus bringing people's lives to normal, NhanDan reported.
To ensure finance, the government and the Prime Minister decided to establish a Covid-19 vaccine fund. To buy 150 million doses to inoculate around 75 million people, the fund needs an estimated VND25.2 trillion (US$1.096 billion).
Ho Chi Minh city to automate labour-intensive industries
Ho Chi Minh city has announced a programme to have its labour-intensive sectors use more technology instead.
It covers industries like foodstuff processing, pharmaceuticals, rubber, textile and garments, and mechanical engineering.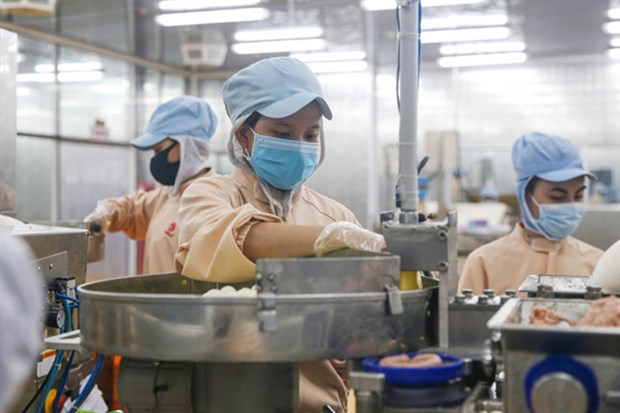 A foodstuff processing factory in Nha Be District's Hiep Phuoc Industrial Park. Photo: nld.com.vn
The Department of Science and Technology will work with other relevant authorities to evaluate the use of technology by businesses and help small and medium-sized businesses improve their competitiveness and innovation, reported Vietnamplus.
The Department of Information and Technology has been instructed to help them with digital transformation by organising training on production methods and value chains so that they can adopt new production and business models.
The city People's Committee has ordered the Department of Labour, War invalids and Social affairs to connect businesses with vocational training facilities to improve their workforce quality.
The Department of Planning and Investment will discourage investment in labour-intensive projects or those that use out-dated or energy-inefficient technologies.
The city will also launch programmes to help automate industrial production.
Rosie Nguyen