Vietnam News Today (Mar. 17): Vietnam: New Destination for Asian Multinationals
Vietnam News Today (Mar. 17): EU and US businesses keen to invest in Vietnam; Numerous activities to be held at Hung King Festival 2023; Much more room for Vietnam and Poland to boost all-round cooperation; Vietnam: new destination for Asian multinationals.
Vietnam News Today (Mar. 17) notable headlines
EU and US businesses keen to invest in Vietnam
Numerous activities to be held at Hung King Festival 2023
Much more room for Vietnam and Poland to boost all-round cooperation
Vietnam: new destination for Asian multinationals
HCM City, UK agree to enhance trade, investment ties
Light art works celebrate Vietnam-Japan diplomatic relations
NA Vice Chairman begins Spain visit
Vietnamese culture introduced in France
First Chinese tourists return to Hanoi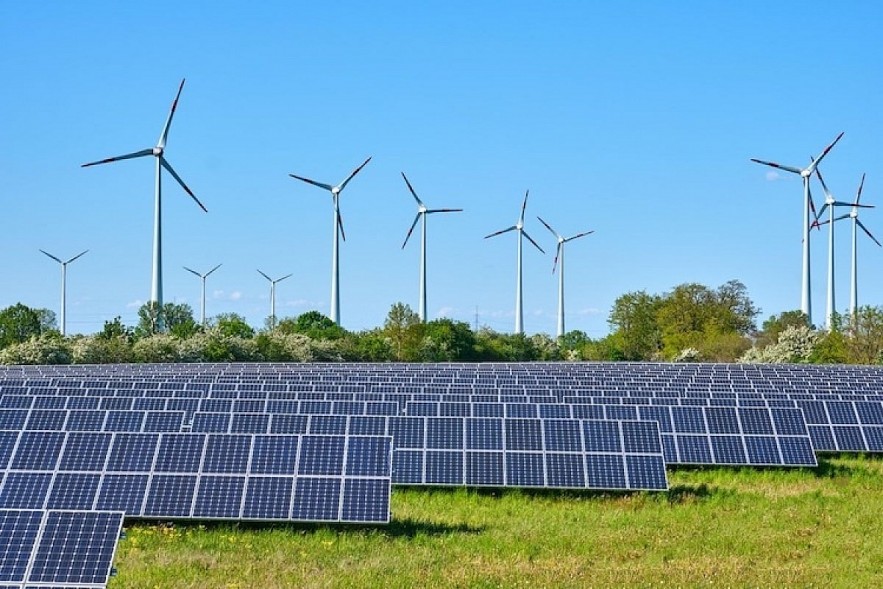 Photo: VOV
EU and US businesses keen to invest in Vietnam
Financiers from the EU and the United States have expressed their keen interest in investing in the Vietnamese market, especially in such fields as green energy, infrastructure, and logistics, according to industry insiders.
A recent survey conducted by the European Chamber of Commerce in Vietnam (EuroCham) for more than 1,300 EU firms indicates that 41% of the respondents planned to move their production facilities to the country, up 30% compared to data compiled during the previous survey.
Furthermore, approximately 35% of the respondents named Vietnam among the top five most attractive investment destinations.
Meanwhile, John Rockhold, chairman of the American Chamber of Commerce in Vietnam (AmCham Vietnam), revealed that investors from US also intend to pour a huge amount of capital into the country's green energy, logistics, and infrastructure sectors.
Explaining the growing trend, the Vietnam Association of Foreign Invested Enterprises (VAFIE) pointed to the fact that Vietnam effectively shifted to the implementation of the circular economy model in a number of industries throughout the 2021 - 2022 period.
Indeed, economic zones have gradually turned into ecological economic areas with a number of ecological urban industrial zones taking shape, a factor that has attracted the world's large corporations to invest in high-tech products such as Samsung, LG, Intel, and Toyota.
Professor Nguyen Mai, chairman of the VAFIE, emphasised that among ASEAN member states, Vietnam can be considered as a rising star in the global supply chain, as it makes up a significant market share in multiple fields, including garments and textiles, footwear, and consumer electronics.
Vietnam has also emerged as a manufacturing hub for electronic products as part of the global supply chain. Its electronics exports hit a record high of US$100 billion in 2021, representing about one third of its total export value, cited VOV.
According to the 2022 annual report detailing foreign investment in the country, there remains a number of hurdles faced by foreign investors, including cumbersome administrative procedures and visa policy for foreigners.
The report outlines that although 68.5% of the FDI firms rated Vietnam as being more favourable in terms of investment location, labour costs and quality, taxes, the Government's capability to respond to emergencies compared to other countries, the quality of infrastructure, and public service delivery in the country must be improved moving forward.
Numerous activities to be held at Hung King Festival 2023
Various activities will be held in the northern province of Phu Tho to mark the death anniversary of Hung Kings, considered the founders of Vietnam, heard a meeting organised by the provincial People's Committee on the matter.
The 10-day event, beginning on April 20, will also be a platform for the Culture and Tourism Week of Ancestral Land in the locality.
The death anniversary of the Hung Kings is commemorated on the 10th day of the third lunar month, which falls on April 29 this year, and is a national holiday. The practice of worshiping the Hung Kings in Phu Tho province was recognised by UNESCO as part of the world's intangible cultural heritage in 2012, according to VNA.
A ritual at the Hung King festival. (Photo: VNA)
Main rituals during the event include ceremonies to offer incense to Lac Long Quan and Au Co - the progenitors of Vietnam as well as flower offering at the monument which features the President Ho Chi Minh talking with soldiers from the Vietnam People's Army.
Other activities include an international conference on Vietnam's tourism, culture, heritages and sustainable development, a swimming and stand-up paddle board competition, the northwest tourism fair 2023, and football and volleyball tournaments.
Visitors can also enjoy the Northwestern Tourism Fair in 2023, the Northeast - Phu Tho trade fair in 2023, the Land Father Food Culture Festival, and a Cultural Camp and Art Festival to celebrate the legacy of the Hung Kings.
Much more room for Vietnam and Poland to boost all-round cooperation
There remains ample room for Vietnam and Poland to promote their multifaceted cooperation on the back of the fine development of their relations over the past seven decades and opportunities from the EU – Vietnam Free Trade Agreement (EVFTA).
The agreement was reached during talks in Hanoi on March 16 between Minister of Foreign Affairs of Vietnam Bui Thanh Son and his Polish counterpart Zbigniew Rau who is in Hanoi for a two-day visit to Vietnam.
Son affirmed Vietnam attaches importance to and wishes to strengthen multifaceted cooperation with Poland, a traditional partner and friend of Vietnam in Central Eastern Europe.
Meanwhile, Rau hailed Vietnam's increasingly important role and position globally, and stressed that Poland also wishes to beef up relations with Vietnam which is Poland's leading important partner in Southeast Asia.
Both ministers acknowledged that Poland is currently Vietnam's number one trading partner in Central Eastern Europe and that Vietnam is Poland's fourth largest trading partner in Asia.
Despite the impact of the COVID-19 pandemic over the past two years, economic-trade cooperation between the two countries has continued to maintain positive growth, with two-way trade turnover in 2021 and 2022 reaching a record high of more than US$2.5 billion.
To promote bilateral cooperation, especially in economy, trade and investment, Son suggested the two sides work closely to maximize opportunities from the EVFTA, reported VOV.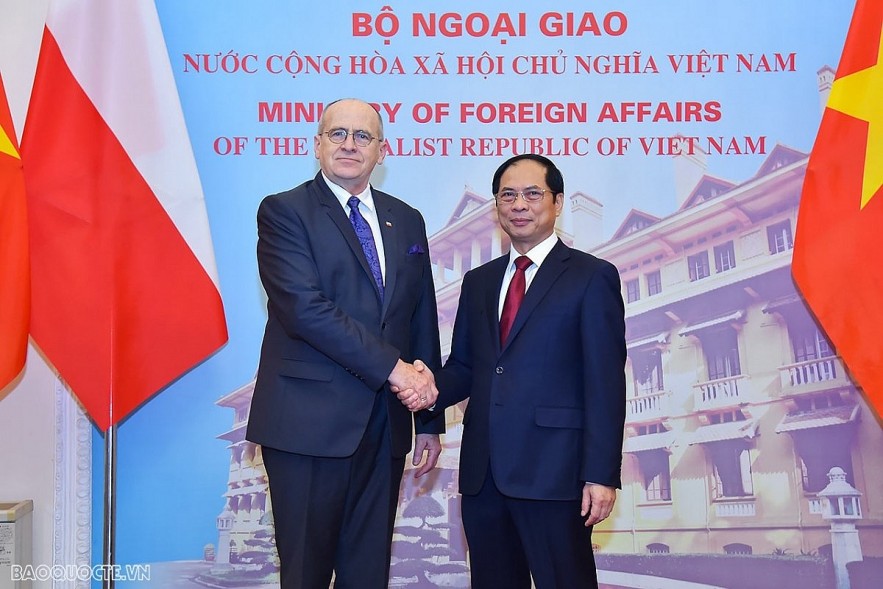 Minister of Foreign Affairs of Vietnam Bui Thanh Son (R) welcomes his Polish counterpart Zbigniew Rau ons his first visit to Vietnam on March 16. (Photo: baoquocte.vn)
He also requested that Poland create favourable conditions for Vietnam's agricultural - aquatic products and seasonal tropical fruits to make inroads into the Polish market. He also encouraged Poland to increase investment in the fields of Polish strengths and Vietnamese needs such as pharmaceuticals, animal husbandry, food processing, manufacturing and processing, and mineral exploitation.
Son took this occasion to ask Poland to soon ratify the EU-Vietnam Investment Protection Agreement (EVIPA), and lobby the European Commission to soon remove the 'yellow card' for Vietnamese seafood products exported to the EU.
Rau for his part hailed Vietnam as one of Poland's most potential markets in Southeast Asia, suggesting that the former support Polish products such as beef, poultry and blueberries in entering its market. He expressed the wish that the two sides promote cooperation in the fields of information technology, smart city, green technology, and environmental protection, among others.
The two ministers also agreed to ramp up bilateral cooperation in education - training, agriculture, natural resources - environment, culture, tourism, monument restoration, health, information technology and tourism. media, and labour.
They agreed that both countries should strengthen delegation exchanges and closely coordinate and support each other at multilateral and international forums, including the United Nations, Asia-Europe Meeting (ASEM) and ASEAN-EU forums.
Son thanked the Polish Government for creating conditions for the Vietnamese community to integrate and live stably in their host country.
In reply, Rau noted the Vietnamese community is one of the most respected and admired expat communities in Poland for their diligence, hard work, and practical contributions to local economy. He affirmed that Poland would continue to support the Vietnamese community in promoting its role as a bridge to develop the friendship and multifaceted cooperation between the two countries.
Foreign Minister Zbigniew Rau began a two-day working visit to Vietnam on March 16 at the invitation of his Vietnamese counterpart Bui Thanh Son.
Vietnam: new destination for Asian multinationals
Regional and global foreign investors and multinationals operating in Vietnam are contributing to more than 80 percent of export turnover and 25 percent of domestic investment value.
MM Depot Thanh Hoa, the seventh delivery center of MM Mega Market in Vietnam, has recently opened. The center targets HORECA clients (Hotel-Restaurant-Catering/Cafe/Canteen), which means it provides food and beverages.
The move by MM Mega Market, a subsidiary of Thai BJC/TCC, serves demand for transiting, storing and distributing fresh food in large quantities to local clients.
Bruno Jousselin of MM Mega Market said when opening the 700 sq m depot in Thanh Hoa, the retailer noted the economic growth, especially tourism development, in the province.
In February 2023, the construction of Aeon Mall Hue, covering an area of 8.62 hectares, capitalized at $169 million, kicked off. This is the largest general shopping center in the central region of Vietnam.
Furusawa Yasuyuki, CEO of Aeon Vietnam, told VietNamNet that the company will be flexible in expanding business. The retailer from Japan will open more stores under different forms to satisfy customers' shopping behaviors.
The recent moves of the two retail groups from Thailand and Japan show the attractiveness of the Vietnamese consumer market, though the economy is facing some difficulties.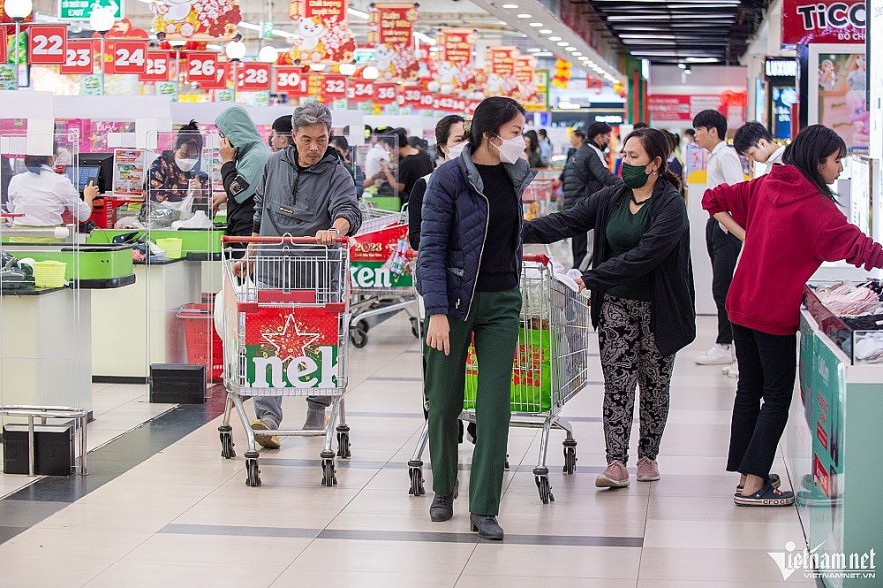 Photo: VNN
According to Savills Vietnam, in 2022, newly registered foreign direct investment (FDI) from Taiwan (China) reached $215 million, raising total investment value from Taiwan in Vietnam to $1.35 billion.
Taiwan's projects are mostly in the fields of processing and manufacturing industry, construction and real estate. It ranked second in FDI capital in Vietnam in the first two months of the year with $407.1 million, accounting for 13 percent of total investment capital.
Neil MacGregor from Savills Vietnam noted that the new capital flow is coming from hi-tech investors from Taiwan (China) and India. The real estate market is also witnessing projects successfully developed by Taiwanese investors such as Phu My Hung urban area in HCM City, Royal Center and Nikko Hotel.
In HCM City, which leads in number of foreign invested projects with total investment capital of $56.35 billion, 103 foreign invested projects were licensed in the first two months of 2023, totaling $99 million.
This was up by 47 percent in number of projects and 24 percent in amount of capital compared with the same period last year, cited VNN.
Of this, 54 percent of capital was poured into the construction sector, 32 percent into wholesale and retail, and automobile and motor repair; and 7.5 percent into science and technology.
Joonsuk Park from HSBC Vietnam said FDI is one of the important catalysts helping Vietnam become one of the most open economies in the region. The government of Vietnam has been taking full advantage of FTAs (free trade agreements) to create a foundation for export growth.
Meanwhile, the domestic market is also an important market for multinationals. HSBC's survey pointed out that the Vietnamese consumer market will exceed Thailand, UK and Germany by 2030.
Currently, regional and global foreign investors and multinationals in Vietnam are contributing to more than 80 percent of total export turnover from Vietnam and more than 25 percent of domestic investment value. They are mostly Asian companies.
Vietnam's leading export products include mobile phones, electronics, machinery, garments, footwear and woodwork.
Asian multinationals from South Korea, China, Hong Kong (China), Japan, Singapore, and Taiwan (China) are the best known.
HSBC said some multinationals in Asia are interested in Vietnam, especially in the fields of retail, semiconductor, electronics, mobile devices, plastics, renewable energy and logistics. They are seeking to scale up business or make new investments in Vietnam.
HCM City, UK agree to enhance trade, investment ties
Ho Chi Minh City and the UK should strengthen cooperation in trade and investment, Chairman of the municipal People's Committee Phan Van Mai said on March 16.
The collaboration should focus on the exchange of experience in building legal mechanisms, the implementation of a project on building the HCM City financial centre, the establishment of an innovation centre of HCM City, first in health care, and the research and manufacturing of drugs and medical equipment, Mai told Mark Garnier, the British Prime Minister's Trade Envoy for Vietnam, Thailand, Myanmar and Brunei.
The official stressed that HCM City benefits from good relations between Vietnam and the UK, and that the city wishes to work together with the UK to step up trade activities to soon fulfill the target of raising bilateral trade to 1 billion USD right in 2023 when the two countries celebrate the 50th anniversary of their diplomatic ties, VNA reported.
HCM City will coordinate with the British Consulate General in the city and British partners to implement the agreements, contributing to consolidating and promoting the Vietnam-UK relations, he affirmed.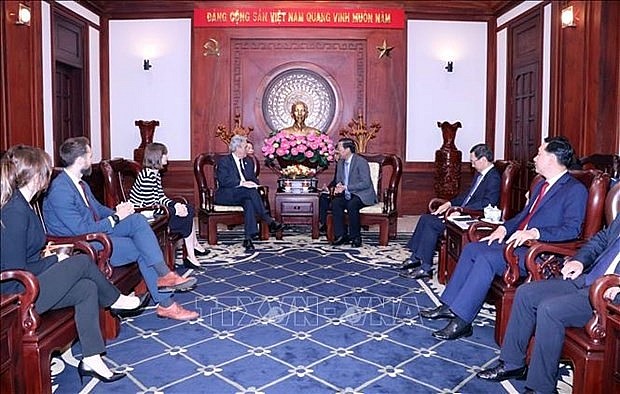 At the reception (Photo: VNA)
For his part, Garnier expressed his impression on the dynamism and development potential of Vietnam and its southern economic centre in particular, and pledged to work harder to enhance the trade and investment links between the UK and Vietnam and the city as well.
British firms are always interested in and ready to cooperate with HCM City in materialising the plan of building the city into a regional financial centre which is competitive globally, he said.
They are also fully aware of HCM City's potential and demand in health care and drug research, and wish to step up cooperation with the city in this regard, and promised to support the southern metropolis in development, the envoy continued.
The UK is willing to cooperate and assist HCM City in high-quality personnel training in service of banking, financial and medial sectors, thus contributing to fostering the trade and investment ties between the two sides and the two countries at large, he stressed.