Vietnam News Today (Mar. 16): Workers to Have Five Days Off for Public Holidays in April, May
Vietnam News Today (Mar. 16): Vietnam highlights digital technology application for gender equality at UN session; Chinese travel firms place trust in Vietnamese market recovery; Workers to have five days off for public holidays in April, May; Quang Ninh develops more maritime tourism products.
Vietnam News Today (Mar. 16) notable headlines
Vietnam highlights digital technology application for gender equality at UN session
Chinese travel firms place trust in Vietnamese market recovery
Workers to have five days off for public holidays in April, May
Quang Ninh develops more maritime tourism products
Da Nang steps up co-operation with RoK's Daegu city
Vietnam enjoying robust growth after border reopening
Quang Ninh welcomes first foreign tourist group via Mong Cai border gate
Vietnam targets eliminating substances harmful to ozone layer
Two-month import and export of FDI firms falls by over US$9 billion
At the event (Photo: VNA)
Vietnam highlights digital technology application for gender equality at UN session
The application of digital science and technology towards the goal of gender equality requires political will and real actions of governments and the willingness to transform of relevant sectors in society, affirmed a Vietnamese official.
In her remarks at the 67th session of the UN Commission on the Status of Women (CSW), Minister Counsellor Le Thi Minh Thoa, Deputy Permanent Representative of Vietnam to the UN, highlighted Vietnam's achievements in this area, including the Government's adoption of a national programme on digital transformation to 2025 and celebration of National Digital Transformation Day for the first time.
Vietnam has also recorded sound outcomes in gender equality promotion, climbing four places to the 83rd in the World Economic Forum's Global Gender Gap Index 2022, with the rate of women participating in the workforce reaching 62.5%, higher than the global average of 56%.
To boost the engagement of women and girls in the global digital transformation, the representative of Vietnam recommended further removing stereotype barriers in career guidance, and education and training in natural sciences; and narrowing the gender gap in digital issues.
It is necessary to ensure that the groups enjoy the fruits of scientific and technological progress and equip them with the knowledge and skills to find employment in the digital era, the diplomat noted.
Themed "Innovation and technological change, and education in the digital age for achieving gender equality and the empowerment of all women and girls," the session – the UN's largest annual gathering on gender equality and women's empowerment – takes place from March 6 to 17. It gathers 201 representatives of nations and international organisations.
At the plenary sitting, UN Secretary-General António Guterres called for urgent action in three areas, starting with increasing education, income and employment for women and girls, cited VNA.
Women's and girls' full participation and leadership in science and technology must also be promoted, while the international community must also create a safe digital environment for them, he noted.
Representatives of participating nations also presented their solutions, including the incorporation of gender equality into policy making process, and the creation of jobs for women and of preferential loans for female-led startups, among many others.
Chinese travel firms place trust in Vietnamese market recovery
With China officially resuming group tours to Vietnam on March 15, several Chinese travel firms have firmly backed the recovery of the Vietnamese market and are actively preparing tourism products in a bid to capitalise on opportunities during the upcoming holiday.
A representative of Beijing-based BJST Company, a firm that specialises in organising international tours for Chinese citizens, said the business has begun designing advantageous products aimed at seizeing upon opportunities of the upcoming May Day holiday on May 1.
The representative revealed that BJST started to tap into the Vietnamese market in 2017, adding that it can bring more than 800 passengers to the nation by air every day during the peak period.
Wu Xing, in charge of BJST's Tourism Operations, said the company has devised plans which seek to boost tourism promotion activities through several channels, noting that it takes at least one month to launch tourism products to the market.
According to data from Ctrip, China's largest online travel platform, between January 8 and March 8, the number of Chinese tourists to Vietnam increased by more than 23 times, while the number of hotel bookings also saw a 22-fold rise against the same period from last year.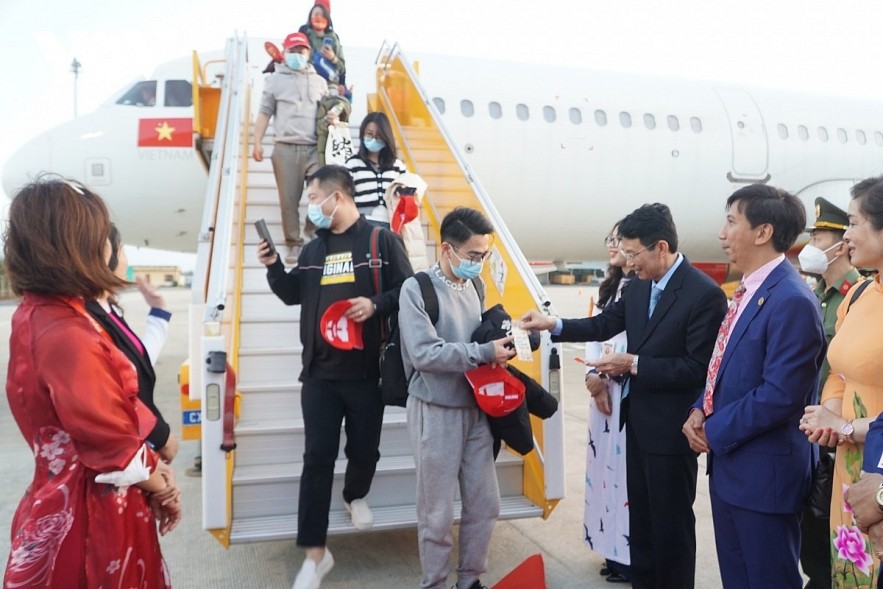 Photo: VOV
Furthermore, statistics from the platform Tongcheng Travel indicate that among the 40 countries in the list of resuming group tours, Chinese tourists remain extremely interested in markets such as Vietnam, Italy, Serbia, France, and Spain.
Xing emphasised that Japan, the Republic of Korea, and other Southeast Asian countries, especially Vietnam, represent the BJST's main markets.
Before the COVID-19 pandemic broke out, the company brought between 80,000 and 100,000 visitors to Vietnam each year, adding that the Vietnamese market accounts for more than 50% of the company's overall tourism operations, according to VOV.
"I strongly believe in the Vietnamese and hope that the Vietnam National Administration of Tourism will exert greater efforts in ramping up tourism promotion activities in China, providing support to tourism businesses and facilitating visas for Chinese tourists such as visa-fee waivers," he said.
According to data compiled by China's Ministry of Culture and Tourism, before the COVID-19 pandemic, 2019 saw Chinaese travel agencies bring 62.88 million tourists to foreign markets.
Most notably, Vietnam ranks fourth after Thailand, Japan, and Taiwan (China) in terms of the number of visitors, accounting for 8%.
He emphasised that if Thailand was the country that welcomed the most Chinese tourists in the world before the pandemic, Nha Trang represents a Vietnamese locality which can do the same thing.
"Nha Trang accounts for more than 80% of our tourism products in Vietnam as the city has had many flights all over China," he said, adding that it also boasts a complete chain of hotels, vehicles, services, and shopping malls, whilst the friendliness of local people is also a strong factor luring tourists to the city.
He predicts that Phu Quoc island in the southern province of Kien Giang can also develop into a prime choice of Chinese tourists in the future.
With Thailand being the country that receives the most Chinese tourists, the Tourism Authority of Thailand estimates that there will be about five million Chinese visitors to Thailand this year, or less than 50% compared to 2019.
HSBC experts, however, pointed out that the return rate of Chinese tourists to Vietnamese market is likely to reach 50% to 80% compared to before the pandemic, equivalent to between three million and 4.5 million if the country eases flight restrictions or further relaxes visa requirements in the time ahead.
Workers to have five days off for public holidays in April, May
Workers in Vietnam will enjoy five consecutive days off from April 29 to May 3 to celebrate Hung Kings Commemoration Day, Reunification Day, and International Workers' Day in April and May.
Specifically, public workers are entitled to a total of three days off for Hung Kings Commemoration Day, Reunification Day, and International Workers' Day, according to the Labor Code.
The rare long holiday, equal to a workweek, is predicted to boost travel and tourism.
In 2023, Hung Kings Commemoration Day, which takes place on the 10th day of the third lunar month, falls on April 29 this year, and is immediately followed by Reunification Day (April 30) and International Workers' Day (May 1).
However, April 29 and April 30 are Saturday and Sunday, thus May 2 and 3 will be treated as compensated days off. Hence, workers will have a five-day break from April 29 to May 3 to mark the three public holidays.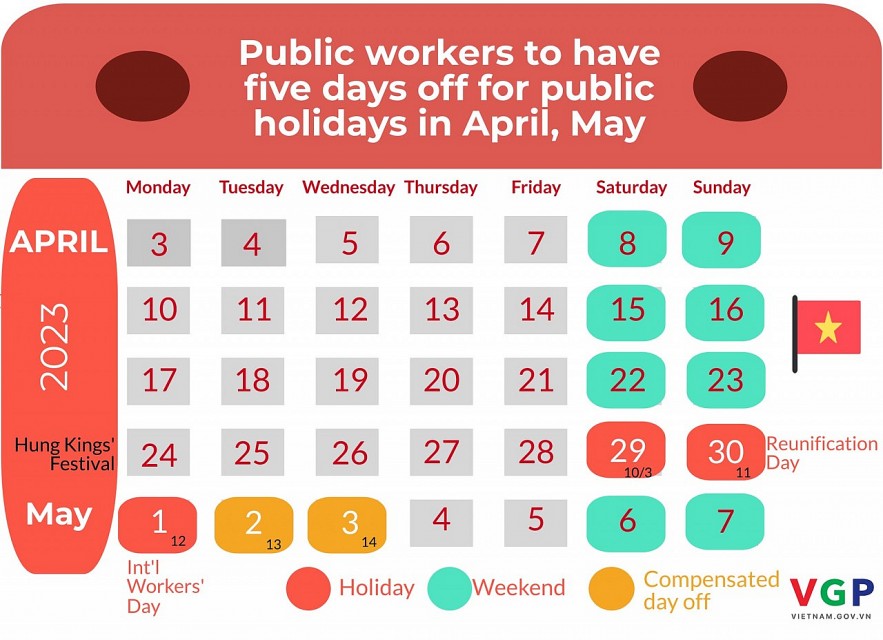 Photo: VGP
This schedule applies to officials, civil servants, and employees of administrative agencies, political organizations, and socio-political organizations.
Employees who work overtime or work at night on public holidays are also entitled to at least 300 percent of their salary, according to the Labor Code.
Workers have 19 days off work in 2023 for public holidays. The holidays comprise of 11 official holidays and compensatory rest, extended due to the overlapping of weekends.
The Hung Kings' Temple Festival is held each year from the 8th to the 11th days of the third lunar month in honor of the Hung Kings and their role in shaping the nation. The official name of the festival is 'Death Anniversary of the Hung Kings'. However, the date does not mark the death of any specific Hung King but honors their contribution to Viet Nam as the traditional founders of the nation and the first emperors.
The National Reunification Day (April 30) is a national public holiday, commemorating the liberation of the South and national reunification in 1975.
May Day, also known as International Workers' Day, is celebrated in over 80 countries across the world including Vietnam.
Quang Ninh develops more maritime tourism products
The northern coastal province of Quang Ninh has planned to launch two more maritime tourism products in Bai Tu Long Bay in Van Don district in order to reduce the density of visitors in Bai Chay and Tuan Chau tourism centres.
These are two out of 24 new products that the province has planned to launch in the coming time, reported VNA.
Secretary of the Party Committee of Van Don district Truong Manh Hung said a number of cruise ships on Ha Long Bay will be used to serve two sightseeing tours on Bai Tu Long Bay.
To experience the new service, domestic and international tourists need to move a short distance from Van Don international airport to Ao Tien high-class port instead of having to go a long distance to Ha Long Bay, he noted.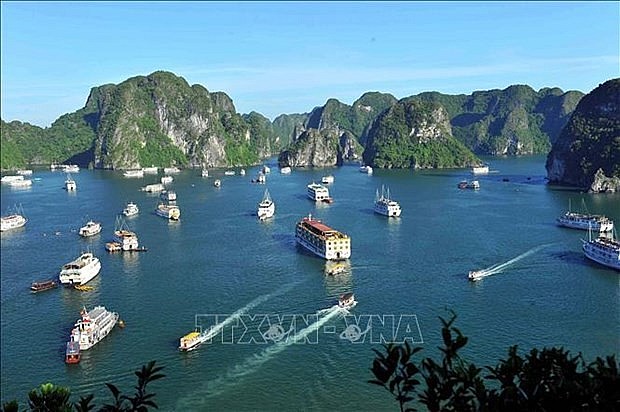 A view of Ha Long Bay (Photo: VNA)
The operation of the two new routes is expected to help effectively exploit the Ao Tien port, which was put into operation in early March, contributing to diversifying new marine tourism products, Hung added.
The local authorities will focus on developing sea and island tourism products in Ha Long and Bai Tu Long Bays, and Van Don and Co To districts, upgrading the cruise ship fleet to meet international standards; and expanding tourism services to Bai Tu Long Bay and Van Don, Co To, Tien Yen, Dam Ha, Hai Ha and Mong Cai in the principles of harmonious, sustainable and effective development towards ensuring ecological environment and sustainable management.
Quang Ninh is also calling for more investment for developing high-end products from professional investors, focusing in Van Don and Co To areas, and developed community-based tourism in areas with difficult economic conditions but rich in national cultural traditions, Hung said.
Da Nang steps up co-operation with RoK's Daegu city
Nguyen Van Quang, secretary of the Da Nang City Party Committee and head of the Danang National Assembly delegation, hosted a reception on March 15 for Mayor of Daegu City of the Republic of Korea (RoK) Hong Joon Pyo and his delegation which is making a working visit to the central city.
The Daegu Mayor outlined that the RoK is an economically-developed country, with these achievements being recorded through the care of educating and training people.
Mayor Hong expressed his impression that Da Nang has focused on investing in human education, adding that Daegu is boosting the development of high-tech industry and education - training.
Currently, the Da Nang–Daegu route has resumed with more and more people travelling, thereby opening up plenty of opportunities for further investment promotion and co-operation in areas where the two localities have advantages.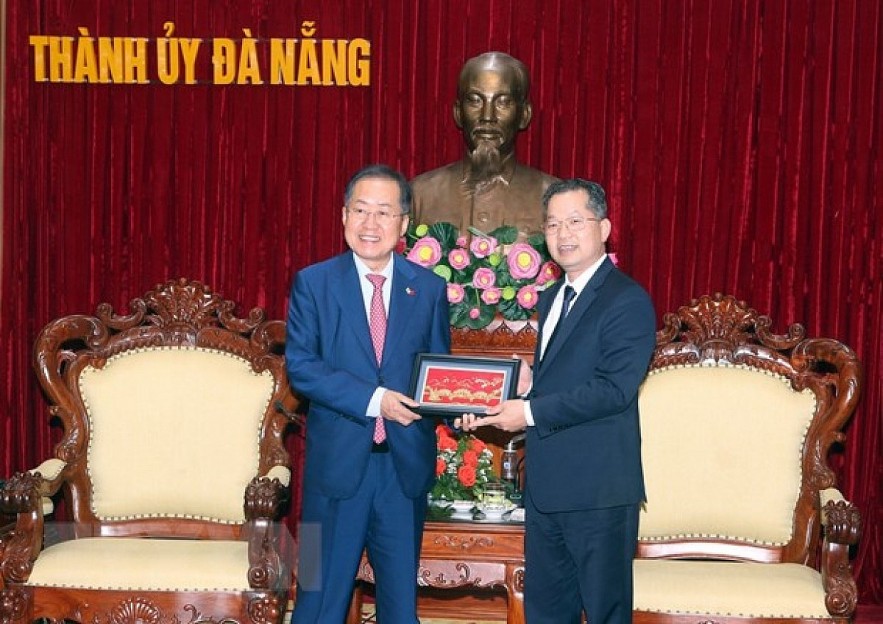 Secretary of the Da Nang City Party Committee Nguyen Van Quang (R) presents a souvenir to Mayor of Daegu City Hong Joon Pyo (Photo: VNA)
In response, Quang stated that Da Nang currently enjoys co-operative relations with many Korean localities, including Daegu across multiple fields, such as investment, trade, tourism, education, people-to-people diplomacy, and cultural exchanges. The RoK is also one of the key tourist markets of Da Nang, he went on to say.
By knowing how to promote human potential for the cause of economic development, the RoK has become a developed country, with this being a very valuable lesson, the municipal leader said. He added that Daegu and Da Nang have a starting point and development process with many similarities, with many models that Vietnam is currently applying also being from the RoK's experience, such as the new rural model.
Da Nang also focuses on developing high-tech industry, whilst local people love to travel to the RoK. Similarly, Koreans also love to travel to Da Nang, cited VOV.
Quang highly appreciated the opinion given by Mayor Hong on the linkages in education and training and cultural exchanges towards the goal of human development for greater economic development.
Quang said he hopes that Daegu would increase investment and ties with Da Nang in the fields of high technology, education, and training and tourism.
The two localities will also seek to intensify cultural exchange activities towards the 20th anniversary of their friendly and co-operative ties.