Vietnam News Today (Mar. 14): Hoa Ban (Bauhinia Flower) Festival Opens in Dien Bien
Vietnam News Today (Mar. 14): NA Vice Chairman meets with IPU President, Lao counterpart in Bahrain; Hoa Ban (Bauhinia Flower) Festival opens in Dien Bien; WB predicts Vietnamese economy to grow by 6.3% in 2023; Petrol prices revised up in latest adjustment.
Vietnam News Today (Mar. 14) notable headlines
NA Vice Chairman meets with IPU President, Lao counterpart in Bahrain
Hoa Ban (Bauhinia Flower) Festival opens in Dien Bien
WB predicts Vietnamese economy to grow by 6.3% in 2023
Petrol prices revised up in latest adjustment
Vietnamese village named among world's best tourism villages
Myriad activities to be held during Da Lat tourism week 2023
RoK investors inject US$81.3 billion into Vietnamese market
Vietnamese grilled banana among world's most delicious desserts
Vietnam Airlines adds more flights between Vietnam and India
NA Permanent Vice Chairman Tran Thanh Man (R) meets with IPU President Duarte Pacheco on the sidelines of the 146th IPU Assembly in Bahrain. (Photo: VNA)
NA Vice Chairman meets with IPU President, Lao counterpart in Bahrain
Permanent Vice Chairman of the Vietnamese National Assembly (NA) Tran Thanh Man had separate meetings with President of the Inter-Parliamentary Union (IPU) Duarte Pacheco and Vice President of the Lao NA Sounthone Xayachak in Manama, Bahrain, on March 12 on the sidelines of the 146th IPU Assembly.Meeting with IPU President Duarte Pacheco, Man affirmed that since Vietnam became a member of the IPU in 1979, the country has always actively and responsively engaged in its activities, including the successful hosting of some big events such as the 132nd IPU Assembly and the IPU Asia-Pacific conference on climate change response.
He said that Vietnam's hosting of the upcoming IPU Global Conference of Young Parliamentarians once again affirms the country's commitments, as well as its great attention to the role of the youth in global issues.
Man hailed the role of IPU leaders over the years, especially in strengthening the collaboration between the union and member parliaments for common targets of peace, democracy and prosperity.
He said that the Vietnamese NA always considers the engagement in IPU activities as an important multilateral diplomatic task that aims to seek solutions to urgent global issues. The IPU provides a forum for the Vietnamese legislature to learn good practices of other parliaments in the world and enhance its operational efficiency, Man added.
For his part, Pacheco said that the IPU and the Vietnamese NA share common values of a better world. The union always defines dialogue as an effective tool to narrow differences and settle crises and conflicts, he said, expressing his hope that the parliaments of all UN member states will become members of the IPU.
The IPU leader welcomed Vietnam's hosting of the 9th IPU Global Conference of Young Parliamentarians in September, affirming that the union will work closely with Vietnam for the success of the event, cited VNA.
Pacheco said he believed that Vietnam will continue to be a responsible member of the IPU with the contributions of valuable ideas to the union and the willingness to perform tasks in the IPU in the time to come.
Meeting with his Lao counterpart Sounthone Xayachak the same day, Man underlined that Vietnam always gives the highest priority to the reinforcement and enhancement of the traditional friendship, special solidarity and comprehensive cooperation with Laos, and always accompanies and supports Laos during the country's national protection, construction, reform and development.
Regarding the relationship between the two legislatures, Man said that he is pleased at the effective implementation of the cooperation agreement signed in May 2022.
The two sides have actively shared experience in law building and supervision, contributing to supporting the post-pandemic economic recovery, he noted, suggesting that the two sides continue to work together in realising their cooperation agreement, while promoting the mechanism of high-level meeting of the Cambodia-Laos-Vietnam (CLV)'s parliaments, and collaborating in supervising the implementation of international conventions that the two sides have signed, especially those on trade and investment, thus strengthening the connectivity between the two economies.
Sounthone highly valued the outcomes of the Laos-Vietnam Friendship and Solidarity Year 2022 as well as the partnership between the two legislatures at regional and international inter-parliamentary forums over the years. He agreed with his Vietnamese counterpart on the enhancement of ties in supervising bilateral investment and cooperation projects, contributing to removing obstacles facing them and enhancing bilateral cooperation.
Sounthone expressed his hope to collaborate with Vietnam and Cambodia to organise the first meeting of the CLV's NA leaders in December.
He also asked for the Vietnamese NA's support for the Lao NA to complete its tasks as the AIPA Chair in 2024.
Hoa Ban (Bauhinia Flower) Festival opens in Dien Bien
The 2023 Hoa Ban (Bauhinia Flower) Festival and the seventh Dien Bien Culture, Sports and Tourism Festival, officially opened at a ceremony held in Dien Bien Phu City, in the northwestern province of Dien Bien, on March 12.
The event was attended by former Politburo member and Vice Chairwoman of the National Assembly Tong Thi Phong.
The 2023 Bauhinia Flower Festival and the seventh Dien Bien Culture, Sports and Tourism Festival, will feature various attractive and exciting activities, aiming to preserve and honour the community-based culture of ethnic groups, towards contributing to the development of Vietnamese culture.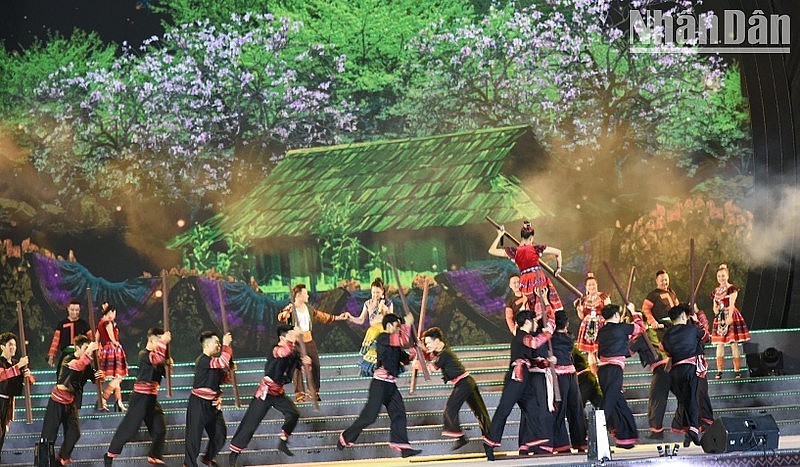 An art performance at the opening ceremony. (Photo: NDO)
The event offers an opportunity for Dien Bien Province to expand its connection with many provinces, cities and businesses, to boost cooperation, investment and trade promotion and the renewal of tours, contributing to the socio-economic development of the localities.
The art programme at the opening ceremony reflected the beauty of the life and culture of ethnic minority groups in Dien Bien Province, according to NDO.
Since 2014, Bauhinia Flower Festival has become a typical cultural and tourist brand of Dien Bien Province. The festival's spread has contributed to successfully fulling the goal of making tourism a spearhead economic sector of the province, creating a driving force for economic growth and restructuring.
WB predicts Vietnamese economy to grow by 6.3% in 2023
Vietnam's economic growth is projected to ease to 6.3% in 2023 from a robust 8% last year, as services growth moderates and higher prices and interest rates weigh on households and investors, according to the World Bank's latest Taking Stock report released on March 13.
Growth is expected to pick up to 6.5% in 2024 as the economies of Vietnam's main export markets gain strength, the report says.
The outlook for Vietnam reflects heightened uncertainty in the global economy. Downside risks include weaker-than-expected growth in Vietnam's major export markets, which include the United States, China and the eurozone, tightening financial conditions, higher domestic inflation, weaknesses in the balance sheets of corporate, banking and household sectors, and financial sector vulnerabilities.
Domestic and external headwinds warrant increased vigilance and data-driven policy responses, the report says.
These include managing the trade-off between growth and inflation and strengthening the supervisory framework for the financial sector. On the upside stronger than expected recovery of global growth could lift exports and hence growth above the baseline projection.
"Vietnam has the fiscal space to implement measures to boost growth, unlike many other countries," said Carolyn Turk, World Bank Country Director for Vietnam. "Effective implementation of priority public investments is key to support growth, both in the short-term and in the longer-term. Also, fiscal and monetary policies must be synchronized to ensure that support to the economy and macroeconomic stability are achieved effectively."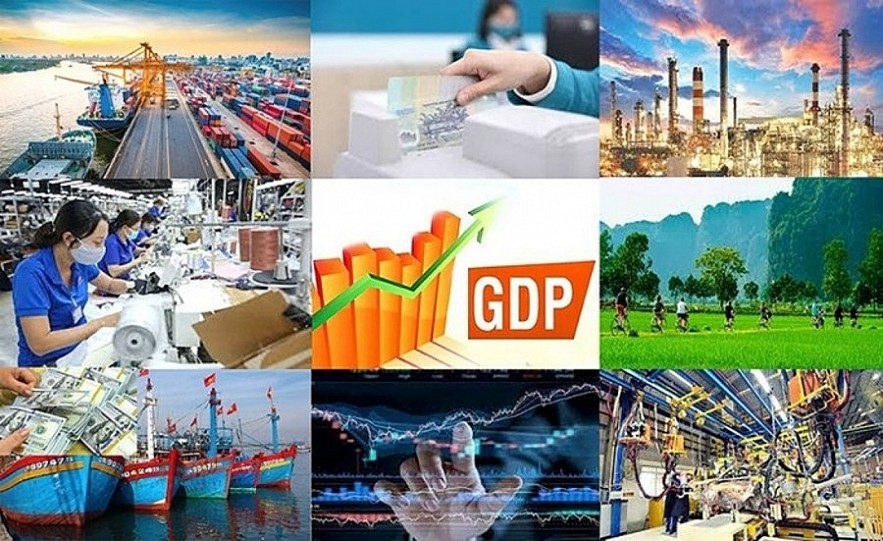 Photo: VOV
The report's special section on Vietnam's services sector identifies four key reforms that could unlock the potential of a sector that can deliver substantial employment and added value. For Vietnam to achieve its objective of becoming a high-income economy by 2045, it should more effectively leverage its diversified services sector to secure more sustained productivity growth, according to the analysis, "Harnessing the potential of the services sector for future growth."
This would entail undertaking reforms to enhance services sector productivity and its cross-sectoral contributions to manufacturing and agriculture productivity growth.
Even though Vietnam's services sector has grown as a share of the economy, employed a greater share of workers, and seen its labor productivity increasing in the decade before 2019, Vietnam's performance in this area lags peer countries such as Malaysia, the Philippines, and Indonesia, VOV reported.
Exports of knowledge-rich services known as "global innovator services" constitute only 9% of total services exports, and only 6.4% of total employment in the services sector is in this sub-sector, which includes information and communications technology, finance, and professional services, which are among the most productive services areas in the economy. The small scale of firms, restrictions to services trade, low technology adoption, and scarcity of inter-sectoral linkages affect productivity, suggesting that there is room for improvement through appropriate policy actions.
To accelerate growth of this sector, Vietnam could consider reducing restrictions to services trade and foreign investment in this area, implementing reforms to enhance competition and access to finance for domestic firms.
This is addition to encouraging firm-level product and process innovation and technology adoption, strengthening skills and capabilities of workers and managers, and focusing on services that can promote further growth of other sectors, particularly manufacturing.
Petrol prices revised up in latest adjustment
Petrol prices increased up to 490 VND per litre in the latest adjustment from 3pm on March 13 by the Ministry of Industry and Trade, and the Ministry of Finance.
The retail prices of RON 95-III and E5 RON 92 were raised by 490 VND and 380 VND respectively to 23,810 VND (1.01 USD) and 22,800 VND per litre.
The price of diesel was increased from 20,250 VND to 20,500 VND per litre and that of kerosene was raised from 20.470 VND to 20,710 per litre, cited VNA.
Illustrative image (Photo: VNA)
The price adjustments are now made every 10 days and the latest one should have fallen on March 11 which is Saturday. So, the adjustment was announced two days later on Monday (March 13).
Since the beginning of this year, petrol prices have been revised up five times, down twice and kept unchanged once.
Vietnamese village named among world's best tourism villages
Thai Hai reserve area, home to an ecological house-on-stilts village in the northern province of Thai Nguyen, was named as one of the 32 Best Tourism Villages 2022 by the UN World Tourism Organization (UNWTO), during a ceremony held on March 12 in Saudi Arabia.
Thai Hai village is located in the north of Thai Nguyen province and is the only Southeast Asian representative to make the global list.
Situated just an hour drive from Hanoi, the site covers an area of 70 hectares and is home to a total of 30 traditional stilt houses belonging to the Tay ethnic minority people.
The village is capable of accommodating roughly 500 guests, thereby allowing tourists to participate in eco-tourism activities whilst exploring the traditional culture and lifestyle of the local Tay people.
Visitors to the area can experience daily living alongside villagers, taking part in activities such as growing and collecting vegetables, as well as going fishing and having fun by playing traditional games, VOV reported.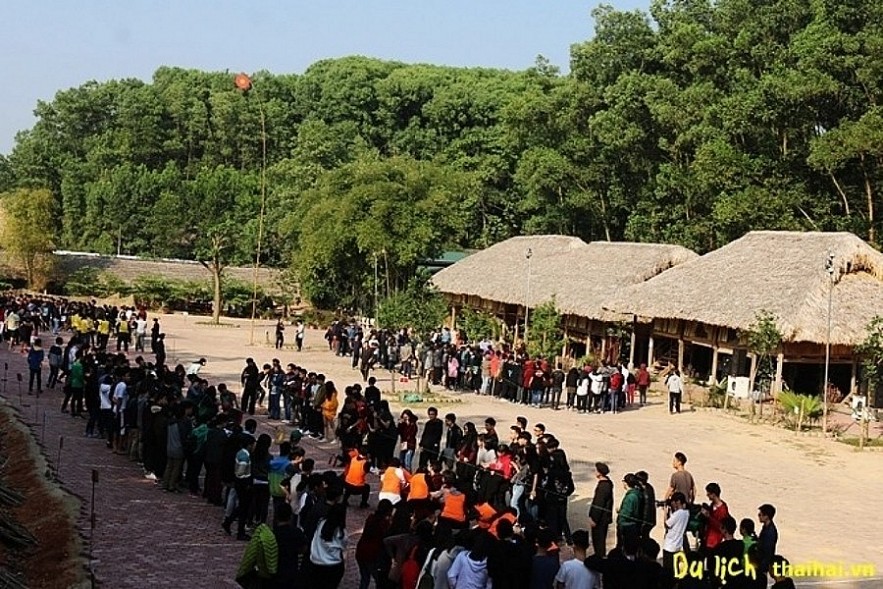 Thai Hai village is named among world's best tourism villages. (Photo: Thaihai.vn)
In 2022, a total of 136 villages of 57 UNWTO member countries were nominated for the title. Of the total, 32 villages from 18 countries globally were awarded the title, with some of the villages featured including Dazhai of China, Pyeongsa-ri of the Republic of Korea, Lamas of Peru, and Sauris-Zahre of Italy.
According to the UNWTO, the award recognises rural destinations that embrace tourism as a driver for the cause of development and new opportunities for jobs and income, while simultaneously preserving and promoting community-based values and products.
The award also acknowledges villages for their commitment to innovation and sustainability across all spheres, including economics, social affairs, and the environment, with a specific focus on developing tourism in line with the Sustainable Development Goals (SDGs).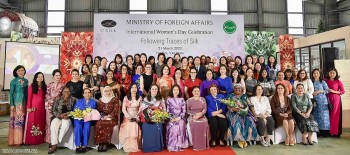 Friendship
Female ambassadors, representatives from diplomatic corps and international organizations, along with spouses of diplomats in Vietnam gathered together to find about more about silk weaving and silk products in Vietnam.