Vietnam News Today (Mar. 15): Venezuelan President Hopes for Stronger Ties with Vietnam
Vietnam News Today (Mar. 15): Arab countries hail cooperation potential with Vietnam; Venezuelan President hopes for stronger ties with Vietnam; Vietnam puts forward proposals to promote global peace, development, prosperity; Vietnam aims to enter top three at 32nd SEA Games.
Vietnam News Today (Mar. 15) notable headlines
Arab countries hail cooperation potential with Vietnam
Venezuelan President hopes for stronger ties with Vietnam
Vietnam puts forward proposals to promote global peace, development, prosperity
Vietnam aims to enter top three at 32nd SEA Games
Thua Thien-Hue emerges as attractive investment destination
Vietnamese coffee reigns supreme on global coffee map
Vietnam, Australia enjoy fruitful strategic partnership: expert
Military officials commemorate fallen soldiers in Gac Ma battle
Vietravel Airlines prepares for Chinese tourists' return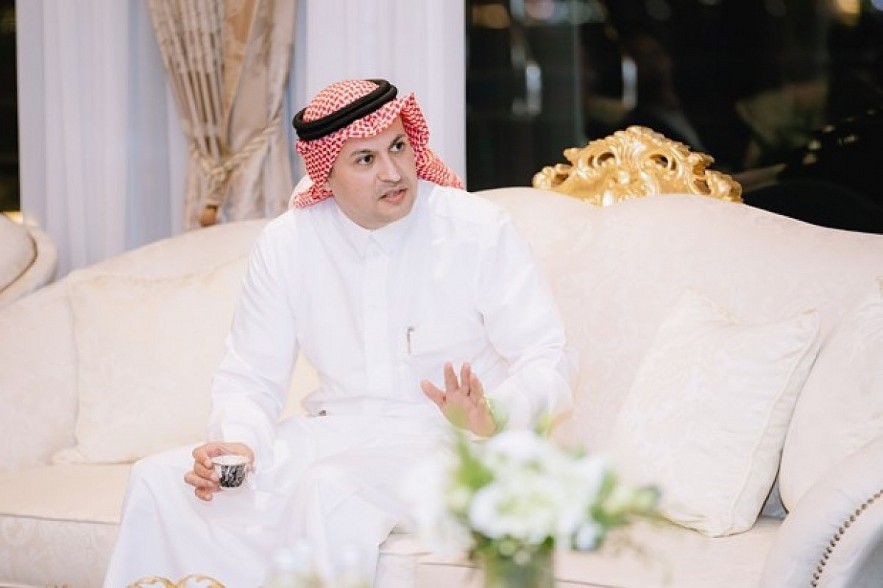 Saudi Arabian ambassador to Vietnam Mohammed A. Dahlwy speaks at the meeting. (Photo: Embassy of Saudi Arabia)
Arab countries hail cooperation potential with Vietnam
Arab countries view Vietnam as a dynamic economy with huge potential for cooperation, and they all expect to increase cooperation with the Southeast Asian nation in the time to come.
Saudi Arabian ambassador to Vietnam Mohammed A. Dahlwy made the statement at a meeting in Hanoi on March 13 between ambassadors of Saudi Arabia, the United Arab Emirates, Egypt, Algeria, Palestine, and Morocco to Vietnam and former Vietnamese ambassadors to the Arab countries,cited VOV.
According to the ambassador, Arab countries have great potential in the fields of economy, finance and trade, and there are great prospects for bilateral cooperation in these domains.
He cited data from the General Statistics Office of Vietnam, saying economic and investment cooperation between Vietnam and Arab countries has yielded positive results over the years.
Trade turnover between the two sides has constantly prospered, reaching US$14.9 billion last year, an increase of 11.34% compared to 2021. Labour is one of the effective cooperation fields between Vietnam and Arab countries. Many Vietnamese experts and workers have been making effective contributions to the development of regional countries.
The ambassadors of Arab countries affirmed that they would make every effort to further develop relations with Vietnam. They expressed their belief in the role the former Vietnamese ambassadors played in bridging the two sides, and expected to coordinate and receive support from the Vietnamese friends to take bilateral relations to new heights.
Vietnam is an important partner for Arab countries in Southeast Asia, they said.
As there are many opportunities to develop relations between Vietnam and the Arab bloc, they said the two sides should strengthen cultural, educational and people-to-people exchanges, considering them as a pioneer diplomatic channel to raise the level of cooperation.
They emphasized the importance of strengthening exchanges between their young generations to promote mutual understanding, and at the same time suggested that the two sides launch direct flights, expand cooperation in tourism and sports, and increase cooperation between their localities.
The former Vietnamese ambassadors to Arab countries affirmed their willingness to cooperate with the Arab community to further develop bilateral relations.
Venezuelan President hopes for stronger ties with Vietnam
Venezuelan President Nicolás Maduro received outgoing Vietnamese Ambassador Le Viet Duyen on March 13, highlighting the two countries' fraternity and friendship and calling for stronger cooperation to obtain concrete results in the fields of trade and production.
President Maduro bestowed the first-class Order of Francisco de Miranda upon Duyen in recognition of the diplomat's contributions over the past years.
He emphasised the milestones in cooperation development and expansion with Vietnam, expressing his admiration for the Vietnamese people's steadfastness in the fight for national independence and the national reconstruction to help turn the country into one of the fastest-growing nations in Asia nowadays.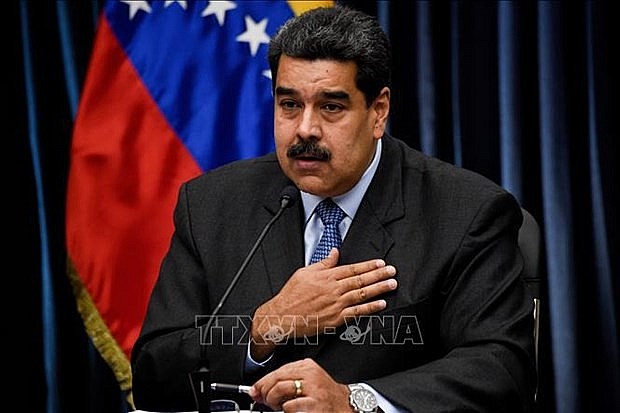 President of Venezuela Nicolás Maduro (Photo: AFP/VNA)
The host expressed his delight at the progress, modest but important, in the partnerships with Vietnam in such areas as trade, agriculture, education, and health care, as well as the two countries' close coordination in all issues, from international politics to geopolitics and diplomacy.
He called on both countries to make utmost efforts to ensure bilateral activities generate concrete results and promote trade and agricultural links.
Venezuela is now well-position to receive knowledge and technological cooperation to step up food production, Maduro noted, asking for strengthening ties between Petróleos de Venezuela, S.A., the national oil and gas company of his country, and the Vietnam Oil and Gas Group (Petrovietnam) to reach major agreements, according to VNA.
For his part, Ambassador Duyen expressed his honour to receive the first-class Order of Francisco de Miranda, a noble decoration the Venezuelan President presents to domestic or foreign individuals with special contributions to the South American country's sciences or development.
He also thanked the Venezuelan people and Government for their sentiment towards Vietnam.
President Maduro voiced his wish to re-visit Vietnam soon to reach large agreements and reinforce bilateral cooperation and friendship.
Vietnam puts forward proposals to promote global peace, development, prosperity
Vice Chairman of the National Assembly of Vietnam Tran Thanh Man on March 13 made a number of proposals to realise the aspiration for a world of peace, development and prosperity at the ongoing 146th Inter-Parliamentary Union (IPU) Assembly in Bahrain.
Amid global unpredictable changes, including conflicts here and there in the world, Man said efforts should be made to uphold the role of observing international law, especially the United Nations Charter, to contribute to preventing wars and eliminating inequality in international relations, along with promoting cooperation and dialogue mechanisms, enhancing understanding, building mutual trust and respect, and jointly finding peaceful solutions to regional disputes as well as global challenges.
According to the Vietnamese representative, it is imperative to ensure the implementation of democracy, equality, and non-discrimination regarding gender, ethnicity and religion in the fields of politics, economy, culture, social affairs, labour, health care, and education, while sharing experiences in ensuring social security and people's lives, especially employees, the poor, the disadvantaged and those heavily affected by epidemics.
He called on countries to consolidate solidarity, increase international cooperation, boost connectivity in diversity, develop infrastructure and promote green growth, energy transformation, digital transformation, innovation, and inclusive growth.
He also suggested strengthening public-private cooperation, coordination among countries to realize the sustainable development goals, and ramp up cooperation to respond to global issues such as climate change.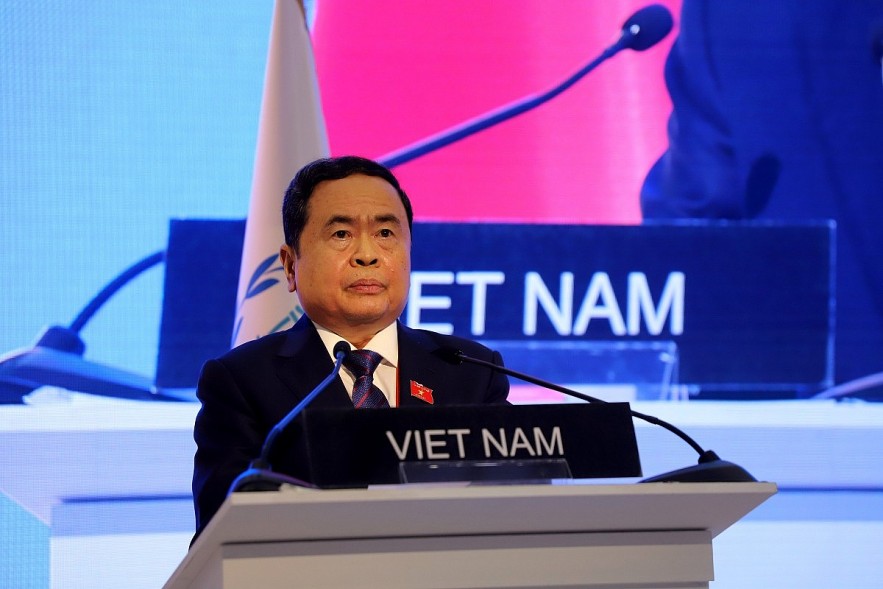 Vice Chairman of the National Assembly of Vietnam Tran Thanh Man addresses the general debate of the onoging 146th IPU assembly in Bahrain on March 13 (local tim). Photo: daibieunhandan.vn.
Man welcomed the theme of the assembly that is 'Promoting peaceful coexistence and inclusive societies: Fighting intolerance' which he said requires efforts as well as cooperation of the international community and parliaments to unite and act to realize the United Nations' 2030 Agenda for Sustainable Development and the IPU's Strategy for Peace, Cooperation and Sustainable Development.
He affirmed that Vietnam is a peace-loving nation with a tradition of tolerance, humanity and harmony, reported VOV.
Having experienced past wars for national independence and reunification, Vietnam cherishes the value of peace, stability, friendship, and peaceful coexistence, and it is well aware that its peace and development is closely associated with peace and prosperity in the region and the wider world, he said.
Vietnam steadfastly and consistently implements the foreign policy of independence, self-reliance, peace, friendship, cooperation and development, diversification and multilateralization of external relations, while actively contributing to peace, friendship, cooperation and development, upholding the spirit that Vietnam is a friend, a reliable partner, an active and responsible member of the international community, he went on to say.
He voiced Vietnam's strong support for global peace and stability initiatives and the peaceful settlement of conflicts and disputes in compliance with the UN Charter and international law.
The Vietnamese legislator briefed the meeting on the operation of the National Assembly of Vietnam, saying the legislature puts the people at the center of formulation and approval of laws, national strategies, and budget decisions. It has ratified and decided to join international treaties, including treaties on human rights, thereby contributing to ensuring the inclusiveness, sustainability, cultural identity of nations, while upholding Vietnam's historical values and traditions, and maintaining and promoting the great unity bloc of the whole nation.
According to Man, the National Assembly of Vietnam chaired and coordinated with the IPU in approving the Hanoi Declaration on "The Sustainable Development Goals: Turning Words into Action" at the IPU-132 Assembly held in Hanoi in 2015. It worked alongside the IPU and the UN to develop the "Self-Assessment Toolkit: Parliament and the Sustainable Development Goals" to enhance the role and participation of IPU member parliaments in implementing the SDGs and building an inclusive society so that no one is left behind.
With the support of member parliaments, he said the National Assembly of Vietnam will host the ninth IPU Conference of Young Parliamentarians in Hanoi in September 2023.
The Vietnamese delegation of the National Assembly (NA) led by NA Vice Tran Thanh Man is attending the IPU-146 Assembly in Manama, the capital of Bahrain, from March 11 to 15.
Vietnam aims to enter top three at 32nd SEA Games
Vietnamese sports will compete in the region's largest sports festival - SEA Games 32, scheduled to be held in Cambodia from May 5-17. After the great success of the games at home, Vietnam is about to enter a new tournament with many difficulties, requiring a lot of efforts in the face of regulations restricting participation in many events.
Nearly a year after the 31st SEA Games, Southeast Asian countries will again gather at five competition venues in Cambodia to prepare to compete at the 32nd SEA Games, the event with a record number of sports, cited NDO.
According to Deputy Director of the National Sports Administration (NSA) Tran Duc Phan, Cambodia is preparing very carefully and thoughtfully for the 32nd SEA Games. The host country is expected to host 36 sports with 583 events. The Vietnamese sports delegation is expected to participate in 452 events across 31 sports with the goal of entering the top three in the medal tally.
In order to prepare for the 32nd SEA Games and the related tasks of ASIAD 19 in Hangzhou (China) in September and the Olympic qualifiers in Paris 2024, the national teams were gathered at five locations: the Hanoi National Sports Training Centre with 800 athletes, 160 coaches, 12 experts; the Ho Chi Minh National Sports Training Centre with 586 athletes, 121 coaches, two experts; the Da Nang National Sports Training Centre with 258 athletes, 58 coaches, two experts; the Can Tho National Sports Training Centre with 33 athletes, nine coaches, one expert; and Bac Ninh Sport University with 47 athletes and 10 coaches.
At the 32nd SEA Games, the host country will not organise a number of Olympic sports including shooting, archery, sailing, chess, gymnastics, wushu, futsal, bodybuilding, kurash, and others. These are basic Olympic sports that Vietnam has strength in. In addition, many other events of Vietnam's strengths were also restricted in the number of participating athletes.
However, Vietnamese sports also have advantages at this SEA Games. That is the growing interest of the government at all levels, sectors, and the whole society, especially after the success of the 31st SEA Games. Currently, athlete training has inherited the system of facilities and equipment of SEA Games 31, so the conditions are better than before.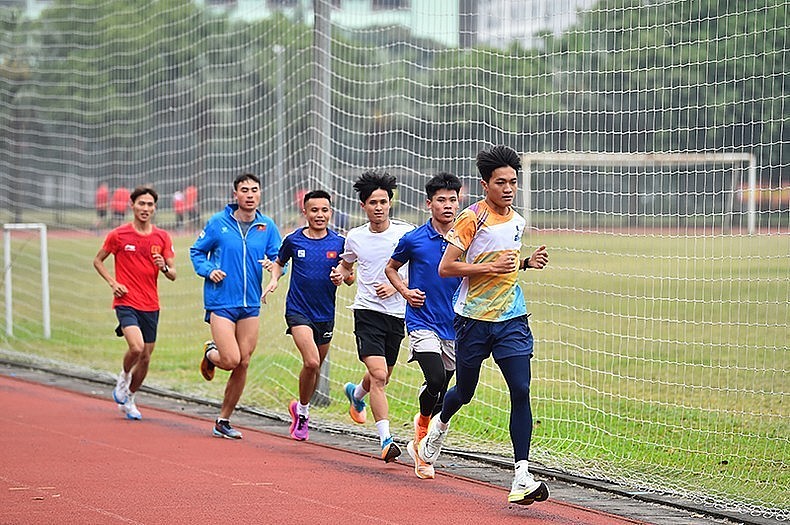 Members of the athletics team practice towards the 32nd Sea Games. (Photo Thuy Nguyen)
Immediately after the end of the 31st SEA Games, through determining the subjects and content that are likely to win medals, specialised units have selected athletes, found good, experienced coaches, hired qualified experts, and also established a council to select, examine and evaluate the training of teams in each training period.
One of the difficulties that Vietnamese sports delegation need to take into account is that the weather in Cambodia is very hot and windy. Currently, the NSA is looking for solutions to overcome this issue, such as bringing athletes to a place with similar weather and climate to Phnom Penh to help athletes get used to the weather conditions.
There is not much time to prepare for the 32nd SEA Games, while this is also the period to prepare for ASIAD 19, and the 2024 Olympic qualifiers. Therefore, the NSA will have to calculate the force so that able to perform both tasks at the 2024 Olympic qualifiers and perform well at the 32nd SEA Games.
To do so, the coaching staff of the teams must adjust the performance points of the athletes so that they can complete both tasks. From February 15, the NSA has increased the nutrition budget for athletes to 480,000 VND/person/day. Currently, some experts are developing short-term training plans, such as the judo team training in Mongolia for about 20 days and the taekwondo team training in the Republic of Korea for about a month.
SEA Games is an appropriate arena for Vietnamese sports, Vietnam has the ability to achieve a high position on the final rankings. In order to integrate with the regional arena as well as support the host country Cambodia, Vietnam has also registered to participate in some of the host's traditional sports such as: ouk chatrang, kun bokator, and kun Khmer. Hopefully with careful preparation, the Vietnamese sport delegation will complete the goal set for the Games by being in the top three and winning about 100 gold medals.
Thua Thien-Hue emerges as attractive investment destination
The central province of Thua Thien-Hue is becoming a destination for large corporations which produce high-economic-value products in various areas, contributing to enhancing its position in both domestic and international arenas.
The provincial Department of Planning and Investment reported that the province now has 117 FDI projects, with a total registered capital of 4.34 billion USD.
Despite difficulties in foreign investment promotion in 2021, the province granted investment registration certificates to eight FDI projects, with a total investment capital of 231.9 million USD.
Some typical projects include AEONMALL Vietnam, with an investment of 169.67 million USD, JA Vietnam garment manufacturing project, 34.5 million USD and SCAVI underwear and sportswear plant, 25 million USD.
Amid difficulties due to the pandemic, FDI enterprises still posted strong development. Many have expanded production scale and taken advantage of local labour resources to create breakthroughs in production and business activities, contributing to ensuring security amid difficulties caused by the pandemic.
The FDI sector posted total revenue of over 1.45 billion USD in 2022, up 21% compared to 2021 and contributed 145 million USD to the local budget, up 26% over 2021 and accounting for 27% of the province's total budget revenue. Carlsberg Beer Vietnam Co., Ltd., accounted for 68.4% of the total budget revenue of FDI enterprises, VNA reported.
Besides contributions to the budget, FDI enterprises have also created jobs for a large number of local workers, contributing to improving people's living standards. More than 25,000 employees worked in the FDI sector in 2022, with the largest number of employees working in textile and garment companies.
The FDI sector has also contributed to improving the technology level and is an important channel to help Thua Thien-Hue and Vietnam in general integrate more deeply into the world.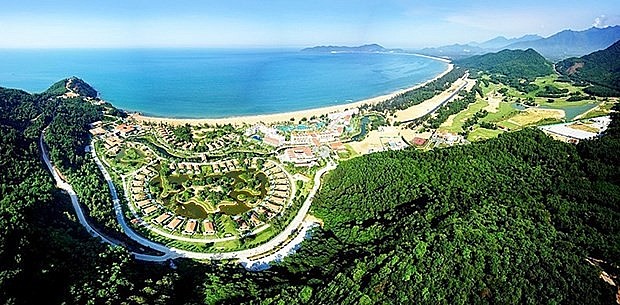 Laguna luxury resort project in Chan May-Lang Co economic zone, Thua Thien Hue province (Photo: NDO)
One of the biggest successes in Thua Thien-Hue's investment promotion is that the province has developed a friendly business environment and reduced informal costs for businesses by improving indicators of the business environment and competitiveness, such as the Provincial Competitiveness Index (PCI), the Vietnam Provincial Governance and Public Administration Performance Index (PAPI), and Public Administration Reform Index (PAR).
In 2022, it ranked among the top 10 provinces and cities with the highest PCI scores in Vietnam, first in the PAPI Index, fourth in the PAR Index, and second in the digital transformation index (DTI).
Deputy Director of the provincial Department of Planning and Investment Phan Quoc Son said that the province always focuses on supporting FDI projects, creating favourable conditions for FDI enterprises to expand, connecting them with the local business community, and calling for capital for innovative and start-up projects throughout the province.
Thua Thien-Hue has successfully organised an investment promotion conference for Chan May port container shipping lines. The development of Chan May port, especially attracting container shipping lines to handle goods at Chan May port, is a prerequisite for the industrial development of the province, as well as the central region.
At the conference, the People's Committee of Thua Thien Hue province gave a nod to seven investment projects and granted investment certificates for other projects.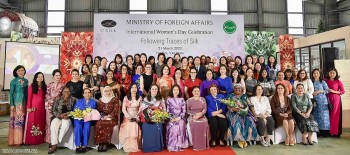 Friendship
Female ambassadors, representatives from diplomatic corps and international organizations, along with spouses of diplomats in Vietnam gathered together to find about more about silk weaving and silk products in Vietnam.