Vietnam News Today (Mar. 18): Vietnam Boost Ties with Germany's Lower Saxony State
Vietnam News Today (Mar. 18): Vietnam pledges to closely cooperate with ASEAN, UN in supporting Myanmar; Vietnam, India enhance defence links; Vietnam's trade with top 11 Asian markets is set to grow significantly; Vietnam boost ties with Germany's Lower Saxony state.
Vietnam News Today (Mar. 18) notable headlines
Vietnam pledges to closely cooperate with ASEAN, UN in supporting Myanmar
Vietnam, India enhance defence links
Vietnam's trade with top 11 Asian markets is set to grow significantly
Vietnam boost ties with Germany's Lower Saxony state
Francophone Film Festival to wow Vietnamese audience
Vietnamese Prime Minister urges visa waivers for more countries
Travel firms suggest tourism visa of 90 days
Vietnam aspires to boost strategic partnership with Spain
Hanoi makes good use of heritage-based cultural industries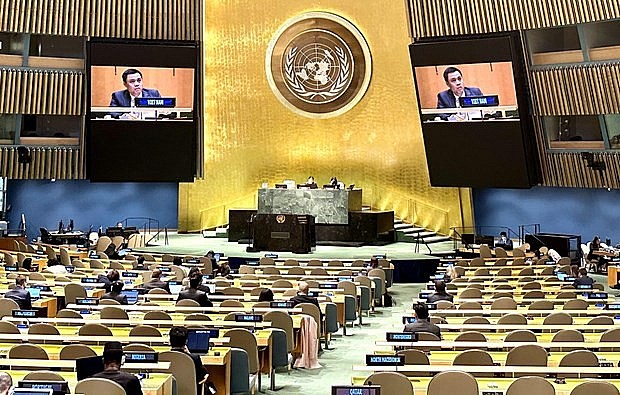 At the meeting (Photo: VNA)
Vietnam pledges to closely cooperate with ASEAN, UN in supporting Myanmar
As a member of ASEAN and the United Nations Human Rights Council for 2023-2025, Vietnam will continue its close coordination with the 10-member grouping and the international community to help Myanmar overcome difficulties, promote dialogues, enhance understanding and narrow differences, the Permanent Representative of Vietnam to the UN has said.
Speaking at an informal meeting of the 77th UN General Assembly in New York on March 16, Ambassador Dang Hoang Giang noted Vietnam's concern over the situation in Myanmar which saw no improvements over the past two years, with a fragile economy and a severe humanitarian crisis which have greatly impacted women and children, cited VNA.
Given this, all relevant sides need to exercise maximum restraint, stop violence and kick-start meaningful, inclusive dialogues in order to reach peaceful, sustainable solutions that match Myanmar people's will and interests, Giang said.
Vietnam appeals to all parties to fully and effectively implement the Five-Point Consensus on Myanmar approved by ASEAN leaders, ensure the access to humanitarian and medical aid to all, observe the International Humanitarian Law, and particularly protect civilians, the ambassador said.
Regarding ASEAN's role, he stressed that Vietnam lauds efforts by Indonesia - ASEAN Chair 2023 – and backs the close cooperation between ASEAN and the UN in accelerating the settlement of the Myanmar issue, including the collaboration between their special envoys, and between the ASEAN Coordinating Centre for Humanitarian Assistance on Disaster Management (AHA Centre) and UN agencies in humanitarian aid.
Vietnam calls on the international community to assist ASEAN's efforts and promote dialogues and reconciliation on the basis of respect for Myanmar's sovereignty, independence and territorial integrity, he continued.
Vietnam also calls for greater efforts in addressing the root causes of the refugee situation in Rakkhine state, and creating favourable conditions for people to return home safely and voluntarily, and reintegrate into the community, Giang said.
Vietnam, India enhance defence links
Minister of National Defence Gen. Phan Van Giang hosted a reception on March 16 in Hanoi for Indian Ambassador to Vietnam Sandeep Arya, during which they discussed a score of measures aimed at boosting defence co-operation.
During the course of the meeting Minister Giang congratulated Ambassador Arya on his appointment to the post, while voicing his hope that the diplomat will strive to make important contributions to strengthening bilateral relations across multiple fields, including defence.
Affirming the country's value of the comprehensive strategic partnership that exists, the Minister said that based on fine relations and mutual political trust, bilateral defence co-operation has seen constant development, thereby bringing about practical results and becoming an important pillar in the two nations' ties, according to VOV.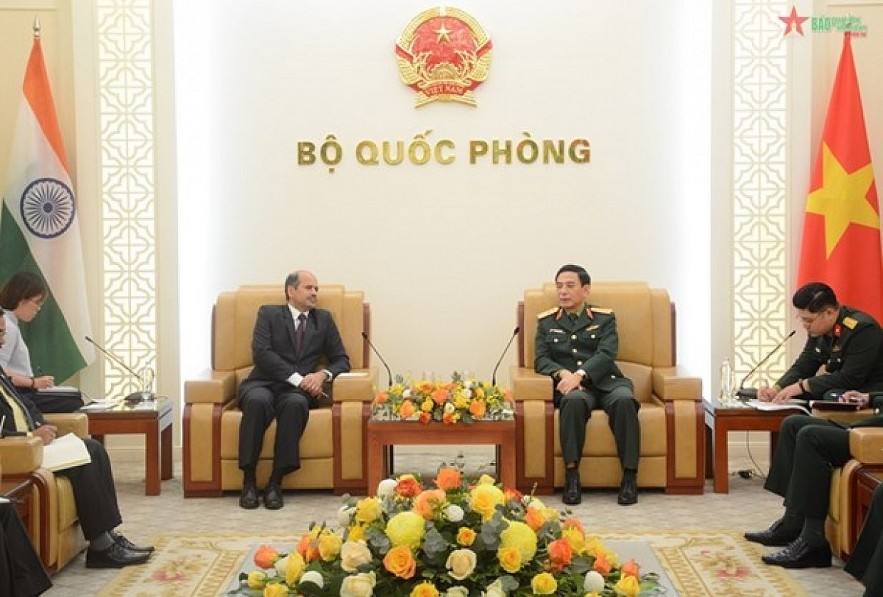 Minister of National Defence Gen. Phan Van Giang (R) receives Indian Ambassador to Vietnam Sandeep Arya. (Photo: VNA)
He therefore suggested that the Ambassador pay close attention to stepping up defence co-operation activities as a means of further reinforcing the relations between the two countries, as well as the two armies, for the cause of peace and stability in the region and throughout the world.
The Vietnamese Ministry of National Defence always offer favourable conditions for the diplomat in order to fulfil his missions, Minister Giang told his guest.
In response, Amassador Arya stated that in his position he will make greater efforts to make positive contributions to advancing the two nations' relations, as well as focusing on defence co-operation.
Vietnam's trade with top 11 Asian markets is set to grow significantly
Vietnam's trade with 11 other major Asian markets could rise significantly in value by 2030, according to an industry study released by UPS.
"Clearing the Runway for Intra-Asia Trade" sheds light on trade growth drivers, potential headwinds, and multi-stakeholder action required to unlock the 2030 opportunity.
Trade in just 12 key markets (Australia, China, Hong Kong, Indonesia, Japan, Malaysia, the Philippines, Singapore, the Republic of Korea, Taiwan, Thailand, and Vietnam), known as the Asia 12, accounts for 88% of intra-Asia trade today and could more than double in value from 6.4 trillion USD in 2020 to 13.5 trillion USD in 2030.
Vietnam has rapidly grown into an important regional manufacturing hub. The country is expected to leverage this position further in the coming decade and trade value with the rest of the Asia 12 is forecast to rise from 326 billion USD to 465 billion USD by 2030.
"Intra-Asia trade holds incredible potential over the coming decade, built off the immense economic success that key regional economies have accomplished in recent years," said Michelle Ho, President for UPS Asia Pacific, Middle East and Africa.
According to the study, four segments have driven the surge in trade among the Asia 12: retail, industrial manufacturing and automotive (IM&A), high-tech, and healthcare. In Vietnam, these segments accounted for 82% of trade with the rest of Asia in 2020.
The high-tech segment, a key export industry that constitutes 43% of Vietnam's intra-Asia trade value, will drive future growth given the rise in digitalisation across the Asia 12. The IM&A segment, meanwhile, accounts for 21% of the country's trade within Asia today, and this is expected to double by 2030 thanks in part to government support to boost the manufacturing sector.
Additionally, Vietnam's participation in trade deals such as the Regional Comprehensive Economic Cooperation (RCEP) and Comprehensive and Progressive Agreement for Trans-Pacific Partnership (CPTPP) allows businesses to access a wider range of export markets and consumer goods with reduced trade barriers.
The study also pointed out a number of barriers that, unless addressed, may stagnate trade within the Asia 12. Specifically for Vietnam, lack of progress on logistics infrastructure could constrain its ability to serve centers of demand in rapidly developing economies.
Multi-stakeholder action is required to reduce impediments to regional trade and harness the opportunities to steer intra-Asia trade towards take-off.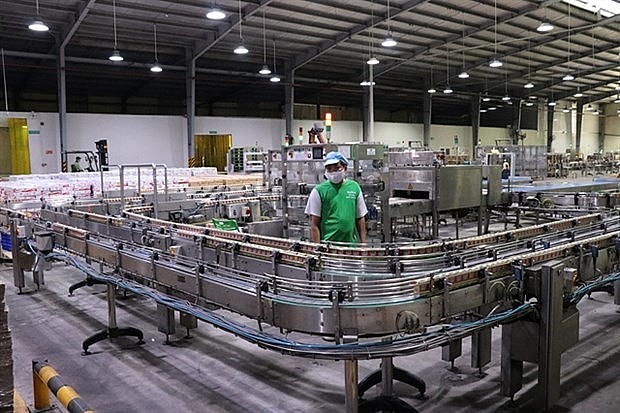 Vietnam's trade with 11 other major Asian markets could rise from 326 billion USD to 465 billion USD by 2030. (Photo courtesy of UPS)
Businesses with trade interests in Vietnam and those in the logistics sector must build resilience against potential headwinds while at the same time be ready to capture opportunities presented by the growth in intra-Asia trade. This includes diversifying supply chains, digitalising completely, and integrating micro, small and medium-sized enterprises into regional supply chains.
"Small businesses are vital to the Vietnamese economy, and one of the many things this report highlights is the importance of making sure our SMB customers are getting the support they need so that the full potential of intra-Asia trade can be realised over the next decade," said Squall Wang, managing director UPS Vietnam.
"At UPS we are doing that by helping businesses digitalise and simplifying the shipping process," he said.
Export financing
Vietnam's exports contributed to 82% of its GDP, indicating how deeply entrenched exports is within the entire nation. Particularly noteworthy is that 35% of Vietnam's exports is dependent on SME's who have working capital as a key roadblock to their growth aspirations.
Sumit Dutta, founder & CEO of ASEAN Business Partners (ABP), said: "Vietnam has huge potential to grow exports in many sectors but lack of credit is hampering SME's from expanding."
Dutta adds that the Vietnamese Government has taken several steps to encourage export-oriented businesses by providing support in the form of loans, credit guarantees, and other financial services. However, there is scope for alternate options.
ABP is working with several multinational companies to bring in the right export financing platform for the exporters. These solutions can meaningfully meet the requirements of SME's in growing ASEAN economy, especially in Vietnam, said Dutta who is also former CEO of HSBC Bank in Vietnam.
Le Toan Thang, Deputy Director of National Start-up Support Center (NSSC) under National Agency for Technology Entrepreneurship and Commercialisation Development (NATEC) under the Ministry of Science and Technology (MOST), said that Vietnam innovative start-up enterprises in particular and SMEs in general are in need of trade/export financing through innovative platforms that have been applied globally as well as need of professional consultancy from international experience.
Vietnam boost ties with Germany's Lower Saxony state
Vietnamese Ambassador to Germany Vu Quang Minh paid a working visit to Hannover in the state of Niedersachsen, known as Lower Saxony in English, on March 15 and March 16.
During meetings held with local officials, Ambassador Minh reviewed the situation and prospects ahead for Vietnam-Germany relations, affirming that the bilateral strategic partnership has been strongly strengthened across a multitude of fields.
He therefore thanked the state's administration for offering favourable conditions for the 10,000-strong Vietnamese community living and working in the state, thereby helping them to make positive contributions to socio-economic development in the host country, as well as the two nations' friendship.
Stephan Weil, minister-president of Lower Saxony, expressed his positive impressions of Vietnam's dynamic development over recent decades, saying that the nation, with its geostrategic position and strong economic growth, has become an attractive destination in the region, VOV reported.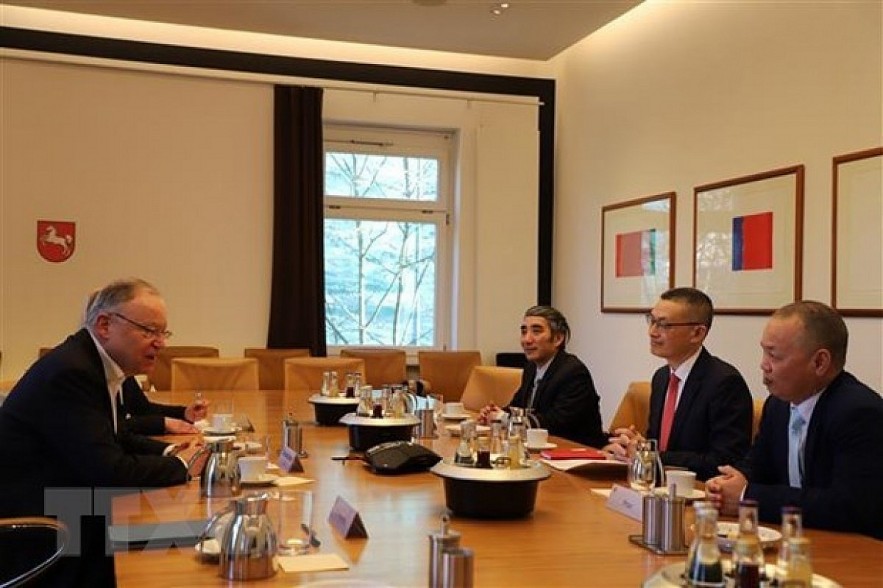 Vietnamese Ambassador to Germany Vu Quang Minh (centre, right) meets Minister-President of Lower Saxony Stephan Weil (Photo: VNA)
He told the Ambassador that he will lead a delegation of the state's enterprises to visit the country in October in order to connect and seek co-operation opportunities.
He agreed with Ambassador Minh's idea on the two countries' co-operation potential in renewable and green energies, noting that Lower Saxony boasts strengths in wind energy and is keen to work alongside Vietnam to exploit offshore wind power.
Barbara Otte-Kinast; vice chair of the Landtag, Lower Saxony's State Parliament; emphasised that apart from automobile industry and wind power the German state also possesses great strengths in agriculture and is interested in consumer protection.
She therefore suggested that the German state and Vietnam study and co-operate in technology transfer and know-how relating to agricultural machinery and product quality control systems. She noted that the state's agencies in different fields will devise plans to launch future visits to build ties with Vietnam.
Ambassador Minh showed his hope at the prospect of receiving Otte-Kinast's support for tightening the friendship ties between the two governments and peoples.
Francophone Film Festival to wow Vietnamese audience
Vietnamese film lovers will have a chance to enjoy outstanding cinema works from the Francophone community at the 13th Francophone Film Festival which is set to run in Hanoi and Ho Chi Minh City from March 18 to 24.
As part of cultural activities on the occasion of International Francophone Day, the festival will present seven films from nine countries including Vietnam, Switzerland, France, Canada, Tunisia and Belgium-Wallonie-Bruxelles.
The films are "Dieu mua cuoi cung" (The last dance), "Duoi tan nhung cay sung ngot" (Under the canopy of sweet figs), "Bao lang" (Silent storm), "Thach Thao" (Bell heather), "Khoi nghiep kieu Phap" (French Entrepreneurship), "14 ngay 12 dem" (14 days 12 nights), "Co trong tre" (Babysitter).
The 13th Francophone Film Festival will take place in Hanoi and Ho Chi Minh City from March 18-24 .
The films give the audience a chance to discover fascinating stories in the countries of the Francophonie and experience the Francophone community's cultural diversity.
In Hanoi, the festival will take place at the Vietnam Film Institute, 523 Kim Ma, from March 18-24, while film lovers in Ho Chi Minh City can enjoy the films at DCine Ben Thanh, No. 6 Mac Dinh Chi, District 1, from March 18-21, VNA reported.
The event is co-organised by the Wallonie-Bruxelles delegation in Vietnam, the Asia-Pacific Regional Office of the Francophone International Organisation and some French speaking countries.
All films will be shown in French with Vietnamese subtitles and opened free for public.
With 321 million speakers, French is still the 5th most spoken language after English, Chinese, Hindi and Spanish.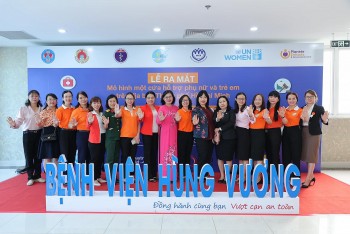 Viet's Home
What is the one-stop centre for women and children experiencing violence?