Vietnam News Today (Mar. 21): Vietnam Enjoys US$4.8bln in Trade Surplus with UK
Vietnam News Today (Mar. 21): Covid-19: Cumulative tally hits close to 8 million in Vietnam; PM orders research on Covid-19 inoculation for children aged 3-5; Vietnam enjoys US$4.8bln in trade surplus with UK; Official song for SEA Games 31 unveiled.
Vietnam News Today (Mar. 21) notable headlines
Covid-19: Cumulative tally hits close to 8 million in Vietnam
PM orders research on Covid-19 inoculation for children aged 3-5
Vietnam enjoys US$4.8bln in trade surplus with UK
Official song for SEA Games 31 unveiled
5G to transform property market: analysts
Vietnam, Malaysia FMs hold talks in Hanoi
UK supports financiers to accelerate Vietnam's Net Zero transition
Russia holds first Vietnamese language interpretation contest
Vietnamese runners win big at Da Nang Int'l Marathon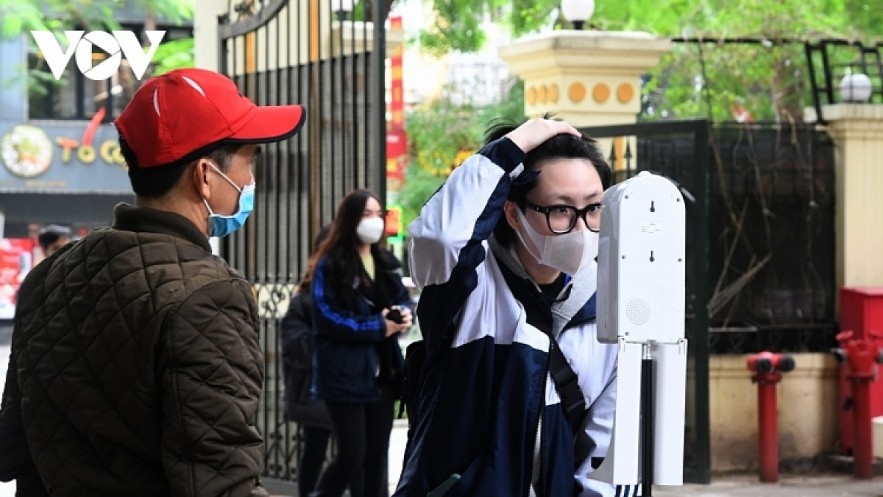 Students are required to use hand sanitizer dispenser before entering the class. Photo: VOV
Covid-19: Cumulative tally hits close to 8 million in Vietnam
The Ministry of Health of Vietnam on March 20 announced an additional 141,151 new coronavirus cases, raising its cumulative tally to nearly 8 million.
March 20 is the fourth consecutive day that saw daily infections fall in localities across the country.
Official data from the Ministry of Health show daily infections declined from 180,558 on March 16 to 178,112 on March 17, 163,174 on March 18, 150,618 on March 19, and 141,151 on March 20.
Of the March 20 figure, 141,149 cases were locally acquired, with 93,894 cases recorded in the community. Two cases tested positive upon returning from overseas, and the remainder were diagnosed in quarantine and lockdown areas.
Most of the cases were recorded in northern Vietnam. Hanoi capital topped localities nationwide registering 19,065 new cases, down 2,006 cases from a day ago, cited VOV.
It's noteworthy that Vinh Phuc province registered to add more than 25,000 cases to the national Covid-19 database.
As of 06pm on March 20, Vietnam has detected 7,958,048 Covid-19 cases since the start of the outbreak, ranking 14th out of 225 countries and territories worldwide.
Of the infected patients, 4,103,028 have been discharged from hospital after making a full recovery from the disease, and 41,880 patients have died of the virus.
More than 201 million vaccine doses have been administered nationwide.
PM orders research on Covid-19 inoculation for children aged 3-5
Prime Minister Pham Minh Chinh has urged the Ministry of Health to study the vaccination against Covid-19 for children aged between three and five.
The Government leader's request was detailed in a dispatch issued on March 19 by the Government Office regarding the purchase and infection of vaccines and the promotion of domestic vaccine production, according to VNA.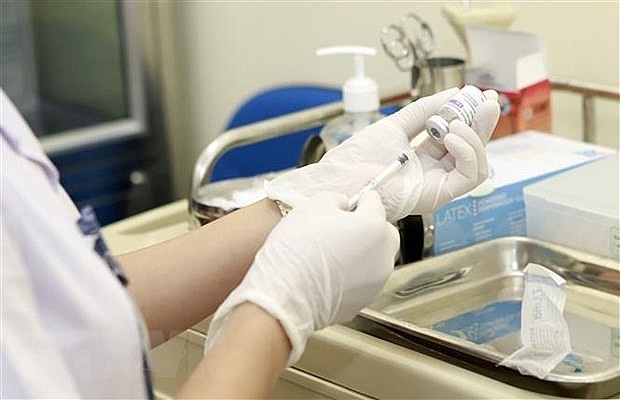 Illustrative image. Photo: VNA
The Prime Minister also asked the Health Ministry to direct the study of giving the fourth shot to adults and the third for children aged 12-18, and have a plan to purchase more vaccines and step up domestic vaccine production so as to ensure science, safety and efficiency.
Vietnam enjoys US$4.8bln in trade surplus with UK
Two-way trade between Vietnam and the United Kingdom rose 17% year on year last year to US$6.6 billion, of which Vietnam produced US$4,8 billion in trade surplus.
The impressive growth in bilateral trade was largely attributed to the enforcement of the UK-Vietnam free trade agreement (UKVFTA) in early 2021, experts agreed at a recent workshop reviewing a year of implementing the trade deal.
Luong Hoang Thai, Director of the Multilateral Trade Policy Department under the Ministry of Industry and Trade, noted that the UKVFTA was implemented at a time when both countries were facing numerous difficulties due to the emergence of the SARS-CoV-2 virus.
But the trade deal has helped elevate bilateral trade relations to new heights, stressed Thai.
According to the official, though many groups of goods exported to the UK did not fully enjoy tax reductions in the first year, major exports such as agricultural products, vegetables, pepper, means of transport and iron & steel products secured relatively high growth.
It's noteworthy that fruits and vegetables achieved an export growth rate of 67%, said Thai.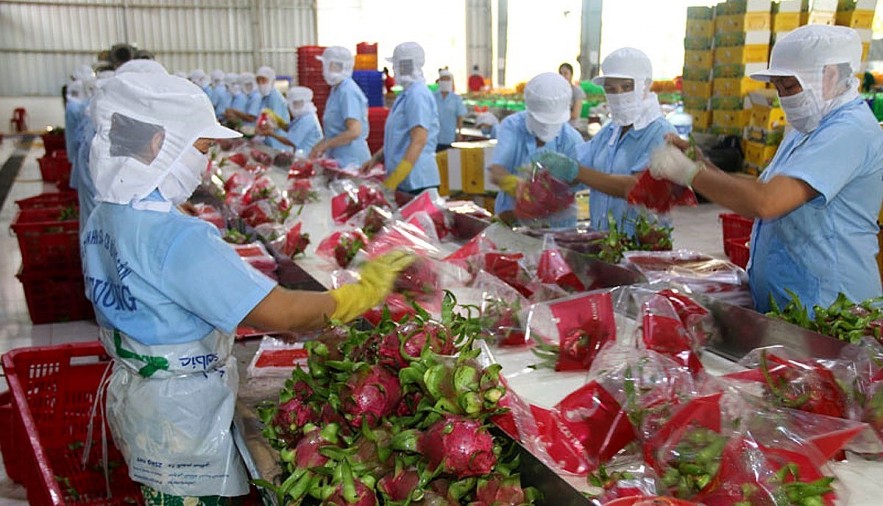 Packaging dragon fruit for export to the UK. Photo: VOV
The UK is a large lucrative market with an import demand of over US$700 billion of goods per year. However, Vietnamese goods only account for less than 1% of the UK's total imports.
There is ample room for Vietnamese businesses to exploit the UK market if they change and adapt to modern farming techniques and make good use of opportunities, said Dinh Cao Khue, Vice Chairman of the Vietnam Fruit and Vegetables Association, reported VNA.
It was reported at the workshop that more than 94% of the total of 547 tax lines for fruits and vegetables have enjoyed a tax rate of 0% since the UKVFTA came into force. Many of Vietnam's tropical fruits such as dragon fruit, litchi, longan, mango, and passion fruit can compete well with similar products imported from South America or countries that do not have an FTA with the UK.
Quality is the No1 requirement if businesses want to ship the products in large quantity to this market, Khue
He suggested that the Ministry of Agriculture and Rural Development to invest in improving product quality and at the same time encourage businesses to actively participate in fruit fairs in the UK and Europe to reach customers.
Official song for SEA Games 31 unveiled
The official song for the upcoming 31st Southeast Asian Games (SEA Games 31) was revealed during a ceremony held in Hanoi on March 20 which honored outstanding athletes and coaches of the country last year.
The song, composed by renown composer Huy Tuan, is titled 'Hay toa sang' (Let's shine),
It expresses pride in the culture and people of Vietnam, and highlights sportsmanship as well as efforts made to achieve the best results, with lyrics in Vietnamese language and chorus in English.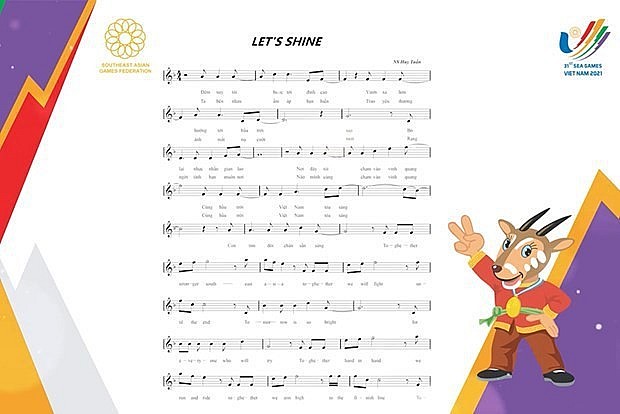 The lyric sheet of the song. Photo: VNA
The song also sends a message of development, solidarity and friendship between Vietnam and international friends.
Composer Huy Tuan said that he is so proud that his work has been chosen among hundreds of entries submitted to the contest. The song is a present dedicated to all athletes, he added, hoping that they will obtain the best results during competitions, cited VNA.
Deputy Director of the Vietnam Sports Administration Le Thi Hoang Yen said the song has easy to memorise lyrics and is hoped to encourage athletes and be favored by sports enthusiasts at home and abroad.
The SEA Games 31, themed "For a stronger South East Asia", will run in Hanoi and 11 neighboring localities from May 12 to 23. It will feature 40 sports with 526 events and expects to attract around 10,000 participants. The biennial event was initially slated for late 2021 but delayed due to the pandemic.
5G to transform property market: analysts
Being better connected through 5G will become the new standard for commercial real estate, experts have said.
5G, the next generation of wireless technology, is designed to usher in the "connected everything" era.
In Vietnam, according to the Ministry of Information and Communications' Department of Telecommunications, last year telecom businesses stepped up investment in broadband infrastructure.
5G networks have been tested in 16 provinces and cities; 4G network covers 99.8 per cent of the population and fibre-optic networks all communes and wards in the country.
5G will be commercialized this year.
In the property, market it plays an important role as many smart cities are being developed and commercial projects are mushrooming around the country.
Trang Bi, general manager, Cushman & Wakefield Vietnam, said: "For commercial real estate, real-time monitoring of assets could reduce operating costs and downtime, and 5G can enable new pathways to productivity. The pandemic has shown the need to transform the way we work and collaborate, and 5G has the potential to be part of that transformation."
An expert was quoted as saying on vnbusiness.vn that investors consider factors like digitization and stability before parting with their money.
These factors are considered more advantageous now than traditional ones like low cost, big population and abundant human resources, and smart cities and projects where data and technology are able to be transmitted are preferred, he added.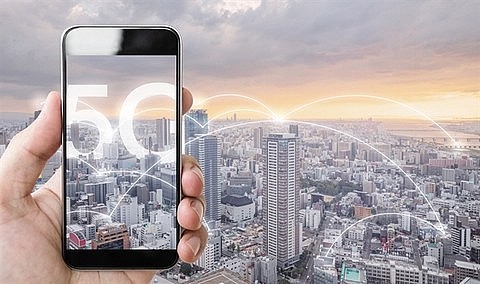 5G will become the new standard for commercial real estate. Photo: Cushman & Wakefield Vietnam
Cushman & Wakefield said in a new report: "As we learn more about 5G's capabilities, we are increasingly looking at opportunities within the Internet of Things (IoT) realm, especially as it pertains to sensors, buildings and our ability to monitor different data points around any given building.
"The sheer number of sensors and the amount of data is growing exponentially, and 5G allows us to capture that data in real time so that we can build smarter analytics around it. The potential in this area is huge."
One of the drivers of true technological change will be 5G's ultra-low latency, which is the time it takes data to travel from the user to the central processor and back again, bringing the time taken to far less than the blink of an eye, according to VNS.
5G will directly impact many spaces in commercial real estate including smart city, smart homes, healthcare, office space, the company said.
With more homes using connected devices, centralized servers that process data collected from these devices increase privacy risk and latency.
In offices, 5G can eliminate excess core cabling and infrastructure. If companies can employ private 5G, no Wi-Fi network or infrastructure will be required.
This would ultimately open up a lot of possibilities for the way floor plans and flexible workspace can be designed.
"5G technology can do so much for commercial real estate," Trang said.
"Whether through robots, cars, health devices or retail, 5G will undoubtedly transform not only how we operate, but how we work, live and play."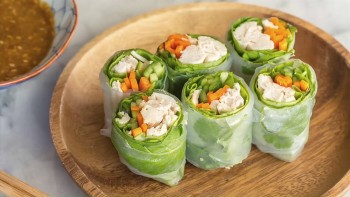 Travel
Rolls are a easy-to-make dish that is loved by many Vietnamese diners as well as Korean stars.