Vietnam News Today (Mar. 22): Vietnamese and Cambodian Foreign Ministers Hold Talks
Vietnam News Today (Mar. 22): Vietnamese and Cambodian foreign ministers hold talks; Vietnam, Thailand beef up sci-tech, educational collaboration; Vietnamese exports to Thailand, Singapore surge in two-month period; Vietnam ranks 65th in world happiness report.
Vietnam News Today (Mar. 22) notable headlines
Vietnamese and Cambodian foreign ministers hold talks
Vietnam, Thailand beef up sci-tech, educational collaboration
Vietnamese exports to Thailand, Singapore surge in two-month period
Vietnam ranks 65th in world happiness report
Petrol prices revised down from March 21 afternoon
Vietnam, South Africa tap into potential to promote economic diplomacy
Vietnam posts trade surplus of nearly US$3 billion by mid-March
Vietnam tops Southeast Asian Karate Championships
Vietnam, Cambodia agree to maintain high-level consultations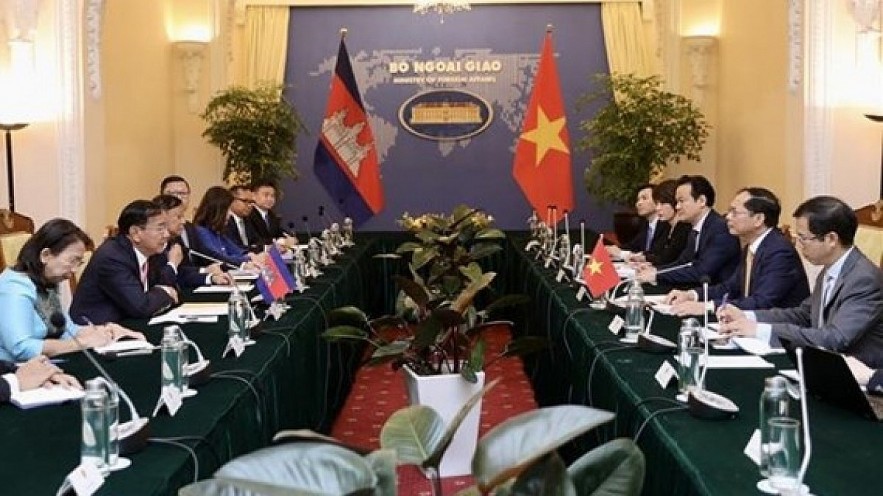 At the talks (Photo: VNA)
Vietnamese and Cambodian foreign ministers hold talks
Foreign Minister Bui Thanh Son joined with Cambodian Deputy Prime Minister and Minister of Foreign Affairs and International Cooperation Prak Sokhonn for talks held in Hanoi on March 21.
Cambodian Deputy PM Sokhonn is currently on a visit to the nation at Minister Son's invitation to co-chair the 20th meeting of the Vietnam-Cambodia Joint Committee on Economic, Cultural, Science and Technology Cooperation from March 21 to March 22.
During the course of the meeting, FM Son warmly welcomed the Cambodian official's latest visit to Vietnam, hailing Cambodia's outstanding domestic and foreign achievements over the years, including the successful organization of the fifth commune/ward council election in June, 2022, as well as successfully assumption of the role of Chair of ASEAN and the ASEAN Inter-Parliamentary Assembly (AIPA) 2022.
The Vietnamese FM also expressed his belief that the neighbouring will successfully organise the seventh National Assembly election in July.
The Cambodian guest highly appreciated the Vietnamese for offer support for his nation in the role of ASEAN Chair in 2022, while affirming that he would make greater efforts to contribute to continuously strengthening and developing ties of good neighbourliness, traditional friendship, comprehensive co-operation, and long-term sustainability.
He congratulated Vietnam on numerous important achievements recorded in socio-economic development, with a growth rate of more than 8% seen in 2022.
The two sides duly agreed to intensify and conduct high-level visits, continue to maintain and promote the effectiveness of existing bilateral co-operation mechanisms, as well as effectively carrying out joint statements and agreements between the two parties and the two governments, cited VOV.
This is along with accelerating the connection of the two economies; strengthening links between localities, especially between bordering provinces; and speeding up the demarcation of the remaining 16% that have not yet been completed in order to continue building a border of peace, friendship, co-operation, and sustainable development between the two nations.
Regarding co-operation between the two foreign ministries, both sides applauded the close ties of the two ministries in contributing to advancing bilateral relations, whilst agreeing to continue promoting the effectiveness of co-operation mechanisms and devise a plan to hold the eighth Political Consultation at deputy foreign minister level in Cambodia at an appropriate time this year.
Concerning regional and international co-operation, the two sides emphasized their full commitment to working closely together in reinforcing solidarity, as well as enhancing ASEAN's central role, alongside building ties between the regional bloc and its partners.
With regard to the East Sea issue, the two sides underlined the importance of maintaining peace, security, and stability in the region, ensuring freedom and safety of navigation and aviation, settling disputes by peaceful means on the basis of international law and the 1982 UN Convention on the Law of the Sea (UNCLOS 1982), and ensuring the full and effective implementation of the Declaration on the Conduct of Parties in the East Sea (DOC) towards achieving an effective, substantive and consistent Code of Conduct in the East Sea (COC) in line with international law, including UNCLOS 1982.
FM Son therefore proposed that the Cambodian Deputy PM continue to pay attention to and support Vietnamese people residing in Cambodia to stabilise their lives, integrate them into the host country, and serve as a bridge of friendship.
He also suggested that the Cambodian side continue to boost closer co-operation in solving cases of Vietnamese citizens being scammed and forced to work illegally at some foreign entertainment business establishments there.
For his part, Deputy PM Sokhonn affirmed that Cambodia will continue to treat people of Vietnamese origin in Cambodia equally, as they do with people from other countries.
Vietnam, Thailand beef up sci-tech, educational collaboration
Thailand will further promote sci-tech and education cooperation with Vietnam, including a plan to teach Vietnamese at some local universities, affirmed Minister of Higher Education, Science, Research and Innovation (MHESI) Anek Laothamatas in a working session with Vietnamese Ambassador Phan Chi Thanh in Bangkok on March 20.
Thanh proposed the minister direct relevant departments to discuss the organisation of the first meeting of the Vietnam-Thailand Joint Committee for Science and Technology Cooperation. He said via the meeting, the sides will agree on contents serving the promotion of their engagements in the time to come and on a mechanism of co-financing joint research cooperation tasks, especially in the fields of digital transformation, green transformation, biotechnology, and automation.
He suggested Thailand support the teaching of the Vietnamese language in Thailand and informed his host that the Hanoi University of Vietnam is building a project to study the establishment of a Vietnamese language and education centre in Thailand.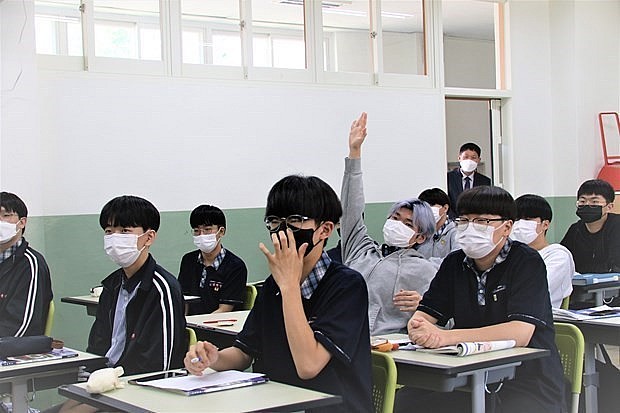 Illustrative image (Source: VNA)
The diplomat recommended the Thai side help expand the Thai language education programme in Vietnam. Currently, Thailand is assisting five Vietnamese universities in teaching the language, with the Thailand International Cooperation Agency (TICA) granting scholarships for Vietnamese lecturers to join training courses in Thailand as well as offering the universities related teaching and learning materials.
He also proposed that the MHESI introduce Thai schools for forming twinning relations with Vietnamese schools, thereby enhancing exchanges of students, teachers and educational administrators at the grassroots level, according to VNA.
Agreeing with Thanh's proposals, the Thai minister pledged to push for the early organisation of the first meeting and underscored Thailand's readiness to grant scholarships for Vietnamese students studying sci-tech disciplines in the country, especially concerning the health
The MHESI supports the establishment of the Vietnamese centre and the teaching of Vietnamese at Thai universities. He asked the Vietnamese side to soon decide on the related teaching programme, send experts, and support the training of teachers and lecturers in Thailand.
Vietnamese exports to Thailand, Singapore surge in two-month period
Vietnam recorded a high export turnover from Thailand and Singapore during the first two months of the year, according to details given by the General Department of Customs.
Throughout the reviewed period, despite the total bilateral trade turnover dropping slightly by 6%, mainly due to a decrease in import turnover from the Thai market, Vietnamese exports to Thailand reached US$1.2 billion, up 12.4% over the same period from last year.
Furthermore, two-way trade turnover between Vietnam and Singapore increased, with the total import and export turnover between the two countries hitting US$1.49 billion, up 16.5% on-year.
Of the figure, Vietnamese export turnover to the island city state reached US$677.7 million, a year-on-year rise of 8.8%.
In general, the country's overall export turnover to ASEAN stood at US$4.96 billion, accounting for about 10% of the nation's total export turnover.
Thailand and Singapore represent the country's two key markets in the ASEAN region, with the bloc being the nation's fourth largest export market, reported VOV.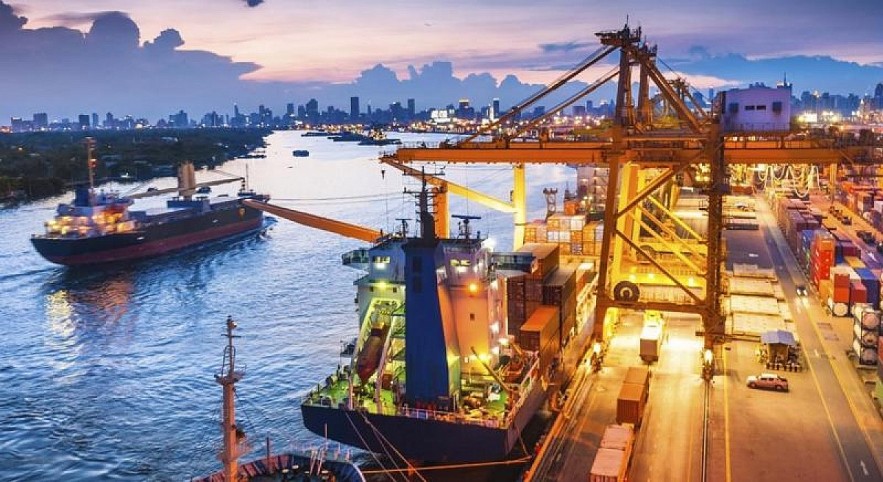 Photo: VOV
In trade relations with the ASEAN market area the country boasts plenty of advantages such as close geographical distance, as well as similar tastes and cultures.
In ASEAN there is the Agreement on Trade in Goods (ATIGA), whilst Vietnam and a number of ASEAN member states have bilateral agreements which aims to facilitate trade.
According to details given by the Ministry of Industry and Trade, the country has many opportunities to expand the export of agricultural products and food to the bloc. However, most agricultural products and foodstuffs imported into ASEAN member states require Halal certifications which is also considered to be the new standard of quality and hygiene.
In line with this, domestic enterprises should actively participate in trade promotion activities, seek partners, and expand exports to ASEAN, the Ministry of Industry and Trade also recommends that they pay close attention to trade remedies in regional countries.
Regarding activities to promote exports to the bloc, Vu Ba Phu, director of the Trade Promotion Department under the Ministry of Industry and Trade, said that the Department will continue to co-ordinate efforts with localities and industry associations in a bid to strengthen trade promotion activities in the time ahead.
The Ministry of Industry and Trade is also continuing to closely monitor developments in the global market, thereby advising and proposing co-operation frameworks and solutions to simultaneously develop traditional markets and diversify export markets. In addition, it will also continue to help businesses take advantage of signed free trade agreements (FTAs) to effectively exploit markets and further boost exports, Phu added.
Vietnam ranks 65th in world happiness report
Vietnam ranks 65th out of 137 countries and territories in the 2020-2022 period as per the World Happiness Report 2023, up 12 places from the 2022 Report.
The report was released on March 20, which the United Nations has designated as the International Day of Happiness since 2013.
Country rankings this year are based on life evaluations in 2020, 2021, and 2022, so all of the observations are drawn from years of high infection and deaths from COVID-19.
Finland extends its run as the happiest country in the world for the sixth consecutive year this time, followed by frequent high performers like Denmark, Iceland, Israel, Netherlands, Sweden, Norway, Switzerland, Luxemburg, and New Zealand in the top 10.
At the other end of the table, Afghanistan ranks the lowest in the world, followed by Lebanon, Sierra Leone, Zimbabwe and the Democratic Republic of Congo, cited VNA.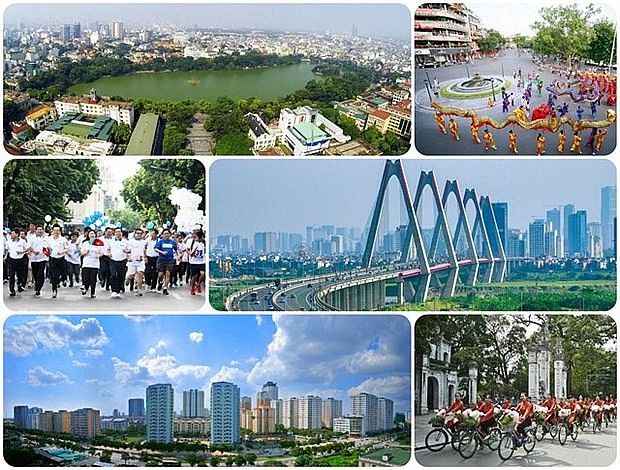 Vietnam ranks 65th out of 137 countries and territories in the 2020-2022 period as per the World Happiness Report 2023. (Photo: VGP)
Singapore is the happiest Southeast Asian nation in this edition's ranking, earning 25th place. Malaysia and Thailand are above Vietnam in this ranking, with 55th and 60th positions, respectively.
The factors that affect a country's ranking include GDP per capita (size and performance of the economy), social support (having someone to count on in times of hardship), healthy life expectancy (which, other than life expectancy, also include physical and mental health), freedom to make life choices (human rights), generosity (a marker for positive community engagement), and perception of corruption.
The World Happiness Report is a Sustainable Development Solutions Network publication, powered by the Gallup World Poll data.
Petrol prices revised down from March 21 afternoon
Petrol prices were reduced in the latest adjustment from 3pm on March 21 by the Ministry of Industry and Trade, and the Ministry of Finance.
The retail price of RON 95-V was cut from 24,740 VND (1.05 USD) per litre to 23,960 VND; the price of RON 95-III was reduced from 23,810 VND per litre to 23,030 while the price of E5 RON 92 were decreased from 22,800 VND per litre to 22,020 VND.
The price of diesel was reduced from 21,706 VND to 20,560 VND per litre and that of kerosene was down from 20,710 VND to 19,460 VND per litre, cited NDO.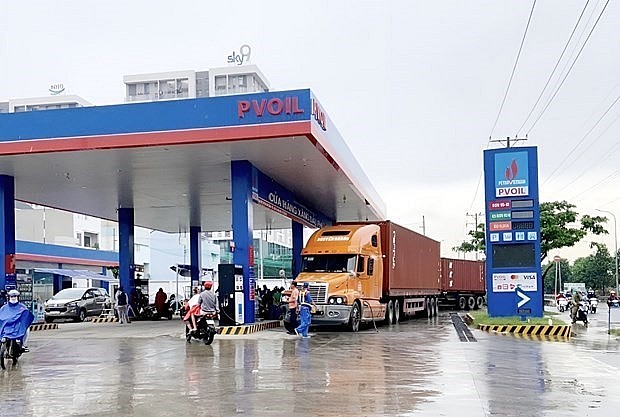 Illustrative photo.(Photo: VNA)
Meanwhile, the price of mazut 180CST was also decreased by 800 VND to 14,479 VND per kg.
The two ministries determined to extract 300 VND per litre from the prices of petrol, diesel and kerosene for the petrol price stabilistion fund.