Vietnam News Today (Mar. 19): Vietnam's Trade Recovers Strongly Since Reopening
Vietnam News Today (Mar. 19): Vietnamese Embassy greets Lao Party; Vietnam's trade recovers strongly since reopening; Travel firms put high hopes on Chinese travelers' return; Vietnam's energy transition facing challenges.
Vietnam News Today (Mar. 19) notable headlines
Vietnamese Embassy greets Lao Party
Vietnam's trade recovers strongly since reopening
Travel firms put high hopes on Chinese travelers' return
Vietnam's energy transition facing challenges
FDI projects in Vietnam go green
Numerous US firms seek investment and business opportunities in Vietnam
Vietnam aspires to boost strategic partnership with Spain
Green growth under the spotlight at 2023 Vietnam Business Forum
Tay Yen Tu Cherry Blossom Festival to get underway in Bac Giang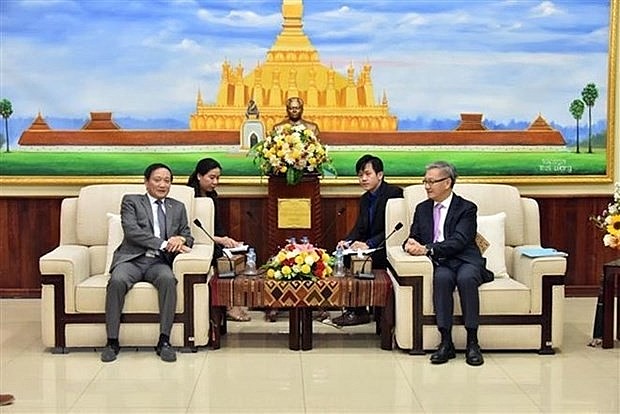 Head of the Commission for External Relations of the Lao People's Revolutionary Party (LPRP) Central Committee Thongsavanh Phomvihane (R) receives Vietnamese Ambassador to Laos Nguyen Ba Hung. (Photo: VNA)
Vietnamese Embassy greets Lao Party
Vietnamese Ambassador to Laos Nguyen Ba Hung on March 17 visited the headquarters of the Commission for External Relations of the Lao People's Revolutionary Party (LPRP) Central Committee in Vientiane to extend greetings on the LPRP's 68th founding anniversary (March 22, 1955-2023).
Congratulating Laos on the great achievements in all fields that the country has made in the past 68 years, Hung affirmed that under the leadership of the LPRP, the Lao people have overcome all difficulties, hardships, and challenges and won great victories in the struggle for national liberation and national defense and construction, helping raise Laos' position on the regional and international arenas.
He said he believes that under the LPRP's leadership, the Lao people will continue to record achievements in the cause of national construction and development.
The Vietnamese diplomat emphasised that Vietnam always stays steadfast in preserving and cultivating the bilateral great friendship, special solidarity, and comprehensive cooperation, cited VNA.
Head of the Commission for External Relations of the LPRP Central Committee Thongsavanh Phomvihane stressed that the LPRP and the Communist Party of Vietnam have the same origin from the Indochinese Communist Party. Over the past years, the two Parties have always worked together in the cause of national defense and construction, which has created a unique relationship in the world.
He said that in the coming time, the commission will continue to work closely with the Vietnamese Embassy in Laos to cultivate great friendship, special solidarity, and comprehensive cooperation between the two Parties, States and peoples of Laos and Vietnam.
Vietnam's trade recovers strongly since reopening
A year since Vietnam reopened after a global pandemic, the country has seen trade recovering strongly.
The decision, according to economists and policymakers, was a necessity to unshackle trade and industries after a prolonged period of time in which hundreds of factories were forced to close down or reduce production capacity in compliance with strong social distancing rules.
The reopening, which was made possible with a nationwide vaccination programme, has allowed the supply chain to come back, giving a much-needed boost to industries and trade as well as to the country's export sector.
Director General of May 10, one of the country's largest textile companies, Than Duc Viet said strong social distancing measures during the pandemic significantly disrupted the company's operation and threatened its ability to maintain production at times.
He said the worst part of it was not knowing when his factory's doors could be closed.
"Our approach during the pandemic was to move as much of our operations as possible online while staying flexible to deliver on our promises with international customers," he said.
He said earlier experience in fighting the spread of the COVID-19 virus allowed the company to adapt quickly and effectively to the situation.
Nguyen Thanh Son, president of Hoa Tho Textile Group's worker union, said it was largely thanks to workers' commitment and discipline the group was able to resume production quickly. Hoa Tho Textile reported a net income of over VND5 billion in 2022.
"While our industry has been struggling with fewer orders compared to the same period last year. We remain confident we won't have to lay off any of our 12,000-strong workforce," he said.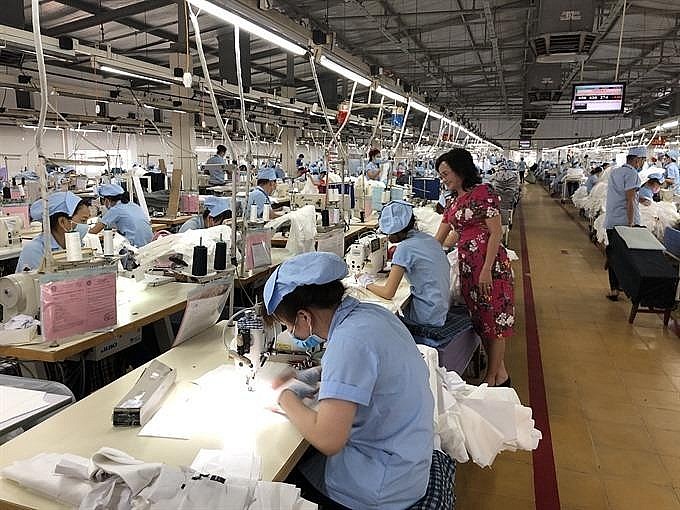 Garment workers at a factory in Bình Duong province, Vietnam. Photo: VNS
Vietnam's textile remained a key pillar of the economy with the largest number of workers. The sector's contribution to export has jumped from US$1.96 billion in 2001 to $40.4 billion in 2021 or 12 per cent of the country's entire export.
The sector has set a target this year to bring that figure to $44 billion, an 8 per cent increase from the previous year, according to VNS.
Cao Huu Hieu, director general of Vinatex, said by September 2022, the group recorded revenue of VND1.186 trillion, 24 per cent higher than its quarterly target. However, unfavourable factors have since hit the sector hard.
"By the end of 2022, we were hit especially hard by lower demand and plummeting sales," he said.
He added the situation will likely remain grim in the foreseeable future until purchasing power in large consumer markets such as the US, the EU and China recover.
Minister of Industry and Trade (MoIT) Nguyen Hong Dien said Vietnam's export sector managed to have a successful year, despite numerous difficulties and setbacks, largely caused by international geo-political events.
The country's import-export revenue last year was reported at $732 billion, maintaining a trade surplus ($11.2 billion in 2022) for 17 consecutive years. It has put the Southeast Asia economy among some of the most robust economies in the world.
2022 was also the year Vietnam recorded 39 commodities with export values exceeding the $1 billion mark, four more compared to 2021. Among these, 10 commodities broke the $10 billion mark.
There has been also improvement in the composition with industrial and processing continuing to lead the chart, accounting for over 86 per cent of the country's total export at $294.5 billion in value, a 13.3 per cent year-on-year increase.
Tran Thanh Hai, deputy head of MoIT's import/export department, said Vietnamese businesses' efforts to improve their standing in the global supply chain and seek out new markets have paid off. Hai said the key factor that allowed the country to economically recover since the pandemic was its successful attempt to fight the pandemic.
In addition, a number of key trade agreements including the Comprehensive and Progressive Agreement for Trans-Pacific Partnership (CPTPP), the European Union–Vietnam Free Trade Agreement (EVFTA), the UK-Vietnam Free Trade Agreement (UKVFTA) and the Regional Comprehensive Economic Partnership (RCEP) have put the country in a prime position to boost the export of many of its products. Export to the above-mentioned markets recorded a 20 per cent yearly increase last year.
Travel firms put high hopes on Chinese travelers' return
Vietnam has been officially added to the list of countries to which Chinese nationals can travel on outbound tours from March 15.
Hoang Nhan Chinh, head of the secretariat of the Tourism Advisory Board (TAB), said this is good news for the recovery of tourism. The country aims to attract 8 million foreign travelers in 2023.
Chair of the Da Nang Tourism Association Cao Tri Dung said Da Nang travel firms are excited about the news as China is the second largest outbound tourism market for the city.
"The city is ready in both workforce and facilities to receive Chinese travelers, from attractions to hotels, to restaurants to tour guides," Dung said.
In 2019, Da Nang received 900,000 Chinese travelers and targets 200,000-300,000 this year.
Quang Ninh is also a favorite destination for Chinese travelers. The absence of Chinese travelers after COVID-19 led to many business facilities either shutting down or barely surviving. However, Nguyen Ha Hai, deputy chair of Quang Ninh Tourism Association, said that everyone is ready to receive Chinese travelers.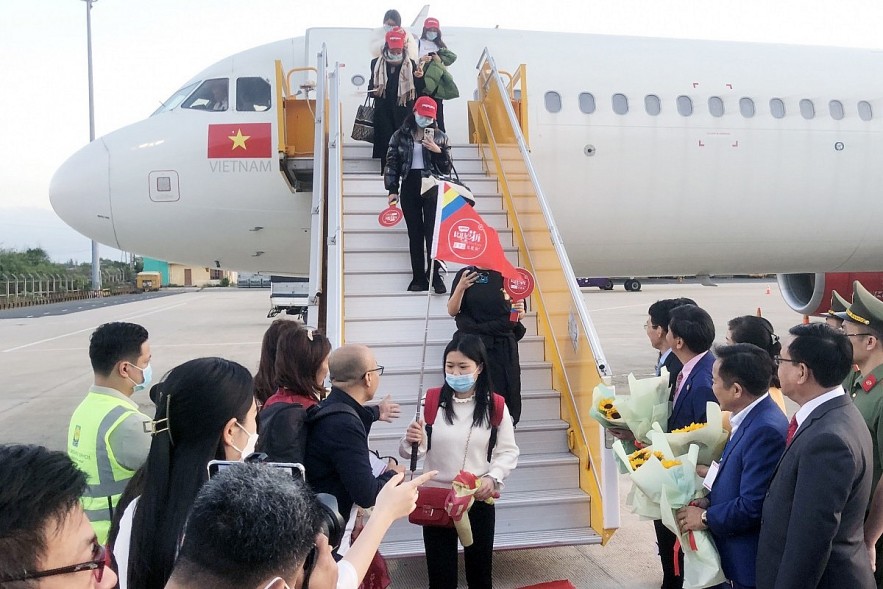 Photo: VOV
"We have good facilities and original tourism products to welcome tourists," he said.
In 2023, Hanoi plans to receive 22 million travelers, including 3 million foreigners. Hanoi Tourism Department's Deputy Director Tran Trung Hieu said travelers to Hanoi are from many countries, and the city does not rely on Chinese travelers.
However, the news about the resumption of Chinese tours to Vietnam has positive signs. Travel firms in Hanoi are now prepared to attract Chinese travelers. For other cities and provinces, Chinese arrivals are just like the "new rain after a long drought".
Time for high-quality tours
According to Chinh, after COVID-19, travelers changed their tastes and ways of travel. Travel firms need to survey the market to launch reasonable tours and offer high-quality products.
Instead of offering "zero-dong" tours and focusing on profits from sale of goods, high-quality services should be offered so that Chinese travelers will spend more money in Vietnam.
"Vietnam's tourism agencies and local management agencies need to urge travel firms not to run after low-cost tours and to prevent zero-VND tours. It would be better to focus on developing the quality of destinations and services at reasonable prices," Chinh said.
Many Vietnamese travel firms have planned new tours for Chinese travelers, according to VOV.
Wondertour has designed wellness and sports tours while Sun Group has upgraded destinations, programmed shows, new symbolic works and offered more experiences in F&B and shopping.
The group has launched promotion campaigns to Chinese tourists. It has also cooperated with Vietnam Airlines to organize two roadshows in Shanghai and Guangzhou.
Other travel firms have prepared menus with special Vietnamese dishes and cooperate with big restaurants to serve groups of 15-30 tourists and more.
Vietnam's energy transition facing challenges
Vietnam's energy transition is facing challenges, especially as the transition is expected to ensure energy security, power supply, and reasonable costs.
Vu Chi Mai, an expert from the German Agency for International Cooperation (GIZ), said that with its incentive mechanisms, Vietnam has rapidly developed solar and wind power sources, bringing the proportion of renewable energy to nearly one-third of the installed capacity of the national power system.
However, bringing those energies to the national grid faces limitations because the transmission system is often at full capacity. In addition, to promote the available capacity of these clean power sources, Vietnam must invest in more stable and flexible power sources such as pumped hydropower storage or storage systems for solar power plants.
Another big challenge is that during the energy transition, the replacement of traditional fuels from gasoline, coal, and gas to electricity is huge. On the positive side, it will help reduce emissions to the environment, but this puts great pressure on the electricity industry, both in operation management and in the concerted development of the power system associated with energy efficiency.
Nguyen Anh Tuan, an energy expert, also said that Vietnam is undergoing a strong energy transition with the rapid participation of wind power and solar power which are uncertain sources as they rely on weather conditions and locations that are not always ready for power generation.
When their proportion in the country's power generation structure is higher, it will pose challenges for managers and operators of power systems and lines. Therefore, to accelerate the energy transition to greener, cleaner energies, it is necessary to develop a forecasting tool to balance the demand and generation capacity of renewable energy sources.
However, according to Tuan, without careful calculations on the transition from fossil fuels to the electricity in industries like transportation or construction, the risk of power shortage is great, not to mention the energy transition will not progress as expected.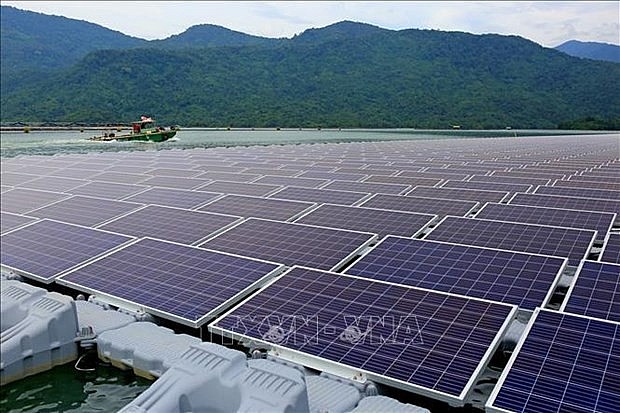 Photo: VNA
Wind and solar power are not the sources of energy that will help Vietnam ensure national security, said Sean Lawlor, an energy expert at the US Embassy in Vietnam.
To achieve the net-zero target, which means to have the amount of carbon added to the atmosphere not exceed the amount removed, Vietnam needs to speed up its energy transition process which began in 2019, he said, elaborating that this means the country needs to transition from coal-fired power sources to liquefied natural gas, biomass, ammoniac, or hydrogen power sources.
Stuart Livesey, the Vietnam Country Director for Copenhagen Offshore Partners (COP) - the offshore wind project developer of Copenhagen Infrastructure Partners (CIP), said that countries and suppliers around the world are now setting their targets for green-sourced supply chains and green energy.
Many of those have strong commitments to the energy transition, so Vietnam must speed up the transition to maintain its position as a key export market in Southeast Asia, he said.
"Admittedly Vietnam is a little behind many other countries where the green transition is well underway, and demand for suitable solutions, infrastructure, and skilled resources need to support this. However, there is still time to achieve this, provided Vietnam can make the necessary reforms and key decisions to enable this transition and avoid missing critical milestones."
Currently, it is fundamentally impossible to deliver a commercial offshore wind farm in Vietnam due to a lack of necessary regulatory framework for this new industry. There is also a lack of flexibility for the offtake of energy to transition to allow for these offshore mega-projects which can provide enormous benefits for the country, he said.
FDI projects in Vietnam go green
As Vietnam has made a strong commitment to carbon emission neutrality by mid-century, foreign direct investments in the country have begun to go.
One such investment was the new LEGO factory in Binh Duong Province, which is currently under construction.
LEGO Group said it aims to bring the factory up to the LEED Gold standard, which covers all areas of sustainability including energy, water, and waste. The factory will be designed to accommodate electric vehicles and be geared toward energy-efficient equipment.
The factory will also feature solar panels on its roof and a solar farm in close proximity. Combined, these solar facilities will generate enough energy to meet the factory's full power needs.
LEGO Group also said it had been planting 50,000 trees in three years to compensate for the vegetation that would be removed during construction. The move was part of its effort to ensure the factory has a minimal impact on the environment.
"We are exploring many other initiatives that will make our new site a global lighthouse for sustainable operations," said Preben Elnef, Vice President and Programme Lead for LEGO Group in Vietnam.
DHL Express is another name in the vanguard of green transition in the country.
The world's leading express service provider has inaugurated its latest service centre in Hanoi, which is equipped with a wide range of technologies to minimise carbon footprint and maximise operational efficiencies.
These include green air-conditioning systems utilising variable refrigerant volume technology, helicopter fans, and electric vehicles, cited VNS.
The express service heavyweight said it had repeatedly redefined logistics, from pioneering the first green logistics product to becoming the first logistics company to commit to a zero-emissions target.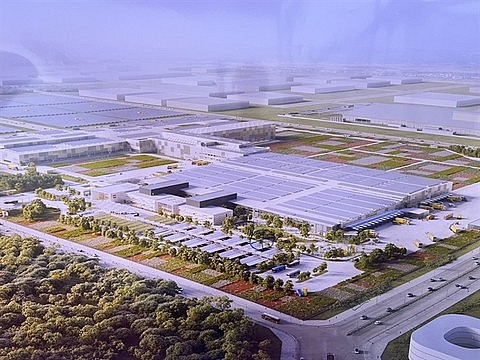 Photo: VNS
Pandora, the world's largest jewellery brand, followed suit with a memorandum of understanding to build a new crafting facility in Binh Duong Province. The facility will be constructed in line with the LEED Gold standard and be powered fully by green energy.
EuroCham Chairman Alain Cany said the growing interest in sustainable development among European investors would open up more investments to Vietnam in the short term, given its commitment to net-zero targets by 2050.
He revealed that EuroCham was implementing an investment promotion programme to bring 300 European green-growth-centered firms to Vietnam to seek business opportunities. Their feedback is positive so far.
The chairman also said regarding green transition, Vietnam could get ahead of other regional countries with its policies highly in favour of sustainable development.
The recent report prepared by Vietnam's Association of Foreign Invested Enterprises shows that 53.5 per cent of foreign-invested enterprises in Vietnam have embraced green growth.
However, their green transition is not broad-based but limited to discrete activities such as building a standalone waste treatment plant or an incinerator furnace for waste disposal.
The report calls for more favourable policies to attract FDI flows into green growth, digital transition, and supply chain integration.
It also urges Vietnam to legislate the Global Minimum Corporate Tax, step up administrative reform, and improve infrastructure facilities to redouble the effort.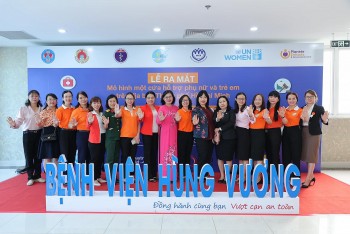 Viet's Home
What is the one-stop centre for women and children experiencing violence?