Vietnam News Today (Mar. 28): AstraZeneca Covid-19 Vaccine to be Used for Booster Doses
Vietnam News Today (Mar. 28): Covid-19 infections drop by over 11,208, children aged 5-11 to be vaccinated next month; AstraZeneca Covid-19 vaccine to be used for booster doses; Grenada, Vietnam seek to boost investment cooperation; Vietnam's FDI attraction policy pays off.
Vietnam News Today (Mar. 28) notable headlines
Covid-19 infections drop by over 11,208, children aged 5-11 to be vaccinated next month
AstraZeneca Covid-19 vaccine to be used for booster doses
Grenada, Vietnam seek to boost investment cooperation
Vietnam's FDI attraction policy pays off
Hotel market forecast to recover after tourism reopening
PM urges stepping up int'l tourism re-opening
Da Nang resumes international air routes
Japanese experts to help Hoi An restore Cau Pagoda
Over 300,000 kWh of electricity saved during Earth Hour 2022
Photo: VOV
Covid-19 infections drop by over 11,208, children aged 5-11 to be vaccinated next month
The Health Ministry announced a further 91,916 new Covid-19 infections on March 27 across 61 cities and provinces nationwide, a drop of 11,208 cases from the previous day.
Among the new cases, a total of 62,043 of the transmissions were detected in the community.
The three localities suffering the highest number of fresh Covid-19 cases included Hanoi (10,522), Bac Giang (3,997), and Yen Bai (3,977).
In the past 24 hours, the Health Ministry reported that an additional 48 Covid-19 patients died, bringing the overall number of fatalities to 42,306, accounting for 0.5% of total infections.
The average death toll per day in Vietnam in the last seven days was 61.
In the latest wave that hit the country in late April last year, more than 9 million cases have been confirmed and over 5.3 million of them have recovered, cited VOV.
More than 205 million doses of Covid-19 vaccine have been administered in the country to date.
The same day the Expanded Program on Immunization announced that the Australian Government has pledged to provide the nation with around 13.7 million doses of Pfizer and Moderna vaccines to vaccinate children aged between 5-11 early next month.
Earlier the Ministry of Health worked with the Australian Embassy in Vietnam on this issue, saying that with the vaccines will be allocated for vaccination as soon as they arrive.
The ministry and the program have also been actively looking for vaccine support from international organizations such as USAID, COVAX Facility and the governments of other countries to secure additional 8-10 million doses to fully vaccinate children in this age group in the near future.
AstraZeneca Covid-19 vaccine to be used for booster doses
The Ministry of Health (MoH) has allowed the use of AstraZeneca Covid-19 vaccine for booster doses to be injected into people who received basic doses of mRNA technology vaccines (Pfizer or Moderna).
In its official dispatch sent to the Health Departments of provinces and cities and relevant agencies, the MoH said that the booster doses can be administered at least three months after the last basic dose.
It asked the Health Departments to give advice to the city and provincial People's Committees on people eligible for the third dose, and prepare necessary conditions for the injection of the booster shots, according to VNA.
Photo: Reuters
According to the MoH, as of March 26, more than 204.86 million doses of Covid-19 vaccines have been administered in Vietnam, with over 71.2 million people receiving one dose, nearly 68 million people two and more than 1.5 million people three shots.
Grenada, Vietnam seek to boost investment cooperation
A seminar on promoting investment cooperation between Vietnam and Grenada was held recently in both in-person and online formats to learn about, and evaluate the investment environment of the two countries.
The event was co-hosted by the Vietnamese Embassy in Venezuela, concurrently in Grenada, in coordination with the Grenada Investment Development Corporation (GIDC) as part of the working visit to Grenada by Ambassador Le Viet Duyen.
In his address, GIDC Vice President Royston Cumberbatch briefed participants on investment areas that the Government of Grenada desires to promote as well as policies aimed at attracting foreign investors.
The GIDC representative stated that Grenada offers optimal conditions for investors to exploit, not only in tourism, but also in other potential fields such as agriculture, telecommunications, energy and education. Foreign investors, when investing in Grenada, in addition to receiving preferential policies, also have the advantage of tax-free access to the US and EU markets.
Cumberbatch emphasized that the seminar held within the framework of Ambassador Le Viet Duyen's working visit has opened up prospects ahead for bilateral cooperation in economy, trade and investment. He expressed his wish that more experienced Vietnamese investors will come to Grenada to look for investment opportunities in the near future.
For his part, Ambassador Le Viet Duyen said that after 35 years of pursuing the Doi Moi (Renewal) process, Vietnam has become the 40th largest economy in the world with a total GDP of US$ 343 billion in 2021, while per capita income is seeing constant improvement.
Vietnam has a lot of experience in the field of agriculture and is currently the leading exporter of many agricultural products across the globe such as rice, coffee, pepper, and cashew nuts. Grenada businesses can find suppliers of high quality food and agricultural products from the Southeast Asian nation, the Vietnamese diplomat went on to say.
Besides, Vietnam also has many fast-growing and highly advantageous fields such as green economy, digital economy, electrical industry, electric car production.
At the seminar. Photo: baoquocte.vn
According to Duyen, Vietnamese businesses will be interested in learning about policies and preferential conditions given by the Government of Grenada, and expressed his belief that with the cooperation of the GIDC and the Ministry of Foreign Affairs, the two sides will soon have investment cooperation projects in the future, reported VOV.
Also on this occasion, Ambassador Le Viet Duyen had a meeting with Grenada Minister of Agriculture, Land, Forest and Labor Peter David. During the meeting, Peter David expressed his impression with Vietnam's development, especially the long-standing and diversified agriculture, which has made an important contribution to the national development.
He wishes to cooperate with Vietnam in the field of aquaculture, seafood, production of agricultural machinery to contribute to the development of the agricultural industry in Grenada.
Ambassador Le Viet Duyen noted his appreciation for Grenada's interest in cooperation with Vietnam in the field of agriculture, while emphasizing that Vietnam has strengths in production experience, human resources, and techniques, especially having experience in cooperation with Cuba and Venezuela in carrying out agricultural development projects such as seed breeding, rice cultivation, and aquaculture.
The two sides agreed to soon strengthen exchanges between the the two ministries of agriculture, and organize scientific seminars between the two sides to share experience in fields of shared concern towards the signing of an agreement on agricultural cooperation in the time ahead.
Vietnam's FDI attraction policy pays off
Despite adverse Covid-19 impacts on the global economy, Vietnam's selective investment attraction policy with priority to high-quality projects has proved effective, according to experts.
This year is forecast a good year for foreign direct investment (FDI) attraction, as Vietnam is securing its image as a safe, attractive and promising destination for foreign investors.
Do Nhat Hoang, head of the Foreign Investment Agency under the Ministry of Planning and Investment, said that thanks to the policy, the FDI poured into sectors with high risk of environmental pollution and using outdated technologies such as weaving and dyeing has decreased, while FDI flows to high-quality projects using green and renewable energy have increased, cited VNN.
Notably, Danish LEGO Group has announced a plan to construct a 44-hectare factory in Binh Duong at a cost of over US$1 billion in the southern province of Binh Duong. Work on the project will start in the second half of 2022 and the factory is scheduled to become operational in 2024. This will be LEGO's first carbon-neutral factory that has a solar energy system, ensuring that it will not cause environmental pollution or release dust and waste.
Singapore has been the largest investor in Vietnam with over US$1.7 billion, followed by the Republic of Korea with over US$1.4 billion, as well as China and Japan.
Vietnam is still a safe and attractive destination for foreign investors. Photo: VNA
Experts held that Vietnam will enjoy a fruitful year in FDI attraction thanks to its efforts in administrative reform, the fast recovery of the global supply chain and the increased consumption power.
External relations activities have also supported the country's FDI attraction. During the Europe trip of Prime Minister Pham Minh Chinh in late 2021, total value of deals signed hit US$30 billion.
Nakajima Takeo, Chief Representative of the Japan External Trade Organization (JETRO) in Hanoi held that recently, Japanese FDI flow to Vietnam has been adjusted with higher number of projects in retail and service sectors to serve the domestic market and for export, thus making full use of free trade agreements that Vietnam has signed.
Along with Japanese firms, investors from Europe, the RoK and the US have shown interest in the Vietnamese market, which showed their confidence in the safe, attractive and promising destination of Vietnam.
Vice Chairman of the Vietnam Association of Foreign Invested Enterprises (VAFIE) Nguyen Van Toan held that Vietnam's strengths of favorable geographic location, improving business and investment environment and better infrastructure system have made it attractive among foreign investors.
He advised localities to further develop the quality of human resources to become ready for FDI projects with high technologies from developed countries. They should also offer better policies to encourage foreign investors, while strengthening the connections between FDI firms and local enterprises, thus enhancing the value and efficiency of FDI projects in Vietnam.
Hotel market forecast to recover after tourism reopening
After a long hiatus caused by the Covid-19 pandemic, Vietnam's tourism is gradually reopening with the resumption of international flights, which is considered a positive factor helping recover the hotel market.
As the hotel market mainly relies on strong tourism needs in the country, the pilot program to welcome foreign visitors in some localities is a good opportunity that contributes to promoting the quick recovery of the Vietnam tourism market, according to the CBRE Vietnam.
The company's hotel market view for 2021 said that last year, Vietnam was impacted severely by the fourth wave of the Covid-19 pandemic. The capital city of Hanoi also suffered from the increasing number of infections, which led to a social distancing period from July to September. Since Covid-19 caused disruptions to the construction of major projects, the 4-5 star hotel market in the city remained in the quiet status and welcomed only one 5-star hotel - Capella Hanoi with 47 rooms in the beginning of the year. As of late 2021, Hanoi had a total of 8,407 rooms from 38 projects.
Due to the prolonged epidemic throughout the year, there was a further decrease in the average daily rate (ADR) in 2021 to US$95.5, down 5.7 percent compared to 2020 and 19.7 percent compared to the pre-COVID level in 2019. In 2021, the hotel market in Hanoi continued to suffer a fall in occupancy rate which was 30.6 percent, down 4.5 percentage points against 2020 and 50.6 percentage points against 2019.
Photo: VNA
This year, although the new supply is still limited due to the pandemic crisis delaying the construction process, the rapid vaccination rate, and the reopening of international passenger routes signal the recovery of Hanoi's tourism market.
Construction on several international brand projects such as Four Seasons, Wink, Dusit và Fairmont is expected to be completed in late 2023, thus contributing to bringing a new supply for the market, VNA reported.
Meanwhile, CBRE experts predicts that 2022 would open a golden opportunity for Ho Chi Minh City's 4-5-star hotel market, with encouraging progress in the first half and more accelerating growth in the second half.
The market is expected to welcome a new supply of 2,803 rooms from 13 projects, accompanied by the entrance of multiple high-class hotel brand names such as Ritz Carlton, Mandarin Oriental, Hotel Indigo and Avani.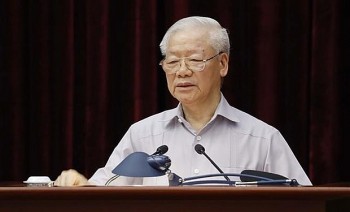 National
Party General Secretary Nguyen Phu Trong on June 30 stressed the task of addressing shortcomings and filling in "vaccums" and "loopholes" so as to prevent corruption and negative phenomena.