Vietnam News Today (Mar. 5): Vietnam's AI Leadership Status is Blossoming
Vietnam News Today (Mar. 5): Vietnam greatly values security-defence cooperation with Cambodia; UN official hails Vietnamese peacekeepers' contributions to UNMISS; Vietnam's AI leadership status is blossoming; Vietnam among best locations for family holidays.
Vietnam News Today (Mar. 5) notable headlines
Vietnam greatly values security-defence cooperation with Cambodia
UN official hails Vietnamese peacekeepers' contributions to UNMISS
Vietnam's AI leadership status is blossoming
Vietnam among best locations for family holidays
Vietnam offers initiatives to promote cooperation to reduce emissions in Asia
Vietnam, Cambodia sign security-defence cooperation plan for 2023
Vietnamese, Lao firms join hands in developing railway project
Digital technology to be used to preserve folk literature works
Indian tourists show interest in Vietnam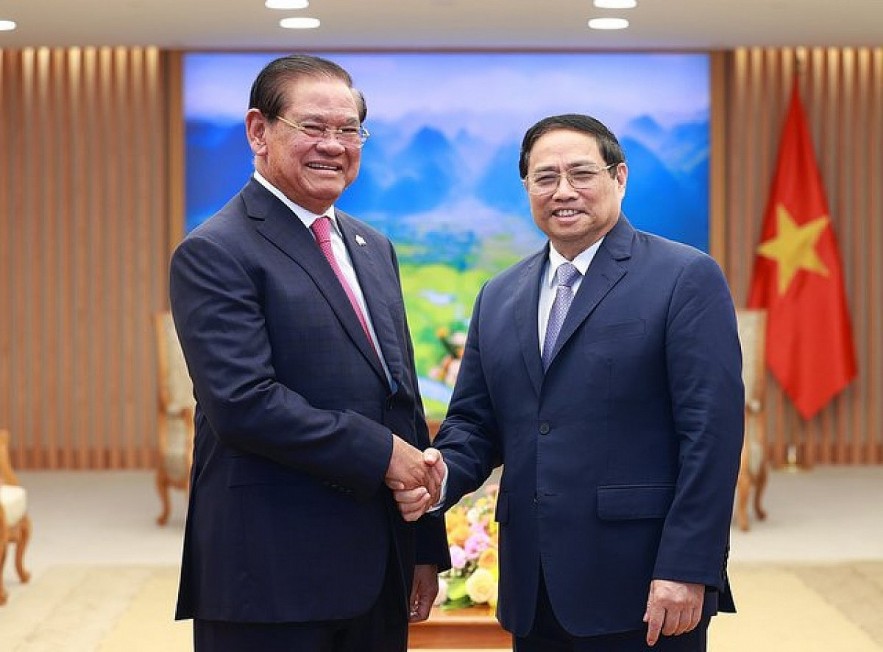 Prime Minister Pham Minh Chinh (R) welcomes Cambodian Minister of the Interior Cambodia Samdech Krolahom Sar Kheng (Photo: VGP)
Vietnam greatly values security-defence cooperation with Cambodia
Vietnam always attaches great importance to its security-defence links with Cambodia, viewing these as a pillar in cooperative ties between the two countries.
Prime Minister Pham Minh Chinh made the statement on March 4 during a reception in Hanoi for Cambodian Minister of the Interior Cambodia Samdech Krolahom Sar Kheng who is on a visit to the country.
During the course of the meeting, PM Chinh noted with satisfaction the positive outcomes of talks held between Deputy Prime Minister and Interior Minister Samdech Krolahom Sar Kheng and Minister of Public Security To Lam, contributing to solidifying the conclusion of the Politburo meeting of the two parties held on February 18.
The Vietnamese Government chief used the occasion to congratulate the Cambodian side on their tremendous achievements recorded over the years, most recently in its efforts to control COVID-19 pandemic and inflation, maintain economic growth, competently perform its role as ASEAN Chair in 2022, as well as successfully organising the elections of the commune and ward councils for the fifth tenure in June, 2022.
PM Chinh affirmed that over recent years, despite the complicated and unpredictable international situation, a strong sense of neighbourliness, traditional friendship, as well as comprehensive and long-term sustainable co-operation between Vietnam and Cambodia have continued to be reinforced, cited VOV.
He suggested that the Ministry of Interior of the Kingdom of Cambodia and the Ministry of Public Security of Vietnam continue to intensify the fight of joint special cases for all types of crimes, especially transnational ones such as criminal and drug crimes, along with targeting human traffickers.
This should be done by combating fraud involving rings and gambling organisations who use Cambodia to operate, as well as boosting ties in rescuing and repatriating Vietnamese citizens who are detained or forced to work in illegal gambling establishments in the neighbouring country.
PM Chinh also thanked Deputy PM Kheng and Cambodian leaders for directing relevant agencies to create favourable conditions for the Vietnamese community to conduct business and enjoy a stable life in Cambodia by handling legal documents for Vietnamese people in the host nation.
UN official hails Vietnamese peacekeepers' contributions to UNMISS
Nicholas Haysom, Special Representative of the United Nations (UN) Secretary-General for South Sudan and Head of the UN Mission in South Sudan (UNMISS), on March 3 appreciated the active and effective contributions, creativeness and efforts to overcome difficulties of medical officers and soldiers of the level-2 field hospital and peacekeepers of Vietnam at the UNMISS.
He made the recognition when talking to Ambassador Dang Hoang Giang, Vietnam's Permanent Representative to the UN, at the first meeting in 2023 of the UN Security Council with representatives from 79 countries sending soldiers to the UNMISS.
Ambassador Giang thank the UNMISS leader for creating conditions for Vietnam's peacekeeping force to fulfil their tasks.
He affirmed Vietnam's commitment to continue sending military and police personnel to participate in the UN peacekeeping activities in general and UNMISS in particular in the coming time, according to VNA.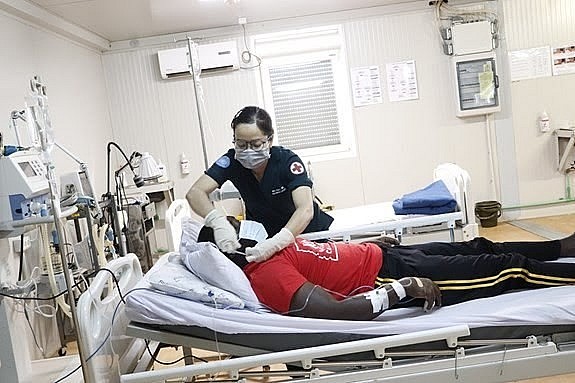 A doctor of Level-2 Field Hospital Rotation 3 in South Sudan cares for a patient. (Source: Vietnam Department of Peacekeeping Operations)
In his remarks at the meeting, the ambassador reaffirmed the country's support for UNMISS' mission, and emphasised the importance of building trust among related parties, including the Mission, authorities and local people, to create a favourable environment for the election and the process of building the Constitution of South Sudan.
Vietnam is willing to continue contributing to this effort through the implementation of and participation in support activities, he said.
The ambassador also shared Vietnamese peacekeepers' efforts and creativeness in fulfilling their duties as well as taking care of the life, safety and health of the local people, thus consolidating and strengthening the cohesion and trust between them and the UN peacekeeping mission.
Vietnam's AI leadership status is blossoming: Forbes
Vietnam has a strategic vision for AI innovation and it is blossoming, highlighted in a recent article released by the Forbes.
The revenue of the Information and Communication Technology (ICT) industry in 2021 was US$136,153 million, a solid increase compared to US$124,678 million in 2020, reported the Ministry of Information and Communications.
It is also estimated that the ratio of Viet Nam's value in ICT revenue reached 24.65 percent, a significant increase from previous years.
Vietnam currently has over 64,000 digital technology enterprises, an increase of 5,600 enterprises compared to 2020, and there are nearly 1,000 Vietnamese branded ICT products and services.
Vietnam has over one million IT workers, and over 80,000 university and college graduates with majors in information and communications technology.
The International Development Research Center in Canada and the UK's Oxford ranked Vietnam 6th in ASEAN and 62nd in the world for the 2021 Government Artificial Intelligence Readiness Score.
This is the first time Vietnam's AI Readiness Score reached 51.82 out of 100, which surpasses the global average of 47.72 and helps this country climb 14 places compared to last year.
Photo: VNN
The Forbes noted that the readiness of a country or territory toward AI technology is evaluated through three pillars–the government, technology, and data infrastructure.
The Vietnamese government has been investing heavily in AI and other digital technologies, such as machine learning, blockchain, big data analytics, the Internet of Things (IoT), and cloud computing.
"Recently the country approved the National Digital Transformation Program by 2025, with an orientation toward 2030. This demonstration of confidence is laying a solid strategy foundation for Vietnam to become a powerful AI innovator in the years to come", the Forbes stressed.
In summary, Vietnam has ambitious plans for its AI leadership, and Viet Nam hopes to be among the top four countries in Asia, when it comes to artificial intelligence advancement.
With major government policies in place to support AI R&D and application development the country is poised to make some giant leaps forward. OpenGov Asia reported that Vietnam ranked 6th out of 10 ASEAN member countries and 55th globally in the 2022 Government AI Readiness Index, up seven places compared to 2021. The country's average score reached 53.96 (up from 51.82 in 2021), surpassing the global average of 44.61.
Vietnam among best locations for family holidays
The New Zealand Herald has listed the country among its top six best Asian destinations for a family holiday.
According to information given by the media outlet, Vietnam is better suited to families with teens who are still willing to go on holiday with their parents.
It noted that the country represents an excellent budget destination.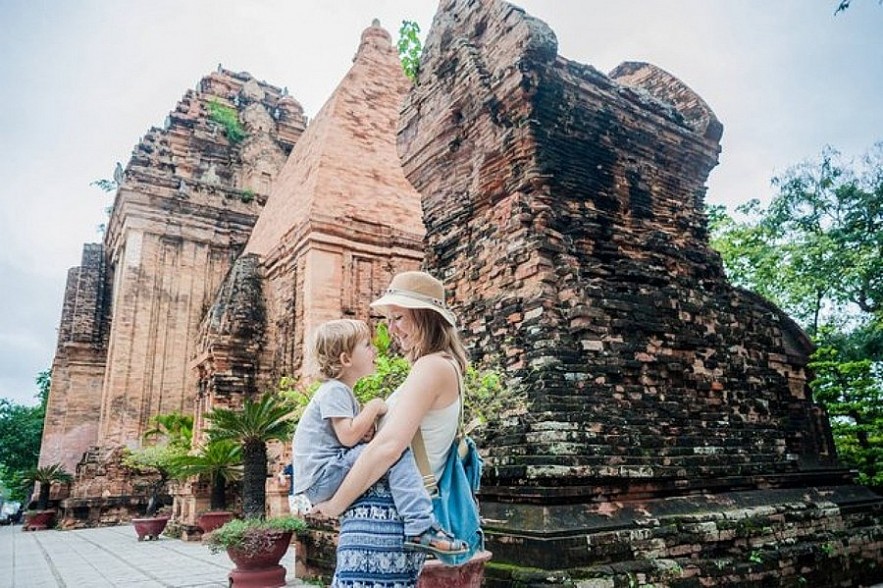 Vietnam is listed among best locations for family holidays (Photo: Getty Images)
"Hanoi is a lot of fun to explore, even for younger kids, with attractions like the Temple of Literature, water puppet dances or just wandering and nibbling on street food," the New Zealand Herald stressed.
Furthermore, the newspaper noted that Ho Chi Minh City offers another level of culture and history, whilst the Mekong Delta is a riot of colours and sounds with a fascinating series of floating markets to explore. Elsewhere, Nha Trang is blessed with sandy beaches and calm waves that are perfect for island hopping, scuba diving, boarding, and waterskiing.
Rounding off the list of the best Asian destinations for family holidays were Singapore, Hong Kong (China), Bali, Japan, and Thailand.
Vietnam offers initiatives to promote cooperation to reduce emissions in Asia
Deputy Prime Minister and Minister of Natural Resources and Environment Tran Hong Ha presented several important initiatives of Vietnam during the Asia Zero Emission Community (AZEC) Ministerial Meeting in Tokyo, Japan on March 4.
Hailing the Japanese Government's initiative to organise the meeting right after the 27th UN Climate Change Conference (COP27), Ha said that this is an important and suitable forum to promote intergovernmental cooperation in reducing greenhouse gas emissions, thus contributing to sustainable development in the region, reported VNA.
The path to achieve the targets set by the Paris Climate Agreement is very tough, and requires intelligence, cooperation and high solidarity, he stated, stressing the need to strengthen cooperation between government and government, between governments and enterprises, and use public investment to lead private finance in the context of private finance being an important resource for emission reduction efforts.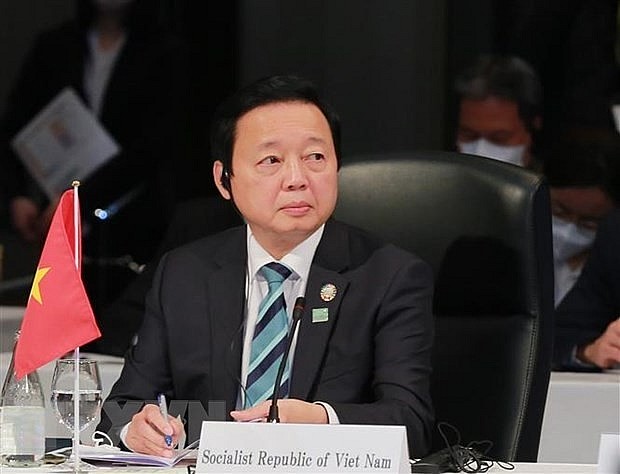 Vietnam offers initiatives to promote cooperation to reduce emissions in Asia at the opening session of the AZEC Ministerial Meeting in Tokyo on March 4 (Photo: VNA)
The Vietnamese representative proposed countries put forward a very methodical and realistic emissions reduction roadmap, but not at all costs, as socio-economic issues should be taken into account.
On this occasion, Deputy PM Ha also emphasised Vietnam's commitments to and efforts in responding to climate change and cutting greenhouse gas emissions, including measures to increase the proportion of renewable energies.
He proposed participating countries establish specific institutions such as a carbon credit market of the region, and a research and technology transfer centre, because technology is a key to reduce emissions while ensuring energy security and ensuring the state, people and businesses have access to clean energy at affordable prices.
He also suggested setting up a scientific research support fund and a high-quality human resource training centre, while stressing the need to rely on digital transformation to enhance exchanges and dialogues on policies and techniques to increase the efficiency of the implementation of emissions reduction measures and ensure the implementation of socio-economic targets.
At the meeting, delegates approved a joint statement about the "Asia Zero Emission Community" which sets forth cooperation orientations in the coming time to achieve inclusive, just, sustainable and affordable energy transition in Asia.