Vietnam News Today (May 16) notable headlines:
Foreigners without work permit to be deported
State President meets with Ho Chi Minh City voters
People's safety given top priority in COVID-19 fight, says PM
Lao leader thanks Vietnam for support in COVID-19 fight
Viet Nam reports new single-day record in COVID-19 cases
Bac Ninh imposes social distancing on Yen Phong District
Viet Nam reports 36th COVID-19-related death
Clever strategy helps businesses survive COVID-19 crisis
Aquatic exports hit US$2.39 billion over first four months
Vietnamese abroad send home over US$17 billion in remittances in 2020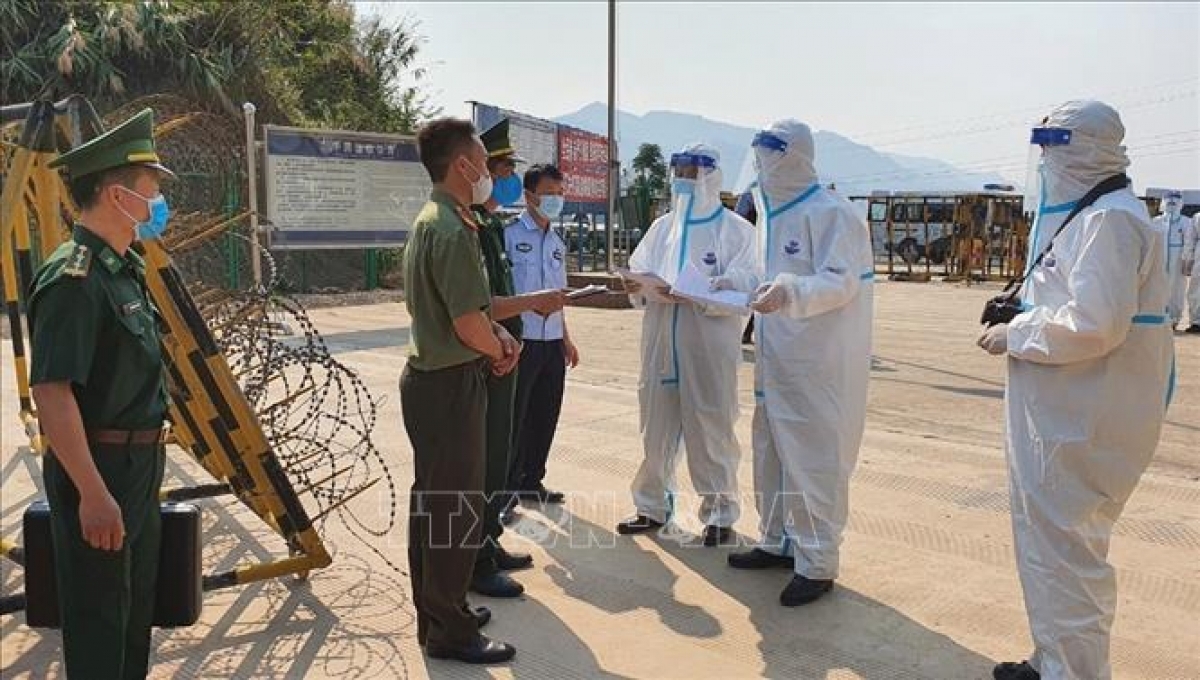 Foreigners without work permit to be deported
The Ministry of Labour, Invalids and Social Affairs (MoLISA) has asked localities to tighten the management of foreign workers and consider expelling those without work permit in Vietnam.
Falling into this category are also those who fail to comply with immigration and residence laws in Vietnam, the MoLISA said in a telegram sent to cities and provinces across the country.
The MoLISA proposed that localities strengthen inspection and strictly handle production establishments that illegally receive and employ foreign citizens, as well as those who intentionally violate the law.
The ministry also proposed that cities and provinces tighten the granting of work permit to foreign citizens according to legal documents, including Government Decree 152/2020/ND-CP and the 2019 Labour Code.
Vietnam is currently confronted with the fourth wave of the COVID-19 pandemic which started in late April and has spread to 26 cities and provinces nationwide, with nearly 800 infections confirmed.
One of the potential risks, according to experts, comes from foreign citizens attempting to illegally enter Vietnam for employment or other purposes. Ho Chi Minh City recently deported 52 foreigners who had illegally crossed the northern border and travelled to the city for work, VOV reported.
State President meets with Ho Chi Minh City voters
State President Nguyen Xuan Phuc and candidates for the 15th National Assembly met with voters in Cu Chi and Hoc Mon districts of Ho Chi Minh City on May 14-15 via videoconference.
Presenting his platform, President Phuc affirmed that he will do his utmost to serve the nation and people.
He stressed the need for deputies to listen to voters' aspirations and ideas and report them to the National Assembly, Party, State and relevant agencies, and pay more attention to locals' substantial socio-economic affairs.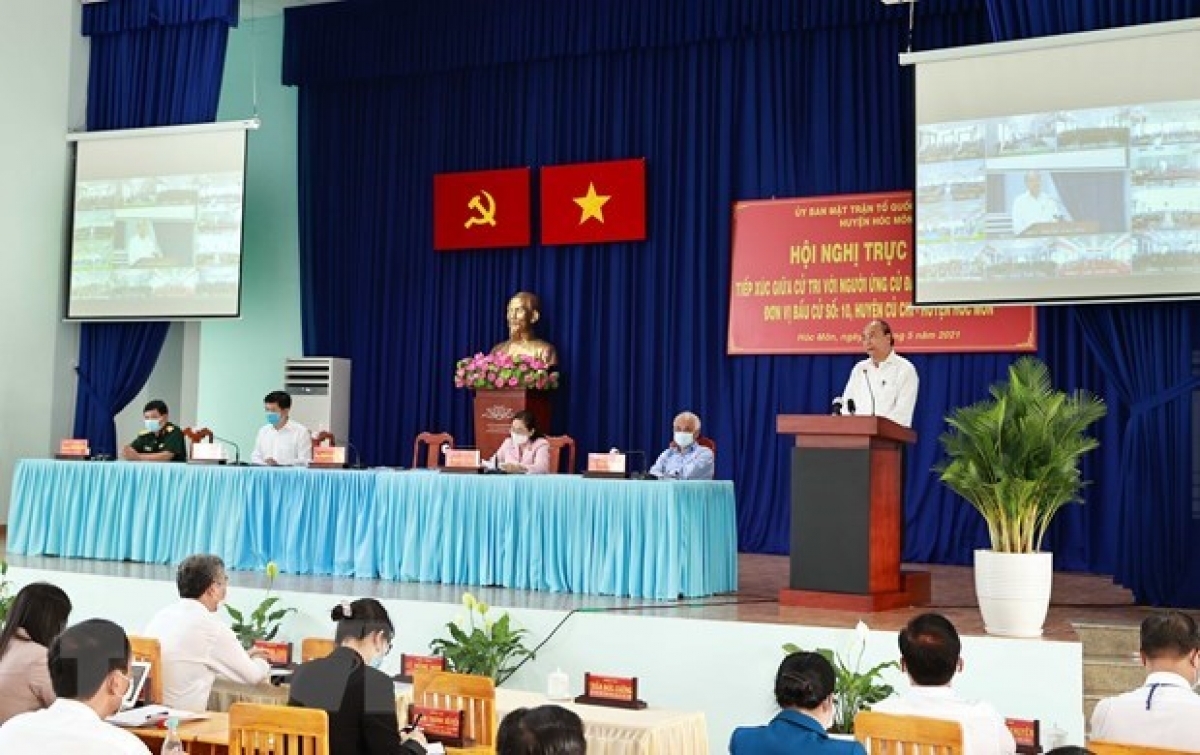 The State leader also requested municipal authorities to invest more in areas with slow development, build strong defense and security, exert efforts to improve the position and prestige of Vietnam in the international arena and speed up judicial reform.
For Cu Chi and Hoc Mon, the State President said it is necessary to develop general planning for the two districts in the city's overall master plan to develop them into an ecological urban area during 2030-2045, with the highlight being the Northwest urban area.
On this occasion, President Phuc also visited and met with voters of Division 9 of Army Corps 4, during which he hailed the unit's contributions to the national construction and defemce.
Besides, he also visited and presented gifts to several policy beneficiaries in Cu Chi and Hoc Mon districts, according to VOV.
People's safety given top priority in COVID-19 fight, says PM
Prime Minister Pham Minh Chinh on May 15 stressed the need to protect people's health, considering this a primary task of the medical sector amid the complicated nature of the COVID-19 pandemic both domestically and globally.
Greater efforts are needed to effectively contain and repel the pandemic nationwide to protect people's health in all circumstances, Chinh told the Ministry of Health's leaders at a working session in Hanoi.
He affirmed that Vietnam has basically "controlled the situation" and most new cases have been recorded in quarantine and lockdown areas, thus posing no risk to the community.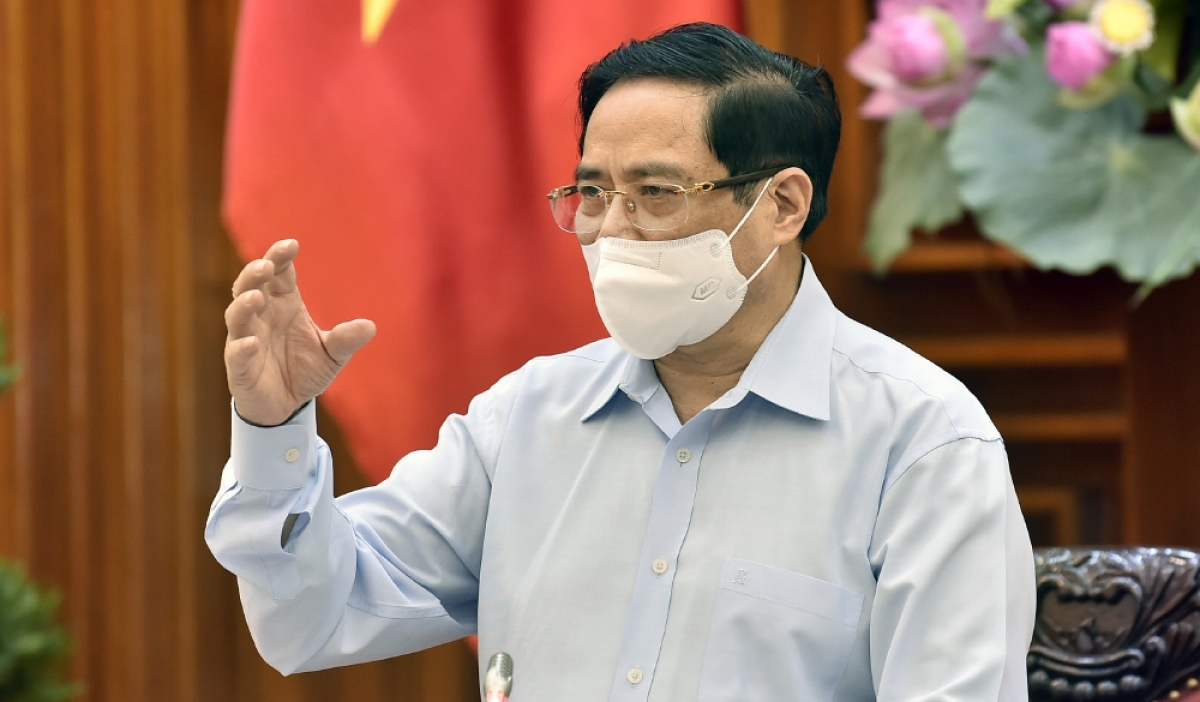 However, the Government leader reminded health officials to stay highly vigilant, pointing to the fact that the COVID-19 pandemic remains evolving in a complex manner in a number of localities.
He asked the medical sector to draw lessons from past experiences, overcome shortcomings in COVID-19 control and perfect relevant policies to effectively fight the pandemic, as reported by VOV.
A new approach to epidemic prevention and control should be adopted, that is the offensive vs defensive strategy that should be implemented harmoniously, rationally and effectively, said the PM.
Underlining the importance of the 'active attack' strategy, the PM asked the medical sector to pool resources for contact tracing and extensive testing, including information technology applications, to early detect and quarantine positive cases.
Lao leader thanks Vietnam for support in COVID-19 fight
Lao Party General Secretary and State President Thongloun Sisoulith has thanked Vietnamese leaders for their messages of sympathies over the COVID-19 situation in Laos.
In a thank-you letter to Party General Secretary Nguyen Phu Trong and State President Nguyen Xuan Phuc, Thongloun Sisoulith said the Vietnamese leaders' messages have vividly demonstrated the great friendship, special solidarity and comprehensive cooperation between the two countries, NDO reported.
The Lao leader also highlighted Vietnam's valuable, timely and effective support to Laos in personnel, medical supplies and medicines, saying the assistance has significantly contributed to the pandemic fight in his country.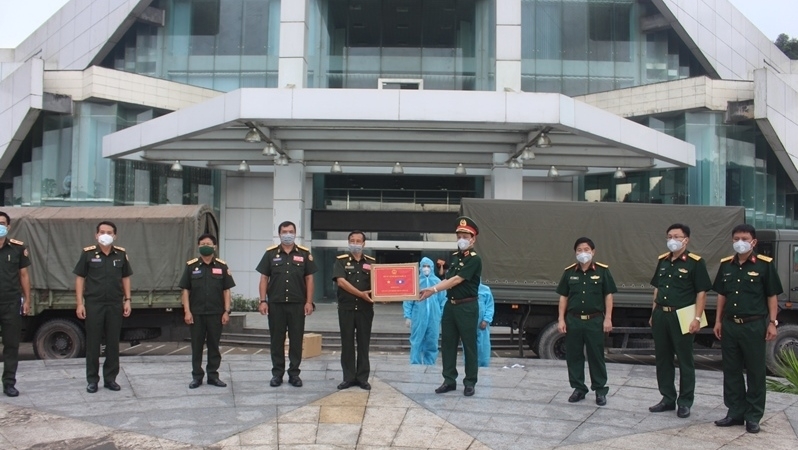 The High Command of Military Region 4 presents medical supplies to support the Lao People's Armed Forces in the prevention and control of COVID-19, Cau Treo International Border Gate, Ha Tinh, May 13, 2021. (Photo: NDO/Ngo Tuan)
"We always keep a close watch on the COVID-19 situation in Vietnam, and highly value the measures taken by the Vietnamese Party and government to contain the pandemic," he said.
"We believe that under the leadership of the Community Party of Vietnam and with the great national unity bloc, Vietnam will beat COVID-19," he said, pledging that Laos will closely cooperate with Vietnam to win over the pandemic.
Viet Nam reports new single-day record in COVID-19 cases
The Ministry of Health confirmed 131 new COVID-19 cases on Saturday evening, raising the national caseload to 3,985.
The latest patients include two imported cases and 129 domestic infections, said the ministry.
The imported cases are Vietnamese repatriated from Malaysia and Japan.
Meanwhile, the domestic cases were reported in Bac Giang (85), Cancer Hospital in Ha Noi (13), Bac Ninh (16), Da Nang (eight), Vinh Phuc (four), Lang Son (two), and Nam Dinh (one).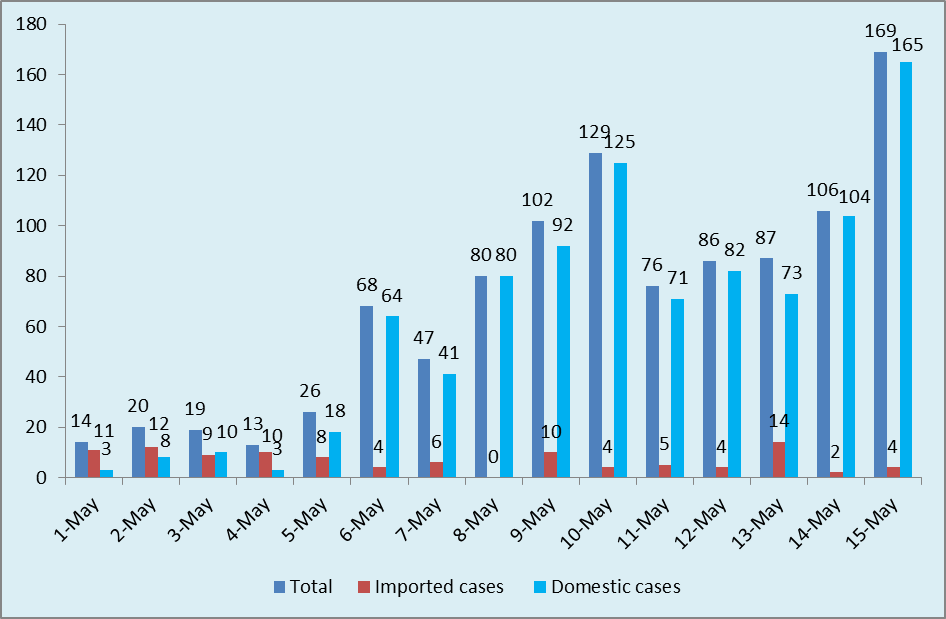 The number of daily new COVID-19 cases from May 1-15 (Chart: VGP)
With 38 cases confirmed earlier the same day, the total new cases reached 169 on Saturday – a new single-day record since the country reported the first COVID-19 patient on January 23, 2020.
The ministry also said 11 patients were discharged from hospitals after recovery, taking the total number of recovered cases to 2,668 while the death toll stands at 36.
As the pandemic remains complicated in several localities, Prime Minister Pham Minh Chinh has ordered a more proactive and active testing approach to contain the pandemic as the country is prepared for the upcoming national general election on May 23, as reported by VGP.
Jasmine Le