Vietnam News Today (May 17) notable headlines:
Voters and election officials required to make health declarations
Another single-day record in new COVID-19 cases set with 190
PM demands more proactive COVID-19 testing
US pork producers seek to penetrate deep into Vietnam market
Coal, hydro power to give way to renewables
Hanoi hospital records five more COVID-19 cases
COVID-19 outbreaks at industrial parks must be kept in check, says Deputy PM
HCM City: Monks, Buddhist followers offer prayers to COVID-19-hit India
COVID-19 cases skyrocket, Bac Giang hotspot appeals for help
Voters and election officials required to make health declarations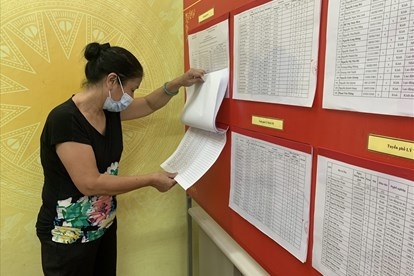 (Photo: Bao Lao Dong)

Voters and election officials for the upcoming elections of the National Assembly and People's Councils are required to make health declarations according to guidelines issued by the Ministry of Home Affairs.
It is one of the measures to be taken to ensure safety against Covid-19 during the most important political event of the year, scheduled to take place on Sunday May 23.
Voters and election officials can fill in health declaration forms directly at polling stations or via mobile apps such as Vietnam Health Declaration, Bluezone or Ncovi on their smartphones.
Those involved in the elections are also required to wear masks and have their body temperatures checked before entering election zones.
Depending on the number of voters in each constituent and the local Covid-19 situations, voting hours will be staggered to ensure that there will not be too high a concentration of voters at any time.
Election officials must inform voters in their constituents about the staggering plans on the election day.
The voting hours are from 7am to 7pm. Depending on the local situation; the polls can open earlier, but not before 5am, and close later, but not after 9pm, NDO reported.
Another single-day record in new COVID-19 cases set with 190
The Ministry of Health has just confirmed 57 new COVID-19 cases on Sunday evening, raising the national caseload to 4,175.
The latest cases include three Vietnamese repatriated from Japan on May 24.
The others are community infection cases reported in Da Nang (12), Dien Bien (seven), Ha Nam (six), Hai Duong (two), Bac Nin (24), and Ha Noi (three).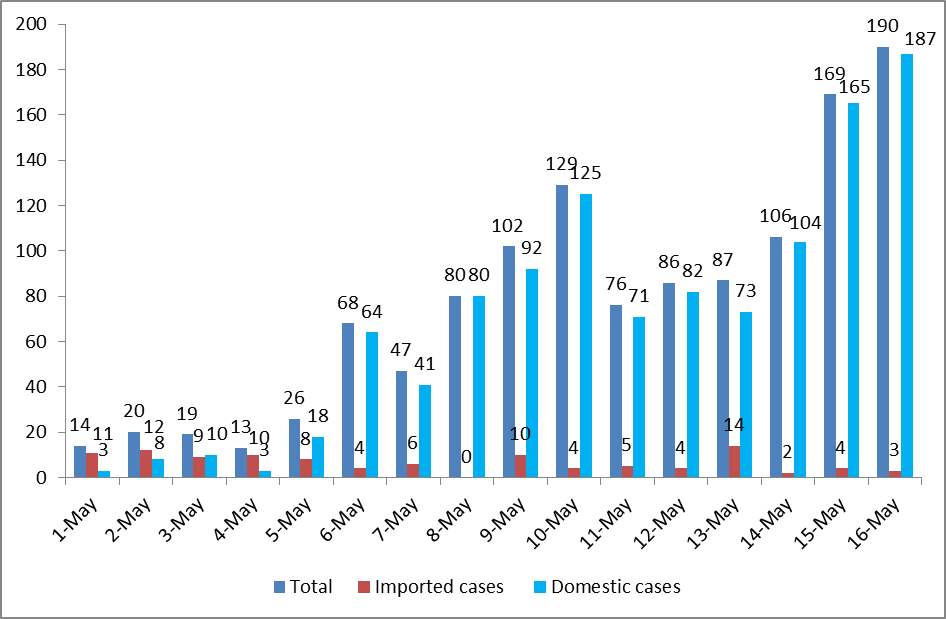 The number of daily new COVID-19 cases confirmed between May 1-16 (Chart: VGP)
All these above domestic cases had been quarantined before testing positive for the virus, according to the ministry.
With 133 cases confirmed in the morning, the total new cases reached 190 on Sunday – another single-day record since the country reported the first COVID-19 patient on January 23, 2020, as reported by VGP.
PM demands more proactive COVID-19 testing
Prime Minister Pham Minh Chinh demanded more proactive and active testing as the COVID-19 pandemic remains complicated in several localities.
The Government chief stressed the point at his working session with the Ministry of Health on Saturday.
According to Deputy Minister of Health Do Xuan Tuyen, Viet Nam has 175 laboratories capable of conducting 66,000 samples per day, using real-time polymerase chain reaction (RT-PCR) technology.
The daily capacity could be increased to 290,000 samples if necessary and 2.9 million samples in case of pool testing (which means combining respiratory samples from five or ten people in one laboratory test to detect SARS-CoV-2 that causes COVID-19, Do said.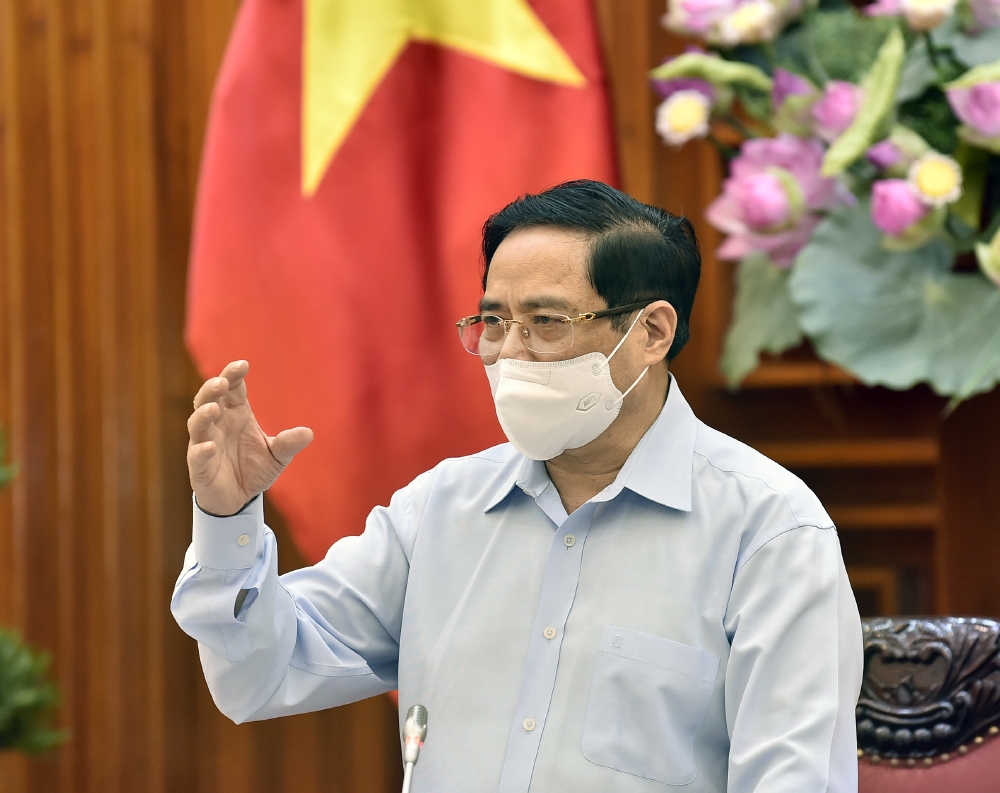 Prime Minister Pham Minh Chinh chairs a working session with the Ministry of Health, Ha Noi, May 15, 2021. Photo: VGP
All localities are now capable of conducting RT-PCR tests but 12 out of 63 cities and provinces nationwide can't perform confirmatory tests, Do added.
Regarding COVID-19 vaccines, PM Pham urged the ministry to seek every supply sources, including vaccine technology transfer while stepping up research, development and production of vaccines, as reported by VGP.
US pork producers seek to penetrate deep into Vietnam market
The National Pork Producers Council of the US is seeking to diversify its pork export markets, and Vietnam is one of its targets. More than 70 US lawmakers led by Representatives Ron Kind (D-Wisconsin), Darin LaHood (R-Illinois), Jim Costa (D-California) and Dusty Johnson (R-South Dakota) recently sent a letter to US Trade Representative Katherine Tai calling for enhanced access for US pork in Vietnam.
In their letter, the US lawmakers noted that Vietnam presents a tremendous opportunity for US pork exporters. Last year, they said Vietnam imported only 25,000 tonnes of pork from the US, while Mexico, the second largest importer of US pork, consumed 735,000 tonnes.
Last year, Vietnam took an initial step forward in addressing the US pork tariff disadvantage when, from July-December 2020, it temporarily reduced its Most Favored Nation (MFN) tariff rates from 15% to 10% for frozen US pork products. As a result, US pork exports doubled during that timeframe, compared to the first half of the year.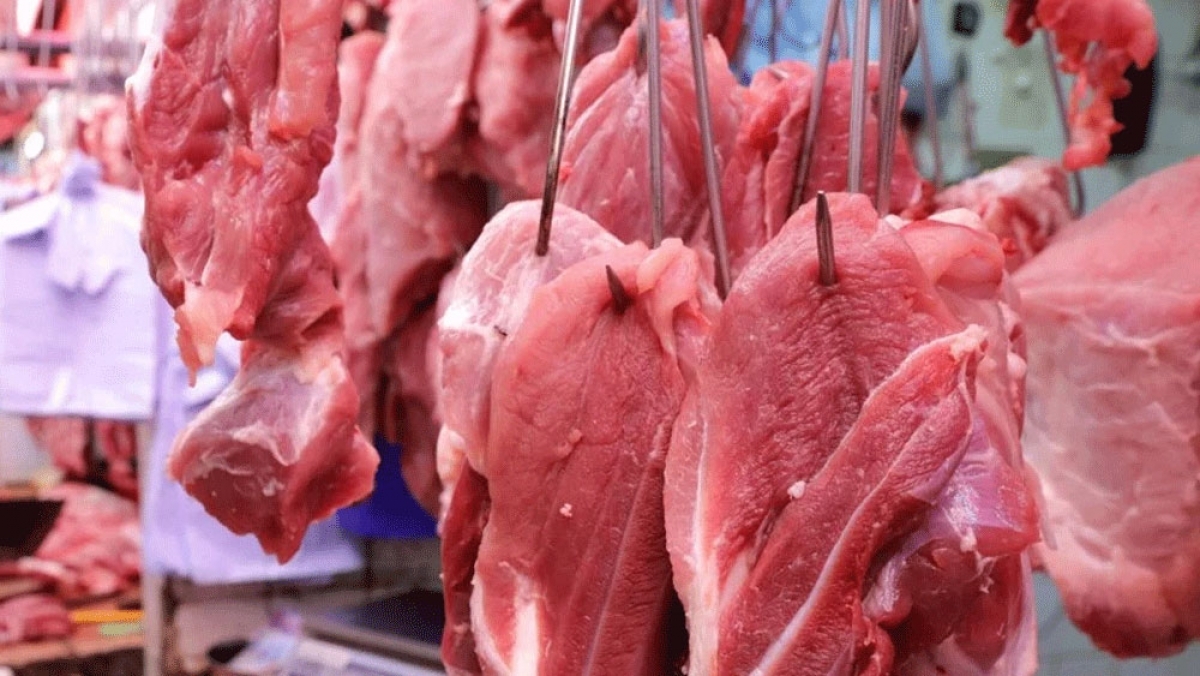 The lawmakers voiced their support for Trade Representative Katherine Tai to engage Vietnam on the full range of trade issues, including lowering the MFN rates for US pork.
In a statement, the National Pork Producers Council (NPPC) appreciated the lawmakers' move in recognizing the importance of the Vietnamese market to US pork producers, and stated Vietnam represents a significant opportunity for US hog farmers. NPPC President Jen Sorenson also stressed US pork producers are obstructed by tariff and non-tariff barriers, allowing global competitors to take advantage of the supply shortfall.
The NPPC said it will continue to seek enhanced market access to Vietnam, as well as the Philippines, another US pork consumer in Southeast Asia, which are in need of affordable, reliable sources of pork, according to VOV.
Coal, hydro power to give way to renewables
Electricity of Vietnam (EVN) plans to mobilise 32 billion kWh of renewable energy, including 26.3 billion kWh of solar power, meaning the output of coal-fuelled and hydro-power plants will be reduced.
As of the end of April, 17,000 MW of solar power had been generated.
Nguyen Duc Ninh, Director of the National Power System Moderation Center (A0), said that thanks to the Government's policy of prioritising renewable energy, especially solar power, the focus in recent years has changed towards reducing the generation of traditional electricity despite its low cost and stable quality.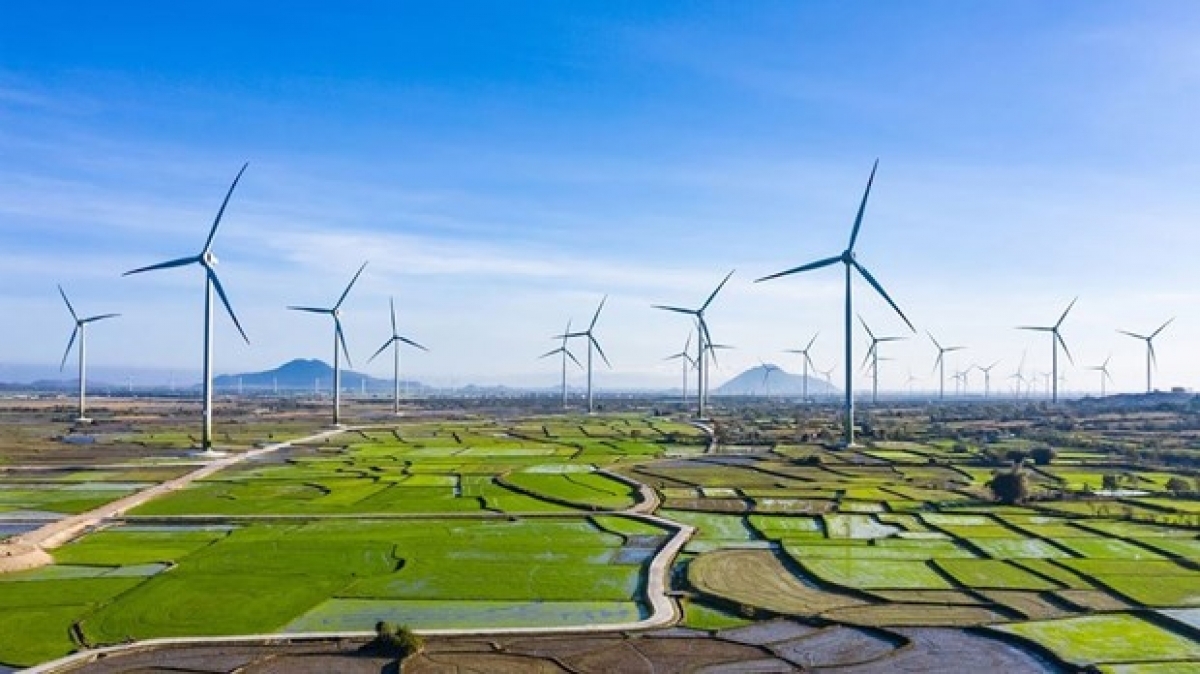 Ninh said that, by 2025, EVN will cease importing electricity from China and reduce imports from Laos.
According to the EVN, however, the mobilisation at high levels of renewable energy at a common price of 9.35 per kWh will not optimise production costs and will create difficulties in operations due to the instability of such sources.
Reductions in thermal power generation will also cause economic losses, as investors have already signed power contracts with the State.
Nguyen Tien Thoa, former Director of Price Management under the Ministry of Industry and Trade (MoIT), said that EVN should advise the ministry on mechanisms for power mobilisation with varying scenarios, VOV said.
Jasmine Le