Vietnam News Today (May 30): Vietnam Enjoys Trade Surplus of US$520 Million Over Five Months
Vietnam News Today (May 30): Covid-19: Daily caseload drops to 890 on May 29; Vietnam enjoys trade surplus of US$520 million over five months; Mural depicting Vietnam-US friendship inaugurated; Outstanding athletes at SEA Games 31 honored.
Vietnam News Today (May 30) notable headlines
Covid-19: Daily caseload drops to 890 on May 29
Vietnam enjoys trade surplus of US$520 million over five months
Mural depicting Vietnam-US friendship inaugurated
Outstanding athletes at SEA Games 31 honored
Vietnam drawn into easy group at AFF Women's Cup
New generation FTAs fuel US$750 billion trade hope in 2022
First festival promotes OCOP products in Vietnam
MICE tourism in high demand in Ho Chi Minh City
Vietnam see great chance to win at AFF Women's Championship 2022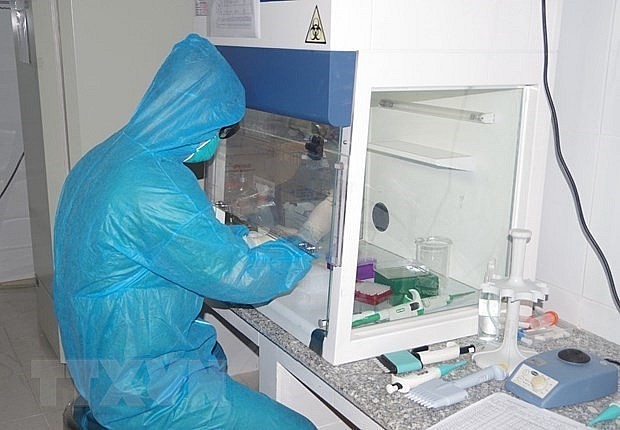 Covid-19 testing. Photo: VNA
Covid-19: Daily caseload drops to 890 on May 29
Vietnam reported 890 new Covid-19 infections on May 29, a reduction of 224 cases from the previous day, according to the Ministry of Health.
The new infections were reported in 39 out of 63 provinces and cities across the country, including Hanoi (282), Yen Bai (67), Nghe An (60), Quang Ninh (46) and Vinh Phuc (40), among others.
Vietnam's total number of Covid cases is now 10,717,251. The seven-day average of new daily cases is 1,195.
A total of 8,438 cases were given the all-clear on May 29, bringing the total number of recoveries in the country to 9,448,352.
There are currently 189 people in a serious or critical condition, cited VNA.
As no new Covid-19 related fatalities have been recorded over the past 24 hours, the country's death toll remains at 43,078, or 0.4 percent of the caseload.
May 29 is the fourth day in a row that Vietnam has reported no new Covid-19 related deaths.
A total of 220,720,278 Covid-19 vaccine doses have been administered to date in Vietnam, including over 199 million for adults, 17.46 million for children aged 12-17 years, and 4.15 million for children aged 5-11 years.
Vietnam enjoys trade surplus of US$520 million over five months
Vietnam produced an estimated export surplus of US$520 million in the past five months, an impressive figure that shows the country's economy is gathering steam and its foreign trade is up and running from the impact of the Covid-19 pandemic.
It's noteworthy that the economy endured an import surplus of up to US$1.2 billion between January and May 2021.
In fact, the country's trade deficit soared to a record high of US$1.73 billion in May 2022, but an export surplus of US$2.25 billion obtained in January – April help the national economy secure trade surplus in five months, reported VOV.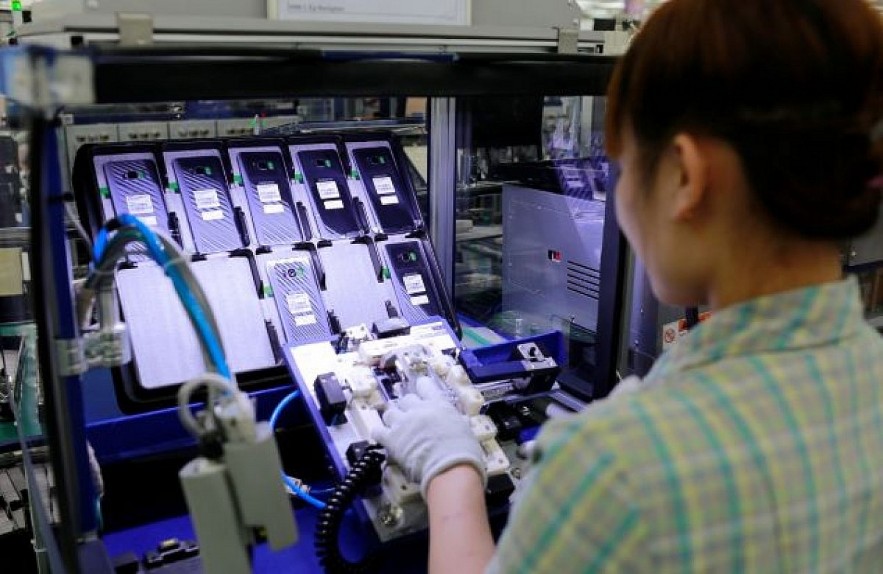 Manufacturing phones at a Samsung production line in Vietnam. Photo: baodautu.vn
The General Statistics Office (GSO) reported on May 29 that Vietnam earned US$30.48 billion from export in May, a month-on-month fall of 8.5%. However, its five-month exports fetched US$152.81 billion, an increase of 16.3% year on year.
There are 26 export commodities that raked in more than US$1 billion each. Of them, five groups of commodities that attained an export value of more than US$5 billion each, are electronics, computers and components; machinery and equipment; phones and spare parts; garments; plastics; and iron-steel.
Also according to the GSO, the index of industrial production (IIP) in May 2022 increased by 4% over the previous month and by 10.4% over the same period last year. Overall, the past five months saw the IIP rise by 8.3% compared to the same period last year.
Mural depicting Vietnam-US friendship inaugurated
A ceramic mural, Tinh huu nghi Viet My (The Vietnam-US Friendship), has been inaugurated at the new US-Vietnam Cooperation Centre in Hanoi.
The mural (25m by 1.8m) is by painter Nguyen Thu Thuy and her staff at the Tan Hanoi Company. Thuy is an author of the mural Ceramic Road by Red River.
The mural starts with the spectacular landscape of the Grand Canyon, a massive gorge located in the state of Arizona.
"The rocky mountain complex can change colors magically according to sunlight and weather. Sometimes the whole mountain area turns red and pink, sometimes everything turns purple. That magical phenomenon of nature has inspired many artists to express themselves in their paintings," said Thuy.
She used colorful ceramic pieces to depict the changing colors of the Grand Canyon.
The mural also shows the Golden Gate Bridge in San Francisco and the Empire State Building in New York. They are highlighted on the national flag of the US, according to VNA.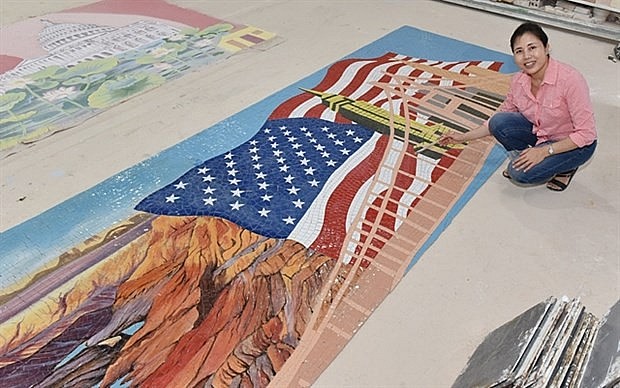 Painter Nguyen Thu Thuy with the ceramic mural ''Tinh huu nghi Viet My (US-Vietnam Friendship'. Photo: Nguyen Thu Thuy
Other symbols monuments in the mural are the Statue of Liberty and Mount Rushmore, where the portraits of presidents George Washington, Thomas Jefferson, Theodore Roosevelt and Abraham Lincoln are carved onto the granite surface.
On the other part of the mural, thousands of ceramic pieces are combined together to depict the fantastic view of Ha Long Bay. It's the highlight of the artwork along with images of the Temple of Literature, the lotus ponds of Hanoi and the national flag of Vietnam.
Painter Thuy also presented US Ambassador Marc E. Knapper with a water-colored painting of the Grand Canyon, a draft she made before making the mural. According to Thuy, the mural serves as a bridge to enhance mutual understanding and strengthen friendship between the two countries.
Receiving the painting, Ambassador Knapper said: "Vietnam and the US proudly possessed two natural wonders, the Grand Canyon and Ha Long Bay. I expect that these similarities in culture, landscape and history will help us enhance mutual understanding. Together we preserve and promote values favored by nature."
The US-Vietnam Co-operation Centre is located at the Diplomatic Academy of Vietnam (DAV), 69 Chua Lang street, Hanoi.
Outstanding athletes at SEA Games 31 honored
As many as 305 outstanding athletes have been honored with the Prime Minister's certificates of merit for their excellent performances at the 31st Southeast Asian Games (SEA Games 31), according to a decision signed on May 27.
Besides, a proposal to present the Labour Order to individuals and sports teams who won gold medals at the regional biggest sports event has been submitted to the President for approval, cited VOV.
Accordingly, the would-be recipients of the second-class Labour Order are swimmers Nguyen Huy Hoang and Tran Hung Nguyen, together with canoeist Nguyen Thi Huong and runner Nguyen Thi Oanh. They all bagged at least three gold medals at the recently concluded Games hosted by Vietnam.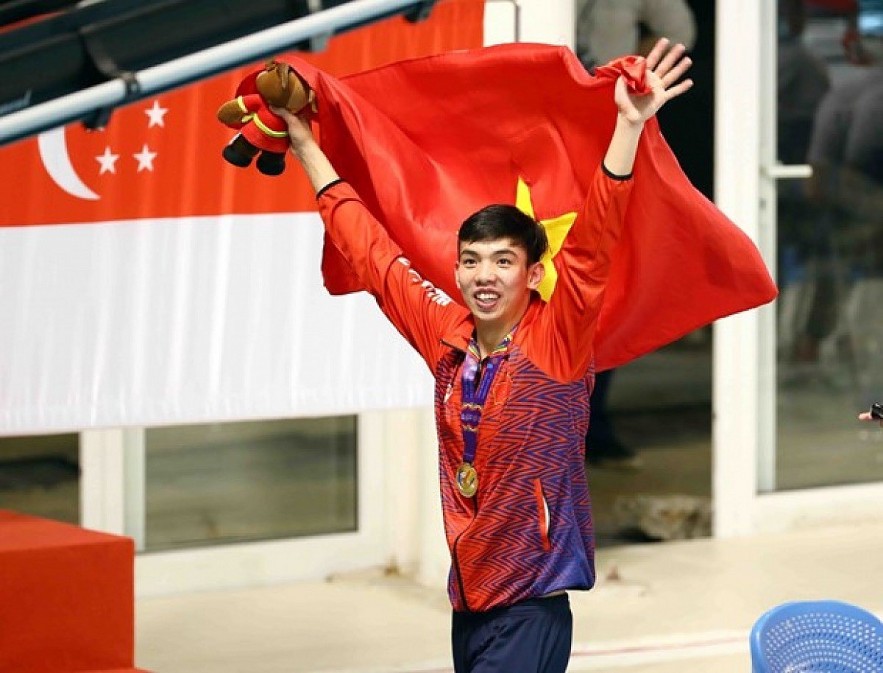 Swimmer Nguyen Huy Hoang bags five gold medals and sets a new record at SEA Games 31. Photo: VOV
The would-be recipients of the third-class Labour Order are the national U23 men's and the national women's football teams, and 19 athletes in gymnastics, swimming, canoeing, athletics, dancesport, finswimming, rowing and weightlifting.
With 40 sports, SEA Games 31 took place in Hanoi and 11 nearby localities from May 12-23. The biennial event was initially slated for late 2021 but delayed due to the Covid-19 pandemic.
Vietnam ranked first in the medal standings with 205 gold, 125 silver and 116 bronze medals. Thailand came second with 92 golds, 103 silvers, 136 bronzes and Indonesia finished third with 69 golds, 91 silvers, 81 bronzes.
Vietnam drawn into easy group at AFF Women's Cup
The Vietnam women's football team was drawn into Group B of the AFF Women's Cup 2022 along with regional lightweights of Myanmar, Laos, Timor-Leste and Cambodia.
Myanmar will be the main rival of Coach Mai Duc Chung's players in the race to top Group B.
At the SEA Games 31 semi-final, Myanmar's players demonstrated an impressive defense capacity and only gave in after the solitary goal scored by Vietnam captain Huynh Nhu.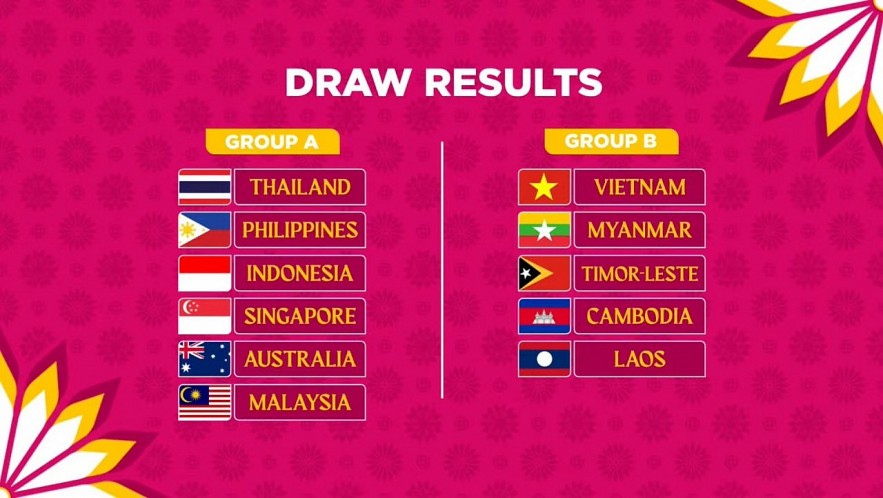 The AFF Women's Cup 2022 draw result.
In the meantime, Group A is expected to see more intense competition with the presence of Australia, which currently stands at number 12 on FIFA's women's rankings, NDO reported.
The remaining teams in Group A are Thailand, Singapore, Indonesia, Malaysia and host the Philippines.
Group matches will take place in a round-robin format to select the two best performers for the semi-finals.
The tournament is scheduled to take place from July 2-14 in the Philippines.
Vietnam is the reigning champion after defeating Thailand during extra time in the 2019 final.
The team will assemble again on May 30. Before arriving in the Philippines for the Southeast Asian championship, Chung and his players will have a training tour in France.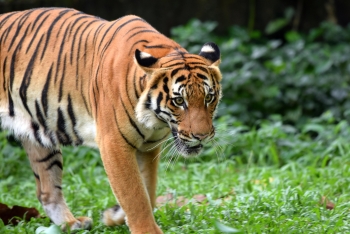 Economy
#ShopeeGivesBack, Shopee's long-term community initiative, has raised over RM48,000 from 1 May 2020 to 31 July 2022 for two Non-Governmental Organisations (NGOs) championing environmentally-conscious efforts in Malaysia.