Vietnam News Today (May 27): SEA Games 31 Fuels Recovery of Local Tourism Industry
Vietnam News Today (May 27): Covid-19: New cases total 1,275 on May 26; SEA Games 31 fuels recovery of local tourism industry; Vietnam calls for augmented efforts to protect civilians in conflicts; Vietnam, UK strive to lift trade and investment relations.
Vietnam News Today (May 27) notable headlines
Covid-19: New cases total 1,275 on May 26
SEA Games 31 fuels recovery of local tourism industry
Vietnam calls for augmented efforts to protect civilians in conflicts
Vietnam, UK strive to lift trade and investment relations
Vietnam to play Japan at AFC Futsal Asian Cup 2022 finals
Vietnam ready to facilitate long-term business and production of foreign firms
Vietnam-UK economic and trade co-operation enjoys sustainable development
Vietnam supports rules-based multilateral trading system
Vietnam elected as member of two ESCAP Regional Center Executive Councils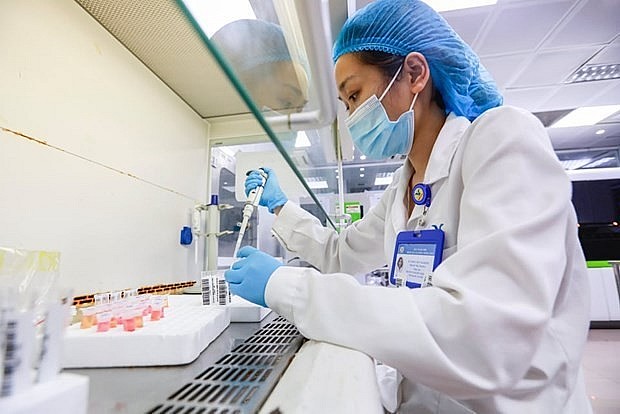 Illustrative image. Photo: VNA
Covid-19: New cases total 1,275 on May 26
A total 1,275 new cases of Covid-19, including 1 imported case, were recorded in the past 24 hours from 4pm May 25 to 4pm May 26, according to the Ministry of Health.
Hanoi still reported the highest number of infections on the day with 309 cases, followed by Vinh Phuc with 92 and Nghe An with 83.
The national tally reached 10,714,008, cited VNA.
A total 7,223 Covid-19 patients were given the all clear on May 26, bringing the number of recoveries so far to 9,422,085.
There are 169 patients needing breathing support, while no death was recorded in the past 24 hours. The total fatalities stood at 43,078.
By May 25, the country had injected 220,141,209 doses of Covid-19 vaccines, including 3,796,182 first doses and 153,195 second doses for children from five to under-12 years old.
SEA Games 31 fuels recovery of local tourism industry
The hosting of the recent 31st Southeast Asian Games (SEA Games 31) between May 12 and May 23 can be viewed as a golden chance for the local tourism industry to recover after months of little activity due to the impact of the Covid-19 pandemic.
The northern province of Phu Tho attracted huge crowds of spectators from every corner of the country who came out to support the Vietnam U23 side in football matches played at the Viet Tri Stadium.
Many groups of tourists flocked from central and southern regions to Phu Tho to view the football matches, enjoy sightseeing, and relax at its popular destinations such as the Hung Kings Temple relic complex, Hung Lo ancient communal house, Xoan singing village in Viet Tri city, and Xuan Son National Park that specialises in community eco-tourism.
"The 31st SEA Games is a very good opportunity to introduce Phu Tho - the ancestral land of the Vietnamese nation – to visitors, especially international guests, athletes and coaches," said Nguyen Duc Hoa, director of the Phu Tho Tourism Promotion and Information Centre.
"After the regional sporting event, Phu Tho will continue to participate in activities of the Vietnam National Administration of Tourism to attract international visitors from Southeast Asian countries," he added.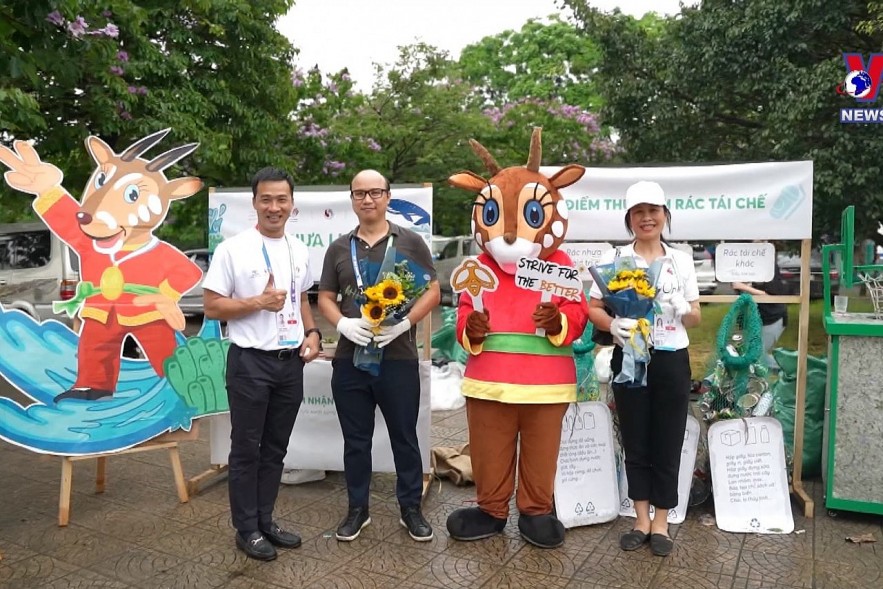 Photo: VNA
Meanwhile, major tourist attractions in the northern province of Nam Dinh that played host to football fixtures in Group B were widely introduced to international visitors. Do Quang Trung, deputy director of the Nam Dinh provincial Department of Culture, Sports and Tourism, said that international visitors were impressed with the beautiful scenes, delicacies, accommodation services, and especially the enthusiasm and hospitality displayed by local people, according to VOV.
Despite facing a busy schedule, players from Laos' U23 side spent time visiting and resting at Thinh Long beach before returning home. International referees and supervisors also took time to travel to Hung Nghia Temple and admire a 'falling church', a tourist attraction which is located next to Hai Hau beach.
Furthermore, several major destinations in Vinh Phuc province also left a positive impression on coaches, referees, and athletes competing in Muay and Golf. Indeed, four groups of guests numbering over 110, including those from Malaysia, Cambodia, Thailand, Singapore, Indonesia, the Philippines, the UK, and Turkey, made tours of the most famous tourist attractions, namely age-old Tay Thien pagoda, Tam Dao tourist resort, and Dai Lai lake.
"SEA Games 31 helped popularise the image of Vinh Phuc tourism more widely, and we hope to receive more international tourists in future," said a representative of the provincial Centre for Tourism Promotion and Information.
Taking advantage of opportunities from SEA Games 31, the northern province of Hai Duong erected tourism pavilions at its competition venue from May 13 to May 20, with the aim of welcoming roughly 25,200 visitors. The locality also formulated three typical tours during the regional event to discover the Chu Dau age-old pottery making village, Con Son - Kiep Bac historical relic, and Chi Lang Nam stork island.
Hundreds of referees, coaches, athletes, and volunteers enjoyed these tours, according to the Hai Duong provincial Department of Culture, Sports and Tourism.
As the major venue for both the opening and closing ceremonies and key sports, Hanoi welcomed nearly 700,000 local tourists and more than 31,400 foreign visitors during the event. Leaders of the Hanoi Department of Tourism affirmed that SEA Games 31 was an extremely valuable opportunity for the local tourism industry to push forward and accelerate the recovery process.
"The promotion of Hanoi's image has achieved the set goals, leaving a good impression on participating sport delegations, athletes, reporters and international tourists. The event has again elevated the image of Hanoi as the destination for organising international and regional events," said a representative of the municipal Department of Tourism.
It can be seen that the sharp increase in visitor numbers and the powerful effects of SEA Games 31 gave local travel businesses the opportunity to ramp up their recovery process. Vietravel Airlines, the official airline for the sporting competition, transported hundreds of athletes from central and southern regions for competitions in the north. In addition, leading travel firm Vietravel also served 1,800 tours for spectators who watched football matches and then travelled to scenic spots.
By successfully organising the largest regional sporting event, Vietnam is expected to continue to be an attractive tourist destination both regionally and internationally moving forward.
Vietnam calls for augmented efforts to protect civilians in conflicts
Vietnamese Ambassador Dang Hoang Giang underscored the critical importance of protecting civilians in armed conflicts while addressing an annual open debate on the issue held by the UN Security Council (UNSC) on May 25.
In his remarks, Giang, who is Permanent Representative of Vietnam to the UN, pointed out the fact that the international community is facing major challenges to civilian protection such as wars and large-scale conflicts in many places and the complex Covid-19 situation, especially in conflict-hit areas. Those lingering problems have become even more complicated due to new crises, particularly the food crisis and supply chain disruptions.
Meanwhile, resources for the protection of civilians have been reduced as the international community has to reserve them for resolving new challenges.
As such, the most important thing now is to pay due attention to protecting civilians in conflicts; promoting the parties involved in conflicts to comply with the UN Charter, international law and international humanitarian law, including the UNSC's Resolution 2573; and boosting countries' sense of responsibility towards civilian protection, he said.
He called on the international community to take urgent measures, increase humanitarian aid, and help increase countries and communities' resilience to security challenges, including climate change.
In the long term, Giang stressed, it is necessary to step up the settlement and prevention of conflicts on the basis of enhanced cooperation between the UN, countries, regional organisations, and the private sector.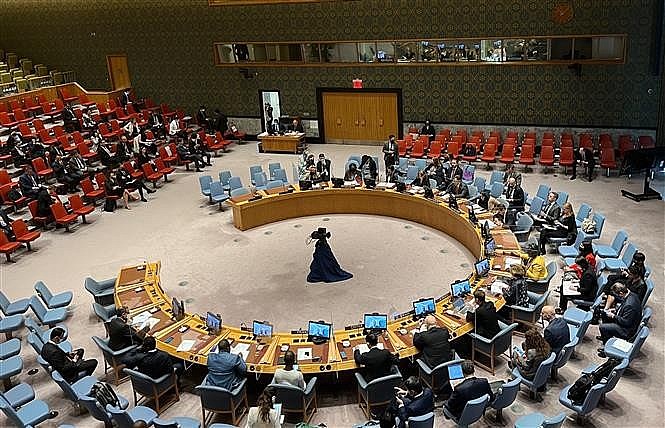 The UNSC open debate on the protection of civilians in armed conflicts on May 25. Photo: VNA
Vietnam thoroughly understands war consequences and sympathises with armed conflicts' losses and aftermath suffered by civilians, the ambassador noted, adding that it will keep contributing to common international efforts to protect civilians in conflicts, reported VNA.
At the debate, speakers voiced their concern that most of the recent casualties in armed conflicts are still civilians, with over 11,000 deaths in 2021 and 84 million others made homeless.
They also pointed out other worrying trends, appealing to the UNSC and the international community to help promote peaceful solutions to conflicts, ensure the parties involved in conflicts adhere to international humanitarian law, facilitate access to humanitarian aid, and properly handle infringements.
UNSC member states emphasised the need for stronger efforts and more practical actions to minimise civilian casualties and deal with urgent challenges like conflict-driven hunger. Many also highlighted the importance of complying with international humanitarian law and fully implementing UNSC resolutions, especially Resolution 2573 on the protection of objects indispensable to the survival of the civilian population.
Vietnam, UK strive to lift trade and investment relations
Vietnam wants to see more investment from the United Kingdom (UK) in hi-tech agriculture, from cultivation to processing, preservation and distribution of farm produce and foods, said Deputy Minister of Agriculture and Rural Development Phung Duc Tien.
He made the statement when delivering an opening remark at the Vietnam – UK Business Forum held by the Ministry of Industry and Trade and the Ministry of Agriculture and Rural Development in collaboration of the UK Department of International Trade (DIT) in London on May 25.
The forum discussed prospects for trade and investment between the two countries' enterprises in agriculture, education, renewable energy and others. It also provided a platform for Vietnam to introduce its market potential to British investors and for firms from both sides to share information and seek partnerships to make the most of the UK-Vietnam Free Trade Agreement (UKVTFA).
The UK remains a major and trusted partner of Vietnam and its agriculture industry, Tien said, noting that agricultural cooperation between the two nations has made significant progress over recent years.
He expected British companies will form close and trusted joint ventures and partnerships with Vietnamese agribusinesses and farmers.
Vietnam is the most dynamic market in Indo-Pacific and the Vietnam-UK relations are growing strong, said Minister of State at DIT Penny Mordaunt. The bilateral trade doubled over the last decade and the UKVFTA has brought tremendous benefits to sectors and enterprises from both countries, she added.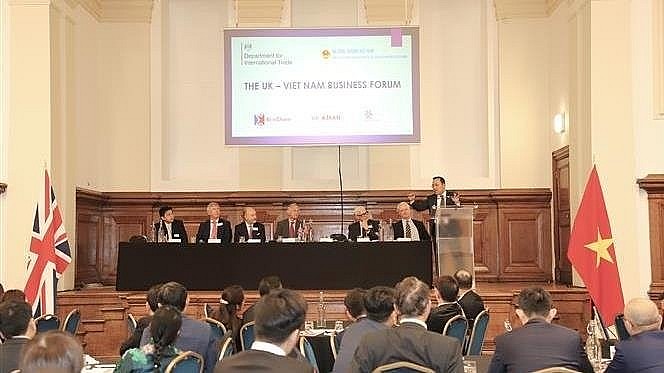 The Vietnam-UK Business Forum in London on May 25. Photo: VNA
She further emphasised that Vietnam and the UK hold massive potential in trade and the two sides should cooperate to fully unleash it, cited NDO.
Director of TT Meridian Thai Tran suggested that in order to boost the bilateral business ties, it is crucial for Vietnam and the UK to provide their companies with better understanding of each other's market, for example, standards, consumer habits, business culture and trade barriers.
Prior on the same day, the 12th meeting of the Vietnam – UK Joint Economic and Trade Committee (JETCO12) took place under the co-chair of Vietnamese Deputy of Industry and Trade Dang Hoang An and Secretary of State Mordaunt.
Discussions centred around various areas, including diplomacy, COP26 and renewable energy, agriculture, food and beverage, technology and financial technology, health care and pharmaceuticals, education, industry, and market management and trade remedy.
The two sides agreed to jointly increase high-level delegation exchanges in celebration of the 50th anniversary of the two countries' diplomatic ties (1973 – 2023).
The Vietnam – UK trade reached 6.6 billion USD last year, up 17.2 percent from 2020.
Vietnam to play Japan at AFC Futsal Asian Cup 2022 finals
The Vietnamese national futsal team have been drawn in Group D alongside current runners-up Japan, the Republic of Korea (RoK), and Saudi Arabia at the AFC Futsal Asian Cup 2022 finals, as announced on May 26 at a draw held by the Asian Football Federation.
According to the current Asian futsal rankings, Japan are placed the second position, with Vietnam, the RoK, and Saudi Arabia ranking 8th, 15th, and 19th, respectively.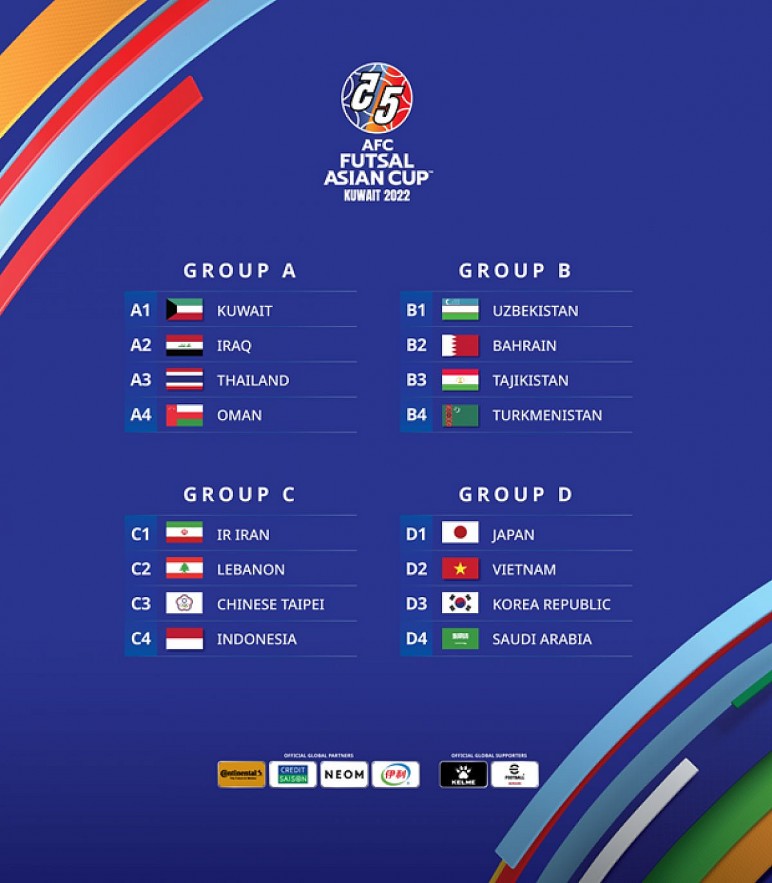 Photo: VOV
In the event that the Vietnamese team progress to the next round as a second-placed team in Group D, there is a strong possibility that they will play current champions Iran, reported VOV.
Iran have been drawn in Group C alongside Lebanon, China, and Indonesia.
Elsewhere, the other Southeast Asian representative Thailand are in Group A alongside hosts Kuwait, Iraq, and Oman.
Group B sees the participation of Uzbekistan, Bahrain, Tajikistan, and Turkmenistan.
The AFC Futsal Asian Cup 2022 finals is scheduled to take place in Kuwait from September 25 to October 20.
Recently, the Football Association of Thailand (FAT) invited the futsal teams from Iran, Morocco, Uzbekistan, France, the Solomon Islands, and Vietnam to compete in a friendly tournament in early September ahead of the AFC Futsal Asian Cup 2022 finals.