Vietnam News Today (May 4): Vietnam succeeds in fulfilling UN Security Council Presidency
Vietnam News Today (May 4) features headlines include Vietnam succeeds in fulfilling UN Security Council Presidency, PM reprimands localities for lax management of COVID-19 rules, Viet Nam confirms 10 COVID-19 community infection cases
Vietnam News Today (May 4) notable headlines:
Vietnam succeeds in fulfilling UN Security Council Presidency
PM reprimands localities for lax management of COVID-19 rules
Viet Nam confirms 10 COVID-19 community infection cases
Viet Nam sends 35 doctors, experts to help Laos fight COVID-19
Vietnam moves to protect ST24, St25 rice trademarks in Australia
Da Nang to suspend receiving Vietnamese returnees from abroad
Businesses advised to study UK culture for export boost
Hue to pilot public bike-sharing scheme
Bamboo Airways cancels flights after a bird strik
HCM City police hunt for Chinese escapees from quarantine facility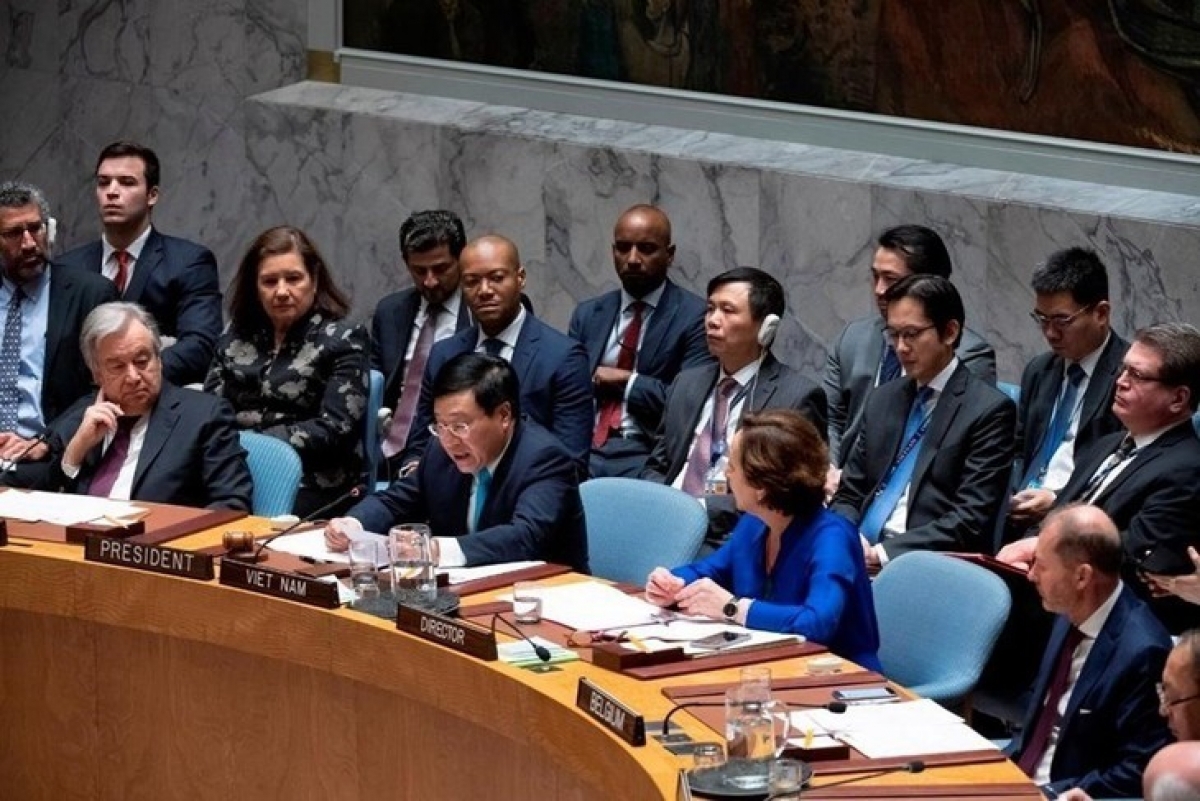 Vietnam succeeds in fulfilling UN Security Council Presidency
Vietnam began serving as President of the United Nations Security Council in April. This is the second time it has assumed the rotational presidency during its 2020-21 tenure.
Vietnam's 2nd term at the UN Security Council began with a complicated world situation, increasing competition between major power houses, hotspots of conflict, and the ravaging COVID-19 pandemic. Vietnam has efficiently completed major workloads during the Security Council's term, leaving its imprint when it comes to peace and international security maintenance.
Vietnam has proposed initiatives as a leading role player on major issues. During its first term as President of the UN Security Council last January, Vietnam successfully facilitated an open discussion on the promotion of the UN Charter in securing international peace and security as well as a meeting on UN and ASEAN cooperation as the ASEAN Chair 2020 for greater unity and connectivity.
Vietnam successfully chaired an international conference on women, peace and security with more than 400 delegates from nearly 90 countries. They praised Vietnam for the Hanoi Commitment of Actions to promote female roles, which was co-sponsored by 75 countries and has become an official document of the UN.
In its 2nd tenure as a non-permanent member, Vietnam has implemented the foreign policy adopted at the 13th National Party Congress, promoting multilateral foreign relations and comprehensive and extensive international integration.
In April, Vietnam organized and chaired some 30 official UN Security Council meetings and represented the Council's relations with UN members, UN agencies, the media, non-governmental organizations and partners. Vietnam has demonstrated its responsibility, objectiveness, transparency, and flexibility in settling differences that might arise, while promoting cooperation and consensus within the Council, VOV said.
PM reprimands localities for lax management of COVID-19 rules
Prime Minister Pham Minh Chinh has issued a rebuke to eight cities and provinces for their lax management of novel coronavirus (COVID-19) rules amid an increase in the potential threat of COVID-19 outbreaks occurring in these localities.
The cities and provinces which received the harsh criticism include Da Nang, Ba Ria - Vung Tau, Khanh Hoa, Vinh Long, Dong Thap, Tien Giang, Ha Nam, and Yen Bai.
In a recent telegram signed by the PM on May 2, Da Nang, Ba Ria – Vung Tau, and Khanh Hoa, which are home to tourist resorts, were criticised for not strictly abiding by the COVID-19 recommendations set out by the Ministry of Health, including wearing face masks and keeping a safe distance in public places.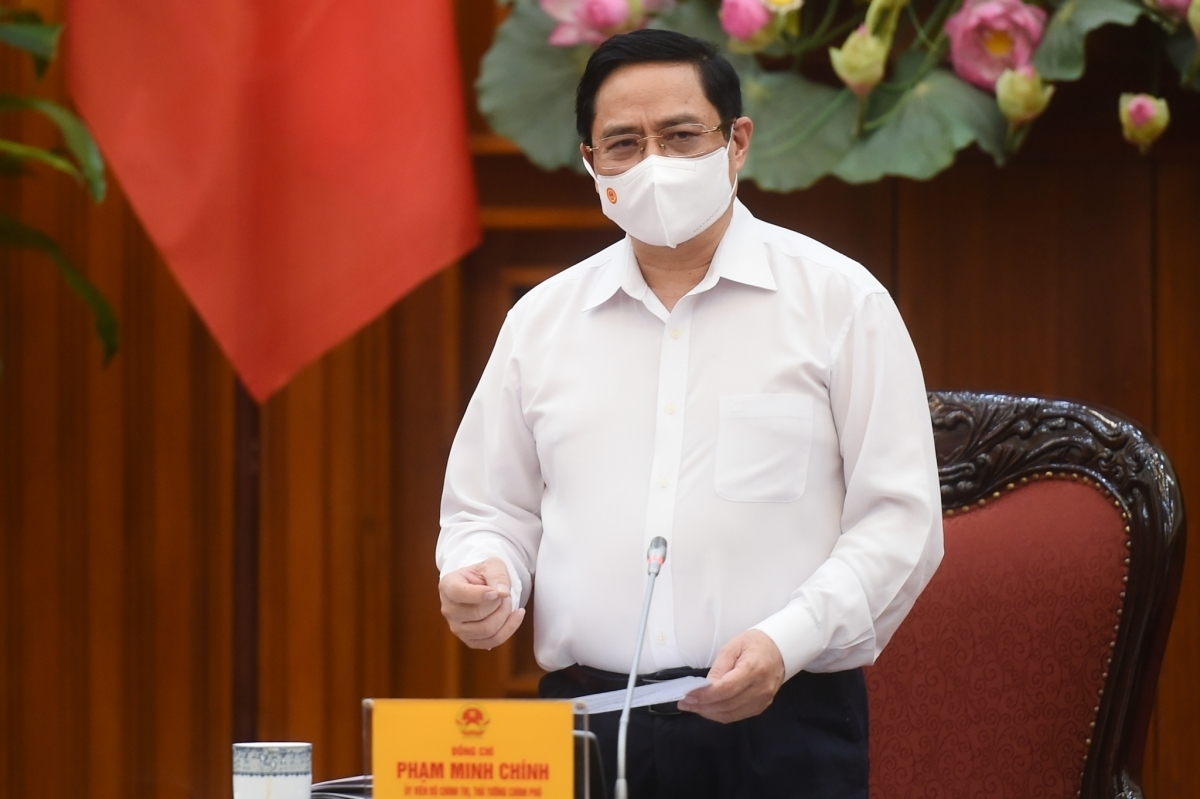 Furthermore, Vinh Long, Dong Thap, and Tien Giang provinces were all rebuked for failing to upgrade prevention equipment and not increasing testing capacity in line with the recommendation put forward by the Ministry of Health.
Ha Nam and Yen Bai were also asked to clarify the accountability of various individuals and organisations which caused the virus to spread in their respective localities.
In his telegram, PM Chinh also commended Vinh Phuc, Hanoi, Ho Chi Minh City, Quang Ninh, Hai Phong, and Lam Dong for their swift responses and drastic measures adopted in an effort to halt the spread of the virus.
According to the PM, it is likely that complacency will lead to severe consequences in terms of both socio-economic development opportunities and the lives of local citizens, along with the erosion of people's trust in the leadership's measures against COVID-19.
He therefore requested that all 63 cities and provinces nationwide, along with ministries, agencies, and people, remain highly vigilant and strictly follow the Ministry of Health's 5K message in Vietnamese, namely Khau trang (facemask), Khu khuan (disinfection), Khoang cach (distance), Khong tu tap (no gathering), and Khai bao y te (health declaration).
Moreover, the five ministries of health, foreign affairs, national defence, public security, and transport were requested to strictly control the influx of Vietnamese nationals returning home via air, sea, and land borders, along with foreign experts entering the country for work purposes, VOV reported.
Viet Nam confirms 10 COVID-19 community infection cases
Viet Nam confirmed 10 local COVID-19 cases and nine imported cases on Monday, raising the national patient tally to 2,981. The community-transmitted cases were recorded in Vinh Phuc (eight) and Ha Nam (two), according to the Ministry of Health.
The community-transmitted cases were recorded in Vinh Phuc (five) and Ha Nam (five), according to the Ministry of Health.
The imported cases include a 42-year-old Egyptian man who flew from the United Arab Emirates to Ho Chi Minh City on May 1. He is being treated in the nearby province of Ba Ria-Vung Tau.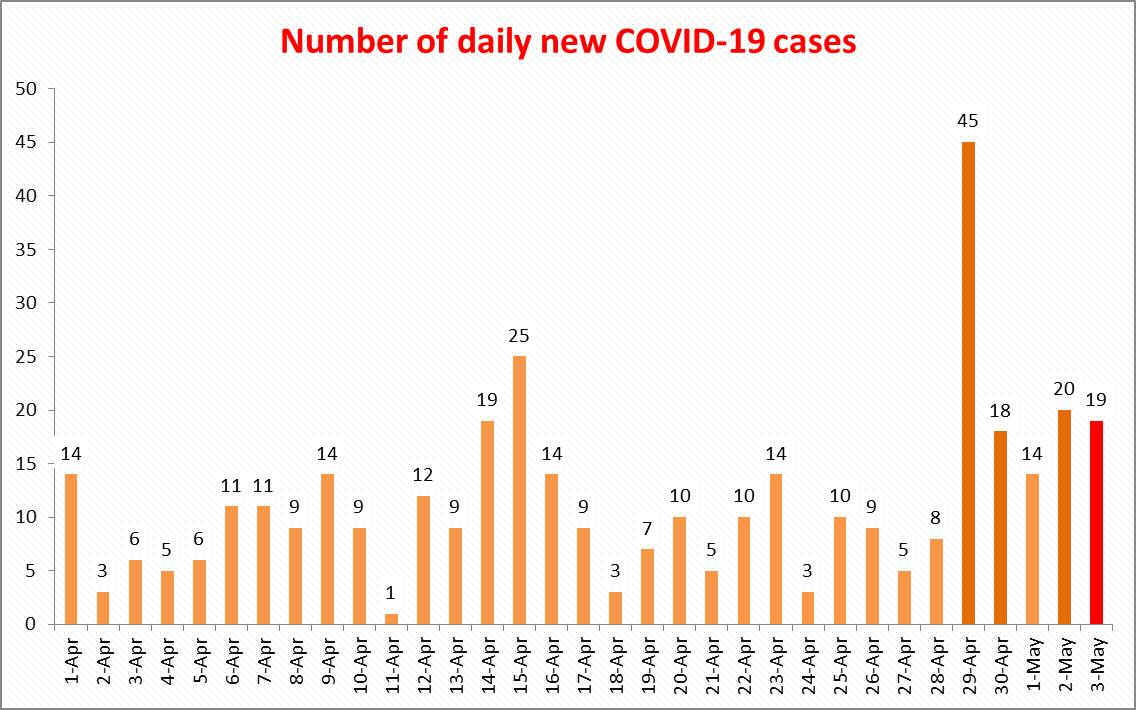 (Bar chart: VGP)
The others are Vietnamese who returned to Viet Nam via Ha Tien border gate in Kien Giang Province (one) or were repatriated from Japan (seven).
Of the national caseload, 2,549 have recovered and exited hospitals while 35 others have been reported dead.
The resurgence of COVID-19 has prompted many cities and provinces to ban non-essential services like karaoke, discotheques, bars, and games rooms, as reported by VGP.
Viet Nam sends 35 doctors, experts to help Laos fight COVID-19
A team of 35 doctors and experts are set to leave for Laos on May 4 to help the neighboring country fight COVID-19.
This is part of Viet Nam's commitments during the online meeting between Vietnamese Minister of Health Nguyen Thanh Long and his Lao counterpart Bounfeng Phoummalaysith last week.
The team will be responsible for assisting Laos in diagnosis, treatment, and building of field hospitals.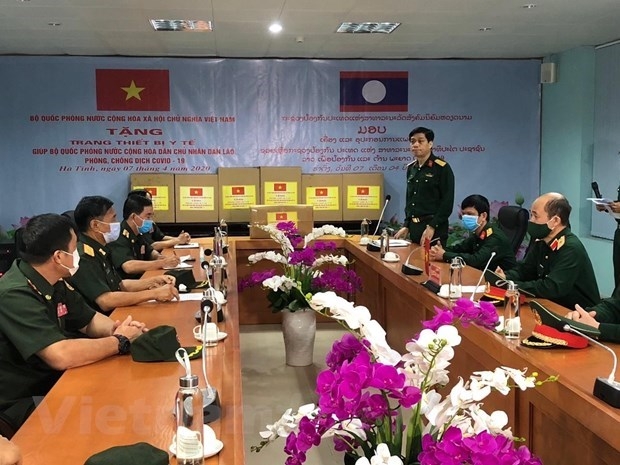 (Photo: Vietnamnet)
During the meeting, Minister Nguyen also announced Viet Nam's decision to donate 200 ventilators, two million masks, 10 tons of ChlorominB, and other supplies to Laos.
Nguyen took that occasion to share Viet Nam's experience in containing the pandemic, including establishment of field hospitals, treatment of seriously ill patients, remote medical consultation, and expansion of diagnosis capacity, among others, according to VGP.
Vietnam moves to protect ST24, St25 rice trademarks in Australia
A representative of the Vietnam Trade Office in Australia has said the office is deploying emergency measures aimed at protecting Vietnamese rice trademarks after an Australian firm registered for trademark protection of Vietnamese rice varieties ST24 and ST25.
According to the Vietnam Trade Office, Australian firm T&L Global Foods Supply PTY LTD have recently filed an application regarding the trademark registration of both ST24 and ST25 rice. Relevant Australian agencies are in the process of reviewing the application, which is expected to take several months.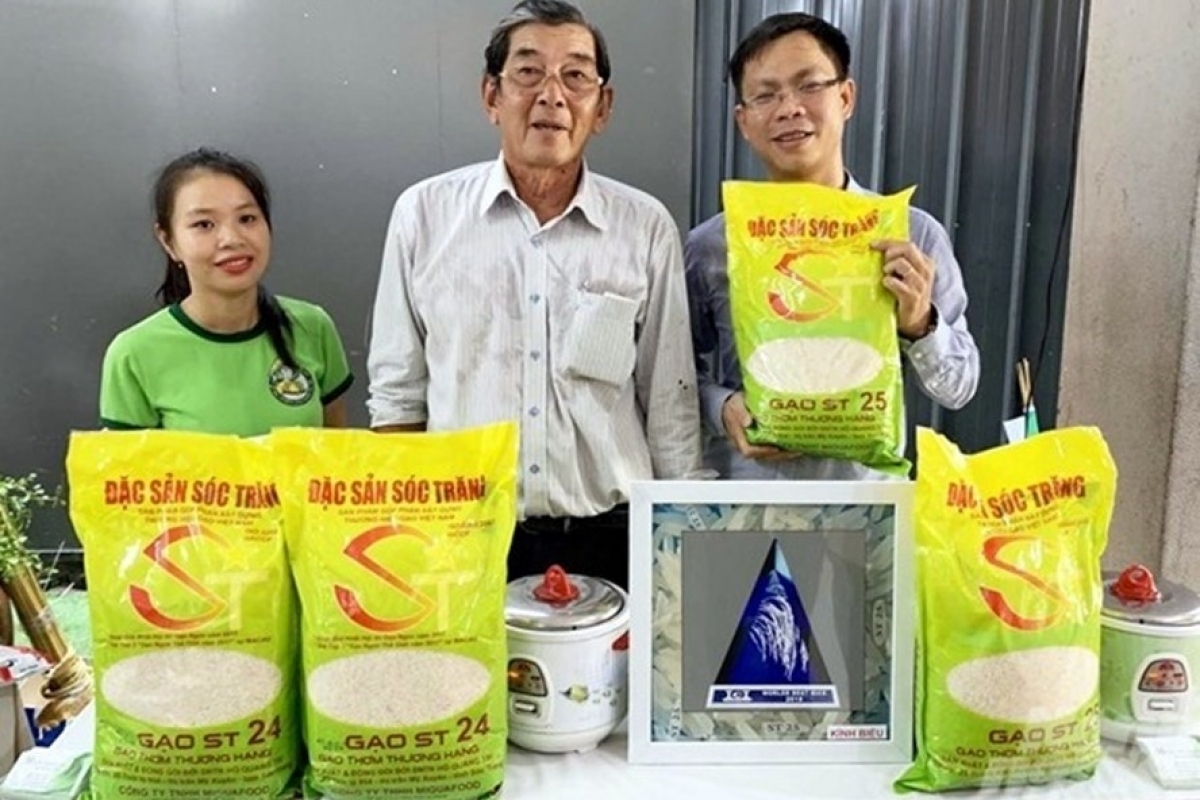 ST24 rice was recognised as the second best rice in the world, while ST25 rice was previously named as the best rice in the world at the World's Best Rice contests in 2017 and 2019, respectively. Indeed, the two varieties were successfully cross-bred by Vietnamese engineer Ho Quang Cua and his colleagues.
Due to the application made by the Australian enterprise, the Vietnam Trade Office has moved to swiftly contact engineer Ho Quang Cua for joint co-operation in an attempt to protect the trademarks in Australia.
Nguyen Phu Hoa, head of the office, said that he has met the management of the Australian firm in order to exchange views on the case.
Most notably, the Australian business has shown goodwill and stated that they will soon examine the case, said Hoa.
The office has also sent an official dispatch accompanied by documents and pictures to the Australian Intellectual Property (IP Australia) in an effort to clarify that the two rice varieties are Vietnamese and they have also been granted trademark protection certificates in the country, according to VOV.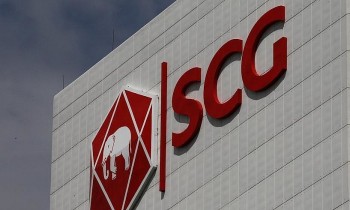 Economy
Thailand's SCG Packaging Pcl (SCGP) on Monday announced an 11.8 billion baht ($353.93 million) expansion in its packaging paper business in Vietnam, anticipating growth in demand.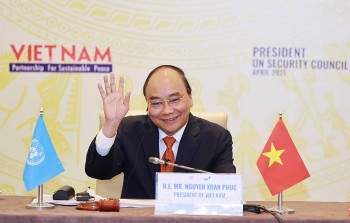 National
As a non-permanent member of the UN Security Council (UNSC), the nation has been making important contributions aimed at supporting sustainable peace, according to UN Secretary-General Atonio Guterres.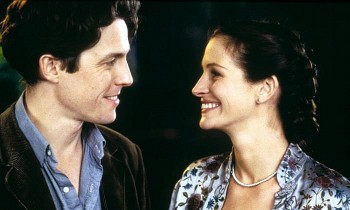 Handbook
Rom Coms never get old, and rom coms movie never fail to make us laugh and cry, lifting our spirit. From Notting Hill to The Lovebirds, here are the 10 best romantic comedies you can watch right now on Netflix.