Vietnam News Today (November 23): HCM City Proposes Welcoming International Visitors Next Month
Vietnam News Today (November 23): Vietnam records 10,299 new local Covid cases; Vietnam continues to foster ASEAN-China strategic partnership; HCM City proposes welcoming international visitors next month; 9,000+ foreign tourists to visit Khanh Hoa by year-end.
Vietnam News Today (November 23) notable headlines
Vietnam records 10,299 new local Covid cases
Vietnam continues to foster ASEAN-China strategic partnership
HCM City proposes welcoming international visitors next month
9,000+ foreign tourists to visit Khanh Hoa by year-end
2021-2025 economic restructuring plan focuses on digital transformation
Vietnamese trade turnover likely to hit US$645 billion this year
Foreign tourists return to My Son Sanctuary after pandemic hiatus
PM arrives in Tokyo, beginning official visit to Japan
"Vietnam: Travel to love" video clip officially makes debut on Nov. 23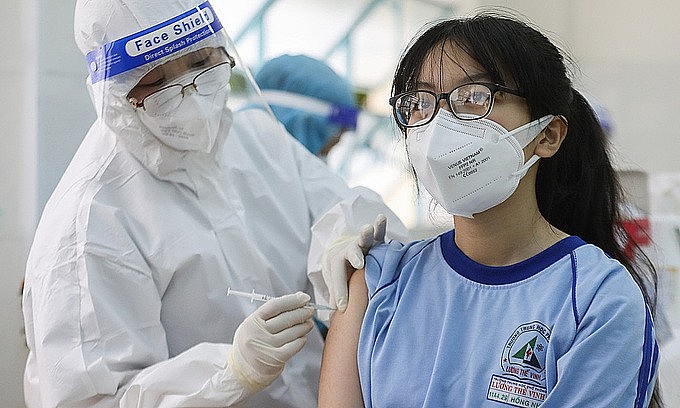 A medic inoculates Covid-19 vaccine to a high school girl in District 1, HCMC, Oct. 27, 2021. Photo: VnExpress
Vietnam records 10,299 new local Covid cases
The Health Ministry confirmed 10,299 new local Covid-19 cases Monday, up 417 cases from the previous day, pushing the ongoing wave's tally to 1,098,797.
The three localities with the highest number of new cases were Ho Chi Minh City with 1,547 cases, Binh Duong with 688 cases and Tay Ninh with 564 cases.
Of the day's tally, 5,647 cases were detected in the community.
The Health Ministry also confirmed 4,776 recoveries the same day, bringing the total number of recovered cases so far to 910,276, cited VnExpress.
The Covid-19 death toll in Vietnam rose to 23,591 with the confirmation of 190 deaths Monday.
The average number of new cases in the country for the past seven days has been 9,858 a day while the national death rate has been 110 a day on average.
Over 66.9 million people have been vaccinated, with more than 42 million receiving two doses.
Vietnam continues to foster ASEAN-China strategic partnership, PM Chinh says
The framework of the comprehensive strategic partnership that ASEAN and China have just agreed to establish is a testament to the achievements of cooperation over the past three decades, on the basis of political trust, all-around friendly cooperation, and mutual respect and understanding.
Prime Minister Pham Minh Chinh made the statement on November 22, while attending the ASEAN-China Special Summit commemorating the 30th year of the ASEAN-China Dialogue Relations (1991-2021) alongside ASEAN leaders and Party General Secretary and President of China Xi Jinping.
During the event, the ASEAN leaders highly appreciated Chinese President Xi Jinping's first attendance at the event, thereby demonstrating the respect and attention by the top Chinese leader to reinforcing relations with ASEAN.
Both China and ASEAN highlighted their relationship as mutually beneficial, dynamic and substantive partnership. The announcement of the establishment of the comprehensive strategic partnership by ASEAN and China has indicated the important results achieved in the comprehensive cooperation between the two sides over the past 30 years.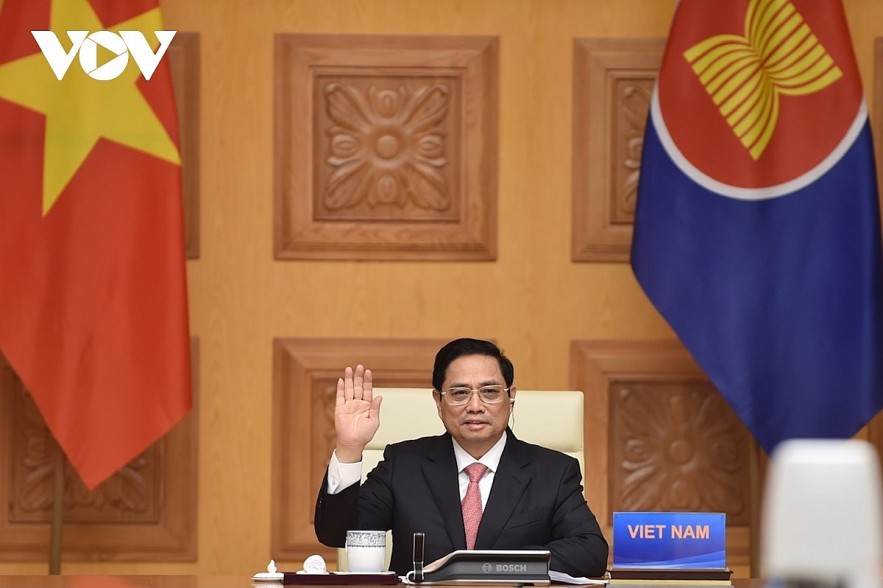 Prime Minister Pham Minh Chinh attends the ASEAN-China Special Summit commemorating the 30th year of the ASEAN-China Dialogue Relations. Photo: VOV
In his speech, Prime Minister Pham Minh Chinh affirmed that, looking to the future, ASEAN and China need to continue to strengthen strategic trust, step up comprehensive cooperation, and work towards recording greater achievements, higher goals, and broader benefits for ASEAN-China relations.
Sharing support for the cooperation orientations outlined by the ASEAN and China leaders, the Vietnamese Government chief emphasized the core elements of cooperation, namely: jointly maintaining peace and stability for development cooperation in an uncertain environment, promoting achievements and closer cooperation to effectively respond to new global challenges as a contribution to comprehensive, inclusive, prosperous, safe and sustainable development for each side, according to VOV.
To ensure peace, security and stability in the region, especially in the East Sea, it is necessary to strengthen dialogue and trust, abide by international law and act responsibly among nations, make joint efforts to fully carry out the Declaration on the Conduct of Parties in the East Sea (DOC), and work toward soon achieving an effective and efficient Code of Conduct in the East Sea (COC) in accordance with international law and the 1982 UN Convention on the Law of the Sea (UNCLOS).
PM Chinh expressed his hope that ASEAN and China will soon restore and bolster economic, trade and investment cooperation.
Chinh suggested China further facilitate ASEAN's exports, ensure a balance of trade, intensify high-tech investment associated with innovation, infrastructure development, digital transformation, green growth, sustainable development, climate change adaptation, and early resumption of people-to-people exchanges.
On the basis of the sound neighborliness, friendship and traditional cooperation with China, Vietnam will continue to make efforts to contribute to fostering the development of ASEAN-China relations on a par with their comprehensive strategic partnership, PM Chinh went on to say.
At the end of the meeting, ASEAN and Chinese leaders agreed to adopt a joint statement of the special summit on the 30th anniversary of ASEAN - China relations, the comprehensive strategic partnership for peace, security, stability, prosperity and sustainable development.
HCM City proposes welcoming international visitors next month
The Ho Chi Minh City People's Committee has proposed the city welcome fully vaccinated foreign tourists from December in a document submitted to the Prime Minister and the Ministry of Culture, Sports and Tourism.
In Vietnam, the Ministry of Foreign Affairs is temporarily recognizing "vaccine passports" of more than 70 countries and territories, and in discussions with nearly 80 other partners for mutual recognition of the special passports. Five localities – Kien Giang, Khanh Hoa, Quang Ninh, Quang Nam, and Da Nang – have been approved by the Government to pilot the policy of welcoming international guests using "vaccine passports". These are the preconditions for the reopening of international tourism activities in the southern city.
Vice Chairwoman of the municipal People's Committee Phan Thi Thang said the city also has other necessary conditions to welcome foreign visitors such as high vaccination rate and a capable health system, which is ready in terms of human, material resources, medical equipment and supplies and experienced in handling situations arising in Covid-19 prevention and control.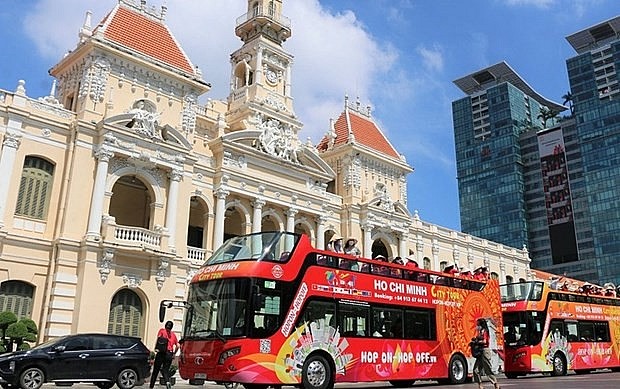 A corner of Ho Chi Minh City. Photo: laodong.vn
According to Nguyen Thi Anh Hoa, director of the municipal Tourism Department, the local sector is making efforts to overhaul its products, with a focus on the local green, cultural, and historical features and on building high-end services shopping malls in the long run.
If approved by the Prime Minister, from this December, the southern economic hub will pilot allowing qualified international travel agencies to host visitors under a closed package tour program. The tourists, coming to the city via charter and regular international flights, are only able to visit, eat, and rest according to a predetermined route to ensure Covid-19 safety measures.
Eligible foreign holiday-makers need to meet several conditions including receiving authorized certificates of their full vaccination at least 14 days and less than 12 months prior to their arrival, or recovery from the coronavirus; as well as having negative test results in 72 hours before departure and owning health or tourism insurance cards.
Meanwhile, the local tourism service suppliers have to strictly follow pandemic prevention regulations, with all workers involved fully vaccinated and lodging facilities arranging temporary quarantine areas for any suspected cases. The tourism sector has so far prepared options for tackling the detection of Covid-19 infections during the process, VNA reported.
Then, in January 2022, the city will welcome international guests and possibly combine many destinations between it and localities, which are also allowed to welcome guests. From April 2022, it is expected to fully reopen to the international tourist market.
In addition, the authorities also proposed to reopen some international routes from HCM City to San Francisco, Los Angeles (the US), London (the UK), and Frankfurt (Germany).
9,000+ foreign tourists to visit Khanh Hoa by year-end
Khanh Hoa Province is scheduled to welcome around 9,351 foreign tourists from Southeast and Northeast Asian countries by the end of this year, provincial authorities revealed.
The tourists would arrive in the province, home to famous beach towns Nha Trang and Cam Ranh, under a vaccine passport program on 48 flights from South Korea, Japan, Russia, the Philippines and Cambodia, citing provincial authorities.
As of Monday, 24 accommodation facilities on Long Beach in Cam Ranh Peninsula, around 45 kilometers from Nha Trang, and other isolated areas have been allowed to host foreign tourists.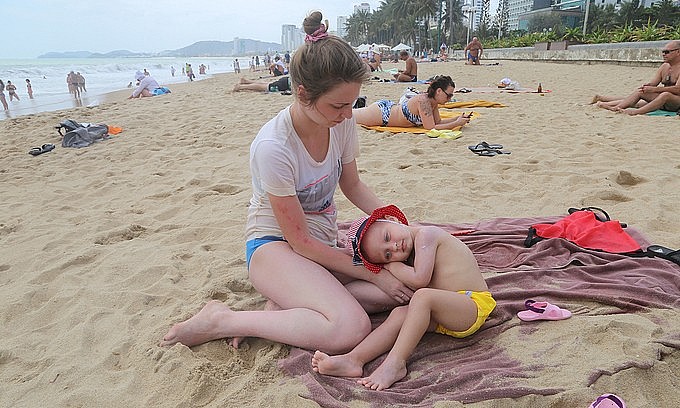 Russian tourists on a beach in Nha Trang, Khanh Hoa Province, February 2020. Photo: VnExpress
Places approved to serve foreign tourists include Ana Marina Nha Trang, Yangbay tourist park, Hon Tam Islet, Truong Son craft village and Hoa Lan Stream tourist area.
Khanh Hoa is one of five localities allowed to welcome fully vaccinated foreign tourists from November onwards along with Quang Nam, Kien Giang, Quang Ninh and Da Nang, cited VnExpress.
On Nov. 11, Khanh Hoa welcomed two flights from South Korea and Japan carrying 429 passengers.
Kien Giang and Quang Nam received the first groups of foreign tourists after nearly two years last week.
Vietnam closed its doors to foreigners and grounded international flights in March 2020, and has since allowed entry to only Vietnamese repatriates, foreign experts and highly-skilled workers.
2021-2025 economic restructuring plan focuses on digital transformation
The economic restructuring plan for the 2021-2025 period, approved by the 15th National Assembly during its second session on November 12, will focus on stepping up digital transformation and innovations, Director of the Central Institute for Economic Management (CIEM) Tran Thi Hong Minh has said.
Big changes of the world and Vietnam after the Covid-19 pandemic are requiring the country to accelerate the process of economic restructuring, as if the economic restructuring is delayed or slowed down, it will be very difficult for Vietnam to narrow the development gap with the world, overcome the middle-income trap, effectively respond to climate change, and take advantage of new opportunities of the fourth Industrial Revolution and the benefits of international integration, she noted.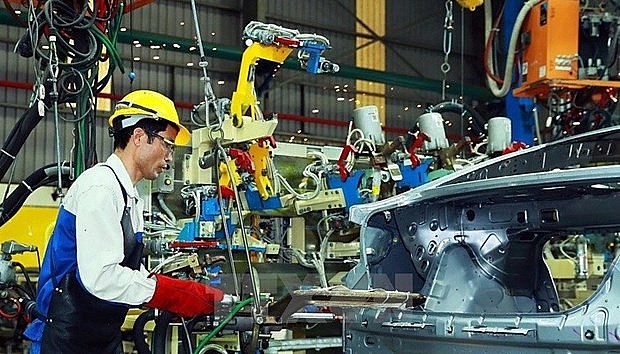 Photo: VNA
The plan sets out a general goal of forming a suitable and effective structure in each industry and field, and between industries, fields and the whole economy. It also looks to develop national products based on new or high technologies, create a breakthrough in competitiveness of key economic sectors, and significant and substantive changes in the growth model and productivity, and increase the autonomy, adaptability and resilience of the economy.
The digital economy and urban economy are the new feature of the 2021-2025 economic restructuring plan, Minh stated, adding that attention will be paid to implementing solutions to perfect institutions and expand scientific and technological applications in all fields, and develop the business force, including connecting small- and medium-sized enterprises with big and FDI ones, reported VNA.
The plan also stressed the need for leaders of industries and sectors to change their ways of doing to increase the efficiency of economic restructuring.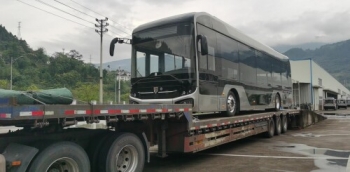 Economy
Ev Dynamics (Holdings) Limited is a pioneer and a prominent player in China's new energy commercial vehicles market, as well as a whole-vehicle manufacturer of specialty passenger vehicles and new energy passenger vehicles.