Vietnam News Today (Oct. 27): Vietnam Not Yet Ready to Announce End of Covid-19 Pandemic
Vietnam News Today (Oct. 27): Vietnam, Laos boost cooperation in fighting cross-border drug crime; Vietnam not yet ready to announce end of Covid-19 pandemic; Vietnam recovers impressively amid world uncertainties; Vietnam racks up trade surplus exceeding US$7 billion.
Vietnam News Today (Oct. 27) notable headlines
Vietnam, Laos boost cooperation in fighting cross-border drug crime
Vietnam not yet ready to announce end of Covid-19 pandemic
Vietnam recovers impressively amid world uncertainties
Vietnam racks up trade surplus exceeding US$7 billion
Vietnam in Group B at 2023 AFC U20 Asian Cup finals
Additional 826 Covid-19 cases recorded on October 26
Air routes considered to connect Quang Ninh with East Asian destinations
Vietnamese university subjects named in World University Rankings by Subject 2023
Vietnam's tourist destinations popularized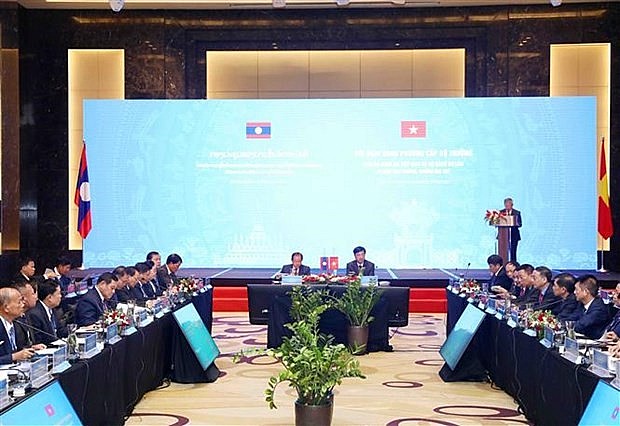 Participants at the ministerial-level meeting. Photo: VNA
Vietnam, Laos boost cooperation in fighting cross-border drug crime
The Ministries of Public Security of Vietnam and Laos held a ministerial-level meeting in Hanoi on October 26 to review the implementation of their Memorandum of Understanding (MoU) on cooperation in drug prevention and control.
Addressing the event, Vietnamese Deputy Minister of Public Security Lieutenant General Nguyen Duy Ngoc said the signing of the MoU is a concrete and important step to lift cooperation in fighting cross-border drug crime between the two countries to a higher level.
After the MoU was signed, the police forces of the two countries have actively developed plans, implemented drastically the assigned tasks, and achieved important results, Ngoc said.
However, the work is facing great challenges, he noted, citing as examples the difficult terrains in border areas, the complicated activities of drug criminals, especially in border areas, with sophisticated methods and tricks. The planting of narcotic plants has been reported in border areas shared between the two countries, requiring the two ministries of security to enhance cooperation in the coming time, he said.
For his part, Deputy Minister of Public Security of Laos Lieutenant General Khamking Phuilamanyvong highly appreciated Vietnam's funding for Laos to build border police stations, saying that the support has contributed to preventing and combating cross-border crimes, towards building a Lao – Vietnam borderline of peace, friendship and development.
It was reported at the conference that the police forces of the two countries found four drug trafficking routes from the "Golden Triangle" area to Laos and then to Lao and Vietnamese localities. The two sides also coordinated to identify a number of key routes and locations that could be used by traffickers to transport drugs from the "Golden Triangle" area to Laos and Vietnam.
Police forces of the two countries have exchanged information related to drug prevention and control, transnational drug crime organizations and networks, via a hotline and border liaison offices set up in both countries, cited VNA.
The two sides have also organised training courses for officers of the Lao Ministry of Public Security, helping Laos effectively fight drug crime.
The 10 Vietnamese provinces bordering Laos have built 191 border police stations for Laos, of which 179 have been completed and handed over to the Lao side.
Vietnam not yet ready to announce end of Covid-19 pandemic
Regarding the proposal made by a National Assembly (NA) deputy on Vietnam declaring an end to Covid-19, the Ministry of Health (MoH) has pointed out several reasons and challenges which still exists.
According to Prof. Phan Trong Lan, director of the General Department of Preventive Medicine under the MoH, despite the number of new Covid-19 cases and deaths significantly declining, it was not the right time for the country to view Covid-19 as endemic.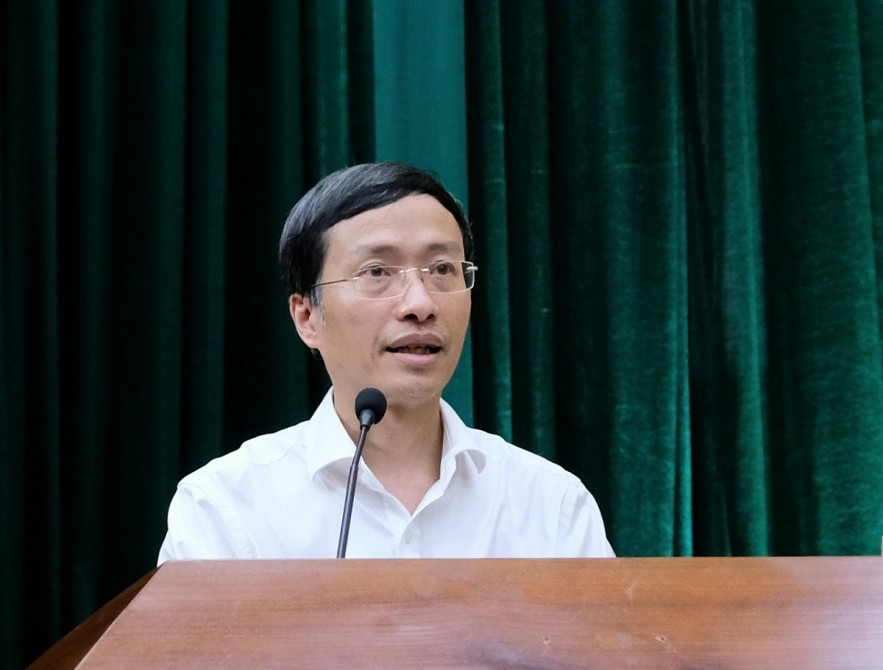 Prof. Phan Trong Lan, director of the General Department of Preventive Medicine under the MoH. Photo: VOV
This is primarily because the pandemic situation still remains complicated in many countries and is even increasing again in some places globally. Moreover, Prof. Lan said that the virus is constantly changing and recording fresh variants, which could potentially cause a strong outbreak on a large scale which is beyond the health system's capacity.
There may be new variants which reduce vaccine efficacy or immunity emerge in the future, a factor which would lead to an increase in cases of severe symptoms or deaths, especially among vulnerable groups, he added.
Moreover, Prof. Lan noted that there would be no specific mechanism in place for vaccines to be used in an emergency. In addition, no due attention has been given to the public participation in the fight against the pandemic, while people would be subjected to greater danger in virus infection.
As a result, the MoH will still maintain the status of Covid-19 as a pandemic to ensure that the entire political system become involved in anti-pandemic work and to arrange reasonable funding for anti-pandemic activities, according to VOV.
Earlier, MoH also decided to temporarily stop requiring arrivals to make health declarations, and also officially updated the 5K message to 2K+, khau trang - face masks and khu khuan - disinfection and plus, as part of Covid-19 containment efforts.
Vietnam has also lifted nearly all Covid-19 restrictions, including reinstating pre-pandemic foreign entry policies.
Vietnam recovers impressively amid world uncertainties
With a high gross domestic product (GDP) growth rate, low inflation rate and stable exchange rate, Vietnam is a bright spot in the global economic picture.
According to HSBC, the Vietnam economy stands out in the region in terms of GDP growth, with a predicted growth rate of 6.9 percent for 2022. It is expected to become the 10th largest global consumer market by 2030, surpassing Germany and the UK.
The positive assessment takes place amid the risk of recession faced by some large economies and global financial market uncertainties, with soaring inflation and a fall of value of currencies against the dollar.
CEO of HSBC Vietnam Tim Evans said at a workshop about market prospects in 2022, held by HSBC recently, that unlike one year ago, Vietnam is witnessing bustling life with heavy traffic and new hopes.
Earlier, many institutions and leading experts in the world also gave positive remarks about Vietnam's economy.
At the 2022 Socio-economic Forum, Francois Painchaud from the International Monetary Fund (IMF) said that Vietnam's economy has recovered well with the highest GDP growth rate among Asian economies. It is the only country with a predicted GDP growth rate that has been raised from 6 percent to 7 percent.
The Financial Times listed Vietnam among seven economies performing well this year, which includes Indonesia, India, Greece, Portugal, Saudi Arabia and Japan.
Rockefeller International's President Ruchir Sharma in the Financial Ttimes cited the relatively high growth rate and moderate inflation rate in Vietnam compared with other economies.
EuroCham Chair Alain Cany said Vietnam's prospects are positive with the young, dynamic and tech-savvy workforce as the major driving force. Vietnam's exports have surpassed Malaysia and Thailand, accounting for 19 percent of GDP (under 1 percent in 2010). Big investors like Lego, Pegatron and Foxconn have committed hundreds to billions of USD of investment in Vietnam.
The World Bank's (WB) Chief Economist Andrea Coppola commented that Vietnam's economy has recovered very quickly. The institution has predicted the high 7.2 percent GDP growth rate for Vietnam in 2022, highly appreciating the strong recovery of domestic demand and firm export-oriented processing and manufacturing industries.
UOB has also raised its predicted GDP growth for Vietnam from 7 to 8.2 percent.
Bright sport in global economic picture
The positive forecasts about Vietnam come amid the US Federal Reserve's (FED) decision to raise the interest rate for the fifth time, increasing the interest rate by 300 percentage points so far (from 0.25 percent to 3.25 percent). Analysts predict that the US interest rate may rise to 4.6 percent in 2023.
A number of currencies have lost 10-25 percent of value against the US dollar, including the Japanese Yen (JPY), British Pound (GPB), Korean Won (KRW), Euro, Thai Baht (THB), Taiwanese dollar (TWD) and PHP.
The GPB has fallen to a 40-year low, the euro to a 20-year low, the JPY a 24-year low and the KRW a 13-year low.
Meanwhile, VND decreased by 4 percent only in the first nine months of the year.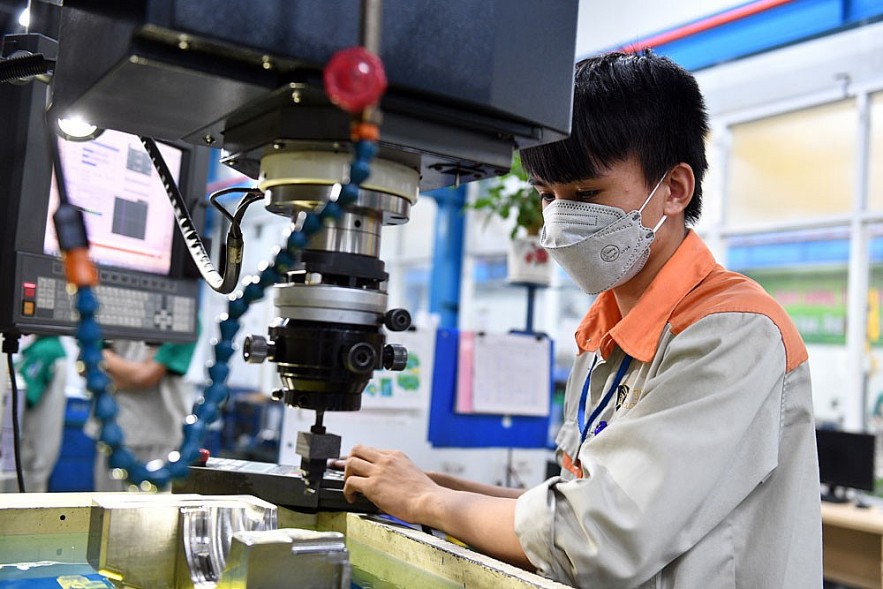 Photo: VNN
Vietnam's inflation rate was 2.89 percent as of the end of August, while it was 8.3 percent for the US. The inflation rate in August in Europe was 9.1 percent and 10 percent in September.
The global GDP growth rate in 2022, according to the World Bank, will be 2.8 percent, while Vietnam is expected to maintain a high growth rate of 7.2 percent as predicted by the World Bank, or 8.5 percent as predicted by Moody's.
Vietnam's monetary and fiscal policies have been applied in a flexible way. SBV has handled uncertainties well and succeeded in curbing the inflation rate and maintaining a stable exchange rate, reported VNN.
Meanwhile, the government has cut many kinds of taxes and sped up public investments to control inflation and maintain macroeconomic stability.
However, the liquidity of the banking system has shown signs of rapid decline since early October, and deposit interest rates have increased since late September.
Tran Dinh Thien, a respected economist, former Director of the Vietnam Economics Institute, recently mentioned the 'erosion of enterprises' strength', implying 'latent worrying problems'. He urGDP growth rate, economic recovery, financial market, ged 'pump blood' to the economy which is thirsty for capital.
Manuela Ferro from WB said that Vietnam needs to pay attention to debt settlement, and apply a reasonable fiscal policy to make public investments more effective.
Vietnam racks up trade surplus exceeding US$7 billion
Vietnamese import and export value soared by 14.5% to reach over US$580 billion by mid-October, with the country posting a trade surplus of approximately US$7 billion, according to statistics given by the General Department of Vietnam Customs.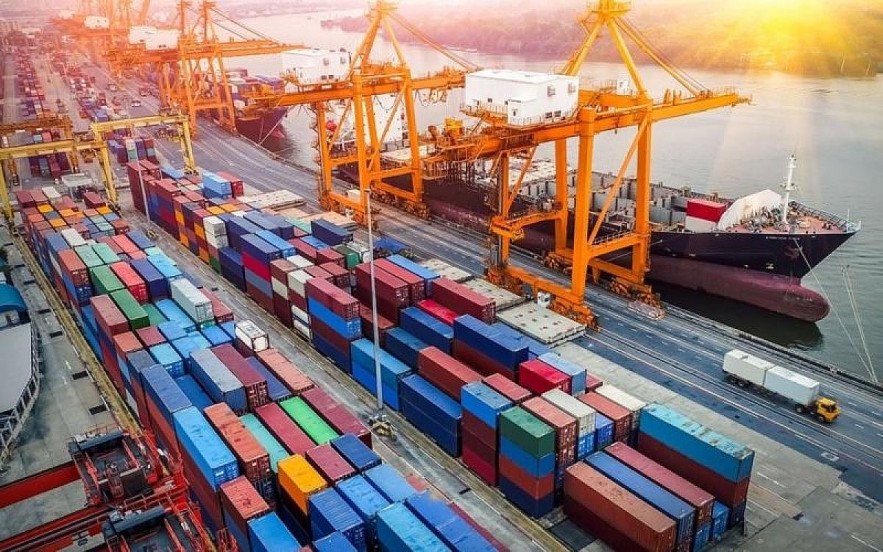 Photo: VOV
Foreign-invested enterprises (FIEs) continue to play an important role in terms of the country's trade value, with the import and export turnover of both FIEs and domestic businesses increasing by 14.9% and 13.4%, respectively.
The country's total export value edged up 16.7% on-year, with a number of commodity groups enjoying strong growth, including machinery, equipment, tools, and other spare parts up 29%, textiles and garments, up 22.8%, computers, electronic products and components, up 14.1%, and footwear of all kinds, up 39.3%.
Meanwhile, FIEs' total export value increased by 17.5%, thereby accounting for 73.8% of the entire nation's total export revenue, cited VOV.
By the end of October 15, the country's total import value had inched up by 12.7% on-year, with some commodity groups experiencing a sharp rise, including computers, electronic products and components up 7.8%, petrol and oil of all kinds up 130.3%, and coal of all kinds up 82.2%.
FIE's import value of goods throughout the reviewed period expanded by 12% compared to last year's corresponding period, accounting for 65.2% of the nation's total import turnover.
Vietnam in Group B at 2023 AFC U20 Asian Cup finals
Vietnam will be in Group B together with Iran, Australia, and Qatar at the 2023 Asian Football Confederation (AFC) U20 Asian Cup finals, slated for next March in Uzbekistan.
The draw for the final round was held in Tashkent city of Uzbekistan on October 26.
Sixteen teams will compete in the round, namely Uzbekistan, Saudi Arabia, Qatar, Japan, Jordan, the Republic of Korea, Indonesia, Oman, Tajikistan, Iran, Australia, Vietnam, Kyrgyzstan, China, Iraq, and Syria.
Vietnam are one of the five second-placed teams with the best results in the qualifying round, cited WVR.
Among the rivals of Vietnam in Group B, the U20 team of Qatar won the tournament in 2014, Iran triumphed for four times (in 1973, 1974, 1975 and 1976), while Australia were the runners-up in 2010.
Meanwhile, Group A gathers hosts Uzbekistan, Syria, Iraq and Indonesia; Group C consists of Oman, Jordan, Tajikistan and the Republic of Korea; and Group D comprises Kyrgyzstan, China, Japan and Saudi Arabia.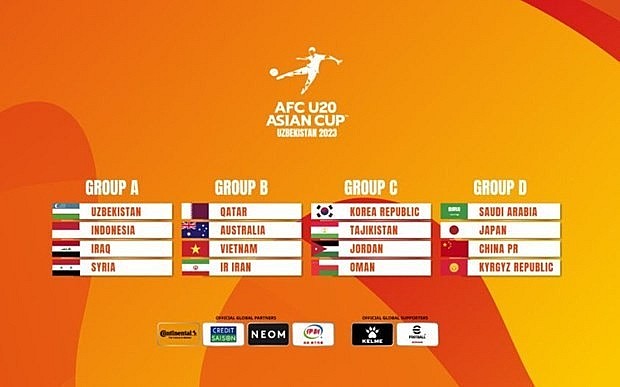 Sixteen teams will compete in the 2023 AFC U20 Asian Cup finals. Source: AFC
The four teams advancing to semifinals will earn berths at the 2023 FIFA U20 World Cup. As there are five slots for Asia at the World Cup, if Indonesia – host of the World Cup enter the Asian Cup semifinals, the two best-performing teams that lose the quarterfinals will compete in a play-off to vie for the remaining slot.
The Vietnamese team are set to play the first game at the Asian Cup against Australia on March 1, 2023, and then Qatar and Iran.