Vietnam News Today (October 30): UNESCO Heritage Sites Hoi An, My Son to Allow Foreign Tourists from November
Vietnam News Today (October 30): Ministry licenses Pfizer, Moderna vaccines for inoculation of children; Vietnam aspires to boost cooperation with African nations; UNESCO heritage sites Hoi An, My Son to allow foreign tourists from November; Vietnam to host first official SEA eSports Championship.
Vietnam News Today (October 30) notable headlines
Ministry licenses Pfizer, Moderna vaccines for inoculation of children
Vietnam aspires to boost cooperation with African nations
UNESCO heritage sites Hoi An, My Son to allow foreign tourists from November
Hanoi mulls downtown car tolls to ease congestion, pollution
Vietnam to host first official SEA eSports Championship
Vietnam-China youth friendship exchange opens
Vietnam plays active role in climate change response
Work on Tan Son Nhat airport's terminal T3 to begin in December
Coffee, fruit and vegetable industries agree on CoC to encourage sustainability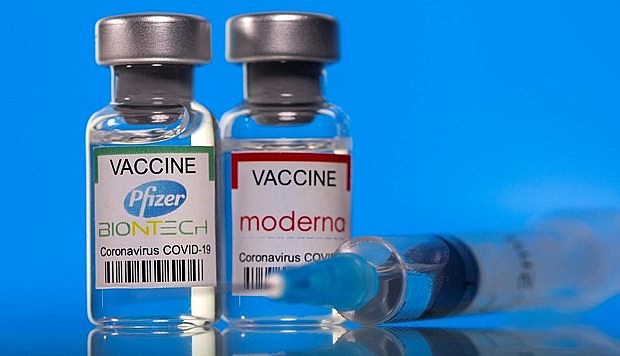 Pfizer and Moderna vaccines. Photo: Ministry of Health
Ministry licenses Pfizer, Moderna vaccines for inoculation of children
The Ministry of Health has licensed Covid-19 Pfizer and Moderna vaccines for inoculation of children aged from 12-17.
Deputy Minister of Health Do Xuan Tuyen said on October 29 that children living in high-risk areas will be inoculated first.
According to the Deputy Minister, Vietnam has to date administered over 78 million doses of vaccines of all kinds. The health sector is giving priority to vaccinating children aged from 16-17, cited VNA.
Parents or guardians of children are required to sign papers allowing the vaccination.
On October 27 morning, Ho Chi Minh City, Vietnam's current largest pandemic hotspot, started giving Covid-19 vaccines to school children in the district of Cu Chi.
Vietnam aspires to boost cooperation with African nations
The country is keen to ramp up co-operation with African nations, with there being ample room for partnership to flourish moving forward, Deputy Foreign Minister Pham Quang Hieu said in a recent interview with the media.
President Nguyen Xuan Phuc's attendance and remarks during the open debate on co-operation between the UN and African Union (AU) on October 28 are of great significance as it demonstrates the country's sense of responsibility towards the UN and UN Security Council (UNSC)'s activities. Indeed, it also highlights the wider concerns of the international community.
It indicates the nation's strong interest in Africa and the AU, along with the country's will to share difficulties and increase co-operation with African nations.
According to the Deputy Minister, the event has allowed the Vietnamese side to further promote its active role and contributions as a non-permanent member of the UNSC, following its successful performance as rotating president of the UNSC in April.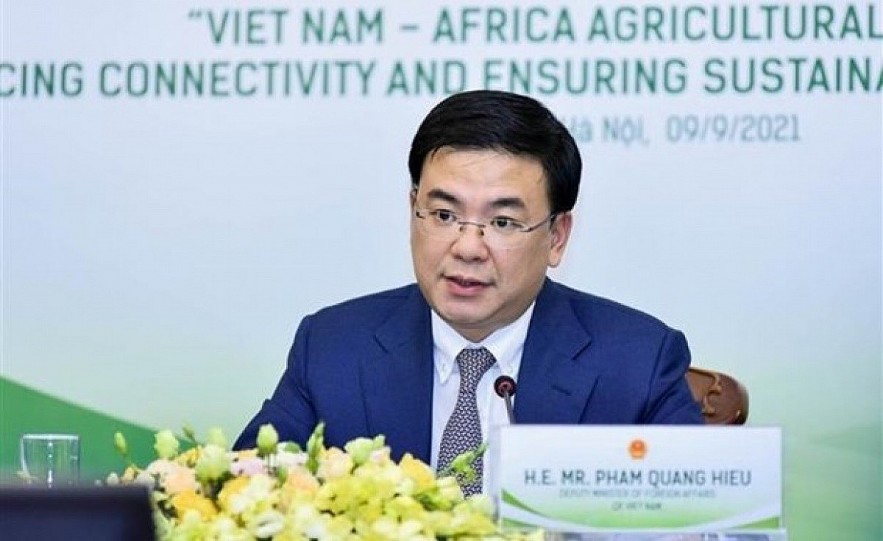 Deputy Foreign Minister Pham Quang Hieu. Photo: VNA
The country has been able to maintain a good friendship with all African countries, whilst building on the solidarity among their liberation movements during the 1950s and 1960s. Entering the 21st century, the nation and African countries were able to consistently consolidate and expanded their win-win partnerships in various areas, he continued.
These sound political relations have added fresh impetus to co-operation between both sides in terms of economics, trade, and other major areas, whilst they have closely co-ordinated and offered mutual support at multilateral forums, such as the UN, he added.
Vietnamese trade turnover with African markets has increased 2.5 times from US$2.5 billion in 2010 to US$6.8 billion in 2020, according to VOV.
Investment activities between the country and the African region have therefore witnessed an increase in both quantity, value, and location of investment.
At present, Vietnamese businesses have invested approximately US$3 billion in 12 African nations. It is worth noting that this includes several major projects, such as oil and gas exploration and production project in Algeria run by Vietnam Oil and Gas Group, in addition to Viettel's telecommunications projects in Burundi, Cameroon, Tanzania, and Mozambique.
These projects not only bring greater economic efficiency, but also actively contribute to creating jobs and improving the quality of life for indigenous people, according to Deputy Minister Hieu.
The local diplomat also voiced his hope that general relations will be further deepened, thereby contributing to peace, co-operation, and development of each side and region.
This comes after President Phuc attended the virtual high-level open debate on UN-AU co-operation on October 28 at the invitation of his Kenyan counterpart Uhuru Kenyatta, who holds the rotating Presidency of the UN Security Council (UNSC) in October.
The President's speech and proposals were held in high regard by participating heads of UN member states and organizations.
UNESCO heritage sites Hoi An, My Son to allow foreign tourists from November
Quang Nam authorities plan to allow foreign tourists to visit UNESCO-recognized sites Hoi An and My Son and stay at designated resorts from next month.
The province Department of Culture, Sports and Tourism has submitted to the administration a draft plan for a three-phase vaccine passport program to allow in fully vaccinated foreign tourists.
In the first phase from November, tourists will be allowed to visit Hoi An town and My Son Sanctuary, a complex of abandoned and partly ruined Hindu temples constructed between the 4th and 14th centuries by the Champa Kingdom.
Three five-star accommodation facilities, Hoiana Resort, TUI BLUE Nam Hoi An and Vinpearl Resort & Golf Nam Hoi An, will be allowed to have foreign guests.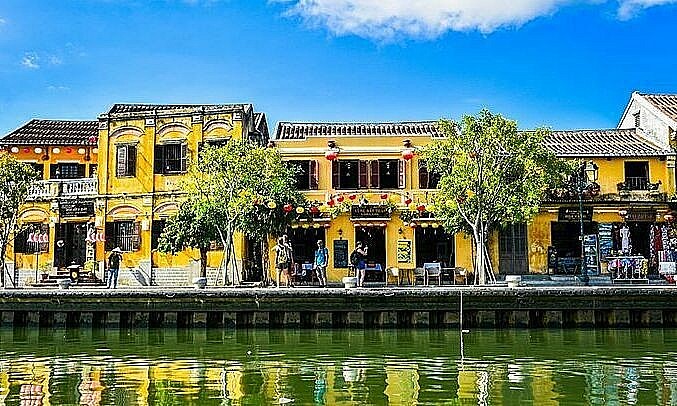 Tourists are seen along the bank of the Hoai River in Hoi An, 2019. Photo: Shutterstock
Tourist attractions such as VinWonders Nam Hoi An and Vinpearl Golf Nam Hoi An will also be allowed to admit tourists.
Visitors need to furnish a certificate showing they were fully vaccinated at least 14 days prior to arrival or recovered from Covid. Visitors under 18 should produce a negative Covid test certificate.
They are required to book a package tour with a designated travel agency and have medical and travel insurance.
In the second phase from January 2022 provincial authorities will expand the list of resorts and tourist destinations.
Subsequently, Quang Nam will fully reopen to foreign tourists, reported VnExpress.
It plans to vaccinate 90 percent of its population and hopefully achieve herd immunity by mid-November.
It was one of five localities to get approval from the government to allow in foreign tourists from November along with Kien Giang, Khanh Hoa and Quang Ninh provinces and Da Nang as part of a roadmap to gradually resume international tourism.
Quang Nam received over 4.6 million foreign tourists in 2019.
Vietnam closed its borders to foreign tourists and canceled all international flights since March last year.
Hanoi mulls downtown car tolls to ease congestion, pollution
Hanoi plans to collect toll fees from cars entering downtown areas at up to VND60,000 (US$2.65) a time, Hanoi Public Transport Management Center stated.
Cars under nine seats would pay a toll fee between VND25,000-60,000 (US$1.1-2.65), while those above nine seats, plus trucks, would pay between VND15,000-40,000 (US$0.66-1.76), the center stated in its proposed plan to collect toll fees from vehicles entering areas prone to traffic jams and pollution.
Toll fees would change depending on time frames from 5 a.m. to 9 p.m. Time frames with low traffic density would require small toll fees or none at all. There would be no toll fees during the weekends and holidays, the center added.
Certain vehicles would pay no toll fees, including police cars, firefighters, ambulances and public buses. Some vehicles would have reduced toll fees, including cars of businesses and residents in downtown areas.
Toll fees were decided based on certain factors like feasibility, positive impacts on people's behavior and vehicle potential for pollution and congestion.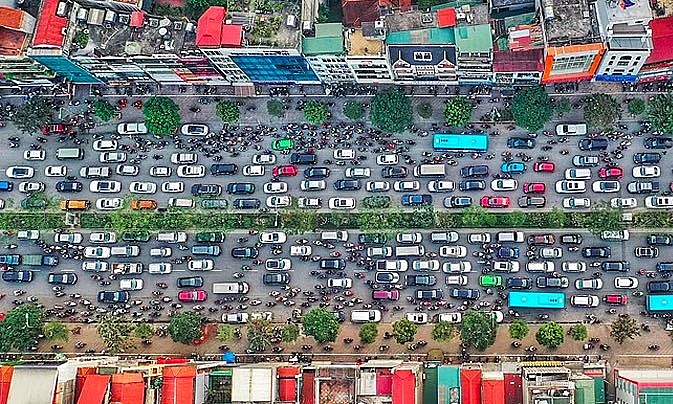 Vehicles run on Hanoi's Xa Dan Street. Photo: VnExpress
Collecting toll fees would bring economic, social and environmental effectiveness, stated the center. Traffic density would reduce by 8-30 percent on main traffic routes, which would help cut over 350,000 tons of carbon dioxide in the area, it was stressed. It would also help shift people's behavior, persuading them to shift to more environmentally friendly alternatives like public transport or bicycles, it said.
There has been no plan on a specific method for investment in the plan or the future shifts in exchange rates, meaning the toll fees would be decided by Hanoi People's Committee, according to the center, cited VnExpress.
The plan has pinpointed 87 toll booths at 68 locations within Ring Road 3, situated at traffic routes leading towards downtown Hanoi.
Until 2025, 15 booths are expected to be erected at nine locations on routes with high traffic density, and until 2030, another 59 booths would be erected at 46 locations to the south of Red River. The rest of the booths would be erected after 2030.
The plan would need to be evaluated by Hanoi People's Council, the city's legislature, and approved by the end of 2021.
Hanoi currently has around 6.4 million vehicles, 5.6 million of which are motorbikes. There are around 600,000 cars, plus another two million other vehicles from outside Hanoi.
Vietnam to host first official SEA eSports Championship
The Southeast Asian eSports Championship 2021 (SEA EC 2021) will be held virtually by the Vietnam Recreational E-sport Association (VIRESA) and tech giant VNG Corporation, heard a press conference on October 28.
The qualifying round is slated for November and December, with the participation of 52 teams representing 10 e-sports federations in the region. The final round will take place in January 2022, according to VNA.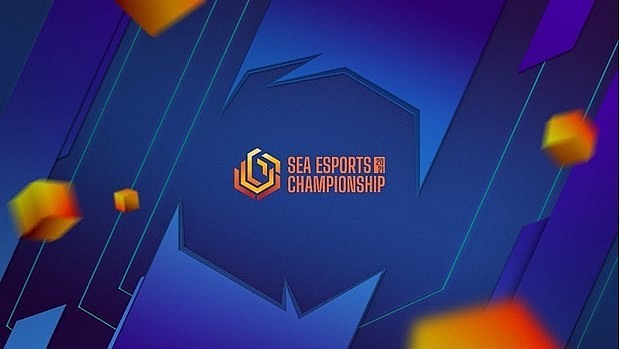 A promotional image of the tournament. Photo courtesy of the organizers
VIRESA President Nguyen Xuan Cuong said that the tournament aims to bolster solidarity and help athletes develop their career and elevate e-sports.
Regional e-sport federations will join hands to organize the event, making it an annual tournament.
SEA EC 2021 will comprise three games of PUBG Mobile and League of Legends: Wild Rift and Valorant. The winner will walk home with a prize worth more than US$140,000.
Notably, two of the three games are included in the 31st SEA Games hosted by Vietnam. Therefore, the upcoming e-sports tourney is hoped to offer chances for athletes to test their skills before the major regional event.
In addition, E-Racing is being considered to become another category of SEA EC 2021.