Vietnam News Today (October 5): Hanoi to Host 8th ASEAN Ministerial Meeting on Minerals This Week
Vietnam News Today (October 5): Vietnam records 5,382 new local Covid cases; Hanoi to host 8th ASEAN Ministerial Meeting on Minerals this week; Air transport to Hanoi may resume from October 5; Travel agencies, hotels make "travel bubble" plans to receive back tourists.
Vietnam News Today (October 5) notable headlines
Vietnam records 5,382 new local Covid cases
Hanoi to host 8th ASEAN Ministerial Meeting on Minerals this week
Air transport to Hanoi may resume from October 5
Travel agencies, hotels make "travel bubble" plans to receive back tourists
E-sports and the billion USD opportunities for Vietnam's digital economy
Skilling up Vietnam in new situation
Foreign investors remain optimistic about Vietnam's economy: official
HCM City prepares to inoculate students above 12
Tien Giang's export up over 11 percent in nine months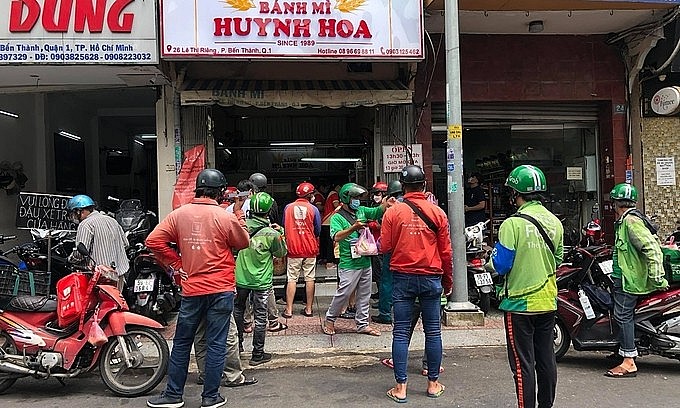 Delivery workers wait for orders at a banh mi restaurant in HCMC's District 1, Oct. 1, 2021. Photo: VnExpress
Vietnam records 5,382 new local Covid cases
Health authorities confirmed 5,382 new local Covid-19 cases in 37 localities Monday, up 15 cases from previous day, pushing the ongoing wave's tally to 809,376.
The three localities with the highest number of new cases were Ho Chi Minh City with 2,490 cases, Binh Duong with 1,210 cases and Dong Nai with 701 cases.
The number of Covid cases in HCMC in the current outbreak has surpassed 400,000.
The Health Ministry also confirmed 27,683 recoveries the same day, bringing the total tally of recovered cases so far to 721,480, cited VnExpress.
The Covid-19 death toll in Vietnam rose to 19,845 with the confirmation of 130 deaths Monday.
The average number of new cases in the country for the past seven days has been 6,835 a day while the national death rate has been 149 a day on average.
Nationwide, over 34.6 million people have been given at least one Covid-19 vaccine dose, of them 10.9 million people have been fully vaccinated.
Hanoi to host 8th ASEAN Ministerial Meeting on Minerals this week
Vietnam's Hanoi capital will virtually host the 8th ASEAN Ministerial Meeting on Minerals (AMMin8) and its related meetings from October 6-8.
The related meetings are the 21st ASEAN Senior Officials Meeting on Minerals (ASOMM 21) and the 14th ASEAN Senior Officials Meeting on Minerals with three dialogue countries of China, Japan and the Republic of Korea (ASOMM+3).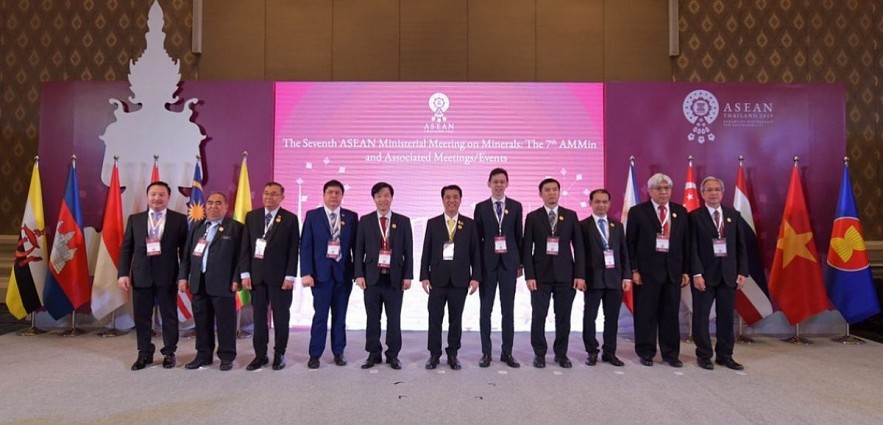 ASEAN Ministers attend AMMin7 in Bangkok, Thailand, in December 2019. Photo: ASEAN Secretariat
The meetings will bring together ministers and senior officials of minerals from 10 ASEAN member countries, namely Brunei, Cambodia, Indonesia, Laos, Malaysia, Myanmar, Philippines, Singapore, Thailand, and Vietnam, as well as the ASEAN Secretariat, three ASEAN dialogue partners of Japan, China, and the RoK.
Representatives of international organizations such as CCOP and AFMA will also attend the events, VOV reported.
A representative of the Government of Vietnam will deliver an opening speech and chair the 8th ASEAN Ministerial Meeting on Minerals, while the Minister of Natural Resources and Environment of Vietnam will chair the related meetings.
The AMMin is a forum for ASEAN ministers to review regional cooperation in the field of minerals, promote the development of the mining industry, and at the same time outline policy directions for cooperation within the bloc and between the bloc and its dialogue partners.
Air transport to Hanoi may resume from October 5
The Ministry of Transport is waiting for Hanoi's opinion on the reopening of domestic air routes to and from its Noi Bai International Airport from October 5.
On October 2, the Civil Aviation Administration of Vietnam (CAAV) sent an official dispatch to the Hanoi People's Committee asking for opinions on the plan to operate regular domestic routes to and from Hanoi during the Covid-19 pandemic.
According to the agency, the resolution of the cabinet meeting in September 2021 assigned the Ministry of Transport to assume the prime responsibility for coordinating with the Ministry of Health, and major cities that are key domestic and international traffic hubs such as Hanoi, Ho Chi Minh City, Da Nang, Can Tho, andHai Phong to assess the situation of reopening arterial traffic routes, ensuring effective implementation of "dual goals" (epidemic prevention and economic development).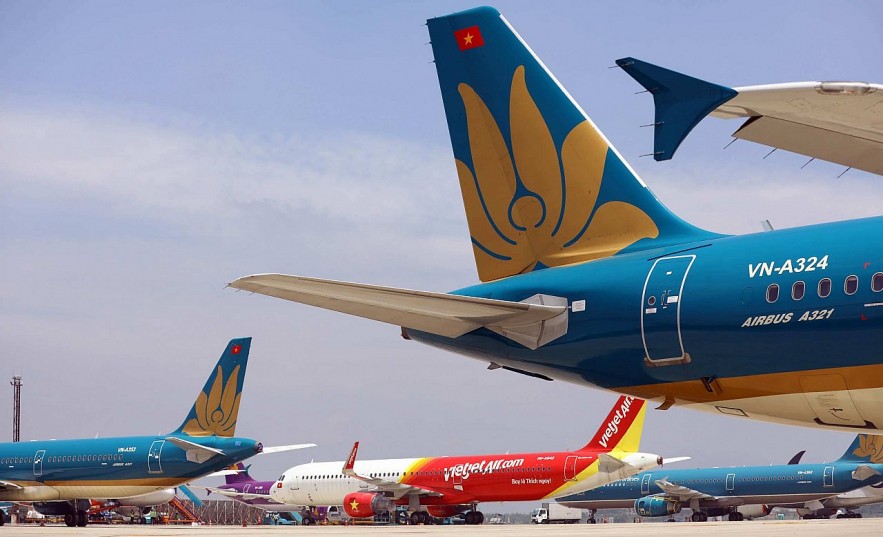 Photo: VNN
Following the direction of the Minister of Transport and the Chairman of the Hanoi People's Committee, CAAV discussed with the Hanoi Department of Transport the reopening of passenger transport. CAAV sent the Hanoi People's Committee a plan on domestic air transport in phase 1, expected to be applied from October 5, 2021 with information on flight routes, operators, and frequency of flights to and from Noi Bai international airport, and it asked Hanoi People's Committee for comments, according to VNN.
According to this plan, from October 5 to 10, it will operate 91 round-trip flights per day on the route between Hanoi and 17 destinations including: Ho Chi Minh City, Kien Giang (Phu Quoc, Rach Gia), Nghe An, Quang Binh, Ba Ria - Vung Tau (Con Dao), Quang Nam, Can Tho, Binh Dinh, Phu Yen, Gia Lai, Thua Thien Hue, Lam Dong, Dien Bien, Da Nang, Khanh Hoa and Dak Lak.
These air routes will be operated by Vietnam Airlines, Vietjet Air, Bamboo Airways and Pacific Airlines. The route between Hanoi and Ho Chi Minh City will have the highest frequency of 28 round-trip flights per day.
According to CAAV, under the temporary guidance on organization of passenger transport activities issued by the Ministry of Transport, air passengers must meet the following requirements: comply with 5K rules; make medical declaration as prescribed; test for SARS-CoV-2 with negative results within previous 72 hours (from receipt of testing results) by RT-PCR method or rapid test. No testing is required for people who have received 1 dose of vaccine at least 3 weeks before, or people who have been fully vaccinated, or have recovered from Covid-19 within the last six months.
In its document sent to the Hanoi People's Committee, CAAV stated that Noi Bai International Airport is a key traffic hub in the domestic and international air transport network, so the operation of regular domestic flights to and from this airport is important and essential.
Based on the direction of the Hanoi People's Committee on additional measures, if there are requirements on epidemic prevention and control, CAAV will strictly implement them.
Travel agencies, hotels make "travel bubble" plans to receive back tourists
Many travel agencies and lodging facilities have developed plans to welcome back tourists in the remainder of the year in an attempt to get the tourism industry back on track after a hiatus caused by the Covid-19 pandemic.
A number of localities across the country have begun to allow accommodation facilities to start receiving guests in order to accelerate travel recovery efforts as part of the "travel bubble" model.
Most recently, Ba Ria-Vung Tau province in the south has permitted resorts to resume operation. Visitors are required to be fully vaccinated against Covid-19 and stay in their resorts during their vacation. In addition, All hotel and resort staff must get two doses of vaccines and remain on site.
In the northern province of Vinh Phuc, all staff at Flamingo Dai Lai resort have now been inoculated and will take Covid-19 tests periodically. The resort is set to apply the "travel bubble" model that requires tourists from other cities and provinces to complete healthcare declarations, and have their health checked frequently. Moreover, visitors will be provided with food in their rooms in an effort to ensure safety.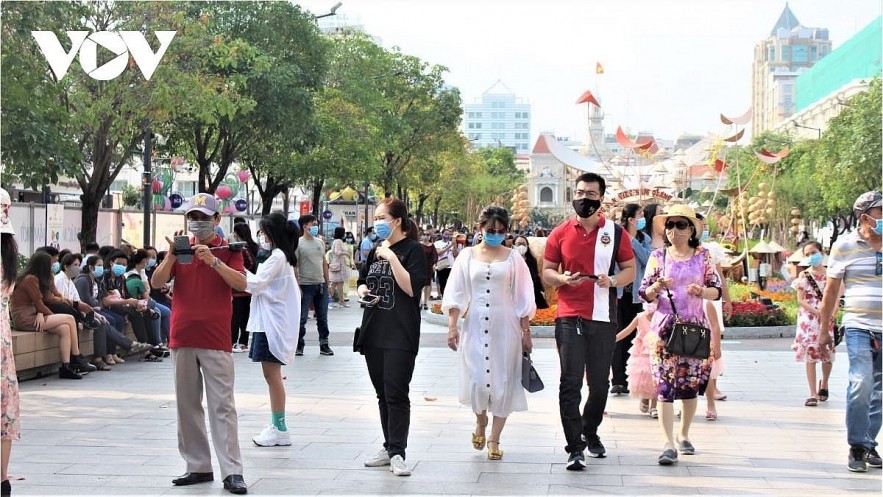 Photo: VOV
In Hoa Binh, another tourism-driven province in northern Vietnam, Avana Retreat resort is now seeking ways to reopen as its accommodation has reached an occupancy rate of up 90% before the social distancing period. The resort is going to launch a promotional campaign for both long and short stay vacations, while ensuring health and safety for all staff and guests, cited VOV.
Tran Dao Duc, deputy general director of CEO Group, said safe travel could represent a lifesaver for airlines, travel agencies, and guest accommodations.
Phu Quoc island city is the first locality in Vietnam to receive foreign tourists with a vaccine passport under a pilot scheme from mid-November. It is now prioritizing vaccinating all 150,000 residents to achieve herd immunity before the pilot scheme is carried out.
Tour operators are now ready for travel recovery efforts after four waves of the Covid-19 outbreak. Businesses will identify which localities can control the pandemic, resume operation, and allow their residents to travel before planning tours.
Previously, businesses had primarily focused on marine and airborne travel to stimulate tourism demand. They are now aiming for vacation trips of families, with a range of nearly 300km.
Nguyen Duy Nghia, director of VietFoot Travel company, said for the time being domestic holiday makers represent their main consumers as opposed to international tourists in the past.
The company also plans for tours to be done by bicycles and motorbikes, their advantage is therefore to help visitors explore and satisfy their habits in sports.
The tours will provide visitors the chance to discover food in Hanoi, particularly as they will serve both domestic and international tourists once the Covid-19 pandemic is brought under control, Nghia stressed.
E-sports and the billion USD opportunities for Vietnam's digital economy
With a young population and the popularity of the Internet, Vietnam has great opportunities and potential to develop the industry of e-sports and video games. This will become a "smokeless industry" in Vietnam in the near future.
Besides familiar digital industries such as e-commerce, electronic payments and video games are emerging as a phenomenon. The e-sports market has become attractive despite the complicated developments of the Covid-19 pandemic.
The latest report by App Annie and IDC shows that global video game downloads in the first quarter of 2021 increased by 30% compared to the fourth quarter of 2019, reaching US$1.7 billion in revenue per week. This is a 40% increase from the pre-pandemic period.
Realizing the potential of the video game industry, the Middle Eastern oil powers have poured huge investment capital in this field, even orienting video games to become a spearhead economic sector in the post-oil era. It is expected that in the next 5 years, the video game industry will reach a growth of US$300 billion per year.
Based on elaborately produced video games and increasingly modern Internet-connected infrastructure, e-sports is gradually becoming an important economic sector with 495 million users worldwide. This sector generated nearly US$1 billion in revenue in 2020 and is becoming an important contributor to the digital economy.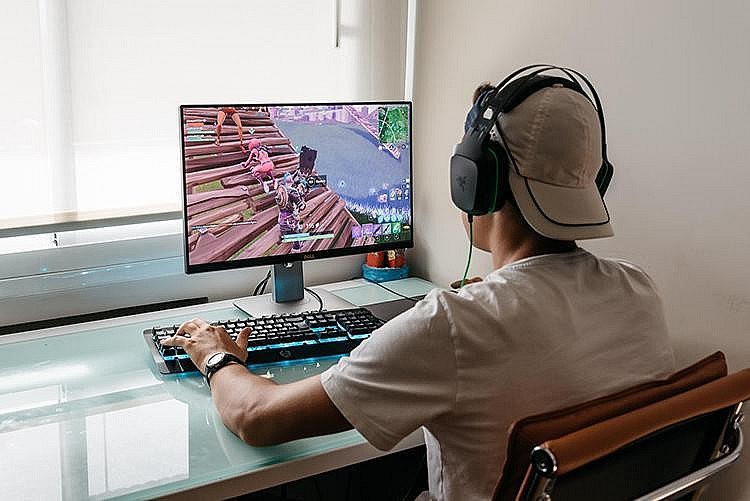 Photo: VNN
According to a report by the Authority of Radio, Television and Electronic Information (Ministry of Information and Communications), the revenue of the video game industry in Vietnam in 2020 reached the milestone of 12,000 billion VND, more than double compared to 2015. Taxes paid by enterprises in this industry were also 2.5 times higher during this period.
In terms of employment, the growth of the video game industry is even more impressive. The number of employees working in this industry has increased from 7,000 in 2015 to 25,000 at present, reported VNN.
Although 2020 was the year when the epidemic broke out, causing disruption to many industries, the video game industry is still considered one of the few economic sectors with a positive growth index and a stable labor market.
According to Appota's Vietnam Mobile Application Report 2021, video games are among the most downloaded apps on both iOS (41.2%) and Android (64.5%) app markets. The figure clearly shows the development potential of this "smokeless" industry.
The Vietnam E-Sports White Paper 2021 released by the Vietnam E-Sports Entertainment Association (VIRESA) also indicates that the Vietnamese video game market had about 40 million players in 2020. Of the number, 18 million people played e-sports, accounting for nearly 28% of Internet users on mobile and almost 100% of them used 3G/4G services.
With the growing demand for entertainment and stricter requirements on the graphics quality of mobile games, users will look to 5G for smoother experiences. The commercialization of 5G in Vietnam will therefore become a golden opportunity for the development of e-sports.
On the other hand, the huge number of players and followers of e-sports will bring more customers to 5G network service providers.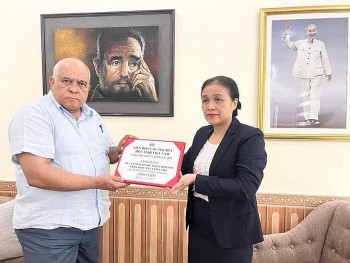 Focus
According to Cuba's News Agency Prensa Latina, on August 16, President of Vietnam Union of Friendship Organizations Nguyen Phuong Nga said that Vietnamese people will always stand by and support Cuba no matter what difficulties our friend is facing.