Vietnam News Today (Sep. 14): Vietnam Well Develops Cultural Industries
Vietnam News Today (Sep. 14): Vietnam well develops cultural industries; Birthplace information to be printed on new Vietnamese passports; Visa policies must be relaxed to attract more foreign arrivals; New anti-pandemic media campaign launched.
Vietnam News Today (Sep. 14) notable headlines
Vietnam well develops cultural industries
Birthplace information to be printed on new Vietnamese passports
Visa policies must be relaxed to attract more foreign arrivals
New anti-pandemic media campaign launched
Vietnam takes actions to make world cleaner
Vietnam picks up seven gold medals at Singapore Archery Open 2022
PM chairs national meeting on Covid-19 prevention, control
Vietnam's Top 10 ICT companies 2022 honoured
Authentication system to prevent counterfeiting via QRCode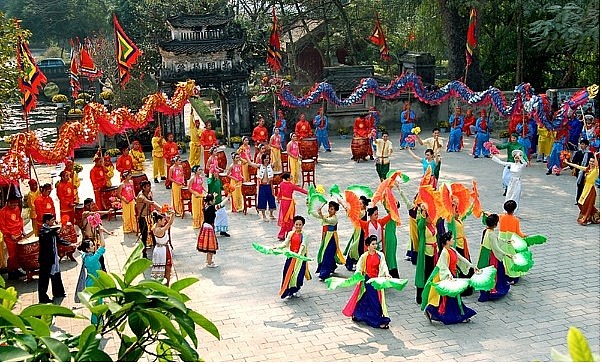 Illustrative image. Photo: VNA
Vietnam well develops cultural industries: UNESCO representative
The National Strategy on the Development of Vietnamese Cultural Industries is a huge effort of the country in realizing UNESCO's Convention on the Protection and Promotion of the Diversity of Cultural Expressions (Convention 2005).
The affirmation was made by UNESCO Chief Representative in Vietnam Christian Manhart at a symposium reviewing the five-year implementation of the strategy in the 2016-2021 period held on September 12.
According to him, this strategy combines socio-economic development with cultural development, focuses on the economic values of cultural-artistic creativity, and pays attention to the creativity diversity of individuals, collectives and communities.
The development of cultural industries is one of the key factors for economic growth, contributing to GDP development through job generation and opening of new markets, cited VOV.
Vietnam will succeed if it can properly mobilize cultural resources, knowledge, and modern technology to create diverse and attractive cultural products and services, he added.
Nguyen Thi Thu Phuong, director of the Vietnam National Institute of Cultural and Arts Studies (VICAS), said that cultural industries are strategic assets in Vietnam's foreign policy and international cooperation and help to strengthen the uniqueness of the country. Cultural industries play a key role in promoting cultural identity and modernizing the nation, serve an effective tool for economic growth and innovation, and make culture an important component of international trade and competitiveness.
The National Strategy on the Development of Vietnamese Cultural Industries by 2020, with a vision to 2030, was approved by the Prime Minister on September 8, 2016, with a goal of cultural industries' occupation of around 3% to the nation's gross domestic product (GDP) by 2020.
In 2018, cultural industries contributed US$7.46 billion, accounting for 3.61% of GDP, and generating jobs for over 3 million people, making up 6.1% of the country's total number of labourers.
Birthplace information to be printed on new Vietnamese passports
The Ministry of Public Security has directed the Vietnam Immigration Department and other agencies abroad to print the information on "place of birth" in the annotation section of the new passports from September 15.
The move aims to create favourable conditions for Vietnamese citizens to enter other countries, as recently several countries suspended the issuance of visas to holders of the new Vietnamese passports due to a lack of the birthplace information, according to VNA.
New Vietnamese passport. Photo: VNA
The ministry will submit to the government and the National Assembly's Standing Committee a report on a resolution to include birthplace information into all of the Vietnamese passports.
It also gave specific guidelines for the holders of the new passports to get the "place of birth" information added to their passports.
The new Vietnamese passports has been in use since July 1 this year.
Visa policies must be relaxed to attract more foreign arrivals
Policies related to entry visa procedures need to be simplified in order to lure more international visitors to visit the nation, according to industry insiders.
Vo Anh Tai, deputy general director of Saigontourist group, predicts that there will be numerous challenges to luring international visitors moving towards the end of the year due to the Covid-19 impact, conflicts, inflation, and complicated formalities in terms of granting visas to visitors.
Tai added that international tourism remains gloomy moving into the fourth quarter of the year as there are few bookings coming from the Nordic and Australian markets, noting that the tourism sector will only focus on domestic visitors and arrivals from the Asian markets, such as the Republic of Korea, Thailand, and India.
He therefore proposed simplifying procedures for electronic visa issuance as a means of making it more convenient for international tourists to enter the country.
Furthermore, he went on to emphasize the necessity of expanding the list of countries and territories which have been granted e-visas, as well as strengthening linkages with nations usually receive a large number of international visitors in Southeast Asia, such as Thailand and Singapore, in order to launch more tours to Vietnam.
Sharing this perspective, Nguyen Manh Quyen, vice chairman of the Hanoi People's Committee, pointed out that policies related to e-visa issuance remain a bottleneck in terms of receiving international visitors.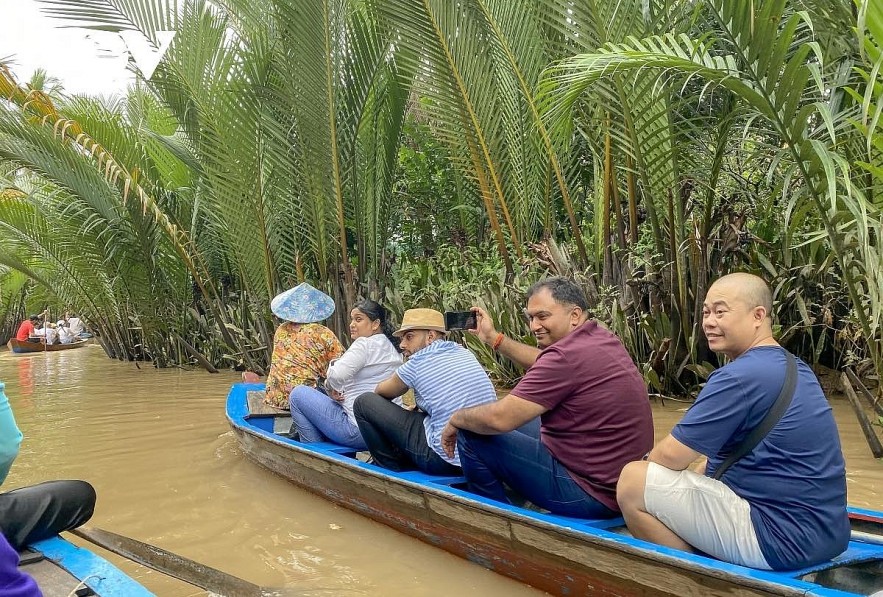 Photo: VOV
Quyen suggested that the Government strongly consider increasing the visa exemption period from 15 to 30 days, as well as simplifying the electronic visa issuance process in a bid to the visa application process for international visitors.
Martin Koerner, board member of the German Business Association in Vietnam, also analysed that Vietnamese tourism is in the process of facing fierce competition with other Southeast Asian countries, such as Thailand, Singapore, and Indonesia, all of which have increasingly exempted visas to improve competitiveness and boost international visitor numbers.
Thailand has moved to increase the visa-free period from 30 to 45 days for tourists from nearly 60 countries, while Singapore has also allowed citizens of several European and American countries to receive a 90-day visa exemption, in addition to a 30-day visa exemption for citizens from more than 100 countries, he said.
He noted that Vietnam currently exempts visas for citizens of only 24 countries, far fewer than some other countries in ASEAN, cited VOV.
Moreover, the existing visa exemption is only 15 days, far shorter than other ASEAN countries, which is inconsistent with reality as travelers from Europe typically want to spend longer whilst in Vietnam.
He said that direct and long-haul flights from Europe require an average of 12 hours and are often overnight, but the visa-free period in Vietnam for Europeans is only 13 days, adding that visitors wish to stay longer and spend much money during their stay in Vietnam.
He therefore recommended increasing the visa-free period for international visitors to 30 days as foreigners' travel plans are currently limited within the tight 15-day restriction.
New anti-pandemic media campaign launched
A new media campaign against the Covid-19 pandemic for the "new normal" was launched by the Ministry of Health (MoH) in Hanoi on September 12, aiming to promote the theme "For a strong and healthy Vietnam".
Addressing the launching ceremony, Deputy Minister of Health Nguyen Thi Lien Huong called on all ministries, state agencies, organisations and people to together take action and raise sense of responsibility in taking Covid-19 control measures – Mask, Disinfection, Vaccine, Medicine, Treatment and Technology – in accordance with the MoH's revised Covid-19 message.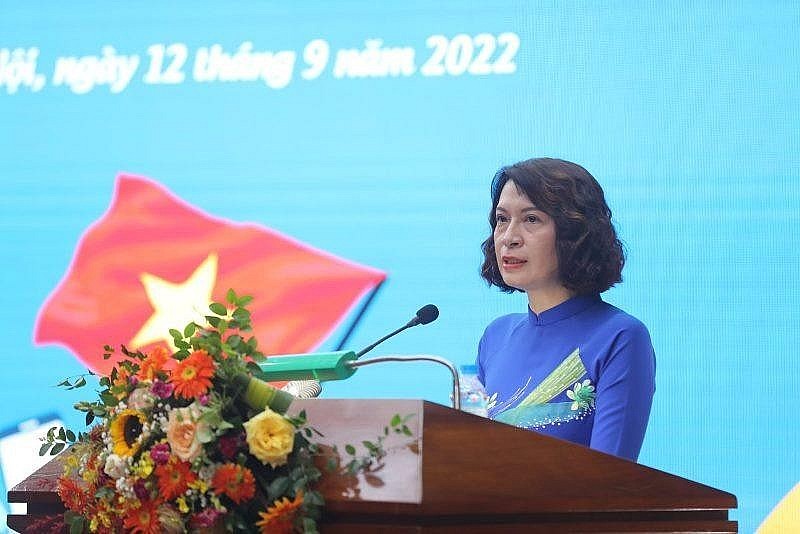 Deputy Minister of Health Nguyen Thi Lien Huong speaks at the event. Photo: MOH
According to Dr. Shane Fairlie, a specialist from WHO Vietnam, the pandemic is not likely to be fully under control before 2023 as evidenced by the emergence of new highly-infectious variants. Therefore, Vietnam must continue taking Covid-19 preventive rules in the new normal, he said, adding that vaccination and implementing virus control measures remain the most important and necessary solutions.
The media campaign will be run until October 31 by the MoH in collaboration with the World Health Organisation (WHO), Unilever Fund Vietnam, Meta Group (Facebook), Zalo Vietnam, and Lotus Vietnam, cited VNA.
Various of activities are scheduled to be organised on Vietnam's most popular social networks, including Facebook, Zalo, TikTok, Youtube and Lotus, with the engagement of various celebrities, TikTokers and KOLs in the fields of health care, culture, education, and others.
Vietnam takes actions to make world cleaner
Deputy Minister of Natural Resources and Environment Vo Tuan Nhan signed a dispatch on the organisation of activities to respond to the global campaign to make the world cleaner in 2022.
The campaign, initiated by Australia and started in 1993, has become an important annual event drawing hundreds of countries and millions of people around the globe with various activities to protect the environment and promote sustainable development, reported VNA.Vietnam has responded to the campaign since 1994 with many specific and practical activities. This year, Vietnam has launched community movements such as those to clean up the environment, plant trees, recovering the clean environment in urban areas, rivers and canals, while paying greater attention to environment issues at the local level and settling pollution.
The Ministry of Natural Resources and Environment has asked localities and agencies to popularise the Law on Environmental Protection 2020 and guiding documents, while urging the media to increase environmental communications, focusing on issues related to green and circular economy and environmental actions.
Themed "Working together to change the world", the campaign to make the world cleaner is a chance for localities and agencies to strengthen the control and supervision over waste concentrated areas such as industrial parks, industrial clusters, craft villages, river basins and pollution hotspots, as well as better the air conditions.
It also aims to enhance public awareness of extended producer responsibility (EPR), and encourage food and goods supply chains to minimize the use of plastic bags and single-use plastic products.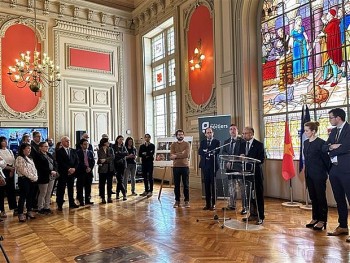 National
Vietnam News Today (Mar. 26): Vietnam and Thailand promote labour cooperation; Vietnamese, French localities look to step up cooperation; Attractive incentives on offer at Hanoi Tourism Festival 2023; E-commerce accounts for 60% of Vietnamese digital economy.