Vietnam News Today (Sep. 22): Vietnamese Blue-beret Soldiers Provide Schools, Supplies to Children in Africa
Vietnam News Today (Sep. 22): Top Vietnamese and Bangladeshi legislators hold talks; President hails Lao support for Vietnam's development; Vietnam, US hold annual defense policy dialogue; Vietnamese blue-beret soldiers provide schools, supplies to children in Africa.
Vietnam News Today (Sep. 22) notable headlines
Top Vietnamese and Bangladeshi legislators hold talks
President hails Lao support for Vietnam's development
Vietnam, US hold annual defense policy dialogue
Vietnamese blue-beret soldiers provide schools, supplies to children in Africa
IFC: Climate investment opportunities in Vietnam to amount to US$757 billion by 2030
Vietnam-Algeria inter-governmental committee to meet in October
Culture Week marking 120 years of tourism in Sapa opens
German news site introduces overlooked destinations in Vietnam
Deputy PM hosts new RoK Ambassador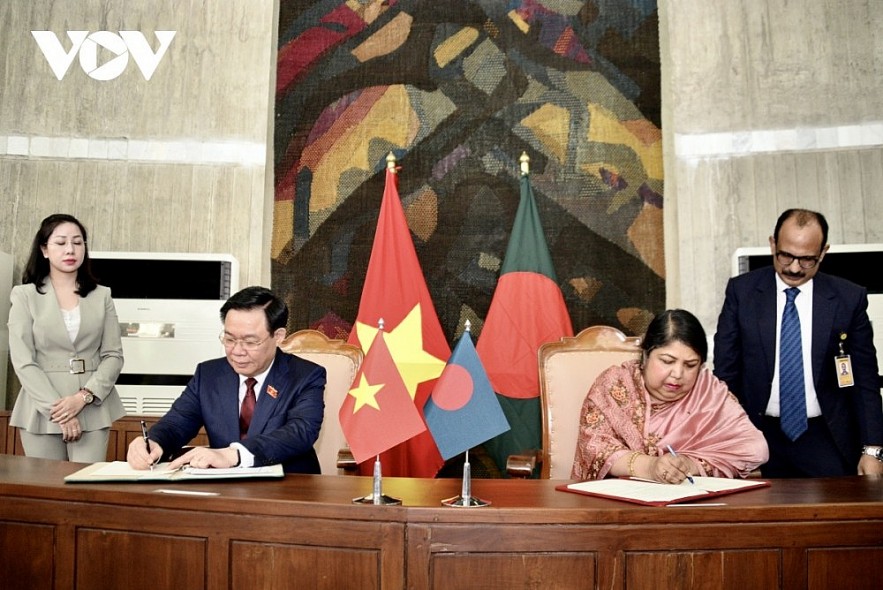 NA Chairman Hue and his Bangladeshi counterpart sign a Memorandum of Understanding (MoU) on cooperation between the two legislative bodies.
Top Vietnamese and Bangladeshi legislators hold talks
National Assembly (NA) Chairman Vuong Dinh Hue held talks with Speaker of Jatiya Sangsad (Parliament) of Bangladesh Shirin Sharmin Chaudhury in Dhaka on September 21.
During the talks, the top Vietnamese legislator congratulated Bangladesh on its recent achievements, especially the more than 7% increase in GDP during the 2021-2022 fiscal year, its position as the world's second largest exporter of apparel products and a role model in building green factories.
Both sides noted their appreciation for the traditional friendship between the two countries, with two-way trade reaching US$1.5 billion last year. Bangladesh has been the second biggest trade partner of Vietnam in South Asia.
They consented to facilitate the exchange of delegations at all levels and via the State, Government, parliamentary and people-to-people exchange channels, accelerate the implementation of bilateral mechanisms, particularly the Joint Commission on Economic, Cultural, and Scientific-Technical Cooperation. Hue also commended the recent establishment of the Bangladesh-Vietnam Friendship Association.
Highlighting Bangladesh as a promising market with a population of nearly 170 million, Hue suggested more favourable conditions for Vietnam to expand its exports to the South Asian country, particularly those of Vietnam's strength such as agricultural machinery, raw materials, household appliances, electronics, and processed agro-fishery products. He also proposed bolstering cooperation in Halal food.
Chaudhury hailed the organisation of the policy and law forum to boost bilateral economic, trade and investment ties.
She called on the Vietnamese firms to explore the market and invest in Bangladesh, especially in the special economic zones recently opened under Prime Minister Sheikh Hasina's initiative. This would further facilitate Bangladesh's exports, including pharmaceuticals, ceramics, and leather and footwear as a contribution to a more balanced trade, she told his guest.
The host took note of Hue's proposals regarding Bangladesh's sending of students and scholars to Vietnamese universities and the establishment of branches of reputable international universities in Vietnam.
She also encouraged the signing of contracts for tour packages to Vietnam and Bangladesh, as well as strengthening of air connectivity by encouraging airlines to open direct flights or connect via third countries, cited VOV.
The two leaders rejoiced to announce the establishment of the Vietnam-Bangladesh Friendship Parliamentarians' Group and the Bangladesh-Vietnam Friendship Parliamentarians' Group, helping further enhancing exchanges and experience sharing among parliamentarians from both countries.
NA Chairman Hue proposed that Bangladesh offer all possible support to the Vietnamese people in the country, who serve as goodwill ambassadors between the two countries.
On global and regional issues of shared concern, host and guest pledged to continue working hand in hand at multilateral forums, especially the UN and mechanisms led by the Association of Southeast Asian Nations (ASEAN).
They noted that both Vietnam and Bangladesh are members of the UN Human Rights Council for the 2023-2025 tenure, which presents opportunities to share views and boost cooperation in issues of mutual interest, including climate change and human rights.
At the end of the talks, they signed a Memorandum of Understanding (MoU) on cooperation between the two legislative bodies and witnessed the signing of a MoU on cooperation between the two legislature offices.
On the occasion, Hue invited the host to visit Vietnam in her convenient time and his invitation was graciously accepted the invitation.
Chairman Hue is on a Bangladesh visit from September 21-23 amid both nations celebrating the 50th anniversary of bilateral diplomatic ties.
President hails Lao support for Vietnam's development
In every step of Vietnam's development, there has always been the support and assistance of the fraternal Lao Party, State and people, said President Vo Van Thuong at a September 21 reception for outgoing Lao Ambassador to Vietnam Sengphet Houngboungnuang.
He said the great friendship, special solidarity and comprehensive cooperation between Vietnam and Laos in recent times has always been strengthened and developed, achieving practical results in all aspects. The two countries' agencies and localities have regularly engaged in exchanges and cooperation.
Thanks to the effective implementation of bilateral cooperation agreements, economic and trade ties have yielded positive results while collaboration in theoretical research, training, national defense and security has also seen significant progress. Both sides have also offered mutual support in global and regional issues.
The host leader congratulated the ambassador on fulfilling his assigned tasks, making important contributions to promoting Vietnam-Laos great friendship, special solidarity and comprehensive cooperation, according to VNA.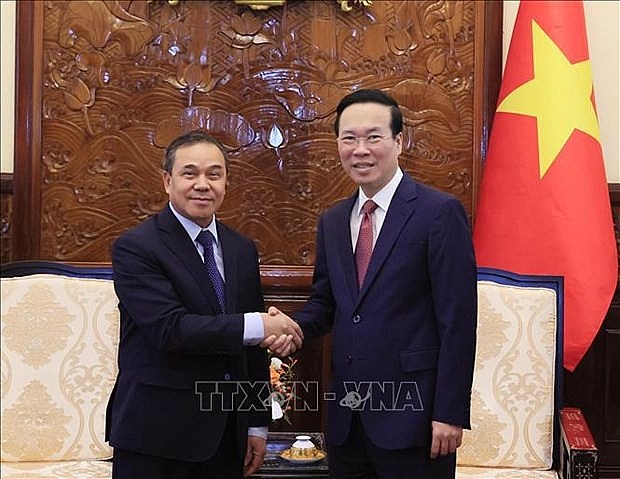 President Vo Van Thuong (R) and Lao Ambassador to Vietnam Sengphet Houngboungnuang (Photo: VNA)
He wished that in his new role, the diplomat would continue contributing even more to the friendship and special relationship between Vietnam and Laos.
Houngboungnuang, for his part, congratulated Vietnam on upgrading ties with several countries, including the US, which reflects the country's increasingly prominent international stature and role.
He believed that Vietnam will successfully realize the Resolution adopted by the 13th National Party Congress and achieve its goal of becoming a developed, high-income country by 2045.
The guest thanked the Vietnamese authorities for their support to him to fulfill his mission during the tenure, and pledged that in any future position, he will strive to nurture the bilateral relationship.
Vietnam, US hold annual defense policy dialogue
Deputy Minister of National Defense Senior Lieutenant General Hoang Xuan Chien and United States Assistant Secretary of Defense Dr Ely Ratner recently co-hosted the annual Vietnam – US Defense Policy Dialogue in Washington, D.C.
Hailing the positive defense co-operation recorded between the two countries over the past year, Deputy Minister Chien and Assistant Secretary Ratner said post-war recovery collaboration has continued to represent a pillar and a bright spot in bilateral relations, thereby helping to build trust and foster mutual understanding between the two sides.
Deputy Minister Chien used the occasion to thank the US for increasing its non-refundable aid from US$183 million to US$300 million for the project to clean up dioxin-contaminated soil at the Bien Hoa Air Base, describing it as an important resource to complete the first phase of the project.
Moving forward, the Vietnamese side will continue offering optimal conditions for the search for US soldiers missing in action (MIA), particularly as the two sides are celebrating the 50th founding anniversary of the Vietnam Office for Seeking Missing Persons, and 35 years of the implementation of the joint MIA activities, Deputy Minister Chien said.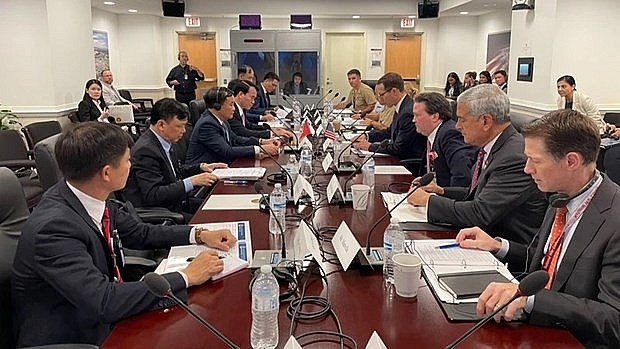 At the Vietnam - US defense dialogue. (Photo: nhandan.vn)
At the event, both sides underscored the important role of Vietnam and the US in the co-operation framework of the ASEAN Defense Ministers' Meeting Plus (ADMM+). They agreed to continue effective defense collaboration in the fields of delegation exchange at all levels, cyber security, defense industry and UN peacekeeping activities, as well as supporting each other at regional and multilateral forums, especially ADMM+, making contributions to regional and global peace, stability and development.
As the two nations will continue working together to deal with post-war consequences, Deputy Minister Chien suggested that both parties meticulously study the signing of a Memorandum of Understanding in the field based on the joint statement on the upgrade of the bilateral ties to a Comprehensive Strategic Partnership for peace, co-operation, and sustainable development.
He went on to request that the US to give further aid to Vietnam to speed up the dioxin detoxification project at the Bien Hoa Air Base, which needs an additional US$150 million to US$200 million, VOV reported.
Assistant Secretary Ratner said he will discuss the issue with the US Congress to seek further support for the project.
Regarding international issues of mutual concern, Deputy Minister Chien and Assistant Secretary Ratner applauded the role and position of ASEAN, as well as ASEAN-led mechanisms, going on to emphasize the importance of ensuring freedom, security, and safety of navigation and overflight in the East Sea.
Vietnam is therefore persistent with its external policy of independence, self-reliance, peace, friendship, multilateralization, and diversification. In addition, it has pursued a "Four Nos" defense policy, Deputy Minister Chien said, adding that Vietnam supports the settlement of disputes in the East Sea via peaceful means and in accordance with international law, including the 1982 UN Convention of the Law of the Sea (UNCLOS).
Vietnamese blue-beret soldiers provide schools, and supplies to children in Africa
Building schools, drilling wells, and donating school supplies, Vietnam's peacekeeping force are renovating schools for hundreds of students in Abyei.
The Vietnamese peacekeeping force at UNISFA (United Nations Interim Security Force for Abyei) and a representative of Minister of Education and Construction Nyinkwany Aguer Bol late last week visited the schools in the Abyei area to conduct fieldwork in a plan to improve local schools.
There are about 10 schools in the area. The school with the lowest number of students has 200 students, located 20 kilometers from Abyei center and the road to the school is very rough. The biggest school has nearly 3,000 students, created by the merger of seven different schools.
The number of teachers at the schools is modest, and most are volunteers from other African countries.
The facilities at the schools are very poor, with few classrooms, cafeterias and toilets. Some schools have many students, but have fewer than 15 classrooms. As a result, 100-150 students are gathered in every classroom, cited VNN.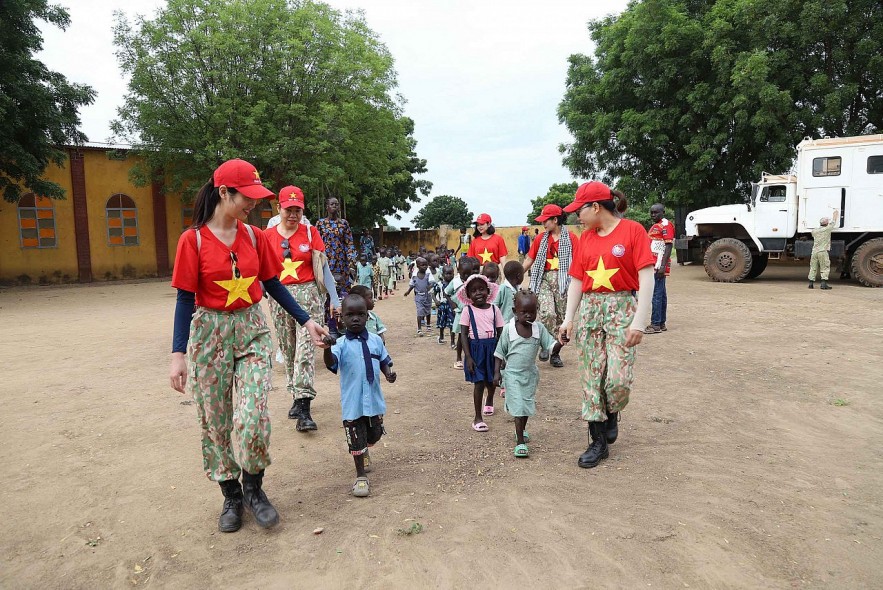 Photo: VNN
Previously, the Vietnam Army Corps of Engineers helped build classrooms, teachers' rooms, and cafeterias, drilled wells, installed clean water supply pipes, built roads, made tables and chairs and donated notebooks and pens at some schools.
Closing the fieldwork, the Vietnamese mission had a meeting with the Ministry of Education and Construction to discuss solutions to renovate and improve infrastructure conditions and educational materials.
Since the activity is not a duty of the Vietnamese mission, arranging materials and ensuring security and safety during the construction process is a top priority, and the activity needs the support of local authorities.
Captain Phung The Khanh, civil and military coordination officer of the Engineer Team No 2, said in addition to professional activities, the Vietnamese team supports local people, considering this a regular and long-term task.
On September 16, the Vietnamese peacekeeping force went to a nursery school at the Abyei Church, where 200 orphan children were cared for and taught. On this occasion, the force held a cartoon screening and gave sweets to children.
Vietnamese blue-beret soldiers arrived there early in the morning with screening equipment, such as TVs, computers, and broadcast players, to set up a 'cinema' within the school. Meanwhile, female soldiers arranged chairs and tables and guided children to watch films and sing English songs.
The kindergarten principal Catherine expressed her appreciation for what Vietnamese soldiers have been doing for Abyei and the school. The children could not watch TV for a long time and it was an opportunity for them to discover new things.
IFC: Climate investment opportunities in Vietnam to amount to US$757 billion by 2030
The International Finance Corporation (IFC) estimates that Vietnam's climate investment opportunities will reach up to 757 billion USD by 2030, focusing on renewable energy, green construction, energy efficiency and transportation, said IFC's Regional Director for the Asia-Pacific Financial Institutions Group Allen Forlemu.
During a seminar co-hosted by the IFC and the State Bank of Vietnam (SBV) in Hanoi on September 21, Forlemu said changing the way banks operate and transitioning towards sustainability is absolutely essential, cited VNA.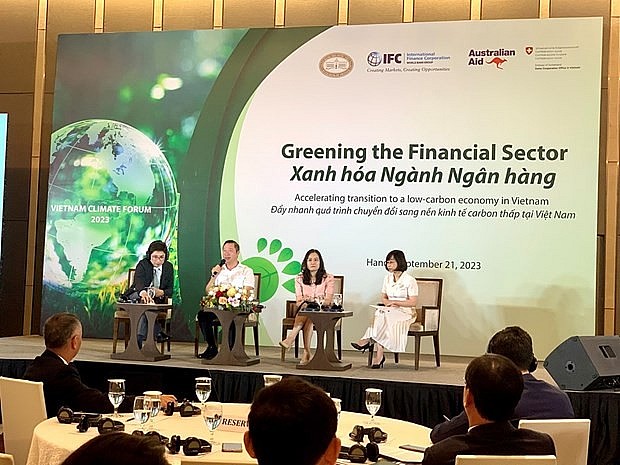 At the seminar co-hosted by the IFC and the State Bank of Vietnam (Photo: VNA)
According to him, climate change response is the cornerstone of the World Bank Group's strategic approach. IFC works with financial institutions, banks, businesses, and other development partners to provide financing for critical investment needs in climate change adaptation and mitigation. These essential funding efforts aim to promote a more sustainable global economy in the face of the impacts of climate change.
Delegates at the event shared global experience in supporting the transition to green banking, with a particular focus on the importance and opportunities for Vietnam.
SBV Deputy Governor Pham Thanh Ha said the Vietnamese Government has issued various policies, strategies, and plans, including the Vietnam Green Growth Strategy (VGGS), related action plans, the National Determined Contributions (NDCs) and Vietnam's Sustainable Development Goals (VSDGs), which are paving the way for sustainable green growth in Vietnam.
To achieve the new climate goals, he said Vietnam needs to focus on expanding green infrastructure, especially in areas such as green energy, green transportation, energy efficiency, and green construction. It should also shift from heavy and "brown" industries to a low-carbon and sustainable emissions pathway. However, this transition poses a challenge due to the current shortage of long-term funding sources.
According to him, the Vietnamese Government is in the process of introducing a green finance classification system to promote and guide the expansion of sustainable investments.