Vietnam-US Relations: From War Legacy to Highways
Ambassador Ha Huy Thong shared the story of John Vessey, a special figure in Vietnam-US relations, about the development aspect in Vietnam.
John Vessey made an important contribution to the issue of MIA (missing in action) in Vietnam, contributing to promoting Vietnam-US relations. Photo: US President Ronald Reagan's special envoy for MIA in Vietnam, John Vessey (left) and Foreign Minister Nguyen Manh Cam on January 30, 1992. Photo: Documentary
Special character
On August 28, 1945, President Ho Chi Minh established the Ministry of Foreign Affairs, then concurrently served as the first Foreign Minister of the Democratic Republic of Vietnam. On the same day, he also signed the decision to establish the Ministry of Transport and Public Works (now the Ministry of Transport). What is the story related to these two Ministries?
Despite having different functions and tasks, both ministries have performed the tasks assigned by the Government, whether in wartime or peacetime for the past 78 years.
On this occasion, I would like to share a story about the sharing of US General John Vessey Jr., chairman of the US Joint Chiefs of Staff from 1982-1985, who was later appointed by the President as a special envoy to find missing American soldiers missing in action (MIA), a war legacy.
In 1987, President Ronald Reagan sent him to Vietnam for the first time to exchange cooperation on MIA issues during the consideration of lifting the embargo on Vietnam. At that time, after the war, Doi moi (renewal process), internal disintegration within the Soviet Union, and the end of the Cold War (1989-1991), Vietnam was still under embargo, its infrastructure and transportation system are rudimentary, facing many difficulties.
After the first round of negotiations to normalize relations in New York, on November 21, 1991, Vietnam and the United States promoted cooperation in humanitarian issues, The US also gradually eased its embargo policy against Vietnam.
After 2 months, on July 1, 1993, the US stopped preventing Vietnam from solving the old debt problem of the government of the Republic of Vietnam, paving the way for us to access concessional loans (low interest rates, long term) of international financial institutions (such as World Bank, International Monetary Fund).
John Vessey's visits from 1987 to 1993 not only contributed to promoting the resolution of the MIA issue but also the humanitarian issues of the two sides.
Since then, on February 3, 1994, President Bill Clinton announced the lifting of the embargo and established relations at the liaison agency level, then upgraded to the embassy level with Vietnam (July 12, 1995).
Later, especially when the World Bank (whose Chairman was nominated by the US President) gave Vietnam preferential loans to upgrade infrastructure, roads, I understand better why, on the sidelines of official meetings with our leaders, John Vessey showed great interest, and asked many questions about Vietnam's transportation system.
How did John Vessey pay attention to the transportation system in Vietnam at that time?
In the early 1990s, our transportation system was still rudimentary, with only 1-2 lanes in each direction, narrow width, and few street lights. There are many different opinions on installing lights at intersections, imposing high taxes on imported cars, and restricting buying and driving cars.
At that time, John Vessey asked many questions about traffic, as well as some related issues such as noise because of honking, old cars emitting a lot of toxic gases and pollution, encroaching on space, natural rivers and lakes and sidewalks, traffic accidents, and the architecture of newly built houses.
He praised the French architecture in many old houses, showing the world's leading French architectural style, in harmony with buildings and the surrounding landscape, parks, rivers and lakes, taking advantage of natural light and air.
John Vessey said that opening the highway will create conditions for urban residents to travel to rural, remote and rural areas.
It will also create conditions for people from remote areas to move to the inner city more, making the urban population grow rapidly, posing many challenges for the city.
He recommended creating inner-city spaces such as streets, squares, wide sidewalks, and preserving parks, rivers, lakes, gardens, and natural flowers, making the environment cleaner and more "livable" for residents and tourists.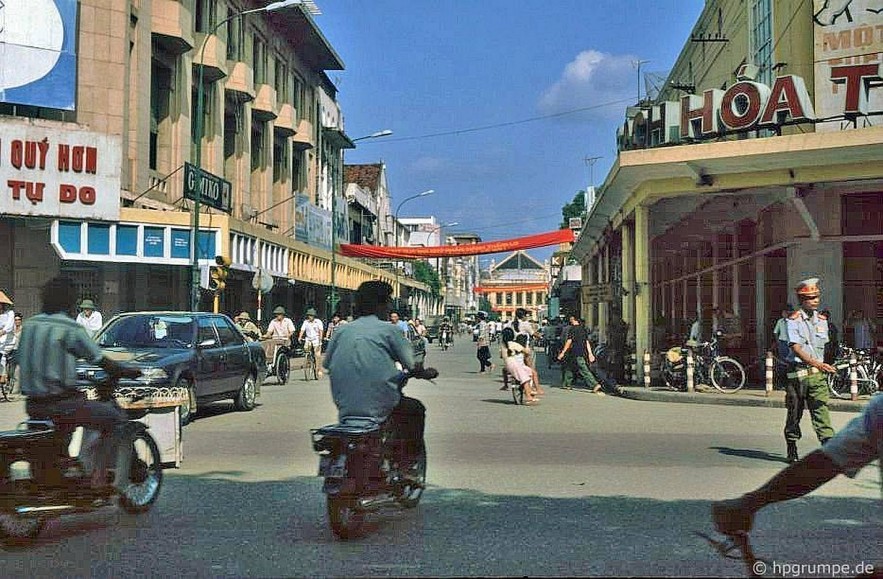 The intersection of Trang Tien-Dinh Tien Hoang streets in Hanoi in 1991. Photo: Hans-Peter Grumpe
When listening to the introduction of expanding roads and sidewalks in the inner city, he said that sidewalks must be identified as public land and space, and no one can "privatize" them, and make them their own.
The use of sidewalks must be licensed by the city, subject to costs or taxes, and limited in space and time such as during fairs, parades, welcoming international delegations, and must be transparent to the public.
Vessey believed that for more effective governance and to limit conflicts of interest or traffic, cities need to be planned into three main areas (office, commercial and housing).
He said that it is necessary to limit the mixing of zones, because different functions will create different criteria and requirements, which can easily lead to conflicts that are difficult to reconcile.
For the benefit of the community, the government can exempt/reduce taxes to encourage the conversion of densely populated apartment complexes, poor areas, and slums into more civilized areas. They can clear, open roads and streets, reduce alleys, corners and alleys with high population density, often polluted, with many social evils to build public works (museums, parks, squares).
Efforts for sustainable development
What have been Vietnam's efforts in infrastructure development over the past 30 years?
Since 2011, we advocated infrastructure development as one of the three "strategic breakthroughs" (along with institutional building and human resource development).
After reviewing the implementation of the Millennium Development Goals (MDG 2000-2015), on September 25, 2015, 193 UN member states adopted the Sustainable Development Goals (SDGs, 2015-2030) Program.
Goal 9 of 17 Sustainable Development Goals by 2030 aims to develop quality, reliable and sustainable infrastructure, including regional, cross-border roads, with a focus on accident reduction and number of people dying from traffic accidents.
Goal 11 requires that by 2030, the number of cities and settlements that can apply integrated policies to cope with climate change, effectively use resources, and response to natural disasters to be increased.
It also states that by 2030, everyone, especially the elderly, people with disabilities, women and children need access to public, safe and "green" spaces.
In that context, I believe that the implementation of the Sustainable Development Strategy to 2030 and then 2045, reasonably integrated with the UN SDG 2030 Agenda, and Vietnam striving to be a responsible member in the international community as a foreign policy will promote sustainable socio-economic development and enhance the country's international position.
Ha Huy Thong was born and raised in Hanoi, and has held positions in the field of foreign affairs such as Vietnamese Ambassador to the Netherlands (2006-2010),

Vice Chairman of the Foreign Affairs Committee of the National Assembly (2011-2016).

In 2011, he was awarded the title of Ambassador by the President. He is currently a member of several associations for peace, friendship, cooperation and development.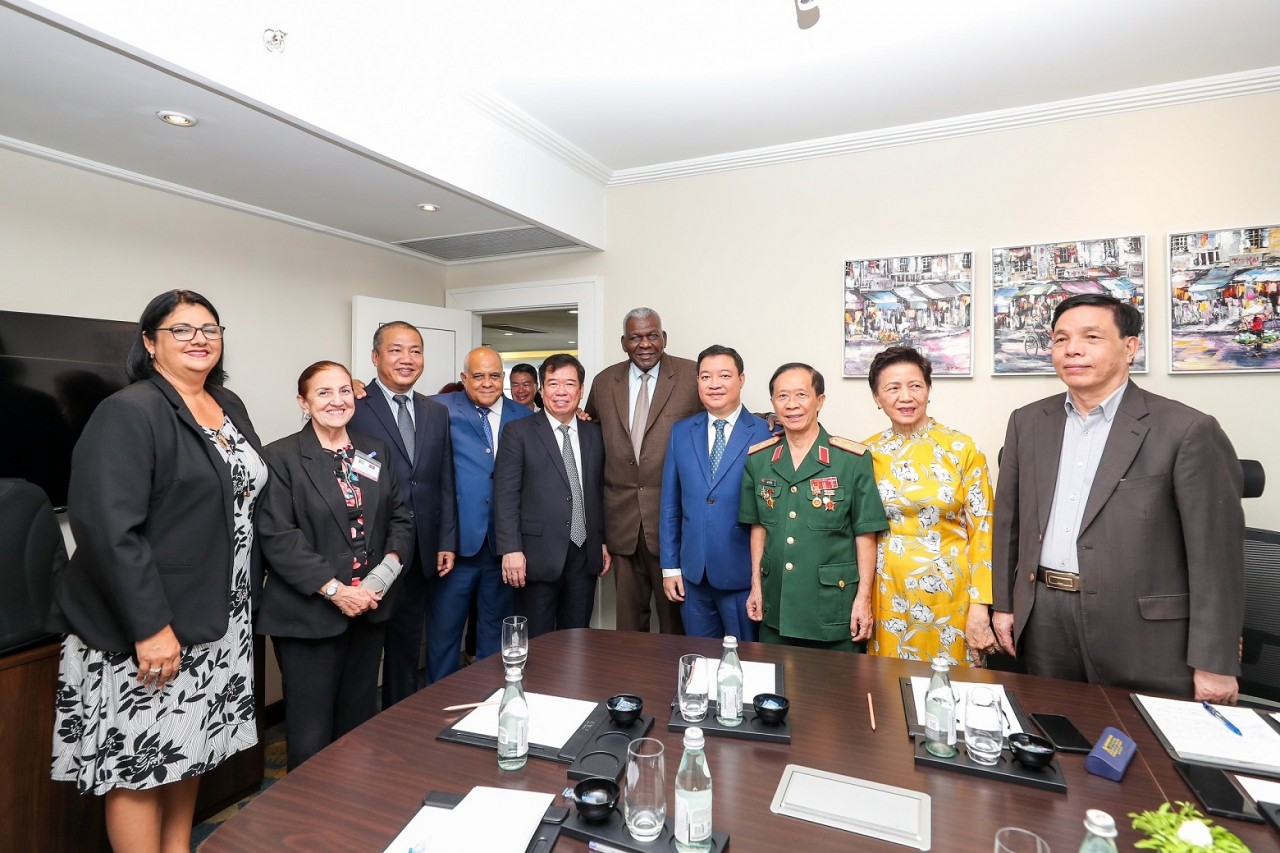 Friendship
President of the National Assembly of People's Power of Cuba Esteban Lazo Hernandez emphasized that Vietnam - Cuba is always united and faithful because they are one family.
September 27, 2023 | 15:11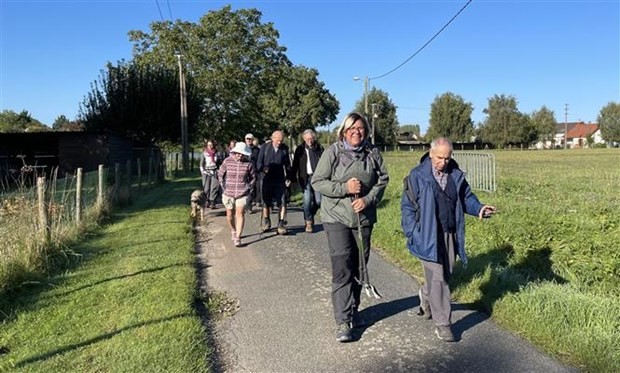 Friendship
The Children's Walk For Hope is a virtual event that will be held globally recently.
September 27, 2023 | 14:54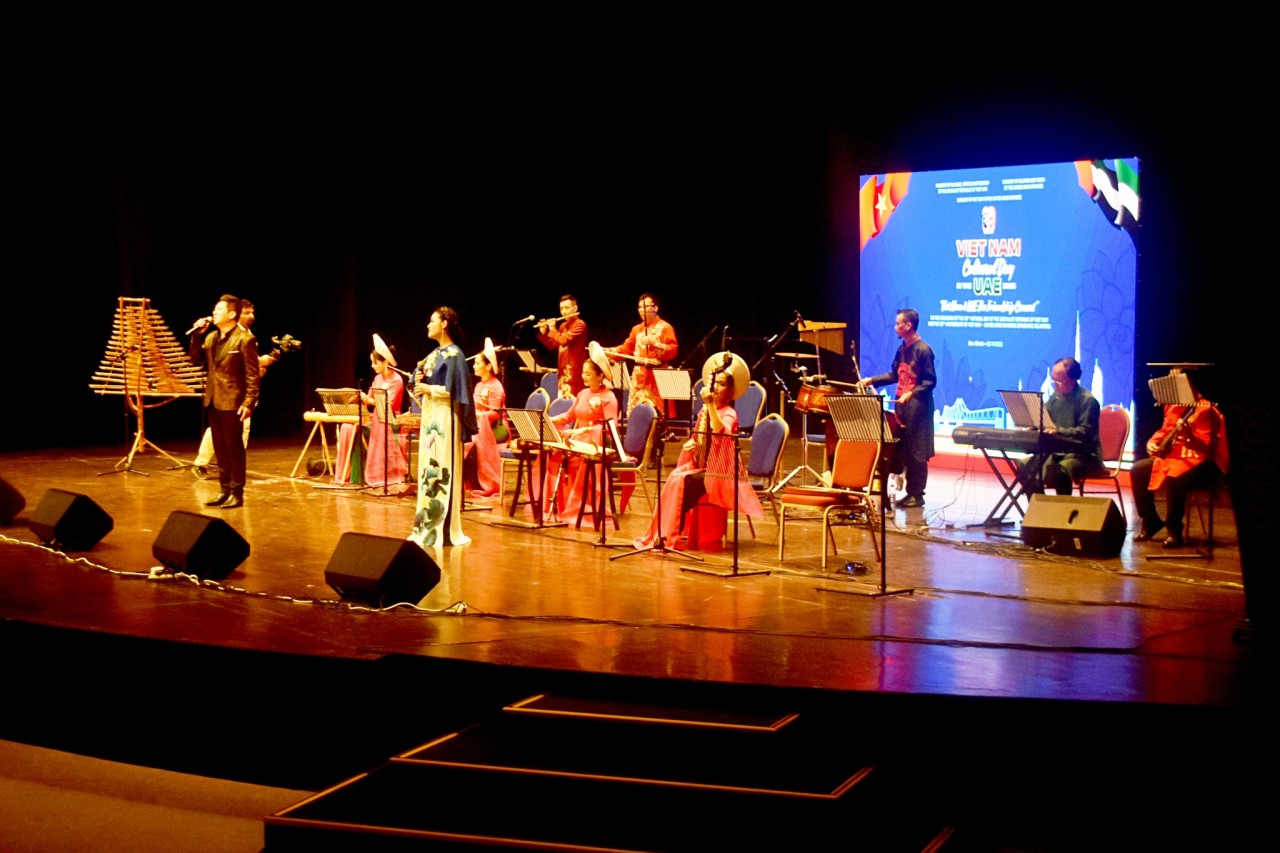 Friendship
A special art performance was held in the capital Abu Dhabi, gathering leading artists from Vietnam and the United Arab Emirates (UAE).
September 27, 2023 | 14:01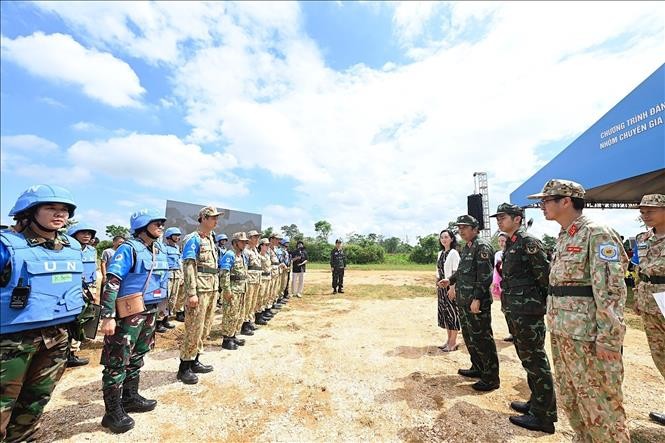 Friendship
Japan and representatives of State members of ASEAN Defence Ministers' Meeting Plus (ADMM-Plus) valued the preparations of Vietnam in hosting the Competency Evaluation Program for Prospective UN Peacekeepers (CEPPP) as well as outcomes of the program.
September 27, 2023 | 07:53