Vietnam News Today (Sep. 26): Vietnam Records Lowest Number of Covid-19 Cases in Two Months
Vietnam News Today (Sep. 26): Vietnam records lowest number of Covid-19 cases in two months; Mass evacuation expected ahead of super typhoon Noru landfall; Vietnam seeks stronger education partnership with US; AI integration the inevitable path ahead.
Vietnam News Today (Sep. 26) notable headlines
Vietnam records lowest number of Covid-19 cases in two months
Mass evacuation expected ahead of super typhoon Noru landfall
Vietnam seeks stronger education partnership with US
AI integration the inevitable path ahead
Roadmap to develop green ports in Vietnam
President arrives in Tokyo for late Japanese PM's funeral
Huge potential for luxury real estate in Vietnam
Cambodia Culture Week in Vietnam to open next week
Vietnam-Switzerland trade surpasses US$1.3 billion in seven months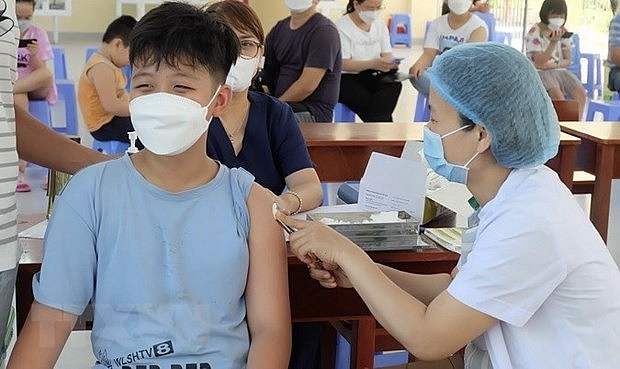 Illustrative image. Source: VNA
Vietnam records lowest number of Covid-19 cases in two months
Vietnam recorded 961 new Covid-19 cases on September 25, the lowest number in the past two months, according to the Ministry of Health.
The new infections brought the country's total number of Covid-19 cases since the pandemic broke out to 11,472,301, cited VNA.
Meanwhile, 665 patients recovered from the disease on the same day, lifting the total number of recoveries to 10,586,861.
The death toll was still kept at 43,146, accounting for 0.4% of the total infections, as no fatality was reported on September 25.
Over 259.89 million doses of Covid-19 vaccines have been administered in Vietnam so far.
Mass evacuation expected ahead of super typhoon Noru landfall
Central localities of Vietnam have formulated plans to evacuate nearly 900,000 residents from low-lying and mountainous areas to cope with super typhoon Noru which is expected to make landfall in a couple of days.
Noru which packed winds of approximately 200kph near its eye battered the Philippines on September 25 afternoon and is set to enter the South China Sea on September 26 morning.
The super typhoon is forecast to maintain its great force when it will move in the South China Sea before striking the central coast of Vietnam early on September 28.
Noru is a powerful storm that is moving at a very fast speed with large areas falling under the impact of the storm, stressed Deputy Prime Minister Le Van Thanh who chaired an urgent meeting to cope with the super typhoon on September 25.
Based on the actual situation in each locality, it is necessary to carefully review all essential facilities and come up with timely solutions before the storm makes landfall, he said.
Noru is anticipated to pound the central coastal provinces stretching from Thua Thien – Hue to Quang Ngai on the night of September 27 or early on the morning of September 28, according to the National Centre for Hydro-meteorological Forecasting.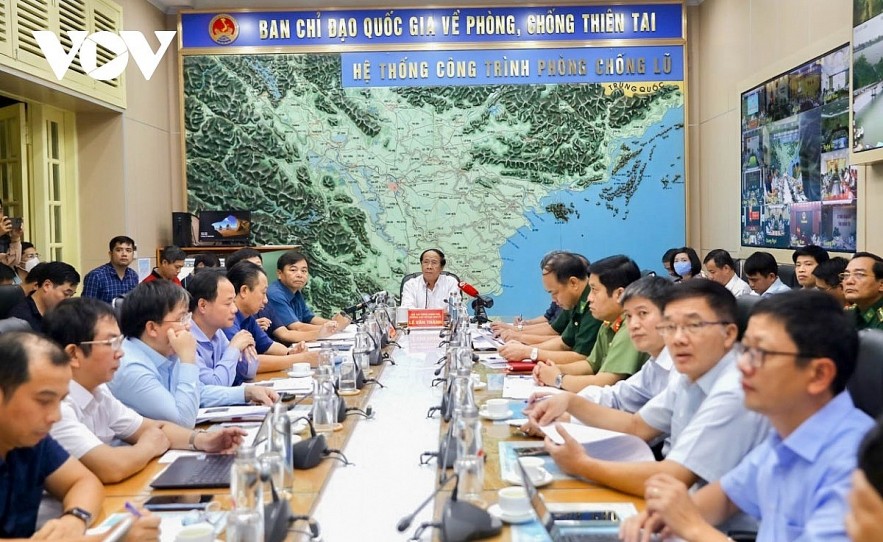 Deputy PM Le Van Thanh chairs an urgent meeting on September 25 to cope with super typhoon Noru. Photo: VOV
It is likely to cause a big spell of heavy rain, followed by flash floods and landslides in low-lying, estuary and mountainous areas, weather experts warned.
Over the past three days, the coastal provinces from Thai Binh to Ha Tinh and several Southcentral localities have collected 100-250mm of rain. Some localities such as Sam Son (Thanh Hoa), Quynh Luu (Nghe An) and Xuan Binh (Phu Yen) have even received more than 300mm of rain.
They have so far instructed nearly 60,000 fishing vessels with approximately 300,000 people on board to find nearby storm shelters or move to the shore, according to VOV.
Authorities of provinces from Quang Binh to Binh Thuan have drawn up evacuation plans for 868,230 residents of 213,914 households. Provinces from Thua Thien Hue to Quang Ngai which are expected to bear the brunt of the super typhoon have developed plans to evacuate a total of 368,878 local residents depending on the development of the storm.
Currently, relevant forces and local people are racing against time to reinforce fishing cages, public works, workshops, warehouses and coastal construction projects before Noru makes landfall.
Vietnam seeks stronger education partnership with US
Minister of Education Nguyen Kim Son on September 25 concluded his US working trip that aimed to strengthen education partnership between the two countries.
Along with attending the Transforming Education Summit, Son had meetings with the US Secretary of Education and representatives from the World Bank, Microsoft and New York University.
He also had a working session with President of the US Educational Testing Service (ETS) Amit Sevak, and held a Vietnam-US education cooperation forum that drew leading US educational organizations. Participants at the event discussed major cooperation issues in education-training between the two sides.
On the sidelines of the forum, the minister had a meeting with leaders of College Board - a global non-profit organization connecting students to universities and career opportunities, reported VNA.
Minister of Education and Training Nguyen Kim Son (R) meets Secretary of Education Miguel Cardona. Photo: VNA
College Board Vice President Rushi Sheth said that the number of Vietnamese students joining the advanced placement programme has increased 219% since 2018, while those taking SAT tests rose 45%, showing the increasing demand for international education programs.
He said that online SAT tests are likely to be made online from March 2023, helping save cost and time for students across the world.
College Board hopes to become a strategic partner of the Vietnamese Ministry of Education and Training in expanding opportunities to approach high quality education for students, he said.
At a meeting with General Director of c Encyclopeadia Britannica (EB) Jorge Cauz, Son expressed his hope that EB will partner with Vietnam through cooperation activities with the national foreign language training project and the Vietnam Academy of Education Science, while helping the country develop general education and creating a firm foundation for the training of high quality human resources in the country.
Son also had a meeting with Andrew B. Raupp, CEO of STEM, one of the oldest education organizations of the US that has provided services for 4,500 schools and organisations in more than 25 countries, including Vietnam.
On September 22, he received Assistant Secretary of State for Educational and Cultural Affairs Lee Satterfield and Acting Assistant Administrator for Asia at USAID Ann Marie Yastishock.
Son and the Vietnamese delegation also visited a number of educational facilities in the US, including Arizona University and Jacson Reed High School.
AI integration the inevitable path ahead
Big Data and AI will be the optimal tools to run factories in the future and digital transition will help firms optimise costs and cut emissions.
Many firms have begun to embrace artificial intelligence (AI) and the technology has enabled them to outperform their competitors, according to insiders.
Pham Quang Vinh, Head of the Enterprise Solutions Division, Viettel Cyberspace Centre, made reference to an Accenture report in June to show that 60 per cent of finance and banking firms were engaging in AI and the technology earned them 50 per cent higher revenues than their rivals.
"AI will become an official means of customer-firm interaction, especially for banks," he said.
The head of the division also said 42 per cent of specialists working at firms are unaware of the risk that their firms would fall behind the curve shoud they fail to embark on AI. In fact, AI-enabled finance and banking firms have seen their revenues rise steadily since 2019.
"AI would double in value in the next three years. It's time for firms to initiate their own data exploration," he added.
He underscored six steps for firms to incorporate AI into their operation, which involve the use of AI applications and the development of AI tests. He also mentioned the two most valuable AI use cases, which are text digitalisation and virtual assistant.
Dang Hoang Vu, Director of the AI for Business Growth Division, MoMo, remarked that AI has helped firms increase click-through rates by 16 per cent and reduce the interval of time between a search to a click by 7 per cent.
AI has also raised the volume of services accessed by users via screen by 15 per cent and advertisement requests by 6 per cent. In the finance and banking sector, firms use AI predominantly for credit scoring, approval processing and customer-need identifying.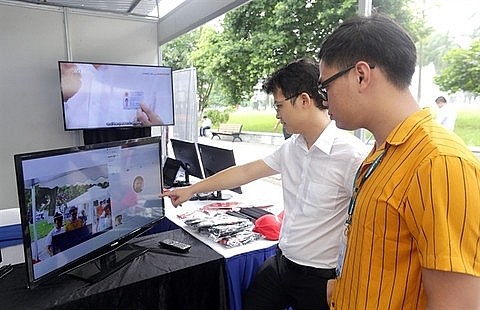 An AI-powered application on display at the Vietnam Artificial Intelligence Day. Photo: VNA
Notably, AI-powered quick loan approval processing takes just three minutes with an approval rate of 60 per cent, about one-sixth of the time needed for the approval of other types of loans and one a a half times higher than their approval rates.
In the first six months of 2022, MoMo's quick loans grew by 260 per cent and postpaid wallets by 42 per cent. Risks associated with the former fell by 15 per cent and the latter by 64 per cent.
Do Manh Cuong, Deputy Secretary General of the Vietnam Automation Association, underscored digital firms and smart factories as a prerequisite for a digital economy.
He said Viet Nam has reached the third stage of automation, which involves the integration of digital technologies into firms' operations, including data-driven operations and AI-based smart automation.
Out of seven levels of automation, most Vietnamese firms stay between the third and the fifth levels. That means those firms are partly automated and AI integration will not be an easy task for them, cited VNN.
He also said Big Data and AI will be the optimal tools to run factories in the future and digital transition will help firms optimise costs and cut emissions.
Vu Hong Chien, Director of the Quy Nhon AI Research and Application Centre, FPT Software, underlined several factors that firms should be mindful of when they incorporate AI into their factories.
The factors include profitability, productivity, the readiness of the factories for AI and the compatibility of the technology to their features.
He also said digital firms and smart factories are inevitable and the latter will rely on data and cloud computing to run its operations.
Nguyen Quan, President of the Vietnam Automation Association, called for a law on national databases to lay the legal grounds for the sector. He also called for favourable policies to help firms access supportive packages more easily.
The Vietnam Artificial Intelligence Day, an annual event to promote the growth of the AI ecosystem in Viet Nam, was kicked off on Friday.
Speaking at the event, Deputy Prime Minister Vu Duc Dam highlighted the need to understand AI, spread and embrace the idea not only in the field of information technology but also in other fields.
He also said Viet Nam has a long way ahead as AI labour forces in the country are still inadequate and insufficient to meet the demand of tech firms.
Roadmap to develop green ports in Vietnam
A roadmap for a green port system in Vietnam is being put forward to reduce the impact on the environment as well as greenhouse gas (GHG) emissions, and promote energy efficiency.
The Vietnam Maritime Administration (VMA) cited statistics from the International Maritime Organisation (IMO) showing that GHG emissions of the maritime shipping industry increased nearly 9.6% between 2012 and 2018 (from 977 million tonnes to 1,076 million tonnes). CO2 emissions alone climbed from 962 million to 1,056 million tonnes.
It is forecast that until 2050, GHG emissions in the ndustry will increase 50% over 2018, cited VOV.
According to information released at the International Transport Forum 2020, emissions from maritime shipping activities cost an additional EUR12 billion a year in the 50 largest ports in the world. Approximately 230 million people have been directly exposed to emissions at 100 seaports around the world in terms of shipping emissions.
Acting Director of the VMA Nguyen Dinh Viet said that on the foundation of the Transport Ministry's approval, the administration has issued a plan to develop green ports in Vietnam.
Photo: VOV
Under the roadmap, a set of criteria for green ports has been set. From 2023, the green port model will be applied at some domestic ports.
In the 2023-2025 period, relevant regulations will be adjusted and supplemented to suit the criteria, Viet said, adding that national technical standards and criteria for "green ports" will be built and issued within 2025-2030.
Tran Thi Tu Anh, deputy head of the Science, Technology and Environment Office under the VMA, said that green ports in Vietnam will be constructed according to six main criteria - green port perception; resources usage; environmental quality management; energy use; information technology application; and emission reduction and response to climate change and rising sea levels.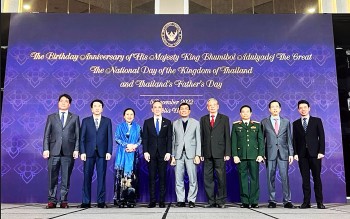 Friendship
The Royal Thai Embassy organises the reception on the occasion of celebration of the Birthday Anniversary of His Majesty King Bhumibol Adulyadej the Great, the National Day of the Kingdom of Thailand and Thailand's Father's Day on 2nd December 2022 in Hanoi.