Vietnam News Today (Sep. 8): Daily Covid-19 Caseload Hits Four-month Rise of Nearly 4,000
Vietnam News Today (Sep. 8): Daily Covid-19 caseload hits four-month rise of nearly 4,000; Vietnam, Netherlands work together in sustainable aquaculture promotion; Vietnamese rice gains foothold in France; More than 100 Korean artists join Vietnam – RoK cultural exchange in Hanoi.
Vietnam News Today (Sep. 8) notable headlines
Daily Covid-19 caseload hits four-month rise of nearly 4,000
Vietnam, Netherlands work together in sustainable aquaculture promotion
Vietnamese rice gains foothold in France
More than 100 Korean artists join Vietnam – RoK cultural exchange in Hanoi
Easing visa policy key to boosting international tourist numbers
Digital economy to make up 25% of HCM City's GRDP by 2025
IMF optimistic about Vietnam's economic growth
Hanoi faces high risk of dengue fever outbreak
Traditional Ao dai on display in Hanoi

The number of Covid-19 cases in Vietnam in the past three weeks. Photo: VOV
Daily Covid-19 caseload hits four-month rise of nearly 4,000
Vietnam has recorded 3,878 coronavirus infections across the country during the past 24 hours, a record high figure in the past four months.
The September 7 figure saw an increase of nearly 300 cases compared to the previous day, the Ministry of Health said in its coronavirus update released at 6pm.
The same day also saw nearly 15,000 more patients recover and two more die of the virus.
Vietnam has so far documented as many as 11,428,632 million Covid-19 cases, ranking 12th out of 227 countries and territories worldwide, cited VOV.
Of the total, 10,252,898 million patients have recovered and 43,125 people have died of the SARS-CoV-2 virus and underlying illnesses.
More than 137,000 shots of Covid-19 vaccines were given nationwide, bringing the total number of vaccine doses administered to nearly 257.7 million.
Currently, localities are speeding up vaccinations to nip in the bud a possible new Covid-19 outbreak due to the emergence of new subvariants of the virus.
Vietnam, Netherlands work together in sustainable aquaculture promotion
The Vietnam-Netherlands Sustainable Aquaculture Business Forum 2022 took place in the Mekong Delta city of Can Tho on September 7, aiming to create a business platform for trade and investment promotion between the two countries and facilitate knowledge exchange and technology transfer to develop a sustainable aquaculture industry in Vietnam.
With its natural advantages, the Mekong Delta has seen the strong development of aquaculture with annual growth of 11% each year.
According to Vu Thanh Liem, Vice Director of the International Cooperation under the Ministry of Agriculture and Rural Development (MARD) pointed to a number of challenges facing the region, including climate change impacts, saltwater intrusion and extreme weather conditions.
He said that the forum is expected to foster cooperation between Vietnam and the Netherlands in seeking sustainable measures to enhance the competitiveness of the Vietnamese aquaculture industry in the global market and protect the natural environment of the Mekong Delta region.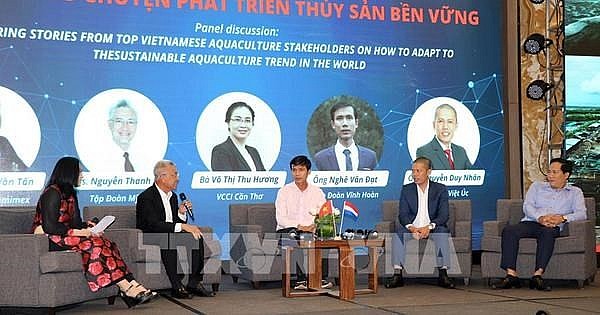 Speakers at the forums. Photo: VNA
The EU is one of Vietnam's five largest seafood export markets, and Vietnam is the second largest seafood supplier to the EU among all Asian countries and regions. In recent years, the Netherlands has become Vietnam's largest seafood export market in the EU, according to the Vietnam Association of Seafood Exporters and Producers (VASEP).
Meanwhile, Dutch Ambassador to Vietnam Daniël Stork held that Vietnam has great potential to become a sustainable seafood supplier of the world amid current food security challenges in the context of rising population.
The Netherlands is willing to cooperate with Vietnam in promoting sustainable aquaculture development through sustainable innovation, research and application of technologies and a comprehensive approach, he said.
The Dutch private agricultural sector is working with Vietnam in addressing challenges related to water quality and efficiency, reducing disease costs in fish farming, minimising antibiotic use, and technological innovation, planting mangrove forest, and making stratification process for agriculture, according to VNA.
Gerardo van Halsema from Wageningen University and Research proposed that Vietnam develop a new water supply system for aquaculture sector to ensure water quality for farming activities.
Participants at the event shared experience, knowledge and technologies for sustainable aquaculture development in Vietnam, while discussing the prospects and challenges for the Mekong Delta region, and seeking collaboration opportunities in the field.
Vietnamese rice gains foothold in France
A Vietnamese rice product has been introduced at Carrefour Collagen, a hypermarket run by French multinational retail and wholesaling corporation Carrefour, as part of a programme run by the Vietnam Trade Office in France.
The September 6 debut marked the first appearance of the product branded 'Com Vietnam' in Carrefour's distribution chain, which covers more than 250 hypermarkets and about 3,000 supermarkets and convenient stores across France.
'Com Vietnam' is produced by Loc Troi Group, a leading provider of agricultural services and products in Vietnam.
Earlier, the product was put on the shelves of E.Leclerc Viry Châtillon, a hypermarket run by top French retailer E.Leclerc, for the first time on September 2, under the Vietnam Trade Office's Vietnamese mid-autumn week event, reported VNA.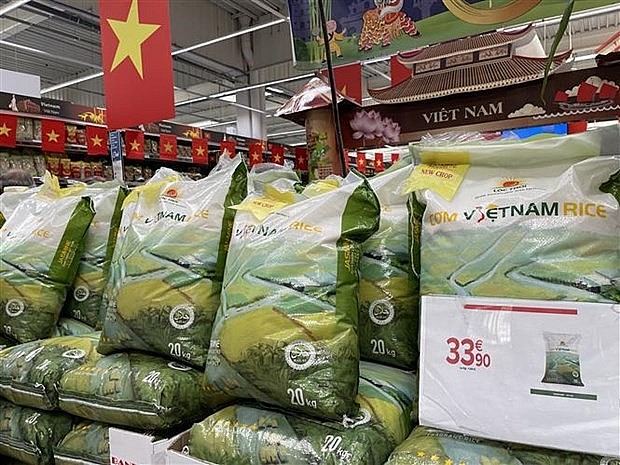 Bags of Com Vietnam rice displayed at at Carrefour Collagen. Photo: VNA
Rice is a key commodity in Vietnam's scheme on facilitating Vietnamese enterprises' participation in foreign distribution networks. It took nearly two years for Vietnamese rice products to be officially available in France. Loc Troi was the first company to export Vietnamese rice to Europe within the framework of the EU-Vietnam Free Trade Agreement (EVFTA).
Talking to the Vietnam News Agency correspondent, Philipp Rosler, an independent member of the group's Board of Directors, said France is Loc Troi's first destination in Europe, adding that Germany, Italy, and the entire region will be next.
Apart from the top quality of products in terms of taste and output, Loc Troi can also guarantee stable production and export, he noted.
T&T Food, an importer for distribution systems in France, formed a partnership with Loc Troi in March last year, resulting in the availability of 'Com Vietnam' at shopping chains by E.Leclerc and Carrefour.
T&T Food plans to import 107 containers of the product next year.
More than 100 Korean artists join Vietnam – RoK cultural exchange in Hanoi
More than 100 famous Korean opera and K-pop artists will participate in the Vietnam – Republic of Korea (RoK) Cultural Exchange Program on Trinh Cong Son pedestrian street in Tay Ho district, Hanoi, from September 16-18.
The event aims to enhance the solidarity and friendship between Vietnam and the RoK, as well as promote the image of the land and culture of Vietnam to Korean friends, on the 30th anniversary of Vietnam – RoK diplomatic ties (December 22, 1992-2022).
Visitors will have the chance to learn more about tourism products, cultural features and cuisine of the two countries, such as pottery spaces, enjoying speciality teas and spaces for light and ceramic sculptures, cited NDO.
Photo: NDO
The opening ceremony for the exchange program will highlight the cultural differences and connections between the two countries to reach out to the world.
Especially, the program will feature activities for young people, including K-pop dances, the experience to wear Hanbok and Vietnamese folk games.
The event will also feature the participation of more than 50 businesses and investors from the RoK and Vietnam.
Easing visa policy key to boosting international tourist numbers
Vietnam is expected to welcome a high influx of foreign visitors from September to April of the following year, a period representing the peak season for foreign tourist attraction, providing that it moves to ease its visa policies.
The Vietnam National Administration of Tourism believes that the domestic tourism market has already recovered from the Covid-19 pandemic thanks to tourism stimulus programs launched by localities nationwide.
Localities welcomed roughly 80 million domestic holidaymakers during the initial eight months of the year, marking an increase of 33.6% compared to the same period from 2019, the pre-pandemic period in which the tourism sector was in its heyday.
However, the number of foreign arrivals has so far yet to meet expectations, though the country reopened its borders in the middle of March. Statistics show 1.44 million foreign arrivals have been reported over the past eight months, representing a decline of 87.3% compared to the same period from 2019 and meeting less than one third of this year's plan.
According to the calculations made by local travel companies, Vietnam attracted 18 million international tourists in 2019, and its revenue was large compared to the revenue generated by 85 million domestic tourists in the same year. Therefore, tour operators fear that they will continue to encounter difficulties over the coming months unless the international tourism market has yet to fully recover.
As part of efforts to attract international visitors, easing visa policies is considered an important tool. While Vietnam is considering expanding visa exemption as a solution to boosting international tourism, neighboring countries have already taken action.
The Thailand Center for Covid-19 Situation Administration recently approved the Tourism Authority of Thailand's proposal which will extend the visa exemption stay to 45 days for visitors from more than 50 countries and territories, as opposed to the previous maximum stay of 30 days. This new policy is set to start from October 1, 2022 and run to March 31, 2023. In addition, visitors with visas issued upon arrival in Thailand will also be able to double their stay to 30 days.
As soon as this new policy takes effect, Thailand hopes to receive approximately 10 million visitors this year, or 3.9 million visitors more than the target set in April.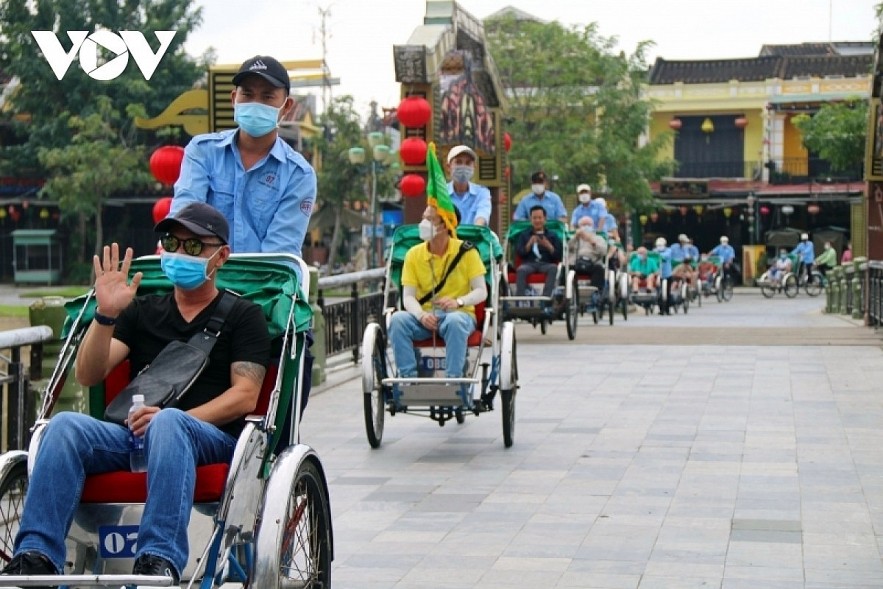 Vietnam has set a target of welcoming 5 million foreign visitors this year, but statistics show it had only attracted 1.44 million as of August 31. It hopes to meet the yarly target as the September - April period is considered the peak season for foreign visitors in Vietnam. Photo: VOV
Elsewhere, the Republic of Korea (RoK) first opened its doors to foreign tourism in June and quickly implemented a visa-waiver program for some markets, including for Vietnamese nationals visiting to Gangwon province and Jeju island. Immediately after the implementation of this policy, many charter flights brought Vietnamese tourists to Jeju and YangYang airport in Gangwon.
In contrast, Vietnam only exempts visas for citizens of 25 countries and territories, with the duration of stay mainly ranging from 15 to 30 days. This visa policy is causing difficulties for travel firms, with many describing the visa procedure as a game of chance, reported VOV.
According Dang Minh Truong, chairman of multi-sectoral Sun Group, Vietnam has yet to take advantage of the visa policy which the World Tourism Organization has previously identified as key to attracting foreign visitors.
The facts clearly show that neighboring countries with more open visa policies enjoy an outstanding advantage in the race to welcome international visitors compared to Vietnam. Typically, 2019 saw Vietnam welcome a record high of 18 million international visitors, while Thailand celebrated achieving the milestone of receiving 40 million international visitors. The policy of extending the stay of tourists also helps Thailand to attract more international travelers who wish to stay longer and spend more.
Tourism expert Nguyen Duc Chi frankly points out the competitive race of luring tourists has begun. Japan has officially opened its doors to tourists, while the RoK and Thailand are also willing to ease visas to quickly increase arrivals. Due to this, Vietnam will ultimately lose out to its rivals unless it takes action, he concludes.