Vietnam News Today (September 19): Vietnam Approves Emergency Use of Cuba's Covid-19 Vaccine
Vietnam News Today (September 19): Vietnam records 9,360 new local Covid cases; Vietnam approves emergency use of Cuba's Covid-19 vaccine; 4,000 foreigners vaccinated in Hanoi; Climate change adaptation featured in HCM City's master plan.
Vietnam News Today (September 19) notable headlines
Vietnam records 9,360 new local Covid cases
Vietnam approves emergency use of Cuba's Covid-19 vaccine
Covid-19: 4,000 foreigners vaccinated in Hanoi
Climate change adaptation featured in HCM City's master plan
Two Vietnam resorts among Travel + Leisure's top 10 in Southeast Asia
Craft villages in Hanoi resume production
Vietnam has substantial potential for offshore wind power: report
Vietnam – a friend, trustworthy partner of international community
Vietnam becomes largest tuna exporter of Israel
Soldiers deliver food to people in Binh Thanh District, HCMC, September 2, 2021. Photo: VnExpress
Vietnam records 9,360 new local Covid cases
Vietnam recorded 9,360 local Covid-19 cases on Saturday, down 2,146 cases from the previous day.
Ho Chi Minh City led with 4,237 new cases, followed by Binh Duong (2,877) and Dong Nai (939).
Saturday's infection tally pushed the infection tally in the ongoing wave since late April to 672,593.
220 deaths were recorded on Saturday, including 165 in HCMC, 39 in its neighbor Binh Duong and seven in the Mekong Delta's Kien Giang.
Other deaths were recorded in Tay Ninh (three), Dong Thap (two) and Binh Thuan, Thanh Hoa, Quang Ngai and Hanoi (one each), cited VnExpress.
The national death rate over the past week has been 250 a day on average. The coronavirus death toll in Vietnam so far is 16,857, or 2.5 percent of all infections, compared to the world's average of 2.1 percent.
Also on Saturday, 14,903 Covid-19 patients were announced recovered, bringing the total tally of recovered cases so far to 448,368.
The country has vaccinated over 33 million people with at least one Covid-19 vaccine shot. Over 6.3 million have been fully vaccinated.
Ho Chi Minh City, epicenter of the fourth coronavirus wave that hit the country since late April, eased some social distancing rules that had been in place for weeks starting from Thursday, including resumption of business and production at industrial parks of Districts 7, Cu Chi and Can Tho, considered with low Covid risk.
Hanoi allowed food and beverage establishments to resume operation but only takeaway services from Thursday while Da Nang has also allowed people in "medium risk" areas to go out and directly buy goods.
Vietnam approves emergency use of Cuba's Covid-19 vaccine
The Ministry of Health on Friday granted emergency approval of Cuba's Abdala Covid-19 vaccine.
The Abdala vaccine, of which the technical name is CIGB-66, is developed by the Center for Genetic Engineering and Biotechnology.
A medic holds a vial of the Abdala Covid-19 vaccine in Venezuela, June 2021. Photo: AFP/Yuri Cortez
The vaccine employs a traditional approach by using a part of the spike protein, which the virus uses to bind to human cells, to build up the immune reaction, according to VnExpress.
Cuba approved emergency use of the Abdala vaccine on July 9 after manufacturers announced in June that the vaccine was more than 92 percent effective when three doses were given.
Abdala has made the eighth Covid-19 vaccine approved for emergency use in Vietnam aside from the U.K.'s AstraZeneca, the U.S.'s Johnson & Johnson, Moderna and Pfizer-BioNTech, Russia's SputnikV, China's Sinopharm and the UAE's Hayat-Vax.
More than 33 million of the nation's 96-million population have been vaccinated, with over 6.18 million getting two doses.
Covid-19: 4,000 foreigners vaccinated in Hanoi
About 4,000 foreigners in Hanoi were vaccinated against the Covid-19 pandemic from September 15-18.
To fulfill the target of administering Covid-19 vaccines to all of foreigners living, studying and working in Hanoi, the capital city has instructed the medical centre of Nam Tu Liem district to prepare for the inoculation.
Accordingly, the centre has coordinated with the 115 Emergency Centre and Hanoi International Friendship Hospital JSC in the preparation work.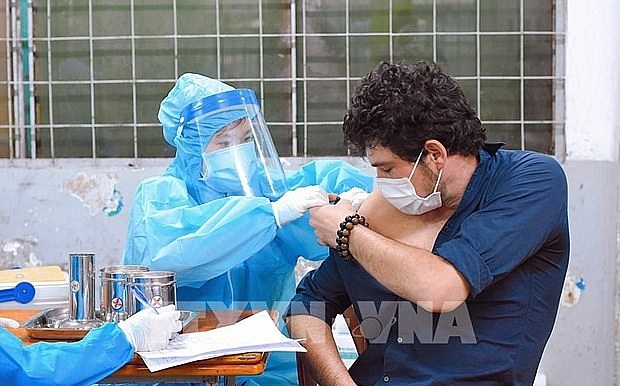 Hanoi aims to vaccinate all of foreigners living, studying and working in the city. Photo: VNA
The vaccination has been carried out at the My Dinh National Stadium in My Dinh 1 ward, Nam Tu Liem district.
As of September 17, nearly 97 percent of people aged 18 years old and above in Hanoi had received at least one shot of Covid-19 vaccines.
The municipal health department reported that the city registered 15 cases of Covid-19 on September 18 morning, including 14 at quarantine establishments and one in the community, VNA reported.
The community infection was found in Viet Hung ward, Long Bien district.
Since the fourth wave of the pandemic broke out in Vietnam late April, Hanoi recorded 3,901 cases, of which 1,597 cases were detected in the community.
Climate change adaptation featured in HCM City's master plan
Ho Chi Minh City's master plan aims for the southern metropolis to develop into the country's largest economic hub for tourism, industrial services, and high-tech agriculture by 2040, with a particular focus on climate change adaptation.
According to a Government decision regarding the master plan, the southern city is expected to have a population of between 13 million and 14 million people by 2040 and 16 million by 2060. In line with this, it plans to allocate between 100,000ha and 110,000ha of land for urbanization by 2040.
The city will remain as the country's economic and technological hub, with a primary focus on innovation as part of the national urban development strategy.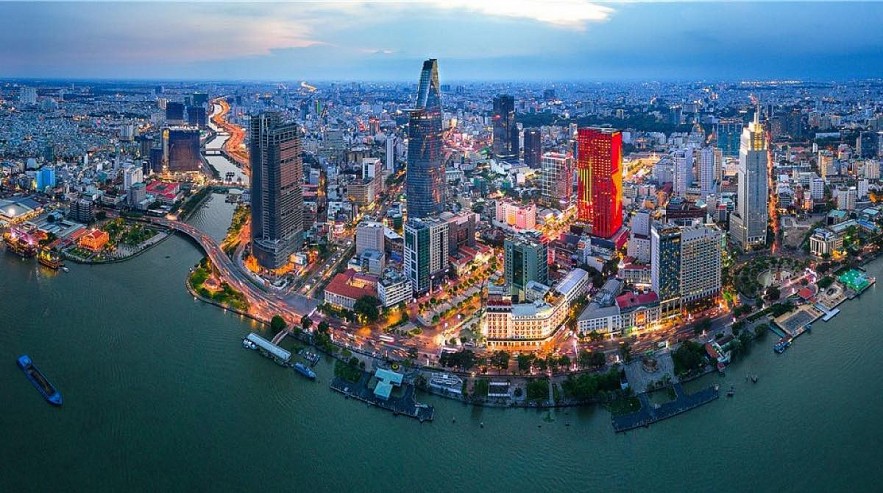 Photo: VOV
The master plan with see Ho Chi Minh City develop a complete infrastructure which links the city with neighboring provinces. As a result, newly established Thu Duc city will be developed into an innovative city model that will aim to support the development of Ho Chi Minh City and the southern region, cited VOV.
Furthermore, the southern city will integrate urban development with transit-oriented development (TOD), including underground-based public transport solutions.
Moreover, the scheme will require the effective use of the city's natural conditions and ecosystems in order to protect the environment and adapt to climate change.
The Government has requested that the city's People's Committee develop a plan to allocate capital and approve the total cost estimate, whilst working alongside the Ministry of Construction and others to make adjustments to the master plan.
Moving forward, Ho Chi Minh City has set a goal of becoming an international trade and financial centre by 2060 in the Asia-Pacific region. The city will strive to create an appealing working environment that boasts a diverse culture, heritage conservation, and a scenic river system.
Two Vietnam resorts among Travel + Leisure's top 10 in Southeast Asia
Readers of U.S. magazine Travel + Leisure have voted Six Senses Con Dao and Four Seasons Resort The Nam Hai into the list of Southeast Asia's top 10 resorts.
With an overall score of 96.21 out of 100, Six Senses Con Dao topped the list in the magazine's World's Best Awards this year, reported VnExpress.
"At this all-villa resort on a little-visited Vietnamese island, that mission involves supporting sea-turtle conservation—an activity in which guests can participate in its perfectly parabolic, shallow, white-sand bay," Travel + Leisure said.
Six Senses Con Dao on Dat Doc Beach is the only five-star beach resort in the Con Dao archipelago off Vietnam's southern coast. Located inside Con Dao National Park, it has 50 beach villas, built mainly with natural materials and each with a private swimming pool.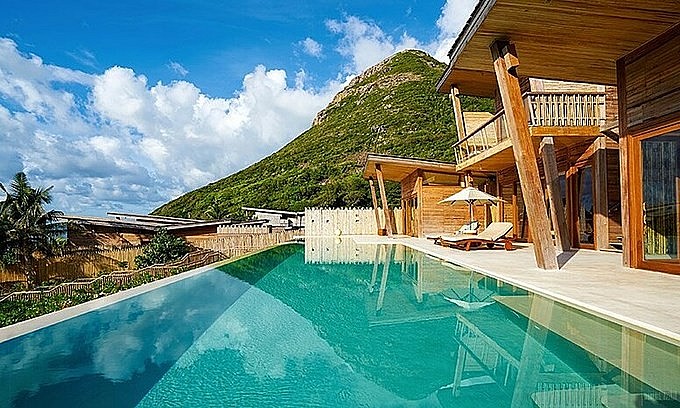 A swimming pool inside Six Senses Con Dao resort in southern Ba Ria-Vung Tau Province. Photo: Six Senses Con Dao
The Four Seasons The Nam Hai Hotel & Resort near Ha My beach in the central town of Hoi An ranked sixth with an overall score of 93.78.
This year's World's Best Awards survey opened for voting in January as destinations around the world were lifting Covid restrictions. Survey rules allowed readers to reflect on their travel experiences over a three-year period and share their opinions on the top cities, islands, hotels and resorts, cruise ships, spas, airlines, and other topics.The complex of 100 villas has a combination of traditional and modern architecture.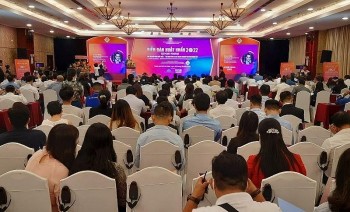 Focus
Vietnam News Today (Dec. 9): Vietnam - Singapore innovation centre helps firms transform production; HCM City among most searched destinations by travelers; Vietnamese digital technology industry's revenue estimated at 148 billion USD in 2022; Two Vietnamese films up for consideration at Oscars.