Vietnam News Today (September 23): Vietnam Supports UN's Role in Global Governance
Vietnam News Today (September 23): Vietnam confirms 11,525 new Covid-19 cases; Vietnam supports UN's role in global governance; Manufacturers yearn to restore production in HCM City; Phu Quoc not ready for foreign tourists next month.
Vietnam News Today (September 23) notable headlines
Vietnam confirms 11,525 new Covid-19 cases
Vietnam supports UN's role in global governance
Manufacturers yearn to restore production in HCM City
Phu Quoc not ready for foreign tourists next month
Economist suggests three focuses to revive Vietnam's economy
Cultural ministry acts to cushion Covid-19 impact
HCM City speeds up Covid-19 vaccination for pregnant women
Vietnam exports over 305.6 mln medical masks in eight months
Vietnam to purchase 20 million doses of Sinopharm Covid-19 vaccine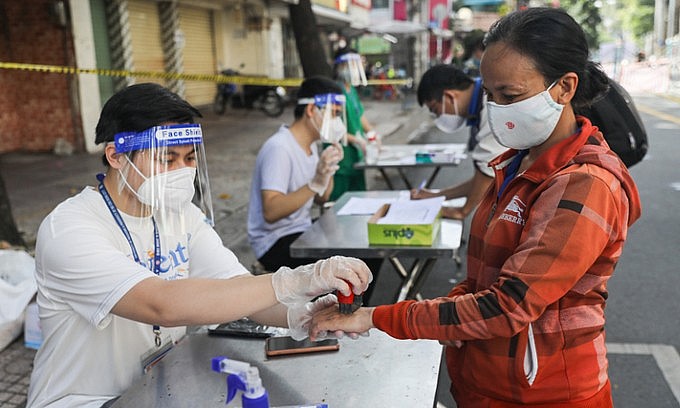 A medical staff stamps ink on the hand of a woman at a shopping location in District 5, Ho Chi Minh City, September 22, 2021. Photo: VnExpress
Vietnam confirms 11,525 new Covid-19 cases
Health authorities confirmed 11,525 new Covid-19 cases Wednesday, down 162 from Tuesday.
HCMC recorded 5,435 cases, down 1,086 cases, Binh Duong recorded 4,179 cases, up 470, and Dong Nai recorded 930 cases, up 340.
11,919 patients were discharged Wednesday.The number of severe patients was 4,991. This is the first time this figure hit below 5,000 in the last 30 days, cited VnExpress.
The daily average number of cases in the last seven days was 10,465. Vietnam has confirmed 714,498 cases in the fourth Covid-19 wave starting late April.
Also on Wednesday 236 deaths were confirmed, mostly in HCMC. Vietnam has recorded 17,781 Covid-19 deaths since the beginning of the pandemic.
The country has vaccinated nearly 35.7 million people, among them 6.9 million with two doses.
Vietnam supports UN's role in global governance
Vietnam values and supports the United Nations' central role in the global governance system to respond to present-day common challenges, says President Nguyen Xuan Phuc.
President Phuc was speaking while meeting with UN Secretary General Antonio Guterres and UN General Assembly (UNGA) President Abdulla Shahi on the sidelines of the ongoing 76th UNGA in New York on September 21.
He stated that Vietnam is currently making every effort in order to contain the complicated Covid-19 outbreak, with top priority given to the health of local people.
He thanked the COVAX Facility and other UN organizations for providing the country with vaccines, medical supplies, and policy advice regarding pandemic prevention and post-pandemic recovery. He suggested that the UN provide additional assistance to help the country complete its ongoing extensive vaccination campaign.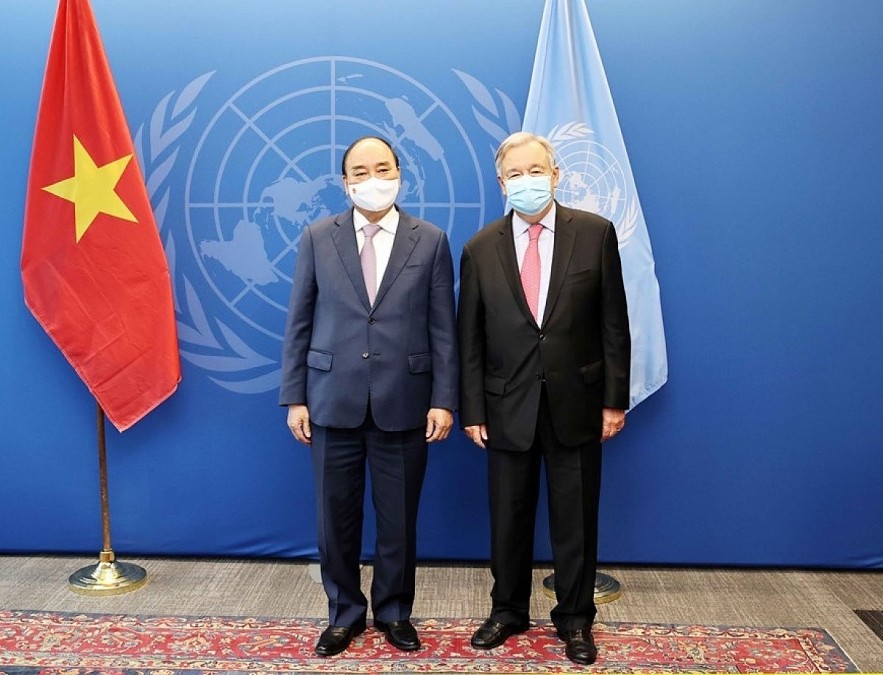 State President Nguyen Xuan Phuc (L) meets with UN Secretary General Antonio Guterres on the sidelines of the 76th UNGA in New York on September 21. Photo: VNA
Through adopting an open foreign policy, Vietnam has been and will be able to make effective contributions to the common work of the, President Phuc stressed.
The country, he said, is currently taking on the role of a non-permanent member of the UN Security Council for 2020 - 2021 and is participating in UN peacekeeping missions, and implementing Sustainable Development Goals, according to VOV.
It is also in implementing the Paris Agreement on Climate Change, engaging in elections to UN organizations, and contributing to reform efforts aimed at improving the overall operational efficiency of the UN.
Upon exchanging views regarding regional and international issues of mutual concern, both sides emphasized the necessity to continue strengthening multilateralism, with the UN playing a central role, and to accelerate the implementation of the 2030 Agenda for Sustainable Development and the Paris Agreement on Climate Change.
Both UN Secretary General Guterres and UN General Assembly President Shahi spoke highly of Vietnam's socio-economic development achievements, along with its increasing role and position both regionally and internationally.
Sharing difficulties faced by the country in combating Covid-19, UN Secretary-General Guterres assured President Phuc that the UN would support the country in coping with the impact of the pandemic, whilst simultaneously accompanying it in post-pandemic socio-economic recovery and development.
Manufacturers yearn to restore production in HCM City
As the fourth wave of Covid-19 infections has been slowly declining and Ho Chi Minh City has been gradually reopening the economy, workers are being called back to factories in the hope of restoring production to normal level.
Half of employees of Vinh Tien Paper JSC, or about 100, have returned to work since the beginning of this week. The company had been keeping its production running by letting just a dozen of workers eat, work and live on-site since early July.
As demand for notebooks and other school supplies has been on the rise at the start of the new academic year, Vinh Tien was allowed to bring back one third of its workforce through the "one route, two destinations" scheme. And now, with all of its workers have been fully vaccinated against Covid-19 with two jabs, more are back to work.
To get itself prepared for the "new normal," Vinh Tien continues giving away rapid test kits to its employees, arrange a specified area for quarantine if any of them is detected with the virus, and disinfect its facility once per week.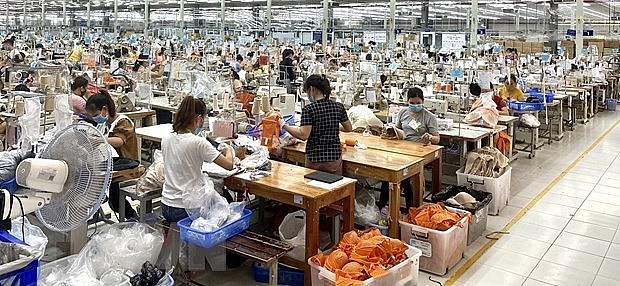 Photo: VNA
If HCM City's reopening plan is on track, Vinh Tien expects to fully resume production from October onward, said Chairman and General Director Lam An Dau.
"I think the city should boldly allow businesses, especially those with a high rate of fully-vaccinated workers, to resume production without the introduction of extra virus control rules," he said, adding that it will enable the company to provide jobs for the workers and help them earn a living, reported VNA.
With the "three-on-site" scheme adopted, Dony Garment Company has been able to maintain production with around 20 percent of its headcount which increased to 30 percent in early September. However, the company still suffered big losses from rising costs and had to reject orders over the fear of not being able to fulfill them on time.
Dony's productivity under the "three-on-site" scheme in six months is just equal to that under normal conditions for a month, said General Director Pham Quang Anh.
He suggested the city to abandon the scheme and let firms make commitments to keeping the virus out of their factories. If restrictions last longer, they will greatly affect production, he explained.
Businesses are looking forwards to HCM City's reopening so they can keep orders and generate earnings to provide income for workers, said Chu Tien Dung, Chairman of the municipal Business Association.
He urged the Ministry of Health to revise a set of indicators for verifying a Covid-19-free zone, given that Prime Minister Pham Minh Chinh has allowed the economy to reopen with Covid-19 rules in place.
Current strict social distancing measures should not go on any longer, he said.
Phu Quoc not ready for foreign tourists next month
Phu Quoc will not be ready to welcome fully vaccinated foreign tourists next month as planned because the local vaccination rate has been low, a top official says.
Lam Van Thanh, Chairman of Kien Giang Province, where Phu Quoc is located, said that by the end of October, the island would not have ensured necessary conditions to carry out its planned tourism reopening plan.
He said only 35.2 percent of people aged 18 and above have got a first shot and just 6.13 percent of residents have been fully vaccinated.
A beach resort on Phu Quoc Island, Kien Giang Province. Photo: VnExpress
The island needs another 250,000-300,000 doses to achieve herd immunity, but recent allocation has also been low, while the stipulated time between two doses of a Covid vaccine is 4 to 8 weeks, depending.
Even if the amount of needed vaccine doses was allocated right now, it would take around two months for Phu Quoc to achieve vaccination coverage for 90 percent of its population, Thanh said.
He emphasized: "The province will reopen international tourism when pandemic prevention measures are ensured at highest level. It will not sacrifice the health and lives of people for economic growth."
Therefore, while local authorities are racing against time to implement the international tourism reopening plan, the exact time it can happen cannot be predicted now, he added, VnExpress reported.
Bui Quoc Thai, director of Kien Giang's tourism department, said there would be a rehearsal in October to review procedures on welcoming foreign tourists at the Phu Quoc Airport and escorting them to designated hotels.
With its low vaccination rate, Phu Quoc is grappling with a new Covid cluster in An Thoi Ward that had infected at least 27 people as of Wednesday.
Nguyen Luu Trung, deputy chairman of Kien Giang Province, told at a press meet on Tuesday that authorities have identified the source of transmission and the new cluster would not affect the pilot tourism reopening plan.
Economist suggests three focuses to revive Vietnam's economy
Vietnam needs to shift from "Zero-Covid" strategy to vaccinations as the pandemic and the risk of new outbreaks are still lingering on, according to Dr. Nguyen Duc Kien, head of the Prime Minister's Economic Advisory Council.
The country should step up Covid-19 vaccine rollouts, and minimize the number of infection and fatality rate, Kien said.
The global economy is on the mend with recovering demand in foreign markets, he said. Vietnam, however, has seen its production capacity and business resilience weakening immensely following prolonged restrictions induced by Covid-19.
Lessons from vaccine powerhouses show that Vietnam must accelerate the approval of home-grown vaccines and soon put them into use, he noted.
The government should procure home-grown vaccine doses for mass vaccination under a proper mechanism to encourage domestic manufacturing, he urged.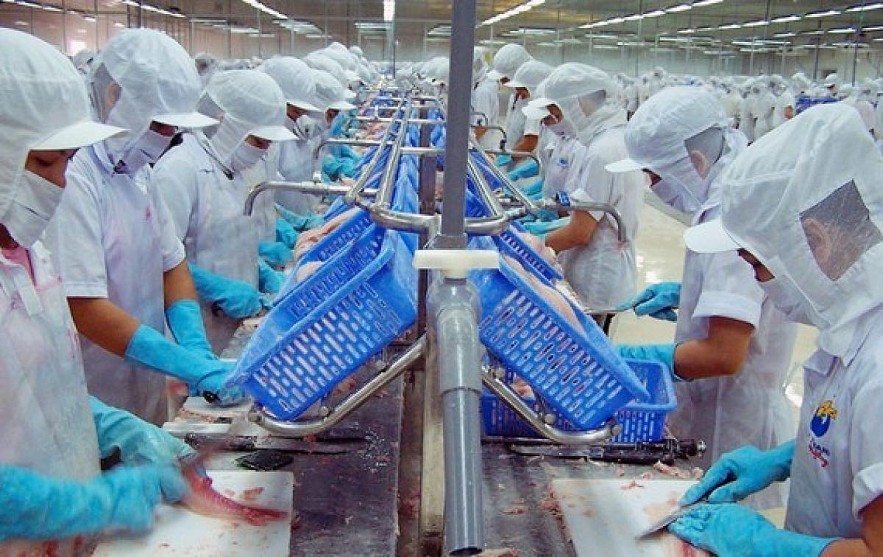 Photo: VOV
He further said as impacts of the pandemic greatly vary among economic sectors, support packages should be delivered to enterprises based on how much they are affected by the pandemic, instead of the same amount of aid provided for all.
The economist recommended three focuses for Vietnam to revive and develop the economy as followed – prioritizing Covid-19 fight and expanding immunization coverage to protect public health and the economy; accumulating resources for economic recovery and offering aid to labour-intensive companies; and reviving the economy in tandem with fostering economic restructuring towards digital and green transformation, cited VOV.
The move is necessary as Hanoi, Ho Chi Minh City and other southern cities and provinces have imposed social distancing under the PM's Directives 16 and 16 Plus to stamp out the spread of the virus for months, according to the economist.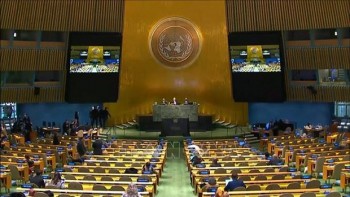 National
Vietnamese Ambassador Dang Hoang Giang underlined the historic significance of the 1982 United Nations Convention on the Law of the Sea (UNCLOS) to all humankind, while representing more than 40 member states of the UNCLOS Group of Friends at a meeting in New York on December 8.