Vietnam News Today (September 21): Hanoi Removes Zoning, Travel Permits from September 21
Vietnam News Today (September 21): Vietnam records lowest number of daily Covid-19 infections in a month; Hanoi removes zoning, travel permits from September 21; HCMC supermarkets welcome customers in low risk areas; Localities resume tourism services after Covid-19 hiatus.
Vietnam News Today (September 21) notable headlines
Vietnam records lowest number of daily Covid-19 infections in a month
Hanoi removes zoning, travel permits from September 21
HCMC supermarkets welcome customers in low risk areas
Localities resume tourism services after Covid-19 hiatus
Hanoi promotes creative space initiatives
Hanoi's medical facilities required to raise Covid-19 alert to highest level
Vietnam to purchase 10 million doses of Cuban Covid-19 vaccine
HCM City to assist 7.3 million Covid-19 affected disadvantaged people
Vietnam limits social distancing, boosts testing in at-risk areas
A man has sample taken for Covid-19 testing in Viet Hung ward in Hanoi's Long Bien district. Photo: VNA
Vietnam records lowest number of daily Covid-19 infections in a month
Vietnam recorded 8,681 new Covid-19 infections, including 13 imported cases, from 5:00 p.m. September 19 to 5:00 p.m. on September 20, the Ministry of Health announced.
The number of domestic cases was 8,668, down 1,357 infections as compared to the previous day. It also marked the lowest number of daily infections over the past month, reported VNA.
Ho Chi Minh City, which is the country's current largest pandemic hotspot, reported the highest number of infections with 5,171 cases. It was followed by neighboring Binh Duong province (1,410), Dong Nai (869) and Long An (268).
The remainders were detected in Tien Giang (211), Kien Giang (175), Dak Lak (113), An Giang (100), Can Tho (48), Quang Binh (35), Tay Ninh (32), Binh Thuan (28), Dak Nong (27), Binh Dinh (23), Khanh Hoa (19), Dong Thap (19), Quang Ngai (16), Phu Yen (15), Hau Giang (10), Ca Mau (10), Hanoi (9), Ninh Thuan (9), Bac Lieu (8), Ba Ria - Vung Tau (7), Binh Phuoc (5), Thua Thien Hue (5), Soc Trang (5), Vinh Long (4), Ha Nam (3), Da Nang (3), Quang Nam (3), Thanh Hoa (2), Tra Vinh (1), Lam Dong (1), Ben Tre (1), Quang Tri (1), Gia Lai (1) and Bac Ninh (1).
The country has to date logged 695,744 Covid-19 cases, ranking 47th out of 222 countries and territories worldwide in terms of infections per one million people.
A total of 6,821 patients were given the all-clear from coronavirus SARS-CoV-2 on September 20, raising the total number of recoveries to 464,326.
The death toll rose to 17,305 after an additional 215 deaths were announced on the same day.
On September 19, as many as 432,575 doses of vaccines were administered. A total of 34,553,590 doses of vaccines have been given to people so far, including 27,913,529 first shots and 6,640,061 second jabs.
Hanoi removes zoning, travel permits from September 21
Hanoi will ease restriction measures starting 6 a.m. on September 21, with current zoning and travel permit mechanisms removed.
The information was given at a conference held on September 20 to inform the press about the city's Covid-19 prevention and control.
Vice Chairman of the municipal People's Committee Chu Xuan Dung said the top priority now is ensuring people's health and the capital's safety.
At the conference. Photo: VNA
Hanoi will intensify IT application in monitoring people's traveling, he added.
Dung informed that there will be no additional administrative procedures for individuals, organizations and businesses in the city, while guidance will be given to them regarding production and business resumption, according to VNA.
Hanoi will establish inter-sector inspection delegations for Covid-19 prevention and control; sustain lockdown on a scale as small as possible and tighten management; and use IT application to accelerate contact tracing when any Covid-19 case is found, he said.
Flexible lockdown and activity adjustments are also earmarked, Dung added, calling for serious implementation of pandemic prevention regulations and criteria in the time to come.
As of September 18, 6,432,921 doses of Covid-19 vaccines were injected in the city. The number of first doses administered amounted to 5,671,487, accounting for 94.2 percent of the local people aged from 18 years old and 68.33 percent of the capital's population. The figures for the second doses were 786,095, representing 12 percent and 9.2 percent, respectively.
HCMC supermarkets welcome customers in low risk areas
Residents in areas deemed safe and at low-risk of spreading the novel coronavirus in Ho Chi Minh City have started visiting supermarkets after being given coupons to shop for groceries.
Since September 15, 150 businesses and business households in District 7, HCMC, have been allowed to reopen their premises. These include more than 100 supermarkets in safe and low-risk areas. In safe areas such as District 7, Cu Chi and Can Gio districts, people can go to the market once a week, cited VnExpress.
Customers visit a Co.opmart outlet in HCMC's District 7. Photo: VnExpress
In high-risk areas, military personnel, district staff and volunteers do the shopping for residents required to "stay where they are."
Supermarket chains in District 7, including Lottemart, Vinmart, Co.opmart, Co.op Food and Big C have adjusted their timings to open early at 7 a.m or 7.30 a.m.
Nguyen Nguyen Phuong, deputy director of the municipal Department of Industry and Trade, said Sunday that over 18,600 households, or nearly half of the total households in District 7 have been given coupons for groceries shopping.
A representative of Saigon Co.op said that supermarkets in low-risk areas are now offering grocery combos and serving individual customers with coupons from ward authorities, so the number of visitors has been increasing.
HCMC has recorded nearly 342,000 Covid-19 cases in the fourth wave, nearly half of Vietnam's total. To date, it has undergone over 100 days of social distancing at a various levels.
Localities resume tourism services after Covid-19 hiatus
A number of cities and localities nationwide, including Ha Long, Vinh Phuc, and Ho Chi Minh City have begun reopening tourism services in an effort to welcome the return of domestic tourists in the aftermath of the latest wave of the Covid-19 pandemic.
Ha Long City in the northern province of Quang Ninh reopened beaches to the public from 12 p.m. on September 19. It also launched a number of interesting activities ahead of the Mid-Autumn Festival that falls on September 21.
The city has so far inoculated approximately 90% of its local residents aged 18 and over.
Ha Long Bay- UNESCO-recognized heritage site in the northern province of Quang Ninh. Photo: VOV
Meanwhile, Ho Chi Minh City, the largest coronavirus hotspot, has launched a "closed bubble" tourism model in both Can Gio and Cu Chi districts in order to welcome medical workers who have actively assisted the southern city in the Covid-19 fight. Indeed, these tour packages will be extended beyond September 30.
Previously, Vinh Phuc province in the north reopened resorts, tourist attractions, and golf courses on September 13, all of which are now allowed to operate at more than 50% of their capacity, VOV reported.
Meanwhile, Ba Ria - Vung Tau province in the south has also permitted four Ho Tram Strips complex, Meliá Ho Tram hotel, Binh Chau hot spring resort, and Six Senses Con Dao resort, to pilot the return of domestic tourists with "closed" services.
Elsewhere, the south-central province of Khanh Hoa is anticipated to welcome domestic tourists from the middle of October, with 12 accommodation establishments in Bai Dai area expected to be put into operation.
Khanh Hoa recently agreed to the pilot a plan aimed at welcoming back international visitors with a vaccine passport by the end of the year.
All the visitors in the tour program will be required to be vaccinated and have negative SARS-CoV-2 virus test results.
Hanoi promotes creative space initiatives
The capital city of Hanoi is promoting creative space initiatives, as part of its commitment as a member of the UNESCO Creative Cities Network (UCCN).
In early September, the municipal Department of Culture and Sports, the Architecture Magazine and units concerned announced 18 top ideas selected from 93 entries to the "Designing Hanoi Creative Space" contest. The success of the contest showed that the city is facing a great opportunity to form its new characteristics from the development of creative spaces.
Among the outstanding ideas from the contest, the "Red River Artistic District" by architect Doan Ky Thanh and collaborators won applause for its uniqueness and breakthrough creativity. The project wants to transform the 5-ha alluvial area in Phuc Tan ward, Hoan Kiem district into a green artistic space. It also proposes planning and architectural solutions to realize the goal.
Meanwhile, based on a plan to move industrial facilities out of urban areas, a group of architects gave birth to a so-called 4.0 railway district at the old Gia Lam train factory. They want to turn the old industrial estate into a hub to connect tech start-ups as well as link them with consumers, students, investors and tourists, VNA reported.
The project "Hanoi Artistic Path" by the Avant Architectural Investment and Consulting JSC and Arb Vietnam Co.Ltd and the project "Hanoi – Thousands-year-old city" by Nguyen Van Tu and Nguyen Thanh Duc also won high praise.
According to experts, when building creative space projects, characteristics and core values of converted sites are maintained while new factors are added to bring a breath of fresh air to them.
A creative space in Phuc Tan ward of Hoan Kiem district. Photo: VNA
Phan Dang Son, Chairman of the Vietnam Association of Architects, said all awarded projects are highly feasible in design, and some of them could be built immediately. Following the contest, the board of juries are ready to discuss with authors and Hanoi authorities to embark on the works when conditions allow.
Hanoi now has over 60 creative spaces focusing on culture, arts, architecture, design and handicrafts which operate freely but most of them are of a small scale.
Roughly two years since its accession to UCCN, Hanoi has engaged in a plethora of creative ideas to realize its ambition of becoming a capital of design and innovation in Southeast Asia, one of which is the contest "Designing Hanoi Creative Space" .
Held between May 2020 and July 20, 2021, the contest aimed to encourage ideas and solutions to renovate creative spaces destined to evolve into popular tourist destinations and wonderful entertainment hubs in Hanoi.
It took place in the context that Hanoi is in dire need of more public spaces, while 92 polluting factories in the capital city are left vacant after being relocated. Given the small land area of Hanoi, transforming old factories into creative spaces is expected to improve local residents' living environment.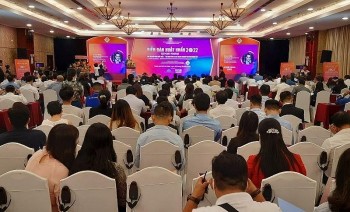 Focus
Vietnam News Today (Dec. 9): Vietnam - Singapore innovation centre helps firms transform production; HCM City among most searched destinations by travelers; Vietnamese digital technology industry's revenue estimated at 148 billion USD in 2022; Two Vietnamese films up for consideration at Oscars.