Vietnam News Today (September 25): Vietnam Successfully Produces Covid-19 Sputnik V Vaccine
Vietnam News Today (September 25): Vietnam, US step up cooperation in tackling war consequences; Vietnam successfully produces Covid-19 Sputnik V vaccine; HCM City looks towards new normal after September 30; Bamboo Airways successfully operates first direct Vietnam-US flight.
Vietnam News Today (September 25) notable headlines
Vietnam, US step up cooperation in tackling war consequences
Vietnam successfully produces Covid-19 Sputnik V vaccine
HCM City looks towards new normal after September 30
Bamboo Airways successfully operates first direct Vietnam-US flight
Da Nang mulls reopening tourist destinations, resorts from early October
Covid-19: 8,537 new cases added to national tally
2-mln-USD project to prevent maternal deaths in Vietnamese ethnic minority women
President Nguyen Xuan Phuc visits Pfizer corporation
Binh Thuan province makes progress in fighting IUU fishing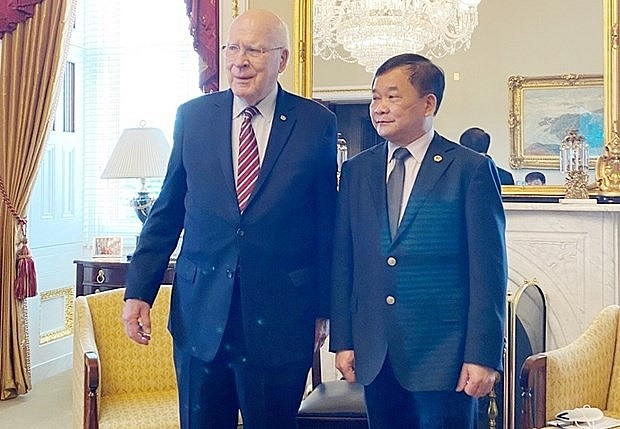 Deputy Minister of National Defense Sen. Lieut. Gen. Hoang Xuan Chien (R) and Patrick Leahy, president pro tempore of the US Senate. Photo: qdnd.vn
Vietnam, US step up cooperation in tackling war consequences
Deputy Minister of National Defense Sen. Lieut. Gen. Hoang Xuan Chien met with Patrick Leahy, president pro tempore of the US Senate on September 22 (local time) in Washington DC, with their discussion focusing on war-aftermath mitigation projects in Vietnam.
The US senator expressed his delight at outcomes of the nations' collaboration in tackling war consequences, particularly a dioxin detoxification project at the Bien Hoa airport and a project on improving the quality of life of people with disabilities in eight provinces heavily sprayed with Agent Orange.
He also acknowledged the progress made in cooperation in searching for remains of missing-in-action US servicemen and Vietnamese martyrs as well as in the implementation of joint communications campaigns.
Chien informed Leahy that his ministry has supported the Covid-19 vaccination of people involved in the Bien Hoa airport project to ensure its progress and asked the US official to support the provision of more funding to complete the project sooner, cited VNA.
Chien proposed the US study to expand the beneficiaries in the life quality improvement project as most provinces in Vietnam have AO/dioxin victims.
Leahy highlighted the importance of war-aftermath mitigation cooperation to the nations' comprehensive partnership and vowed to do his best to facilitate these above-said activities.
Earlier, Chien held a meeting with Samantha Power, Administrator of the US Agency for International Development (USAID), during which he proposed the agency study and support the identification of Vietnamese soldiers who died in the war, as well as improve testing capacity for Vietnam in this field.
Power said she backs Vietnam's proposals and stressed the need to accelerate the progress of the Bien Hoa airport project.
While in the US, the Vietnamese official also met with Ely Ratner, US Assistant Secretary of Defense for Indo-Pacific Security Affairs, and Atul Khare, UN Under-Secretary-General for Operational Support.
Vietnam successfully produces Covid-19 Sputnik V vaccine
VABIOTECH, one of Vietnam's leading pharmaceutical companies, has successfully produced its first batch of the Russian Sputnik V vaccine against Covid-19, VABIOTECH announced.
Dr. Do Tuan Dat, VABIOTECH director, made the announcement, citing a vaccine quality control appraisal report by the Gamaleya National Center of Epidemiology and Microbiology, the developer of the vaccine in Russia that said the vaccine produced in Vietnam has met its quality standard.
VABIOTECH has partnered with the Russian Direct Investment Fund (RDIF) to produce the Sputnik V vaccine in Vietnam. The initial test batch came out in July and samples were sent back to Gamaleya for quality control.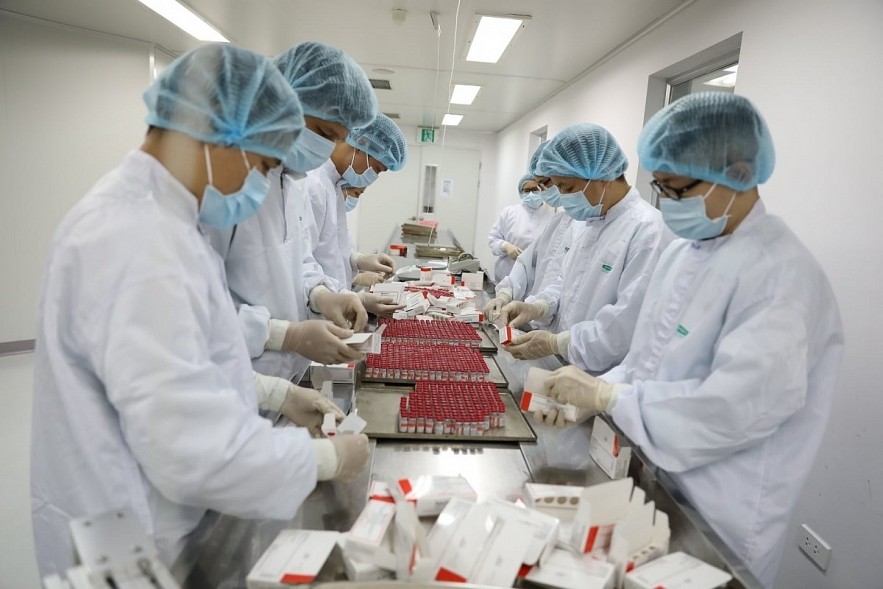 Sputnik V vaccine manufacturing process in Vietnam. Photo: VOV
"The production of these doses will help Vietnamese people gain easier access to quality vaccine source, contributing to the Covid-19 fight," said Dr. Dat.
As scheduled, the Sputnik V will be used as part of the country's National Expanded Program for Immunization, an important factor as it is dealing with a severe fourth wave of infections while vaccines are in short supply, according to VOV.
Sputnik V, known as VGam-Covid-Vac, is one of the Covid-19 vaccines with a publicly available price of less than US$10 per jab. It also can be stored at standard refrigerator temperatures of between 2-8 degrees Celsius.
The vaccine is based on a proven and well-studied platform of human adenoviral vectors and makes use of two different vectors for both shots in a course of vaccination, thereby providing immunity with a longer duration than vaccines which use the same delivery mechanism for two jabs.
Russia says the efficacy of the vaccine is 97.6%.
HCM City looks towards new normal after September 30
Ho Chi Minh City, the epicenter of the country's prolonged Covid-19 outbreak, is taking drastic actions aimed at curbing the spread of the virus and getting its ailing economy back on track after September 30.
The southern city has missed its September 15 deadline to bring the latest outbreak under control according to a Government resolution as the infection rate remains high. Statistics indicate that its daily caseload hovered between 5,000 and 6,000 from August 21 to September 15, with this figure even rising to nearly 8,500 on September 3.
To slow the spread of the mutated strain of the Delta variant, the city has accelerated its vaccination rollout, considering it as the key to keeping the current outbreak in check. To date, a total of 92% of people aged 18 and above have received their first vaccine dose, and 23.5% of them have been fully vaccinated against the virus.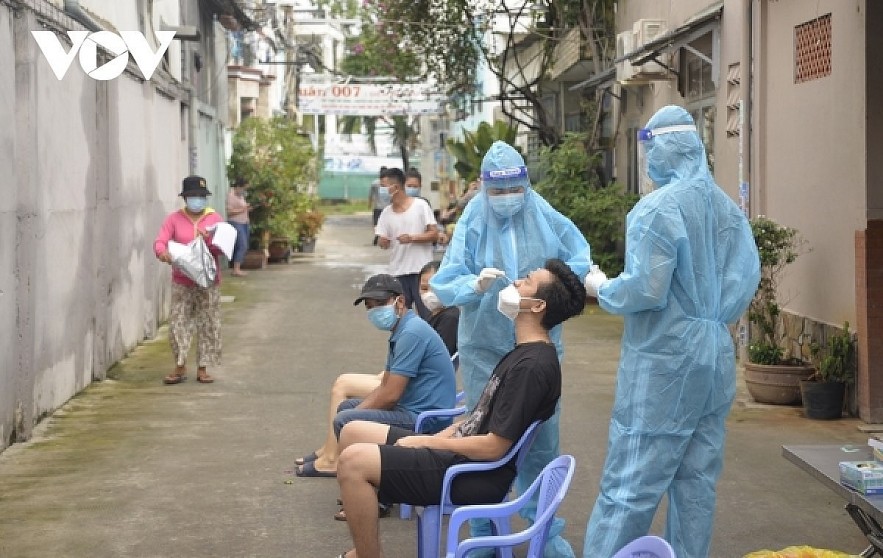 Testing is a key Covid-19 prevention and control measure in HCM CIty. Photo: VOV
With strong personnel and material support from ministries and localities, Covid-19 prevention and control efforts have paid off, with the virus being gradually brought under control. As a result, 60% of populated areas have become 'green' zones, areas without infection, and the daily death toll has fallen to approximately 200 from more than 300 a few weeks ago.
The leadership of Ho Chi Minh City maintains that the outbreak cannot be contained overnight and local people will have to live with the virus in the long run. However, a decrease in daily infection numbers has therefore shown that the COVID-19 fight in the city is moving in the right direction, reported VOV.
The prolonged Covid-19 outbreak, which initially started in late April, has caused the local economy to come to a grinding halt, with experts stating that the city cannot close its economy any longer.
Nguyen Van Nen, party secretary of the Ho Chi Minh City Party Committee, shares this view, saying the city needs to re-open its economy gradually and at the same time to protect local people's health.
"Areas that have already controlled the virus can enter the new normal status… Those areas that are yet to meet criteria should work harder towards the common goal," notes the city's top leader.
Together with the reopening of services in three districts of 7, Can Gio and Cu Chi, the city is resuming wholesale markets and construction projects. Tens of thousands of vaccinated shippers are also hitting the streets, as the city's tempo of life is gradually returning to normal.
For local people, they expect the city to enforce the new normal status after the September 30 extended deadline.
"We do hope the outbreak will be soon controlled and this will the last social distancing order," says a local resident.
Bamboo Airways successfully operates first direct Vietnam-US flight
Bamboo Airways' first flight on its direct route between Vietnam and the US landed in San Francisco, the US, on September 23 (local time) after 13 hours and 36 minutes of nonstop flight.
The flight, coded QH9149, used a Boeing 787-9 plane and carried 20 crew members on board.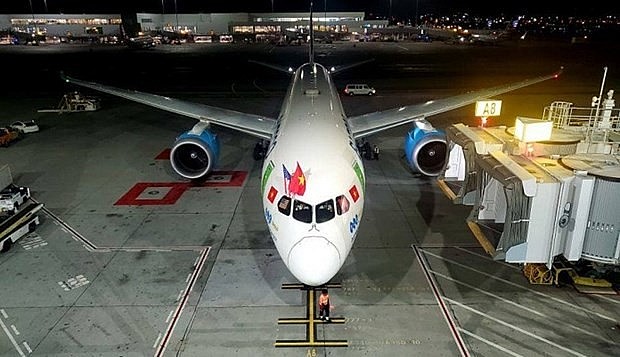 The Bamboo Airways aircraft. Photo: baogiaothong.vn
According to the Vietnamese airline, this is also its first flight piloting the IATA Travel Pass, an electronic health passport application by the International Air Transport Association (IATA), after nearly three months of related system preparations.
Upon the landing, Bamboo Airways has become the first Vietnamese carrier to sign a four-party cooperation agreement on the development of non-stop direct flights from Vietnam to Los Angeles, with the other three parties consisting of the US city, its Tourism & Convention Board (LATCB), and its international airport. It also became an official commercial partner of the city following this event, VNA reported.
As planned, the return flight will transport nearly 7 tonnes of medical equipment including 1,000 ventilators sponsored by the US-based California Waste Solution Inc to the Bach Mai Hospital.
In October, the airline will run a flight between Ho Chi Minh City and Los Angeles.
Bamboo Airways expects these direct commercial flights will contribute to boosting trade, tourism and service exchanges between the two nations, opening up more opportunities in the future.
Da Nang mulls reopening tourist destinations, resorts from early October
Da Nang, a popular tourism hotspot, plans to relax social distancing measures from Oct. 1 to allow tourist destinations, resorts and accommodation facilities to resume operation.
This is part of the city's efforts to resume socio-economic activities after several months of suspension as the pandemic situation in Da Nang has been brought under control.
From Oct. 1 to 15, the city plans to allow meetings, along with indoor and outdoor events with less than 30 people. Those having received two doses of a Covid vaccine would be permitted to attend indoor activities with less than 100 people and outdoor events of no more than 200, cited VnExpress.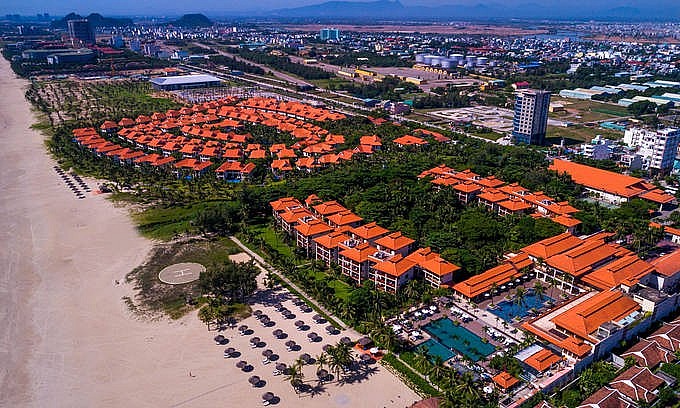 The five-star Furama Resort Danang is seen from above. Photo: Furama Resort
Non-essential services except bars, karaoke parlors, spa and massage parlors could resume operation while hotels, resorts and accommodation facilities are allowed to reopen their doors to tourists.
The city would also allow religious sites and tourist destinations to reopen but ensure no large crowds of more than 30 people at a time.
During the ongoing coronavirus wave, Da Nang has recorded nearly 4,900 cases. The rate of new community transmissions per 100,000 people on a weekly basis has been on a downward trend as only 10 new domestic infections have been recorded over the past two weeks.
Da Nang had ordered everyone to stay home from Aug. 16.
Before that, it had imposed Directive 16, which contains the country's most stringent social distancing rules and prohibits people from leaving home except for buying food or medicines and working.
Over 665,000 residents have been vaccinated so far, including over 80,000 who got two doses.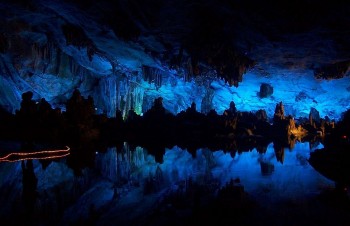 Travel
Caves are the creation of nature, charming any tourists with their mysterious and an air of danger, waiting for humans to explore the deepest secrets inside them. Take a look at these magnificent and beautiful caves around the world that you must visit once in your lifetime.
Viet's Home
According to the AFC official statement, Vietnam striker Nguyen Tien Linh won the AFC International Player of the Week after receiving the most votes out of the remaining nine players.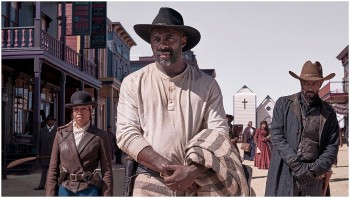 Handbook
November is coming close, and the cold outside makes us want to curl up inside our warm blanket and bing watch our favorite movies or shows. Here is the list of what is coming on Netflix in November, and some of the most expected Netflix originals for you to enjoy.