Vietnam News Today (September 27): Vietnam Considers Mutual Recognition of Vaccine Passport with Other Countries
Vietnam News Today (September 27): HCM City expects a special mechanism for new normal; UNICEF speaks highly of Vietnam's priority to Covid-19 orphans; Vietnam considers mutual recognition of vaccine passport with select countries; Central Vietnam province prepares to welcome foreign tourists starting November.
Vietnam News Today (September 27) notable headlines
HCM City expects a special mechanism for new normal
UNICEF speaks highly of Vietnam's priority to Covid-19 orphans
Vietnam considers mutual recognition of vaccine passport with other countries
Central Vietnam province prepares to welcome foreign tourists starting November
Vietnamese entry to vie for award at Busan film festival
Vietnam, Laos, Cambodia hold tripartite meeting in Hanoi
Vietnam set to ratify RCEP by November
Vietnam to play 2022 AFC U23 Asian Cup qualifiers in Kyrgyzstan
Overseas investments soar by 32.4% over nine-month period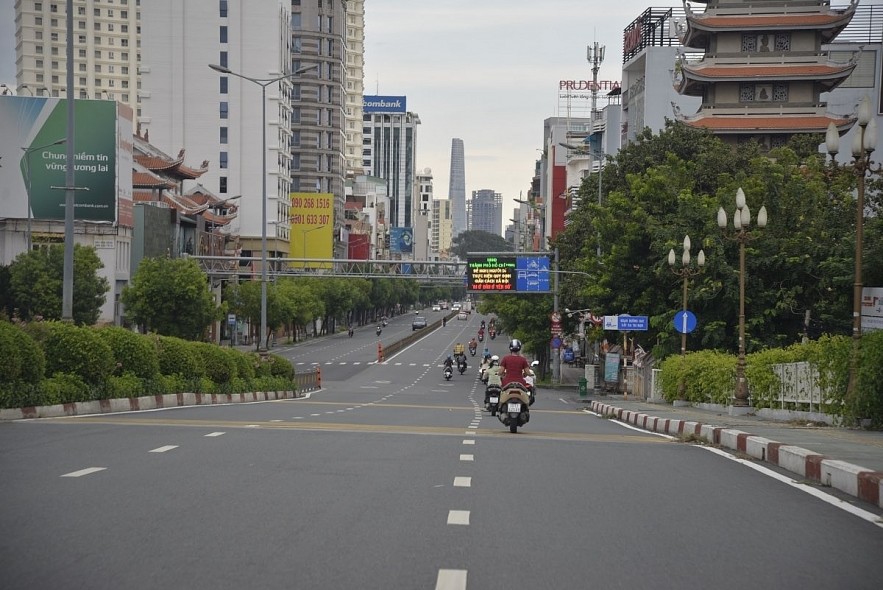 HCM CIty is asking for a special policy to reopen its post-pandemic economy. Photo: VOV
HCM City expects a special mechanism for new normal
Ho Chi Minh City, the largest coronavirus hotspot in Vietnam, has asked the Prime Minister for a particularly mechanism enabling the city to revitalize its ailing economy in the post-pandemic period.
HCM City, the busiest and most populous locality in Vietnam, has borne the brunt of the prolonged Covid-19 outbreak that started in late April.
It has since recorded more than 360,000 new infections, or half the country's total number, according to the municipal Centre for Disease Control.
The city has enforced numerous strict measures in order to halt the spread of the virus, and these measures have brought about initial results, cited VOV.
The numbers of new infections and fatalities are decreasing considerably, said municipal authorities. Three districts of Cu Chi, Can Gio and district 7 have basically contained the outbreak and are entering the new normal on a trial basis.
Through the outbreak is showing signs of abating, its daily caseload remains high, hovering around 4,000 – 5,000.
The implementation of extended social distancing measures has exerted an enormous impact on its economy, disrupting business and production chains.
In an effort to put its ailing economy back on track, the city is drafting a plan to reopen its economy after September 30 as soon as the outbreak is gradually brought under control and the city enforces a new normal.
HCM City needs a particular mechanism for achieving that goal, Mayor Phan Van Mai said in a document sent to the Prime Minister.
In addition to asking for a special policy, the city's leadership also requested that the Government pay attention to prioritizing vaccines for HMC City as well as the southern key economic zone in order to soon achieve vaccination coverage according to guidelines set out by the Ministry of Health (MoH).
Health Minister Dr Nguyen Thanh Long on September 25 presented draft guidelines on safe and flexible response, and effective control of the Covid-19 pandemic for localities wishing to enforce a new normal.
Among three compulsory indicators to be assessed, the MoH requested that at least 80% of people over 50 years old in those localities must be fully vaccinated, 100% of grassroots-level medical stations must have medical oxygen, and 100% of communes must set up mobile medical groups to take care of people with Covid-19 in the community.
UNICEF speaks highly of Vietnam's priority to Covid-19 orphans
The UNICEF Hanoi on September 26 released a press communique saying that its head Rana Flowers has expressed her appreciation to the Ministry of Labour, Invalids and Social Affairs' recent issuance of a guidance asking localities to prioritize the care for children orphaned by the Covid-19.
In the communique, the official affirmed her organization, together with the Vietnamese government and people, expressed deep concerns and hoped to support for the more than 1,500 children in Ho Chi Minh City who lost their parents to the pandemic, reported VNA.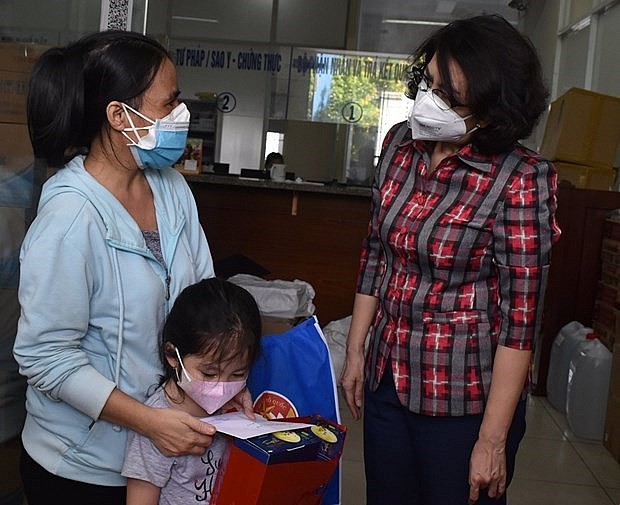 Local authorities present aid to an orphan who lost her parents to the Covid-19 pandemic in Ho Chi Minh City. Photo: VNA
According to her, it is important above all to quickly find a family environment to them. That is why UNICEF highly valued a document by the ministry on September 23 to localities on taking timely measures to care for this group of children.
The official described the decision as timely in ensuring that the orphans will receive necessary support to overcome this time full of difficulties and challenges. In her opinion, the government should develop a system to protect them.
To prepare against and cope with this crisis on both short and long terms, it is important that the government provide practical and necessary sentimental and financial supports for the relatives that take care of the orphans.
Vietnam considers mutual recognition of vaccine passport with other countries
Vietnam will consider mutual recognition of a vaccine passport with other countries in Southeast Asia, the European Union, as well as with the United States, China the Republic of Korea and others.
The Government Office made an announcement on September 25 conveying Prime Minister Pham Minh Chinh's direction on mutual recognition of the 'vaccine passport' between Vietnam and other countries.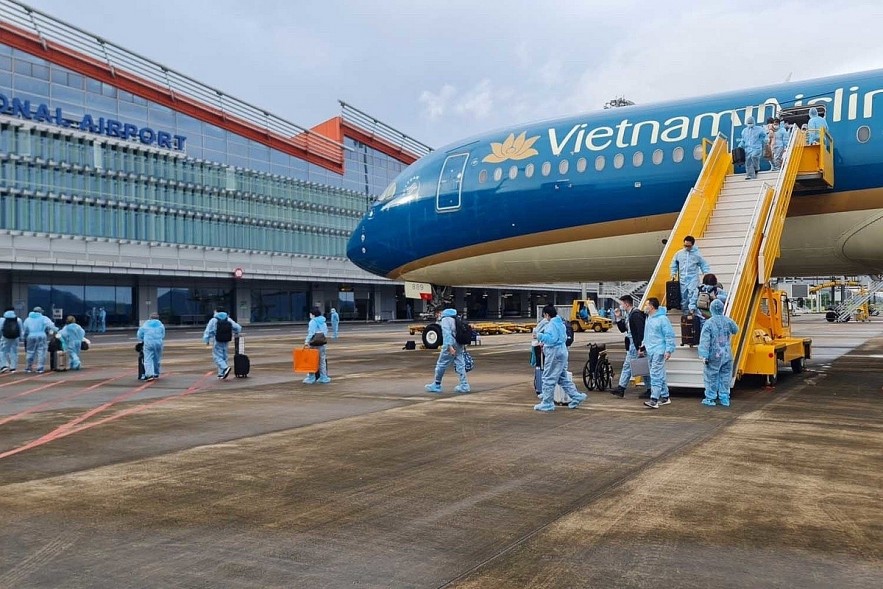 As many as 301 vaccinated passengers arrive in Vietnam from France on board a Vietnam Airlines flight on September 23. Photo: VOV
According to the Government Office, a number of countries worldwide have applied the 'vaccine passport' to re-open their economies and bring socio-economic activities back to a new normal, cited VOV.
The mutual recognition of a 'vaccine passport' between Vietnam and other countries in the region and the rest of the world "is very important and especially necessary in the current context," said the PM in his direction.
The PM therefore assigned the Ministry of Foreign Affairs in collaboration with the Ministry of Health and relevant ministries and agencies, to urgently work alongside relevant agencies of ASEAN countries, the EU, the US, China, Japan, the RoK and other countries, for the mutual recognition of the 'vaccine passport'.
Vietnam has successfully conducted four pilot flights to bring home passengers with a vaccine passport. All the passengers were required to be fully vaccinated and have a negative Covid-19 test at least 72 hours before their departure. They were then taken to concentrated quarantine facilities for a course of 7 days as opposed to 14 days as previously.
All the passengers are now in stable health condition.
Central Vietnam province prepares to welcome foreign tourists starting November
The central province of Khanh Hoa has approved a plan to welcome back fully vaccinated foreign tourists under a trial vaccine passport program starting this November.
In the first phase of the plan from November until the end of the year, foreign tourists would arrive in chartered flights and stay in sequestered beach resorts on Long Beach in Cam Ranh Peninsula, around 45 kilometers from Nha Trang Town.
In the second phase starting early next year till March, they would be allowed to visit more tourist destinations on islands in the Nha Trang Bay.
Hotels and resorts will be required to have a separate area for international tourists besides isolated testing and quarantine areas, according to VnExpress.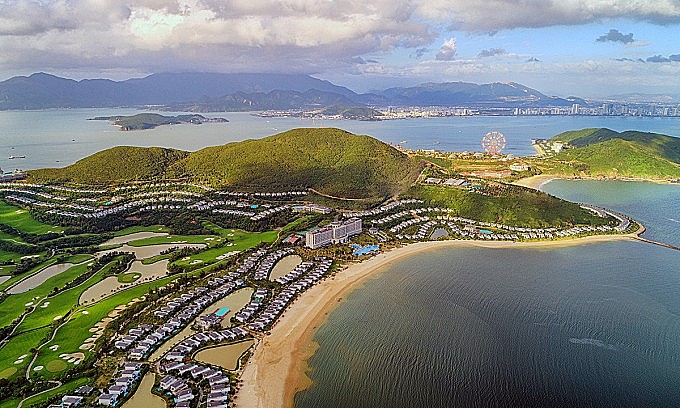 A resort on Hon Tre Island in Nha Trang Bay. Photo: VnExpress
All employees at facilities accommodating tourists must be fully vaccinated against Covid-19 or furnish a certificate showing they'd contracted and recovered from it. They would be tested every three days to ensure safety for the international visitors.
The foreign tourists would need to furnish a certificate showing they are fully vaccinated with a vaccine approved by Vietnam, with the second shot at least 14 days before the date of entry.
Those who had contracted and recovered from Covid and visitors under 18 with a negative Covid certificate within 48 hours before departure would also be allowed entry.
The provincial tourism department has been asked to prepare the pilot program in detail by the end of this month before submitting it to the Ministry of Culture, Sports and Tourism and Prime Minister Pham Minh Chinh for approval.
The province, home to tourist hotspots Nha Trang and Cam Ranh besides other attractions, has basically brought the pandemic under control. It also plans to reopen intra-provincial tourism from mid-October.
Khanh Hoa recorded over 7,600 cases in the ongoing fourth Covid-19 wave that has infected over 740,000 people in Vietnam since late April.
Over 800,000 people aged 18 and above in Khanh Hoa have been vaccinated. It estimated that 100 percent of the province's adult population would have got at least one dose of a Covid vaccine by the end of this month.
Vietnamese entry to vie for award at Busan film festival
'Mien Ky Uc' (Memoryland) has been entered in the best feature film category at this year's Busan International Film Festival in South Korea in October.
The film has multiple stories set in various locations and periods of time that are closely connected by death.
One is about a poor boy carefully budgeting the expenses for his mother's funeral. Another is about a woman who decides to bury her husband, who was killed in an accident at a construction site, in his hometown to comfort his soul.
The festival website says: "In the end, attitudes toward death are determined by how the living receive it. No one can be forced to miss someone and to live with a debt of memory, reported VnExpress.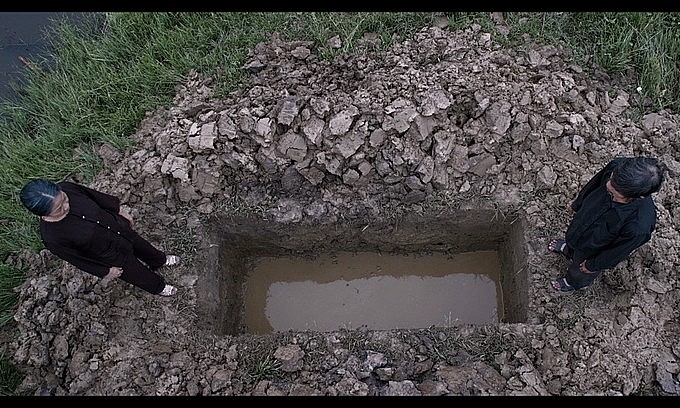 A still from Memoryland. Photo: VnExpress
"Ultimately, Memoryland by Bui Kim Quy settles on revealing the truth that no one can escape it."
The movie will come up against 10 others from countries like Iran, China and India for the New Currents Award.
Two winning directors will get a cash award of US$30,000.
According to the festival organizers, the awards are given to the first or second work of an Asian director.
Quy is a writer and director who studied screenwriting at the Hanoi Academy of Theater and Cinema, and works as a lecturer. She writes scripts for films as well as television.
Her first feature film, 'Nguoi Truyen Giong' (The Inseminator), was shown in the Window On Asian Cinema section in Busan in 2014 and won the Best Film Photography Award at the 2015 ASEAN International Film Festival.
Memoryland, her second movie, was supported by the ASEAN Cinema Fund Busan's Script Development Fund in 2016.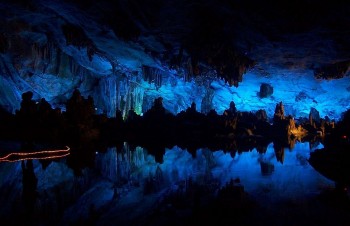 Travel
Caves are the creation of nature, charming any tourists with their mysterious and an air of danger, waiting for humans to explore the deepest secrets inside them. Take a look at these magnificent and beautiful caves around the world that you must visit once in your lifetime.
Viet's Home
According to the AFC official statement, Vietnam striker Nguyen Tien Linh won the AFC International Player of the Week after receiving the most votes out of the remaining nine players.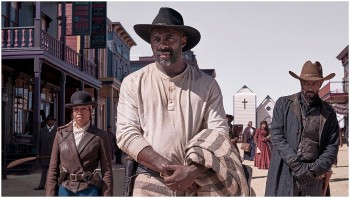 Handbook
November is coming close, and the cold outside makes us want to curl up inside our warm blanket and bing watch our favorite movies or shows. Here is the list of what is coming on Netflix in November, and some of the most expected Netflix originals for you to enjoy.