Vietnam News Today (September 26): HCM City Plans to Remove Barriers, Travel Permits by End-September
Vietnam News Today (September 26): Vietnam, Germany foster 10-year strategic partnership; HCM City plans to remove barriers, travel permits by end-September; 41% of Vietnamese adults vaccinated against Covid-19; Transport ministry outlines domestic flight resumption phases.
Vietnam News Today (September 26) notable headlines
Vietnam, Germany foster 10-year strategic partnership
HCM City plans to remove barriers, travel permits by end-September
41% of Vietnamese adults vaccinated against Covid-19
Transport ministry outlines domestic flight resumption phases
Online shopping rises 50 percent in Hanoi during social distancing
HCM City: most shippers vaccinated against Covid-19
Vietnam becomes member of IAEA Board of Governors
Vietnamese university's President elected to Francophone University Agency's governing board
Typhoon Dianmu wreaks havoc in many localities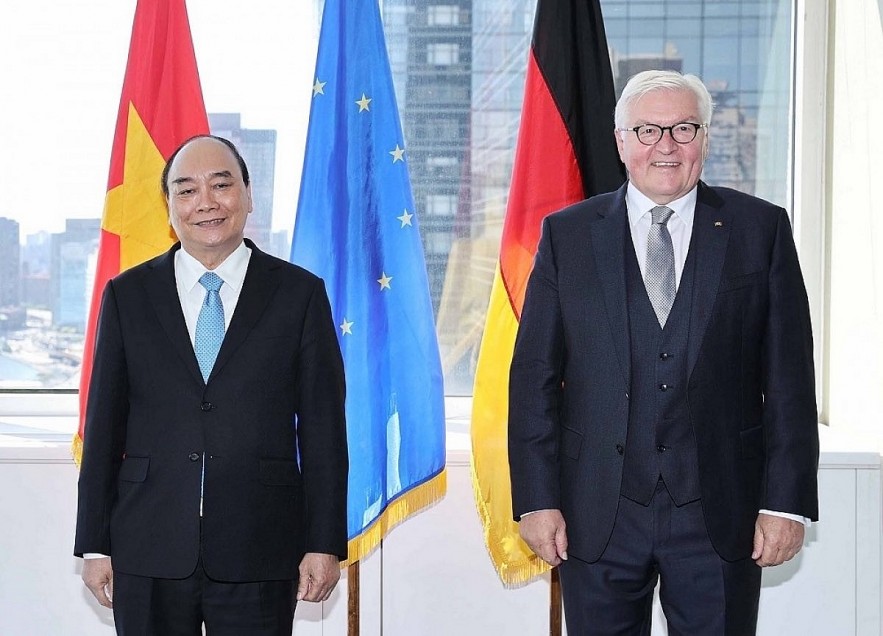 President Nguyen Xuan Phuc (L) meets with German President Frank-Walter Steinmeier in New York, USA, on the sidelines of the 76th UN General Assembly. Photo: VNA
Vietnam, Germany foster 10-year strategic partnership
President Nguyen Xuan Phuc had a meeting with German President Frank-Walter Steinmeier in New York on September 24 (local time) during his working trip to the United States.
At the meeting, the two leaders agreed that the close and trustworthy relationship between Vietnam and Germany has developed strongly and effectively over the past 45 years, especially after the two countries established their strategic partnership in 2011.
Phuc thanked the German Government for delivering Covid-19 vaccines and essential medical equipment to Vietnam, which he said is a noble gesture, demonstrating the extensive and effective strategic partnership between the two countries.
To cushion the impact of the Covid-19 pandemic, the two sides agreed to continue to maintain visit exchanges and promote economic - trade - investment cooperation to explore areas of great potential cooperation, including renewable energy, supporting industries, machine manufacturing, logistics and others, cited VOV.
President Nguyen Xuan Phuc noted that Vietnam and Germany have an invaluable common asset that is 100,000 people who have studied and worked in Germany, and a community of nearly 200,000 Vietnamese expatriates in Germany.
They serve as a special friendship bridge that contributes to tightening relations between the two countries, said Phuc.
He expressed his hope that the German State and Government will continue to create favorable conditions for the Vietnamese community in Germany to live and do business stably and to integrate deeply into their host society.
The two leaders agreed Vietnam and Germany will continue to coordinate closely at multilateral forums, contributing to maintaining peace, fighting against powers, and promoting the observation of international law.
Earlier, in New York, President Nguyen Xuan Phuc and his entourage laid a wreath at the 9/11 Monument to commemorate victims of the terrorist attack on September 11, 2001.
HCM City plans to remove barriers, travel permits by end-September
Authorities in HCMC have agreed to remove barriers in the inner area and abolish travel permits by September 30 as the city prepares to enter the new normalcy.
However, Covid checkpoints at gateways leading to HCMC would be still maintained, Tran Hoang Ngan, director of the HCMC Institute for Development Studies, and also a member of the prime minister's advisory group, said at an online meeting on Saturday about the city's economic recovery plan in the "new normalcy" period.
"We would remove barriers installed in the inner area by September 30 to enter the new normalcy period from October 1 while Covid checkpoints would be installed at gateways to ensure the safety of the entire southern economic zone," Ngan said, adding that top city leaders have agreed on this issue at a meeting on Friday.
"This would be a positive sign," Ngan said.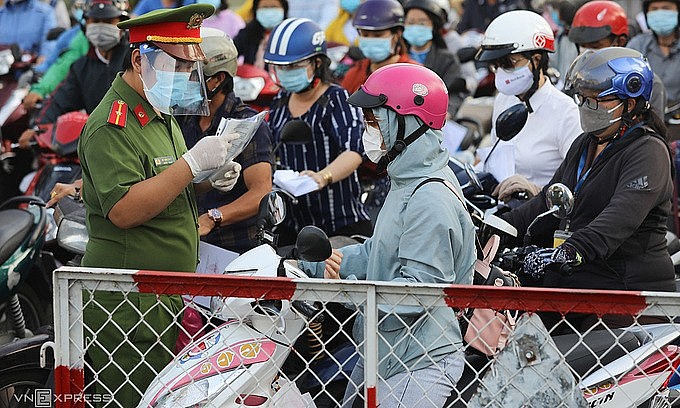 A police officer checks a woman's travel paper at a Covid-19 checkpoint in Go Vap District, HCMC, July 12, 2021. Photo: VnExpress
Bui Ta Hoang Vu, head of the city's Department of Trade, said in the coming time the city plans to check people's departure and destination points, instead of inspecting travel documents on the road as previously.
Road barriers would be removed; instead, functional forces would carry out random rapid testing on streets, Vu added.
Many businesses proposed the city should soon remove barriers that separate between wards and districts as well as barricades inside small alleys of residential areas and scrap travel permits as the city has been preparing plans to reopen its economy to 'live with the virus."
Over the past months as HCMC grappled with its most challenging coronavirus wave, over 900 barriers were put up along streets within the city where police officers and military forces have been ond duty 24/24 to check people's travel documents. Inside small alleys, barriers have been put up to protect 'green zones'.
Many businesses and residents complained these barriers caused inconvenience to people's daily lives and threatened to disrupt supply chains, reported VnExpress.
The epicenter of Vietnam's fourth coronavirus wave, HCMC has mandated social distancing of various intensities since late May.
The most stringent, since July 9, required everyone to stay indoors and only go out for "essential purposes."
Between Aug. 23 and Sept. 15 people were instructed to "stay put wherever you are."
They are required to stay at home until Sept. 30.
41% of Vietnamese adults vaccinated against Covid-19
About 41.1% of Vietnamese people aged 18 and above have received the first dose of a vaccine against the SARS-CoV-2 virus, according to Minister of Health Nguyen Thanh Long.
As of September 24, 37.6 million doses of Covid-19 vaccines have been administered nationwide, with 7.3 million people receiving their second dose, Dr. Long reported to the National Steering Committee on Covid-19 Prevention and Control on September 25.
"We have approximately 14 million doses left, of which 10.5 million doses have been allocated to localities since September 16," said the Minister.
The Ministry of Health has approved eight vaccines for emergency use in Vietnam, but most of the vaccines used for the ongoing national vaccination campaign are AstraZeneca, Pfizer, Moderna, and Vero Cell.
Dr. Long also reported that the Covid-19 outbreak is showing signs of abating in major southern hotspots such as Ho Chi Minh City, Binh Duong and Long An, according to VOV.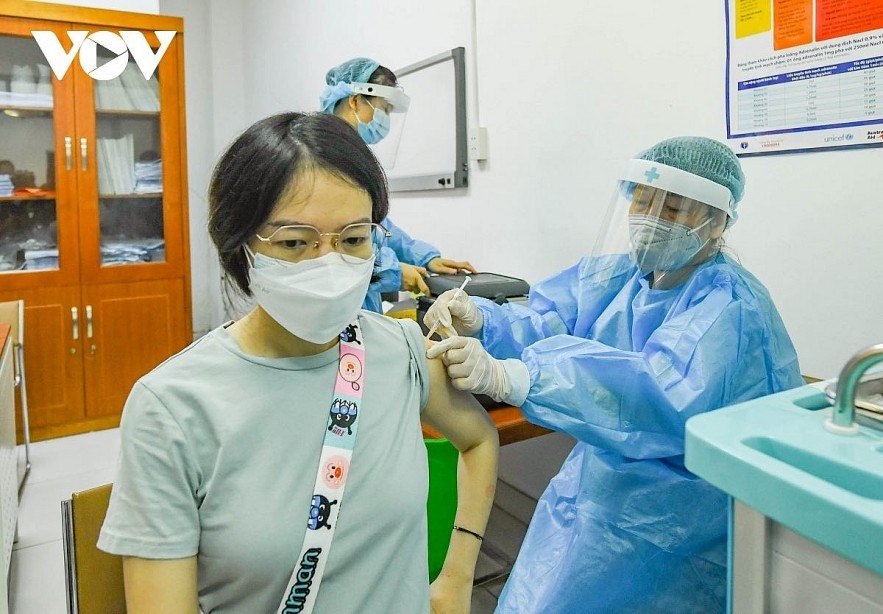 Pregnant women are among those who are given priority to vaccination this time. Photo: VOV
Vietnam has confirmed 72,236 new infections during the week, a fall of 9.7% compared to the previous week, the minister said.
Overall, , Vietnam has recorded 736,972 coronavirus cases since the start of the outbreak in January 2020, and 732,492 locally acquired infections following the resurgence of the virus nearly five months ago.
Of the total, 500,680 patients have been discharged from hospital after making a full recovery from the disease.
Meanwhile, the Covid-19 death toll for the week has also dropped by 12.1% from the previous week. Particularly, the mortality rate declined by 10.5% in Ho Chi Minh City, 12.6% in Binh Duong, 15.4% in Dong Nai and 15.8% in Long An.
The death toll in Vietnam now stands at 18,220, making up 2.5% of the total number of infections and 0.4% higher than the average death rate globally.
Transport ministry outlines domestic flight resumption phases
The Transport Ministry is planning to resume domestic flights and train services in certain localities with relaxed coronavirus restrictions starting October.
The resumption of domestic flights would be divided into four phases, according to a draft on the plan to resume transportation across localities with relaxed Covid-19 restrictions discussed Saturday.
In the first phase, to be carried out in no more than 10 days, airlines would be allowed to resume air routes with a flight frequency not exceeding half that in the first 10 days of April, the time before the fourth coronavirus wave hit Vietnam. Seats on the planes must be distanced as well.
In the second phase, also to be carried out in no more than 10 days, the frequency would be increased to not exceed 70 percent.
The third phase would see flight frequency return to the level as seen in the first week of April (but not exceeding it), with no seat distancing required.
The final phase would see airlines resume activities as normal.
A Vietnam Airlines plane at HCMC's Tan Son Nhat Airport. Photo: VnExpress
Air routes that had only one flight a day even pre-pandemic can resume operations as normal in all phases, with seat distancing required.
Passengers and crew members must be vaccinated against Covid-19 with at least one shot at least 14 days prior to the flight, and must carry a valid negative test certificate, reported VnExpress.
The Ministry of Transport said further details about the resumption plan would be announced after the Ministry of Health releases guidelines on coronavirus prevention for people traveling between localities with relaxed restrictions.
Amid rampant Covid-19 outbreaks, the Civil Aviation Authority of Vietnam in late August requested airlines to stop selling tickets for domestic flights until further notice. Flights that carry goods and coronavirus forces are still functional, with the Hanoi-Ho Chi Minh City route allowed two return flights a day.
The country has still not allowed international flights to resume, except in certain cases.
The ministry is building a similar four-phase plan to resume train services between Hanoi and Hai Phong, Vinh, Da Nang and Ho Chi Minh City.
All passenger train routes have been suspended amid the new Covid-19 outbreak.
Online shopping rises 50 percent in Hanoi during social distancing
Online shopping through e-commerce platforms by consumers in Hanoi rose 30-50 percent in four social distancing periods, according to the city Department of Industry and Trade.
Acting Director of the department Tran Thi Phuong Lan said that goods supplies have been ensured in the city to meet the demand of local residents amid social distancing.
The department has also rolled out measures to support farmers in selling their products, while allowing farm produce from 22 other cities and provinces to be sold in the capital city, she said, noting that over 200,000 tonnes of agricultural and aquatic products were consumed in only 10 days as of September 21, cited VNA.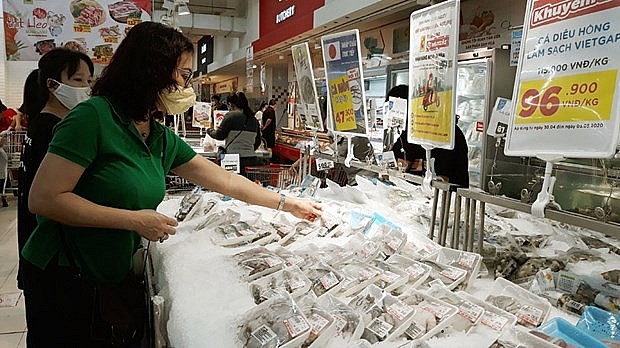 Photo: VNA
Along with creating optimal conditions for the transport of goods, the city has quickly conducted testing and vaccination on laborers working in goods distribution system. So far, all of them have received at least one Covid-19 vaccine shot, said Lan.
She said that the department has directed the diversifying of goods selling methods, focusing on promoting e-commerce.
Meanwhile, it has given advice to the municipal People's Committee on the issuance of a set of safe production and business criteria, along with guiding local firms to devise safe operation plans. The department has also listened to ideas from local enterprises to make proposals to authorized agencies on solutions to remove obstacles facing them, especially those relating to capital, tax, goods transport and export.
Once the pandemic is completely controlled, the department will make advice to the city authorities to launch trade facilitation programs to help local firms sell their products, she stated.