Vietnam News Today (August 28): Soldiers Will be Sent to Support Binh Duong with Covid Prevention
Vietnam News Today (August 28): Vietnam calls for UN, international community's support for Ethiopia; Soldiers will be sent to support Binh Duong with Covid prevention
Vietnam News Today (August 28) notable headlines
Vietnam calls for UN, international community's support for Ethiopia
Soldiers will be sent to support Binh Duong with Covid prevention
263,250 Pfizer vaccines arrive in Hanoi via COVAX
Head coach names 25-man squad for first match of World Cup qualifiers' final round
UK visa application center reopens in Hanoi
Vietnam represented at 12th ASEAN Connectivity Symposium
Vietnam, Thailand look towards US$25 billion bilateral trade target by 2025
Vietnam seeks to expand co-operation with Hong Kong
Vietnamese weightlifter Le Van Cong receives bonus from VSAD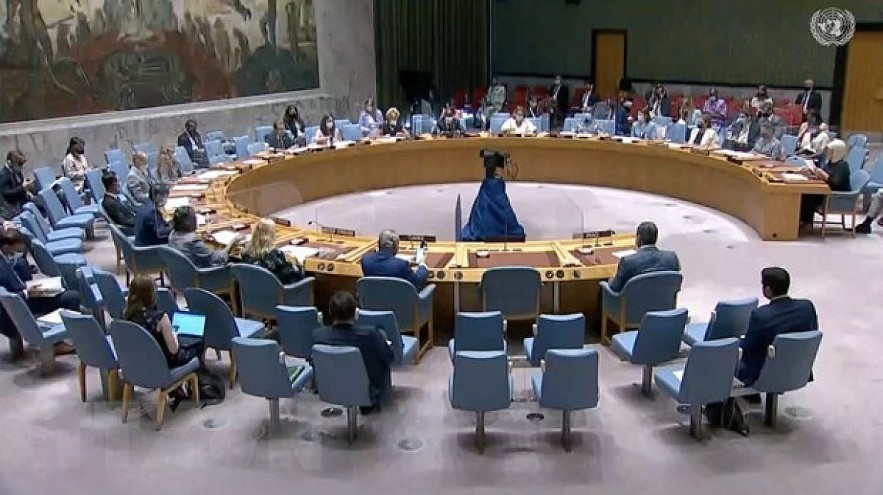 Photo: VOV
Vietnam calls for UN, international community's support for Ethiopia
Vietnam has called on the United Nations (UN) and the international community to support Ethiopia but not to interfere in the African nation's internal affairs.
During a meeting of the UN Security Council on the country's crisis held on August 26, Minister Counsellor Nguyen Phuong Tra, Deputy Permanent Representative of Vietnam to the UN, voiced a concern that the humanitarian situation in Ethiopia worsens while dialogue, reconciliation and political process come to a deadlock, cited VOV.
It will be more difficult to seek solutions to the issue in Ethiopia's northern region of Tigray if the situation prolongs, she remarked.
The Vietnamese diplomat urged the Ethiopian Government and concerned sides to put people's interests on top and create more favourable conditions for safe and effective humanitarian aid, as well as expand aid access to areas in Tigray and border regions.
Tra said that the current conflict takes roots from political and historical reasons and racism, and has certain impacts on the region. Therefore, relevant sides must prioritise a ceasefire, conduct dialogue and begin a political process.
Vietnam hopes that the sides will refrain from all activities that may plunge Ethiopia into chaos and affect peace and security in the country and region, she added.
In his speech, UN Secretary-General António Guterres said that military confrontation in Ethiopia's Tigray region is spreading with serious political, economic and humanitarian implications for the country and the broader region, reiterating that "there is no military solution".
He urged the parties to take action and immediately end hostilities. Full humanitarian access should be guaranteed for all areas in need and conditions created for an inclusive national political dialogue led by Ethiopia to address the causes of the conflict, the UN Secretary-General said.
Soldiers will be sent to support Binh Duong with Covid prevention
The Ministry of National Defence will send 2,000 soldiers to help with Covid-19 prevention and control efforts in southern Binh Duong province.
Lieutenant General Ngo Minh Tien, Deputy Chief of the General Staff of the Vietnam People's Army, said at a meeting with Binh Duong's leaders that the ministry will send 50 mobile health centres to 11 'red zones' and 15 ambulances to Binh Duong to help the province's pandemic prevention and control work, reported VNA.
Binh Duong is the province with the second-highest Covid-19 cases in the fourth wave of the pandemic in Vietnam, exceeding 86,000 infections. The number of Covid patients is forecast to increase in the next two weeks as the province will perform the third round of large-scale testing.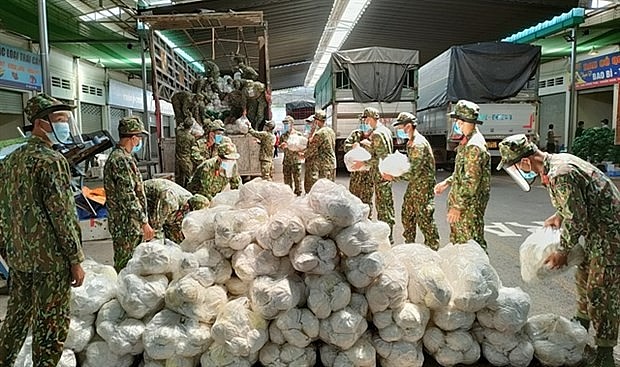 The soldiers prepare food to deliver to residents in Binh Duong province. Photo: baochinhphu.vn
The province has proposed the Government provide support by sending around 50 intensive care doctors, 50 specialised doctors, 100 experienced intensive care nurses, 100 nurses and technicians, 10 invasive ventilators and 20 non-invasive ventilators, four mobile X-ray machines and 100 hand-held SPO2 meters for measuring oxygen saturation.
Binh Duong province has also assigned the Department of Industry and Trade to coordinate with localities to provide food and essentials for more than 719,000 residents in 'red zones'.
Each bag of essentials is worth VND50,000 (US$2.2) per person a day. This is to ensure food and necessities for people and workers who are affected by the Covid-19 pandemic.
The province's Fatherland Front Committee has received support with an amount of VND510 billion (US$22.4 million), of which over VND218 billion (US$9.5 million) in cash and nearly VND300 billion (US$13.1 million) in medical facilities, food and necessities.
Up to now, the province has supported nearly 1.4 million people related to the support policies of the Government and the province, the total amount is nearly VND760 billion (US$33.3 million)
According to Binh Duong province's Steering Committee for Pandemic Prevention and Control, the coordination between the Military and Public Security forces has been implemented to ensure and maintain security and social order in key check points in the province, especially 11 'red zones' for 15 days.
263,250 Pfizer vaccines arrive in Hanoi via COVAX
An additional 263,250 doses of the Pfizer-BioNTech Covid-19 vaccine arrived on August 27 in Hanoi.
According to details given by UNICEF, along with the vaccines delivered to Ho Chi Minh City and Hanoi over the past two days, the batch of 1,065,870 Pfizer doses given to the nation by COVAX and the United States has now completed its delivery process, VOV reported.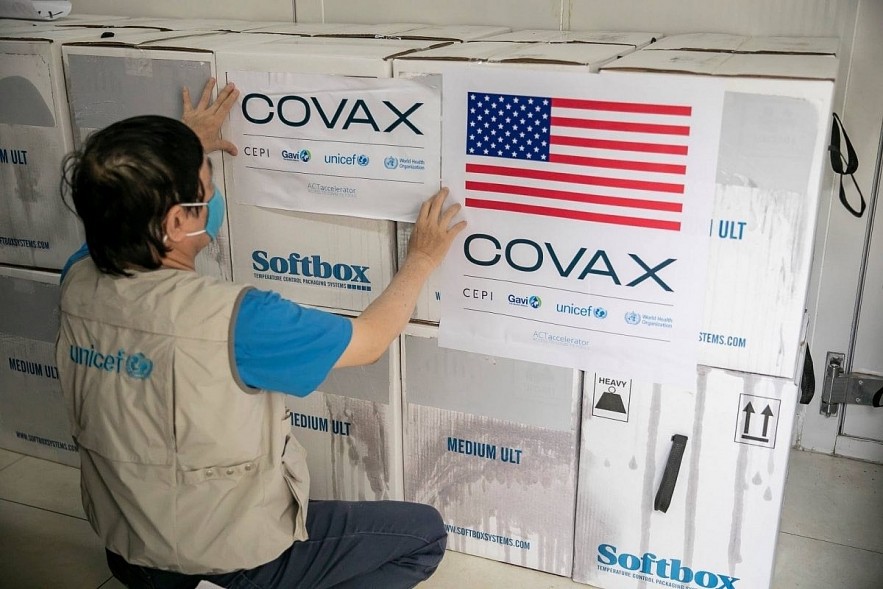 263,250 Pfizer vaccines arrive in Hanoi via COVAX. Photo: UNICEF
This comes after US Vice President Kamala Harris announced at a meeting on August 25 with Prime Minister Pham Minh Chinh that the US has decided to donate approximately one million doses of the Pfizer vaccine to the country.
Following the additional donation, the total number of vaccines given by the US has now reached six million doses.
VP Harris also committed an additional US$23 million in order to help the nation expand its distribution and access to vaccines, combat the spread of the pandemic, and prepare for the threat of future diseases.
Head coach names 25-man squad for first match of World Cup qualifiers' final round
Head coach Park Hang-seo of the national men's football team on August 27 announced a 25-man squad of Vietnam for the match against Saudi Arabia in the final round of the 2022 FIFA World Cup Asian qualifiers.
According to the Vietnam Football Federation, defenders Doan Van Hau and Bui Tien Dung, and midfielder Tran Minh Vuong will miss the game due to injuries.
Goalkeeper Nguyen Van Hoang, along with defenders Bui Hoang Viet Anh and Le Van Xuan, and midfielder Ly Cong Hoang Anh did not make their names into the list this time.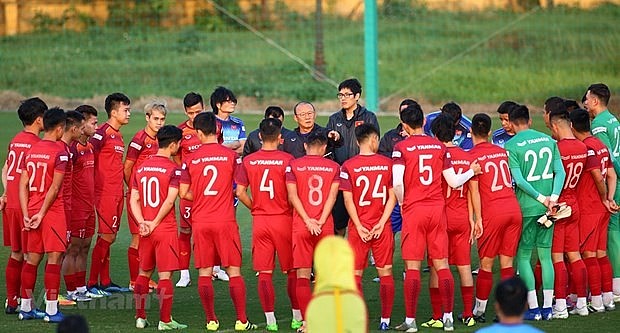 At a training session of the national men's football team. Photo: VNA
The Vietnamese squad will head for Saudi Arabia on August 27 evening.
Goalie Dang Van Lam will join the team in Saudi Arabia's capital of Riyadh after departing from Japan, where he plays for Cerezo Osaka FC, cited VNA.
All members of the team tested for Covid-19 before departure as required by the Asian Football Confederation. Their activities will take place under the travel bubble model.
In Riyadh, the Korean coach and his players will have five days to prepare for the match and acclimate to the weather conditions.
The game will kick off at 1 a.m. on September 3 (Vietnam time).
Vietnam made history by advancing to the third and final round of the World Cup qualifiers for the first time. In the final round, they will play in Group B along with Japan, Australia, Saudi Arabia, China and Oman.
UK visa application center reopens in Hanoi
The Vietnamese government has given permission for the U.K. visa application center in Hanoi to reopen after a month on August 30 but with restrictions.
It would only function on Mondays, Wednesdays and Fridays and from 8:30 a.m. to 2:30 p.m., the British embassy said in its official Facebook page.
People coming to the center will have to furnish negative Covid PCR test results obtained not more than 72 hours earlier.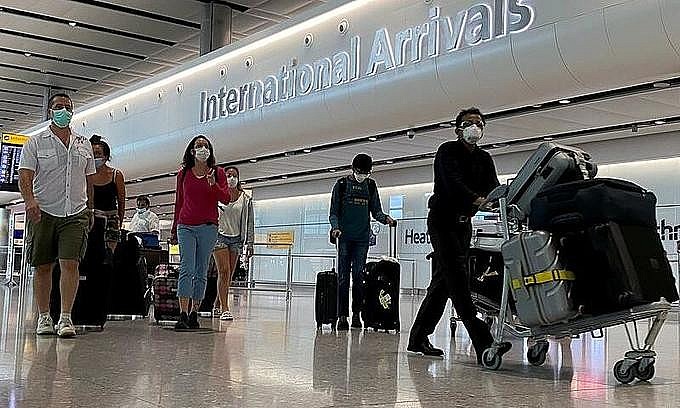 Passengers arrive at Heathrow Airport in London, England, July 29, 2020. Photo: Reuters
The visa application centers in Ho Chi Minh City and Da Nang remain closed as both cities have tough lockdown measures to contain the spread of the Delta variant of Covid-19.
The embassy is seeking permission to reopen them, reported VnExpress.
Britain lifted almost all social distancing measures and restrictions last month. Vietnam is currently on its amber list, which requires visitors to self-isolate for 10 days at home upon arrival.
Vietnam is grappling with its most challenging Covid wave year, triggered by the Delta variant, and several countries have banned or imposed stricter quarantine measures for travelers from the country.
In the current wave, that began in late April, the country has recorded nearly 389,000 cases.