YouGov: Vietnam media reports the world's most reliable news on the Covid-19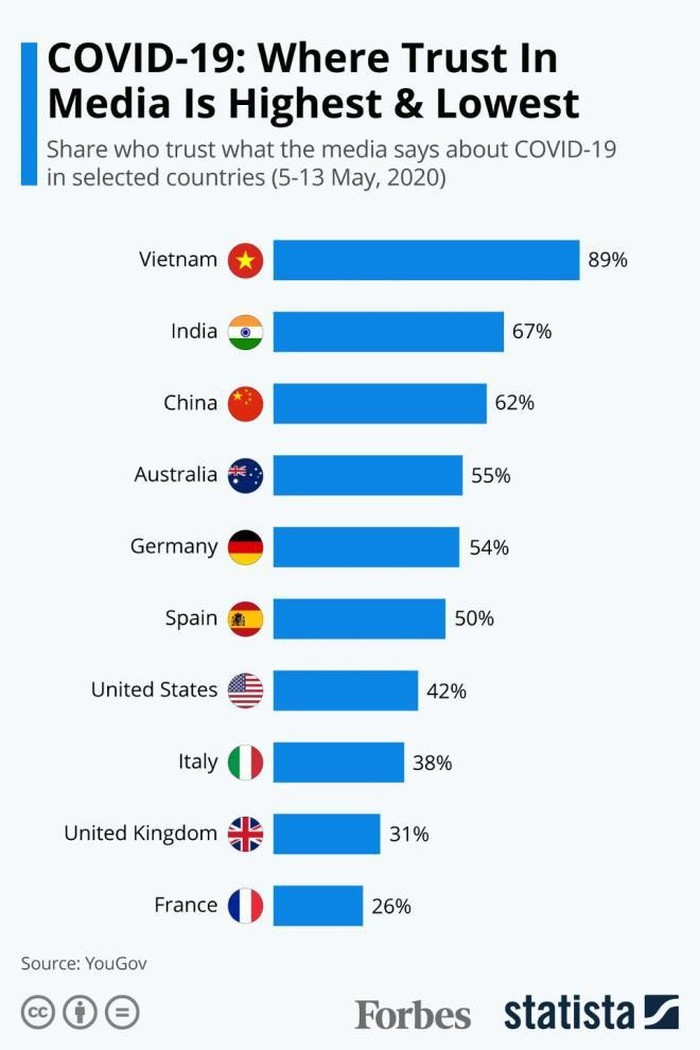 YouGov's assessment of the reliability of media in other countries.
According to YouGov's statistics, up to 89% of Vietnamese respondents confirmed their belief in Covid-19 newsreported by Vietnamese media. Forbes analyzed that, despite having a large border with China, Vietnam was not seriously affected by the number of cases because it had taken the Covid-19 preventive measures early. The timely recognition of risks and information assist Vietnam to be successful in stopping Covid-19's outbreak.
India ranks No. 2 with a confidence level of 67%, China ranks third of the rate by 62%.
Controversies have been arising on the international level regarding the reported number of cases and deaths from China, especially in Wuhan, under the suspicion of actually concealed damages.
Vietnam records trade deficit of USD 1 billion in first half of May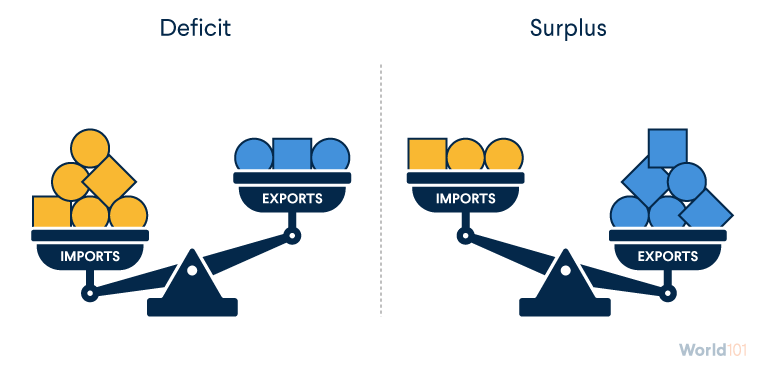 Illustrative photo.
Vietnam witnessed a trade deficitof nearly USD 1 billion in the first half of May as exports dropped to 8.22 billion USD – the lowest level since the beginning of this year (excluding the first half of January when the Tet holiday fell on), the General Department of Customs announced has announced.
VNA cited the statistics showing that only two groups of products posted an export turnover of at least USD 1 billion during the period including computers, electronics and components at some USD 1.5 billion and telephones and parts at USD 1 billion. That brought export earnings of these products total to USD 13.6 billion and USD 16.4 billion, respectively so far this year.
Several other staples with an encouraging export value were textile and garment with 828 million USD, totaling 9.47 billion USD to date this year; machinery, equipment and parts with 753.5 million USD, totaling more than 7.5 billion USD and footwear with 587 million USD, totaling 5.94 billion USD.
Vietnamese football returns to normalcy with spectators after Covid-19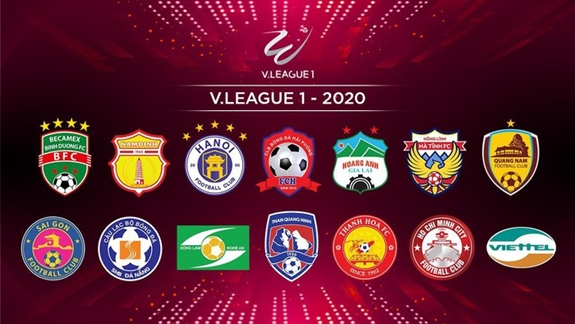 Illustrative photo.
The National Cup 2020 is slated to start this Saturday with the first football match between Duoc Nam Ha Nam Dinh Club and Hoang Anh Gia Lai, which kicks off with the support and cheers of football supporters on Thien Truong Stadium in the northern province of Nam Dinh, VGP reported.
This is the first official game of Vietnamese football after Covid-19 pandemic has been controlled and also the first of its kind to mark the attendance of spectators when the world is still taking caution to the move. Vietnam's football leagues have been postponed since mid-March after playing several rounds without spectators.
Speaking to VTV, Tran Anh Tu Chairman of the Vietnam Professional Football (VPF) stressed that this is the historic match of both Vietnam and the world during the pandemic. Vietnam's efforts to "flatten the curve" of coronavirus has brought people's life back to normal and revive the king sport with the join of supporters that had been impossible over the past few months. While other countries are considering shifting home ground to "virtual stadium" due to the pandemic concerns.
However, the organizers are asked to conduct Covid-19 preventive measures such as check body temperature, provide hand sanitizers, wear masks, keep distance among others in accordance with the instructions of the Vietnam Football Joint-stock Company (VPF).
Over 1,000 steel and oil experts from abroad to be quarantine after arriving in Vietnam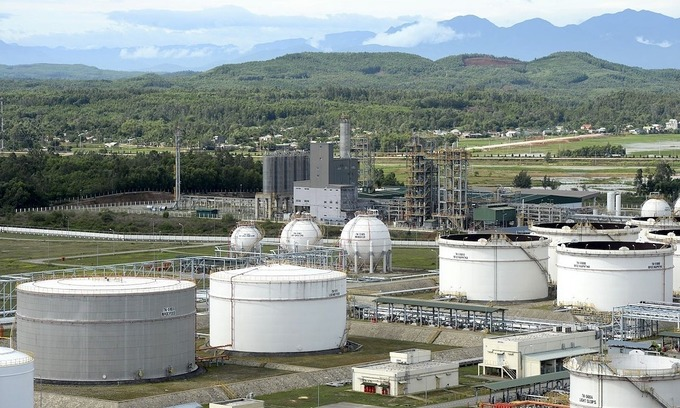 Illustrative photo by Vnexpress.
As many as 1,000 professional foreign experts will be quarantined after arriving in Vietnam to join in oil and steel projects in the central province of Quang Ngai, Vnexpress reported.
More than 1,000 experts will be tested twice during their 14-day quarantine period. Any positive case will be transferred and treated in the province.
Vietnam banned all foreign nationals from entering the country starting March 22. Only those carrying diplomatic or official passports, or taking part in special economic projects have been cleared for entry, though all need to present a Covid-19 free certificate from a recognized authority in the country of embarkation.
Thousands of foreign experts, including Samsung and Petrovietnam engineers, have flown to Vietnam and entered 14-day quarantine on landing.
Vietnamese firmed alerted of Australia' new regulation on shrimp export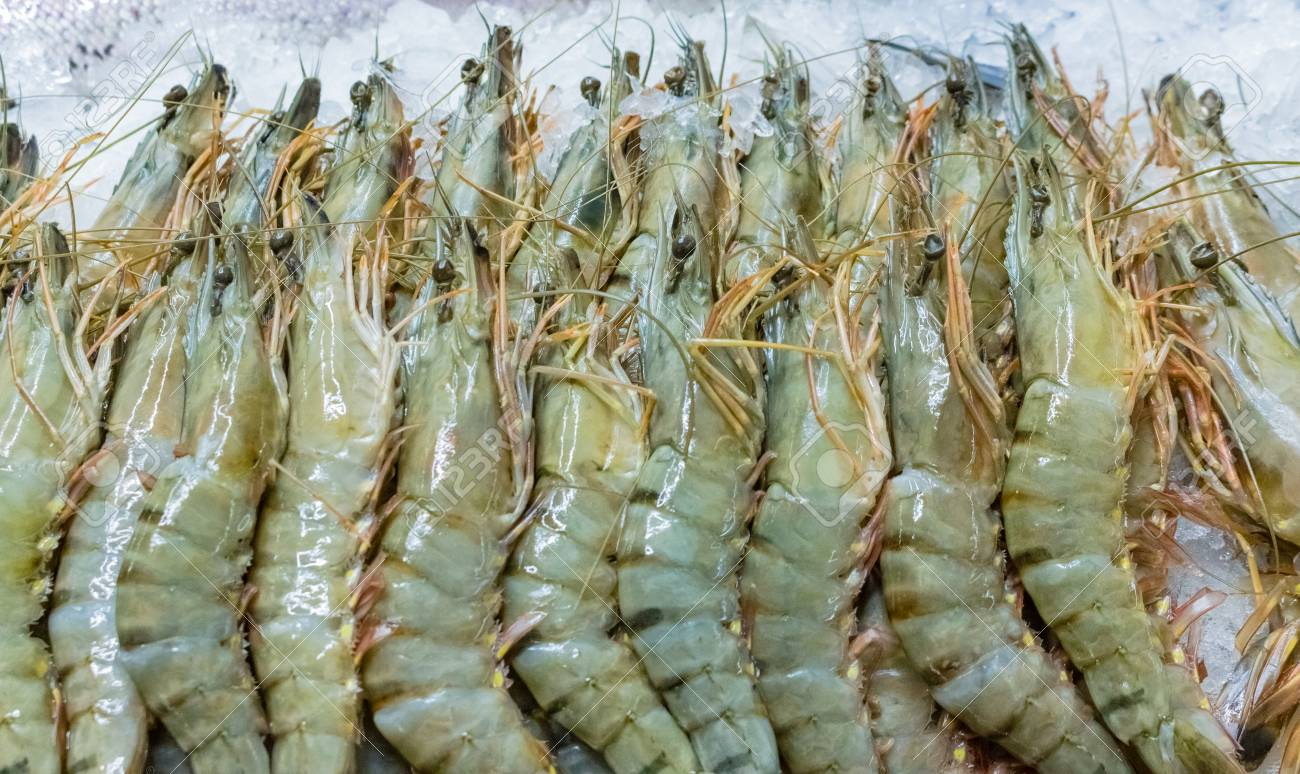 All uncooked prawns imported from all countries will be deveined during the processing stage.
The Australian Department of Agriculture and Water and Environment has issued new criteria on importing fresh and processed prawns from abroad and Vietnamese firms have got the notice, Nhandan reported.
The Australian Department of Agriculture, Water, and the Environment noted that the new proposed interim import conditions aimed to manage the biosecurity risks associated with Enterocytozoon hepatorenal (EHP).
These conditions were issued following consultation with relevant agencies at the Animal Biosecurity Advice 2020-A02. Accordingly, all uncooked prawns imported from all countries will be deveined during the processing stage. All shipment seals will continue to be checked during customs clearance in Australia.
Vietnamese enterprises are required to pay attention to the new regulations in order to meet their partners' requirements.
The proposed import conditions for uncooked prawns will remain interim while Australia finalizes its review of the biosecurity risks of prawns imported into Australia for human consumption. A draft report is expected to be announced in mid-2020.
VNT