Vietnam-North Korean Couple Wait 3 Decades To Marry, with Help from State President
The husband, from Vietnam, and the wife, from the Democratic People's Republic of Korea (DPRK), had to overcome enormous obstacles to be together.
Meeting and falling in love at the age of 20, but that Vietnam-North Korean couple had to wait 31 years to marry, with the help with the former State President.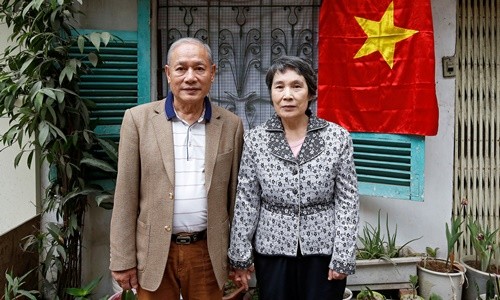 Pham Ngoc Canh, from Vietnam, met his North Korean wife, Ri Yong Hui, in 1971. They finally were able to marry in 2002 and now live in Hanoi. Photo taken in 2019 by Reuters
Pham Ngoc Canh, a Hanoi young man, was one of 200 students who went to the Democratic People's Republic of Korea (DPRK) in the 1960s and 1970s to study. In 1971, Canh was a student at the Hamhung University of Chemical Industry and came to the Hungnam fertilizer factory for an internship. In that seaside town, he met the love of his life, Ri Yong Hui, a laboratory worker there.
"I was standing, working on the manufacturing line, and I saw her working in the lab. And I said to myself, 'I'm going to make her my wife.' said Canh, who eventually plucked up the courage to approach Ri.
"I asked others for her name, trying to meet her," he said. At that time, both Vietnamese and North Koreans were not allowed to marry foreigners. The task of Vietnamese international students is to focus on studying to return to rebuild the country after the war.
Canh started his campaign to woo Ri by watching her movements to figure out her schedule. He arranged to casually bump into her in the hallway. He said hi. She said hi back. And that gave him the courage to take the next step and ask her for her address.
His first token of affection was a handkerchief.
"I took a handkerchief I'd bought in Beijing and a photo of me taken with two of my friends," he says. He sneaked into her lab when no one else was there and asked if she had a boyfriend. She said no. He then presented her with the gift and asked if he could visit her home. She said yes.
"It was love at first sight for me. I fell for him immediately," recalled Ri.
"I had to take seven buses to get there," Canh remembered. "And then I had to walk about three kilometers [two miles] from the last bus station to her house."
During that first meeting, he brought his camera with him, taking a photo to commemorate. At that time, Canh was 22 years old, and Ri was 23.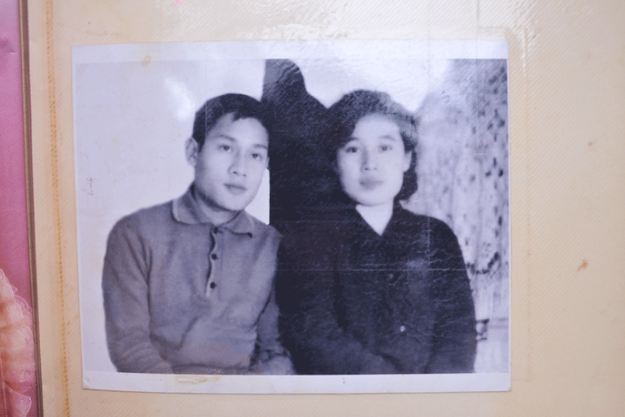 A photo from their early days of courtship in 1971, when Pham Ngoc Canh was in North Korea on an internship.
Dressed in North Korean clothes, Canh took the bus for three hours, changed ride a few times, then got off at the station 2km away from his lover's house, walked in so that no one would notice. Canh often came on Sunday to see Ri for a little bit, and then went back to the university. Just like that, they loved each other cautiously for nearly two years, until 1973, he had to return home.
"Die together"
In 1973 Canh graduated and has to return home. He came to see her and said goodbye for the last time. "That afternoon, I escaped to her house to break up. She saw me and my friends off to the train station again. I took the train to the city again, that night at 11 o'clock I went to the station to board the train to Pyongyang," Canh recalled.
"We were in love and she had even told me we should die together, to commit suicide. But I told her, 'We are in love, why die? Wait for me and I will come back.'"
Canh gave Ri 20 envelopes with his mother's work address at the State Bank of Vietnam already written out so she could send letters, skirting North Korea's monitoring of correspondence.
Still, the couple sent only two or three letters a year to avoid notice. Mostly, they kept to safe subjects like health and work, in case the envelopes were opened by others.
"-Is Comrade Ri Yong Hui in good health now? How's your job? Will the snow in Hamhung fall thicker this winter?
- Wish comrade always complete the assigned tasks."
- An excerpt from one of Canh's letters -
They sent letters back and forth, calling each other "comrades". The words were extremely restrained, did not dare to mention a word of love, but made both of them raise hopes of reunion.
But letters sometimes went awry. Canh remembers taking a trip to North Korea in the late 1970s and sending Ri a letter, asking her to meet. It arrived a week too late. But they were still able to meet before he left.
"I was glad to see you, but then we had to separate again," Ri said. "So, when Canh kept writing in his letters, 'Love knows no boundary,' it made me upset. And the idea that the end of every meeting was just another separation made me a little afraid of seeing him again."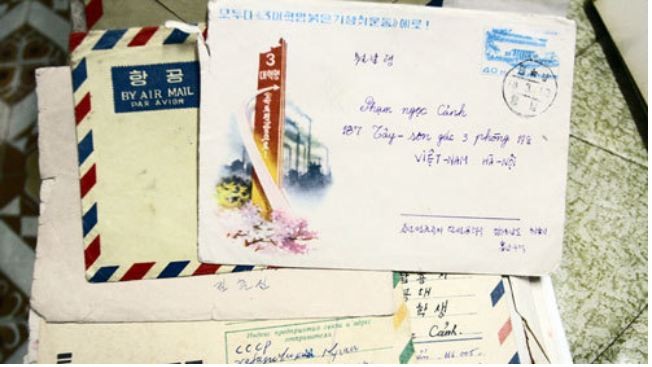 Their old letters. Source: BBC
Sometimes, when relations between the two countries soured, or when they thought the security services were on to them, the letters stopped. So did the visits. Starting in the late 1980s, the couple had no direct communication for more than a decade.
At that time, both countries still forbid citizens to marry foreigners. Any meeting had to take place in secret and keeping communications discreet was not easy.
Later, Vietnam scrapped the rule about marrying foreigners, but the DPRK retained it.
In 1991, Canh initiated the establishment of a Vietnam-DPRK Friendship Association to connect people who had studied in here.
A year later, he had the opportunity to return to the country for a sports tournament, during which he sent the then DPRK's leader Kim Il-sung, two big paintings. Later, each of the Vietnamese sports team members received a gift from the president.
Canh received a set of green cups which he cherishes to this day. But the gift also served to nurture his love.
During all the years that he pined for his live, Canh tried everything he could to facilitate the reunion, particularly prayers at the Tay Ho Temple, where he made offerings year after year.
One was still waiting, and one did not give up.
20 years later, on April 25, 1997, after many attempt to urge his only son to marry, Canh's father wrote a letter to the then Foreign Minister Nguyen Manh Cam. "We earnestly request you to consider and settle the matter on this trip, allow Canh and Ri Yong Hui to get married and live together for the rest of their lives.
We ask that you sympathize with our family's tormenting sadness..."
Those are the thoughtful words of an elderly parent who wanted to somehow help his son. It was also the first time Canh's family learn about his 26-year-old love.
However, the DPRK's side did not respond to the request of the Vietnamese delegation.
Raise 7 tons of rice for his lover's country
In the late 1990s, the DPRK was constantly suffering from famine and natural disasters, despite the best efforts to cultivate crops. Vietnam had aided and lent hundreds of thousands of tons of rice to help them until 2000.
Canh had raised money for a 7-ton donation of rice for his lover's country.
For many days, Canh wrote letters to each and every person in the Vietnam – DPRK Friendship Association. He posted letters to club members living in other provinces and drove his bike to deliver the letters personally to those living in the city's suburbs.
Eventually, seven tons of rice were delivered to North Korea.
He also wrote three letters to the then DPRK President Kim Il-sung, confessing his love for Ri, and expressing his hope that he would be allowed to marry her.
Canh also sought help from Vietnam's Ministry of Foreign Affairs.
In 2001, he made an audacious move, using connections in the Foreign Ministry to deliver a letter pleading his case to then Vietnam's President Tran Duc Luong — who was about to leave on a state visit to the 2002 state visit.
Former President Tran Duc Luong recounted that, when he heard that story, he was so moved by the decades-long love story of the couple, he personally voiced the request and asked for permission for the couple to be married.
"The DPRK's side at that time had a gentle attitude and immediately approved," he recalled.
"After I heard the president raised this issue, I thought, that's it," Canh was told by a friend that his gambit had worked.
"I've done all I can. But I knew in my heart that they would say yes."
He was right.
In late 2002, after the couple had waited 30 years, North Korea took the rare step of allowing one of its citizens to marry a foreigner.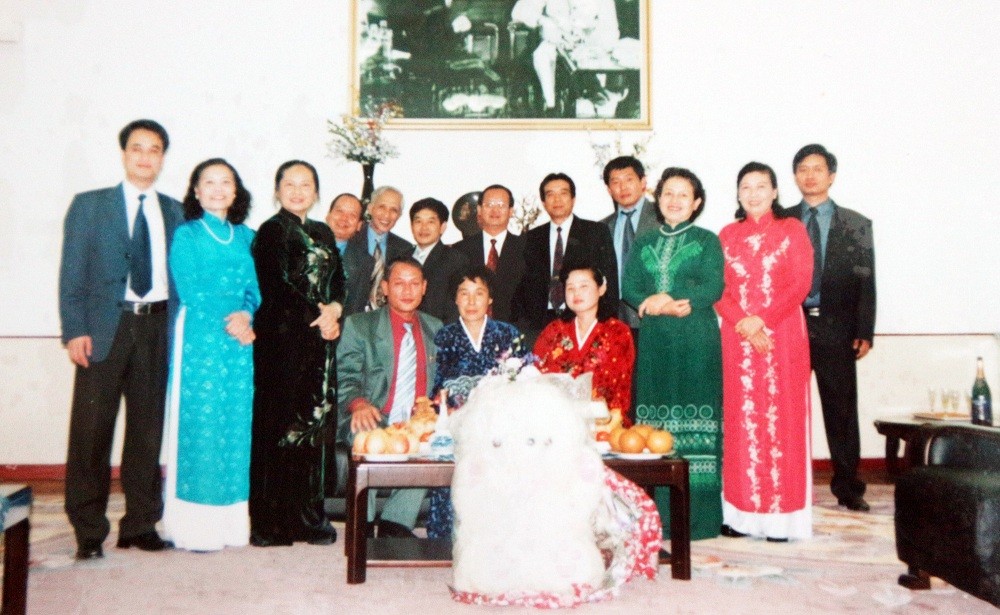 A small ceremony in Pyongyang, Photo courtesy of Pham Ngoc Canh
Late wedding after 31 years of waiting
In September 2002, the Embassy of the DPRK in Vietnam sent a note to Vietnam's Ministry of Foreign Affairs informing that the marriage was approved by the DPRK's Supreme People's Assembly Standing Committee. "After marriage, where they live is according to their wishes. If Ms. Ri Yong Hui lives in Vietnam, she would become a Korean citizen living abroad", stated the note dated September 4, 2002.
Canh rushed to North Korea to pick up his bride. "At that time, the North Korean diplomat told me: You don't have to go to her hometown. She will come here. I stayed at the embassy for 15 days without knowing anything, and on the 15th day, they arrived and I was able to meet them," Canh said.
Do Thi Hoa, former Ambassador of Vietnam to the DPRK also could not forget that meeting."Canh stood up, rushed to the stairs, and hugged his lover. He could not stop crying."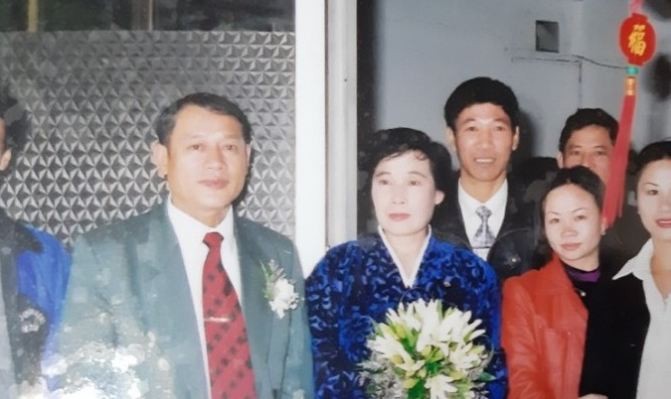 Pham Ngoc Canh (L) and Ri Young-hui at their wedding held in Hanoi on December 13, 2002. Photo courtesy of Pham Ngoc Canh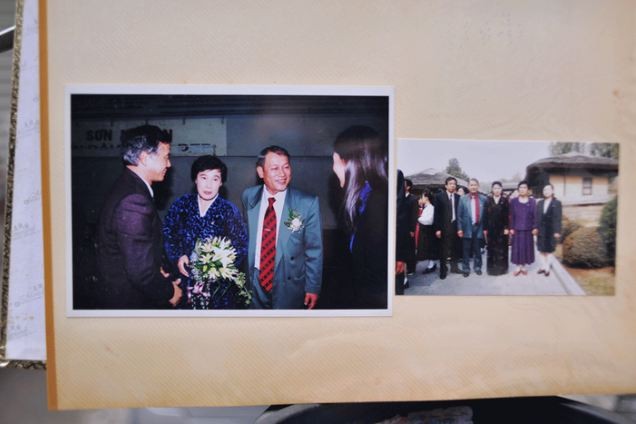 Photo courtesy of Pham Ngoc Canh
A small ceremony was held according to the traditional Korean ceremony at the Vietnamese Embassy in Pyongyang on Feb. 20, with the guests being a niece of the bride, staff of the Vietnamese Embassy, ​​three representatives from the DPRK's Foreign Ministry, two officials from the DPRK's Supreme People's Assembly Standing Committee and two members of the DPRK - Vietnam Friendship Association.
"Looking at her, I said 'We've been through a lot, right?" Canh recalled that important day.
"My wife just nodded in tears."
On Dec. 31, 2002, a bigger ceremony for the cross-border couples was held in Hanoi with 800 guests.
They married when he was 53 years old, she was 54 years old, coming together after years of separation.
As a North Korean living abroad, not knowing Vietnamese, and having no family or friends, Ri Yong Hui always feels nostalgia for her homeland. But she always has a loving husband at her side.
But she admits to being a little sad for her husband, "because he went through a lot waiting for me," she says. "And does not have any children because of that."
Since then, Canh has taken his wife with him wherever he goes, making up for the years of separation. Thinking about his love affair across the century, he pondered: "Vietnamese people are very loyal, I inherited that morality, character, and affection.
I think our story is also to show the world that Vietnamese people not only successfully defended their homeland in war but also have a strong love no less than other nationals."