Vietnam Plays Important Role of Bridge Connecting ASEAN with China
As an active member of ASEAN, Vietnam serves as a gateway to the ASEAN-China free trade area, while Vietnam-China trade revenue posted an annual average growth rate of 20% over the past five years.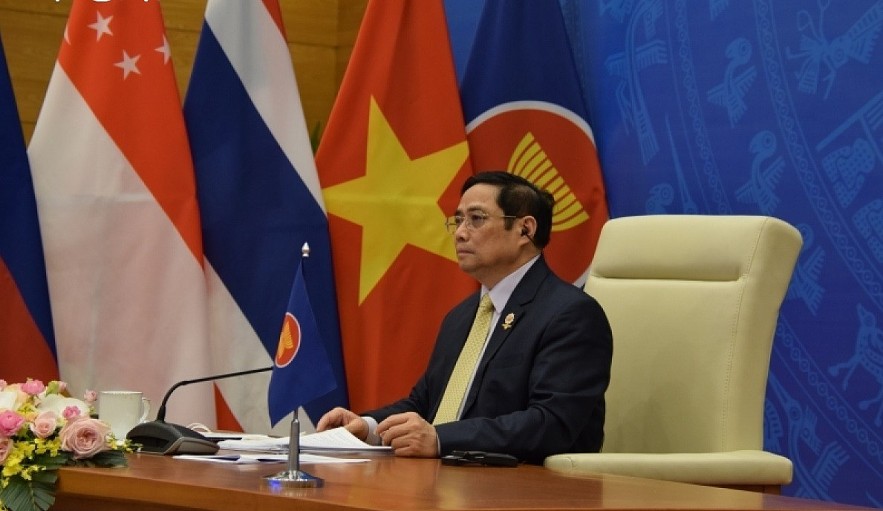 Prime Minister Pham Minh Chinh attends the 24th ASEAN-China Summit.
Prime Minister Pham Minh Chinh is set to attend the ASEAN-China Special Summit commemorating the 30th year of the ASEAN-China Dialogue Relations, which will be held virtually on November 22, at the invitation of Chinese President Xi Jinping.
Both sides' leaders will review the ASEAN-China cooperation in the past three decades and outline orientations for the new period to deepen their relations in line with the comprehensive strategic partnership, established during the 24th ASEAN-China Summit held in October.
As an active member of ASEAN, Vietnam, along with ASEAN member states and China, strengthen political dialogue, mutual understanding, trust and respect, and step up comprehensive cooperation in order to develop the two sides' relationship into a model of stable and sustainable cooperation among neighboring countries.
The nation is ready to play its role as a bridge between the ASEAN Economic Community and China, and join hands with ASEAN members to ramp up cooperation in a multitude of fields, maintain peace and stability, and resolve differences for all sides' benefits so as to ensure smooth economic and trade cooperation activities, thereby making positive contributions to peace, cooperation, development and common prosperity of the region.
At the China – ASEAN Expo (CAEXPO) events, Vietnam has been always the country with the largest number of participating businesses that display the highest number of booths in ASEAN.
Notably, a wide range of Vietnamese agriculture, forestry and fisheries products, processing food, wood furniture and handicrafts, consumption good, as well as tourism and trade services were on show at the CAEXPO which got underway from September 10-13 in Nanning, China.
These products are brought to the event by approximately 70 Vietnamese businesses and their partners in China at a pavilion spanning across more than 2,000 sqm in Nanning International Convention and Exhibition Centre.
Alongside ASEAN - China cooperation, Vietnam - China comprehensive strategic partnership continues to be reinforced, thus yielding positive results in multiple areas, especially in terms of economics and trade, bringing practical benefits to the two countries' people.
According to statistics provided by Vietnam Customs, the first 7 months of 2021 saw the total trade turnover between Vietnam and China reach US$91.41 billion, up 40.4% over the same period from last year, of which exports hit US$ 28.54 billion, up 23.25%, and imports grew 49.87% to US$ 62.86 billion.
China remains to be Vietnam's largest trading partner, while Vietnam also becomes China's largest trading partner among ASEAN member states.
Vietnam is working with ASEAN towards the Community Vision 2025 with a focus on expanding mutually beneficial cooperation with neighboring China on the basis of the United Nations Charter and international law in order to make responsible and effective contributions to ensuring peace, stability and prosperity in the region and the world as a whole.
VOV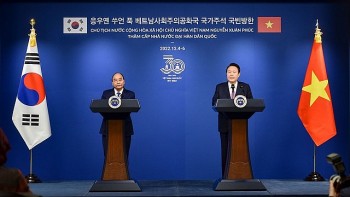 Focus
Vietnam and the Republic of Korea (RoK) agreed to upgrade their ties to a comprehensive strategic partnership during the talks between President Nguyen Xuan Phuc with his RoK counterpart Yoon Suk-yeol in Seoul on December 5.