Vietnamese Students Of Chinese Universities: A Bridge Of Friendship
Vietnam is one of 15 countries in the world with many international students studying in China, which has around 11,300 people.
Currently, Vietnam has 20 Vietnamese Student Associations in China including: Guangxi, Yunnan, Guangdong, Beijing, Shanghai, Tianjin, Chongqing, Hunan, Hubei, Fujian, Jiangsu, Zhejiang, Guizhou, Sichuan, Shanxi, Jilin, Liaoning, Heilongjiang, Anhui and Shaanxi.
The number of Vietnamese student associations ranges from a few dozen members to several hundred ones, of which the largest ones are in Nanning (678 students), Guilin (627 students), and Beijing (447 students).
In general, Vietnamese students of Chinese universities have good moral qualities and a healthy lifestyle. They are able to promote their abilities and strengths in learning and scientific research; actively participate in cultural, social and sports movements organized by the host country, enthusiastically contribute to people-to-people diplomacy activities and friendly exchanges between the two countries.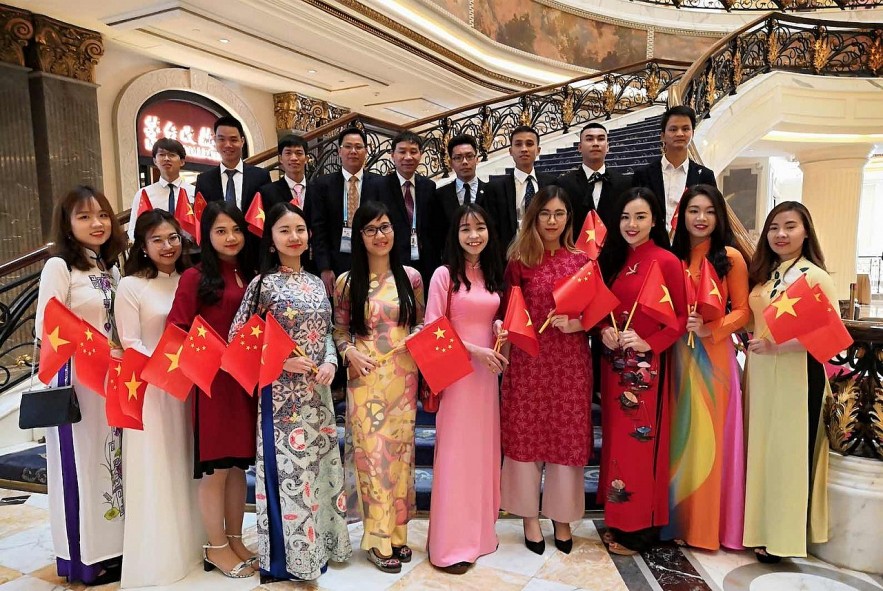 Vietnamese students in Beijing always actively participate in important political-diplomatic events. Photo: Vietnamese student association.
First of all, it is clear that learning is the most important task to Vietnamese students of Chinese universities. They always make great efforts in studying and doing scientific research.
Many Vietnamese student associations across China regularly organize learning and research experience exchange forums to share experiences for newcomers at the beginning of each school year.
Many Vietnamese student associations achieved excellent results, received scholarships from the Chinese government, as well as scholarships from provinces, cities and universities. Many PhD students are actively involved in scientific research, have many patents and scientific articles published in international journals.
For example, Tran Ngoc Tuan, born in 1984, a post-doctoral fellow at Shantou University (Guangdong province) has been voted as one of the 10 young talents of the Golden Globes in 2019 of Vietnam. He made an impression on 34 scientific articles published in international journals; received a full scholarship from the Chinese government (2011-2015) and the "International Talent Program" scholarship for postdoctoral students from the Chinese Academy of Sciences (2015-2017).
Vietnamese students of Chinese universities also actively contributes to the Vietnam-China friendship cooperation. Each student is identified as a messenger and a bridge of friendship between the peoples of the two countries. They always actively supports to serve important political and diplomatic events such as: joining in welcoming General Secretary Nguyen Phu Trong to China for an official visit in January 2017; welcome Prime Minister Nguyen Xuan Phuc to pay an official visit to China in April 2019; welcoming National Assembly Chairwoman Nguyen Thi Kim Ngan to pay an official visit to China in July 2019; attending the Sino-Vietnamese Youth Friendship Meeting, the anniversary of the establishment of diplomatic relations between the two countries, or Vietnam's National Day in China.
The Vietnam Student Association in Shanghai gave money to support the prevention and control of the Covid-19 pandemic at the Vietnam Fatherland Front on April 3, 2020. Photo: Vietnamese student association.
In order to strengthen the connection, Vietnamese student associations also regularly organize activities between provinces and cities near each other, and celebrate important Vietnamese holidays, such as: International Women's Day on March 8, Vietnamese Women's Day on October 20, Vietnamese Teachers' Day on November 20.
Every year, Vietnamese student associations of the provinces and cities organize sports and arts competitions and exchange with international friends.
Do Thi Thanh Hoa, a Master's graduate student majoring in Vocals at the China Academy of Music, is a prominent student in the cultural movement. She won many music awards in Vietnam and China, and was chosen as the Ambassador of Culture and Tourism of Guangxi Zhuang Autonomous Region (China) for the 2018-2021 term. She is also likened to "the lark of Vietnam-China friendship".
Vietnamese students of Chinese universities also regularly participate in International Cultural Festivals organized by universities in China. This is an opportunity for them to introduce and promote the beauty of the people, culture and country of Vietnam to friends from all over the world. They not only conveys the message of a friendly and hospitable Vietnam to international friends, but also absorb and introduce new scientific and technological achievements, as well as cultural quintessence of other countries to Vietnam.
Not only studying well, actively participating in scientific research, performing arts and sports activities, Vietnamese students of Chinese universities always unites and supports each other in life and study; actively participate in charity work in China as well as in Vietnam.
In the process of participating in volunteer activities, Vietnamese students of Chinese universities better understand the lives of people in disadvantaged areas, accumulate more practical experience, know how to live responsibly.
Accordingly, Vietnam students in Guangdong province gave meaningful gifts to homeless people in China during Tet holidays. Vietnam students in Beijing, Tianjin turned to the country's compatriots with Tet's program in Ha Giang province in 2018; the program named "Join hands to light up dreams" in Mu Cang Chai, Yen Bai province in 2019 and the program named "Spring and Tet reunion" in Mai Lap commune, Bac Kan province in 2020.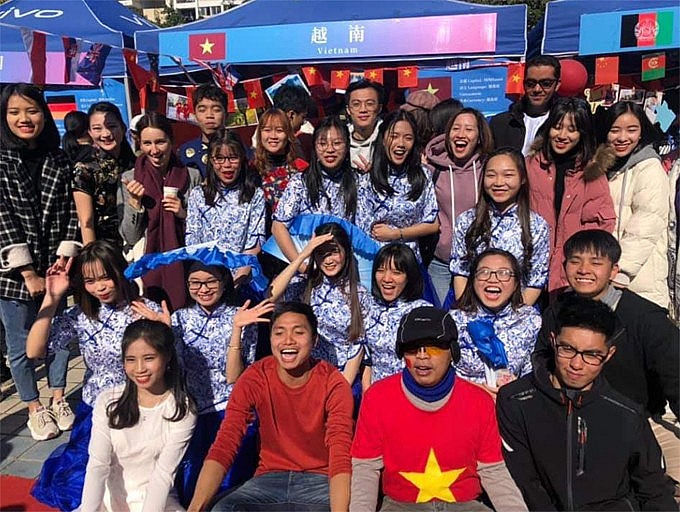 Duyen (pink jacket, second from right, top row) and Vietnamese students at a cultural event at Fuzhou University, China's Fujian Province, November 2019. Photo courtesy of Duyen.
In particular, the Vietnam Student Association in Shanghai launched a donation program to join hands with the Vietnamese Government to fight against Covid-19 pandemic with a total amount of 30 million VND ($1,320.33).
The above activities are vivid proofs that clearly show the community responsibility, the spirit of mutual love towards the homeland of Vietnamese students of Chinese universities.
In order to achieve the above results, Vietnamese students of Chinese universities also regularly receive attention, close guidance, support and valuable encouragement from the leaders of the Vietnamese Embassy in China.
In the coming time, Vietnam Student Associations in China shall continue to promote the gained achievements; closely follow the guidelines and policies of the Party and State; comply with local regulations; organize and participate in many meaningful activities to build a strong community towards the homeland. They will consolidate the important role as a friendship bridge for the people of Vietnam and China.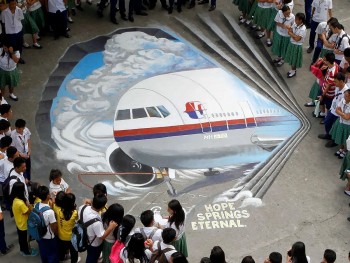 World
The world might never know what really happend when these planes went off the radar. Let's take a look at some of the unsolved mysteries of aircraft disappearances.