Vietnam Plays Pivotal Role in ASEAN
Vietnam is always proud to be a responsible member with significant contributions to the ASEAN.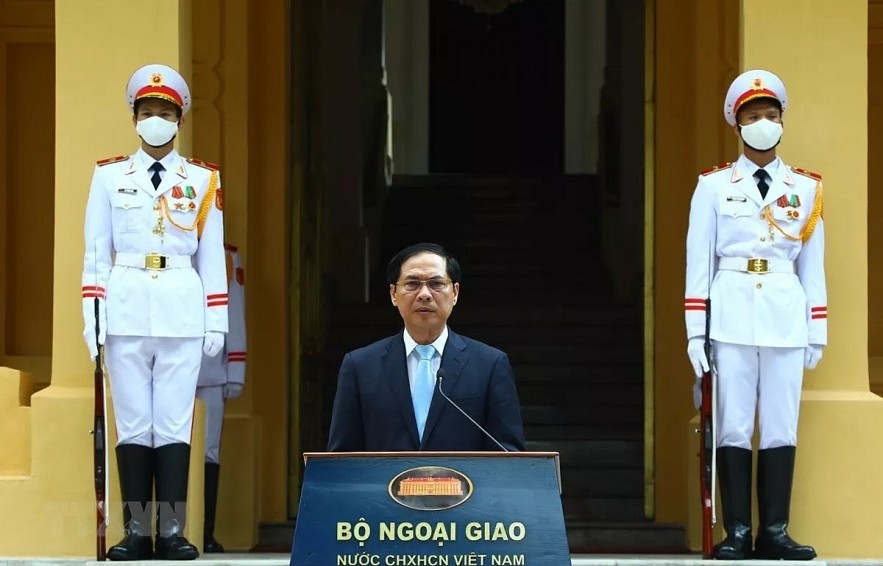 Minister of Foreign Affairs Bui Thanh Son speaks at the flag-raising ceremony on the 55th founding anniversary of ASEAN (August 8, 1967 - August 8, 2022). Photo: Van Diep/VNA
August 8 marks the 55-year journey of formation and development of the Association of Southeast Asian Nations (ASEAN).
Over the past 5 decades, ASEAN today has become a community, a large economy in the world. Cooperation in security, politics, culture and society has become more extensive.
Vietnam is always proud to be a responsible member with significant contributions to ASEAN as it is today.
Imprints of Vietnam in ASEAN
The Association of Southeast Asian Nations was established on August 8, 1967 with 5 original members; gradually developed into a comprehensive cooperation organization, including 10 Southeast Asian countries and officially became the ASEAN Community on December 31, 2015.
Vietnam officially joined ASEAN on July 28, 1995 at the 28th ASEAN Foreign Ministers Meeting (AMM-28) in Brunei.
Joining ASEAN is a strategic decision of our Party and State, contributing to the country's development, consolidating a peaceful and stable environment, taking advantage of external resources for development and enhancing its position in the region.
During the past 27 years, Vietnam has made many contributions to a unified, peaceful, stable and developed ASEAN, having a voice in the region and being recognized by major countries.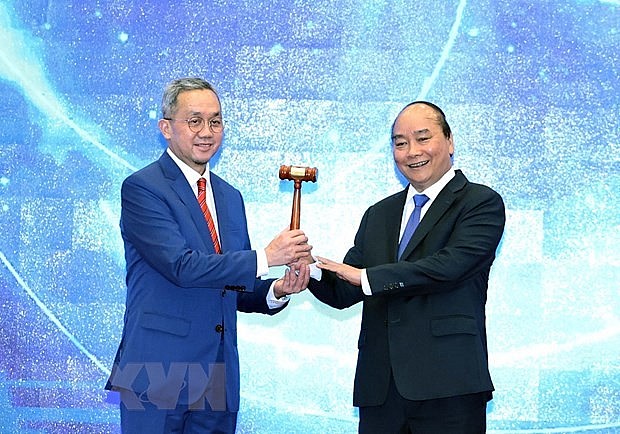 Prime Minister Nguyen Xuan Phuc transferred the role of ASEAN Chair to Brunei. Photo: Thong Nhat/VNA
Vietnam has played a pivotal role in defining development goals, directions and shaping major decisions in ASEAN.
Vietnam has always cooperated with ASEAN to put decisions into implementation with a broad vision, and breakthrough initiatives in all fields with increasing extent and scope.
In the complex global and regional context, affecting security and stability in Southeast Asia, Vietnam has contributed to the principle-building process. Vietnam and ASEAN effectively respond to threats to regional peace, security and stability, promote dialogue and cooperation.
For the international community, Vietnam has made important contributions in strengthening cooperation between ASEAN and its partners.
2020 marks the 25th year of joining ASEAN, also the third time taking on the role of ASEAN Chair. The difficulties of this period are the great challenges caused by the Covid-19 pandemic, but Vietnam has demonstrated its leading role of ASEAN Chair 2020.
Vietnam has responded and adapted to the new context, maintained regional cooperation and connectivity, affirmed its central role and enhanced the position of ASEAN.
Economic and trade cooperation between Vietnam and ASEAN is growing
After 27 years since joining ASEAN, Vietnam-ASEAN economic and trade relations have had remarkable development.
In 1996, when Vietnam first joined the ASEAN Free Trade Area (AFTA), Vietnam's two-way trade with other countries in the bloc only reached nearly US$6 billion. To date, this number has increased more than 10 times, averaging about US$60 billion.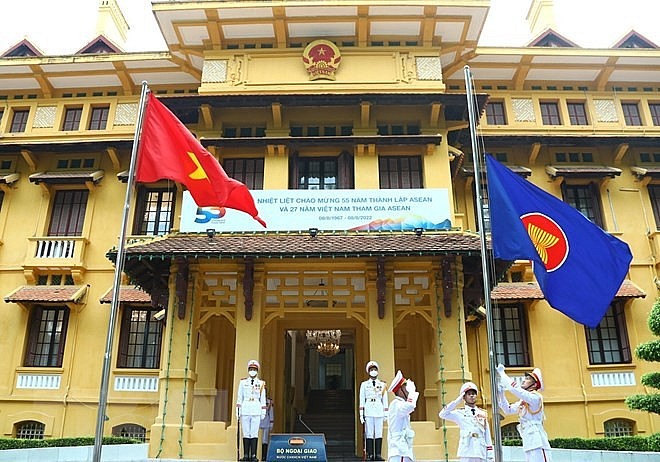 Soldiers carry out the ceremony of raising the ASEAN flag. Photo: Van Diep/VNA
In the period 2010-2021, trade between Vietnam and ASEAN experienced remarkable growth. In which, exports increase from US$9.3 billion in 2010 to US$29.1 billion in 2021.
Vietnam also increased imports from ASEAN, from US$14.5 billion in 2010 to US$41.1 billion in 2021, an increase of US$26.6 billion.
In 2021, Thailand is Vietnam's largest export market in ASEAN, reaching US$6.1 billion, accounting for 20% of the market share; followed by Cambodia, reaching US$4.8 billion; Philippines reaching US$4.5 billion; Myanmar reaching US$4.4 billion.
Vietnamese products such as computers, electronic products and components; phones and accessories; other machinery, equipment, tools and spare parts are the export products accounting for the largest turnover.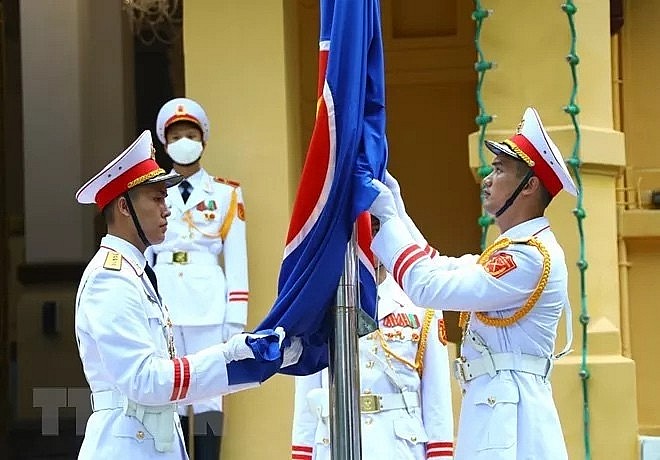 Soldiers carry out the ceremony of raising the ASEAN flag. Photo: Van Diep/VNA
Vietnamese rice is the main agricultural product exported to ASEAN. In which, the Philippines is the largest importer of Vietnamese rice in the bloc and in the world (in 2021, it has reached 2.4 million tons, equivalent to US$1.2 billion, accounting for 38% and 37% market share, respectively).
In 2022, Vietnam and ASEAN countries will continue to promote investment and trade cooperation between the parties; trade, cooperation and connection for intra-regional enterprises.
In the context of complicated changes in the world and in the region, ASEAN is facing opportunities and challenges in terms of its ability to respond to emergencies, build a resilient community. ASEAN has always been one of the top priorities in Vietnam's foreign policy.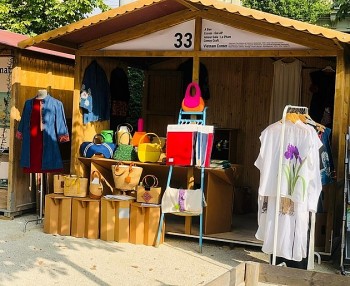 World
Vietnam's GDP grew by 8.83% in the first nine months of 2022, the highest increase in the period of 2011-2022.