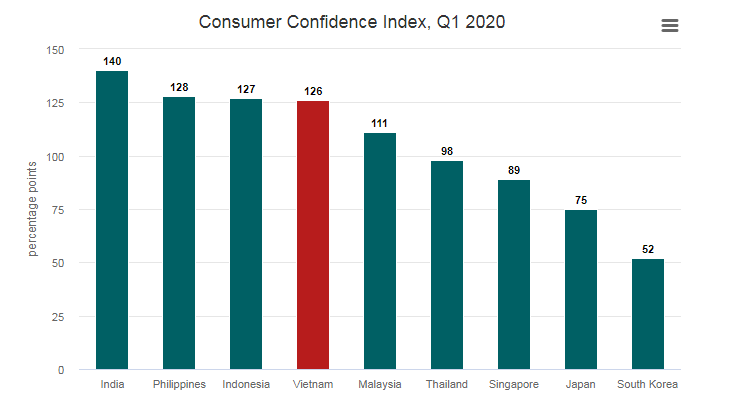 Vietnam ranked fourth globally among the most optimistic countries (Photo: VnExpress)
On May 13, Nielsen, a market research company, said that the global consumer confidence index for the first quarter of 2020 reached 106 points, a slight decrease compared to the fourth quarter of 2019. However, consumers are more optimistic compared to the negative impacts around the globe.
In the first quarter of 2020, Vietnam continued to rank fourth globally due to the most optimistic consumers, with the consumer confidence index reaching 126 points, an increase of 1 point compared to the fourth quarter. Vietnam ranks behind India, Philippines and Indonesia with scores of 140, 128 and 127 respectively.
A Nielsen representative said that Vietnam's consumer confidence index increased slightly due to optimism about improved job prospects. Meanwhile, optimism about personal finances and spending remained stable.
However, compared to the first quarter of the same period last year, the consumer confidence index decreased by 3 points, most of which was predicted by the impact of COVID-19 epidemic, according to Vietnam Biz.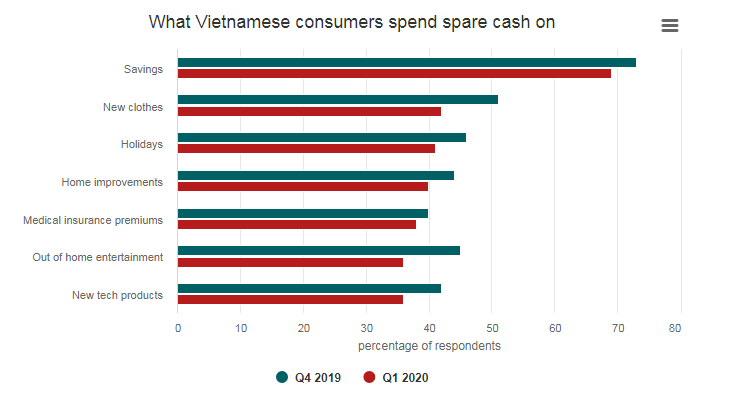 What Vietnamese consumers spend spare cash on (Photo: VnExpress)
Health has replaced the economy as a top concern in many markets.
The proportion of consumers who identify health is their biggest concern over the next six months, including Vietnam. Accordingly, 49% of Vietnamese consumers continue to rank health as the number one concern, the highest globally.
Followed Vietnam are Pakistan with 47%, Latvia 40% and Singapore 39%. Over the last four quarters, health has been a top concern in Vietnam.
At the same time, although still in the top 2, the number of Vietnamese people interested in job stability increased by 3% compared to the fourth quarter of 2019. Meanwhile, the percentage of consumers interested in work and life balance dropped sharply from 27% to 22%.
Remarkably, in the first quarter, a new factor appears in the top six concerns of Vietnamese consumers, which is the welfare and well-being of their parents, with 10% of the respondents saying they were worried about that.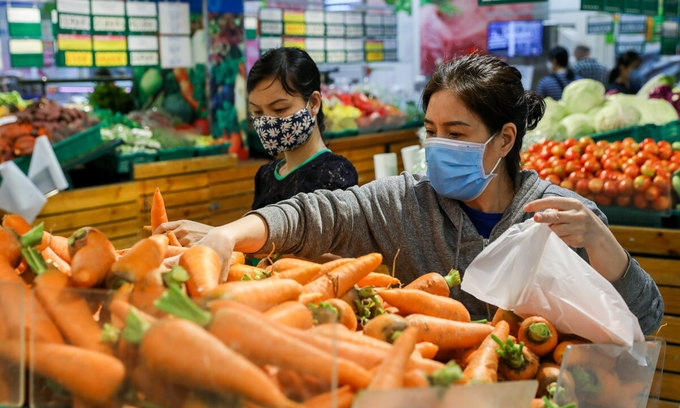 People shop at a supermarket in District 9, Ho Chi Minh City (Photo: VnExpress)
Other areas of concern for Vietnamese consumers are the economy and rising costs with almost the same level of interest as the previous quarter, respectively 21% and 9%.
Results from the survey show that Vietnamese consumers tend to reduce significantly in idle money spending. They also spend less on savings (-4%), new clothes (-9%), travel. (-5%) ...
According to a Nielsen representative, COVID-19 has disrupted the lives of billions of people around the world, including Vietnamese. This epidemic is rapidly changing attitudes, behaviors and expectations of consumers.
"With people increasingly aware of the impact of the Covid-19 pandemic on jobs, even part way through quarter one, their spending intentions reflected this uncertainty," said Louise Hawley, managing director of Nielsen Vietnam.
The pandemic has slashed consumer spending as more people spent more time at home, avoiding entertainment venues like cinemas, bars and restaurants and any form of travel, Hawley said.
Vietnam's Covid-19 cases jumped to 312 on Friday morning after 24 citizens repatriated from Russia were confirmed positive. Friday morning marked 29 days straight that Vietnam has gone without any cases caused by community transmission, reported by VnExpress.
Candy Lee