Vietnam Receives $30-million Fund from EU, France for Flood Prevention
The European Union and France agreed Wednesday to fund a 26.1 million euros ($30.3 million) to enhance flood risk management capacity of Dien Bien Phu Town in Vietnam's northern highlands
Two financing agreements were signed by Bertrand Walckenaer, Deputy General Director of the French Development Agency (AFD) and Dinh Toan Thang, Ambassador of Vietnam to France, in Paris on the occasion of Vietnamese Prime Minister Pham Minh Chinh's official visit.
The support includes a loan of 24.65 million euros from AFD for infrastructure development and a 1.5 million euro grant (non-refundable aid) for technical assistance through the Water and Natural Resources Management Facility (WARM) funded by the EU, according to a press release from the French Embassy in Hanoi.
"It will help address challenges and support the resilience of this city of 150,000 inhabitants," the release said.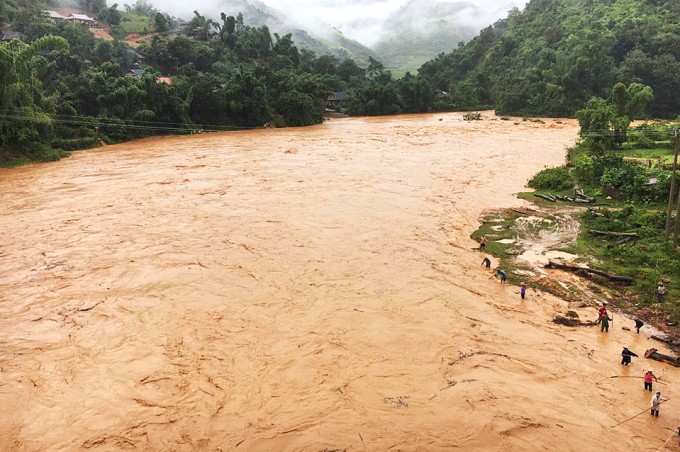 The swollen Nam Rom River in Dien Bien Phu Town in Dien Bien Province in 2017. Photo: VNE
Climate change is increasing the frequency and intensity of extreme weather events, including heavy rainfall and associated flooding in the town in Dien Bien Province, which is frequently exposed to flooding from the Nam Rom River in spate, VNE reported.
The five year (2022-2026) project will improve the town's capacity to adapt to climate change impacts, in particular to the flooding of Nam Rom River. It is expected to reduce riverbank erosion, urban flooding and improve livelihoods of the riverine population. It will construct and operate hydraulic works along the Nam Rom (rehabilitation of the riverbank and river weirs).
Besides, it will assist the town in adopting nature-based approaches with eco-friendly engineering techniques and the development of spaces with more room for the river during high flooding periods.
The EU grant via the WARM Facility will be used to provide technical assistance to the project.
The support will build local stakeholders' capacity in project implementation and multi-disaster risk management.
The capacity-building exercise will include hazard and vulnerability mapping and promoting integrated urban development strategies.
The project will also provide local authorities with a better decision-making tool through hydrological data analysis and development of a hydrological and hydraulic model of the Nam Rom River system.
In January, the UNFPA provided $180,000 in flood relief to elderly Vietnamese.
In particular, over 3,700 UNFPA Dignity Kits worth $180,000 were provided to the elderly in central Vietnam following a series of storms and tropical depressions that hit the region last year.
Dignity Kits are a signature product of UNFPA's comprehensive package of humanitarian assistance to safeguard the sexual and reproductive health and rights of women and girls, mitigate the risk of gender-based violence, and respond to and protect the dignity of women and girls adversely affected by a crisis. Kits meant for the elderly contain items like hand towels, sweaters, socks, wet tissues, toothbrushes, soap, underwear, blankets, flashlights and whistles.
The handover was made possible via financial contributions from U.N. Central Emergency Response Fund (CERF), according to a UNFPA press release.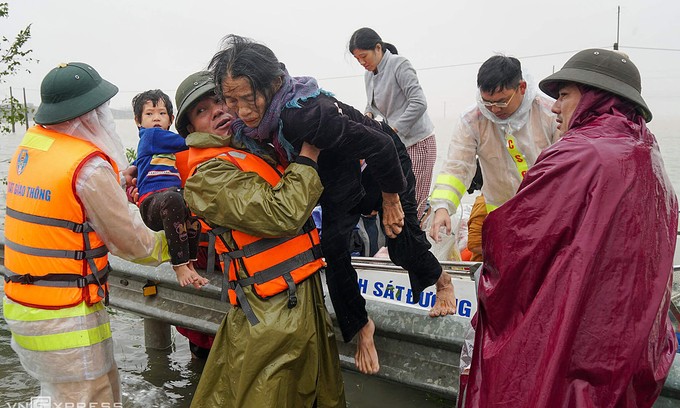 An old woman is among people evacuated from a flooded area in Ha Tinh Province, central Vietnam, October 2020. Photo: VNE
Such donation to flood-stricken areas also came from foreign individuals living in Vietnam.
Early this year, over $28,000 were collected from over 110 Americans in a charity drive for flood relief in central Vietnam.
The campaign was organized by Ron Haeberle, the American photographer best known for capturing the My Lai Massacre in 1968, with assistance from Chuck Searcy, co-founder of Project RENEW, an organization that deals with unexploded ordnance left from the Vietnam War.
"We were moved by the images of mud slides, and water trapping villagers on the roofs of their homes and water roaring through village streets carrying away trees, furniture, animals and villagers themselves," Haeberle said. "I have been committed to doing all I can to help the people of Vietnam ever since I personally witnessed American war crimes at My Lai."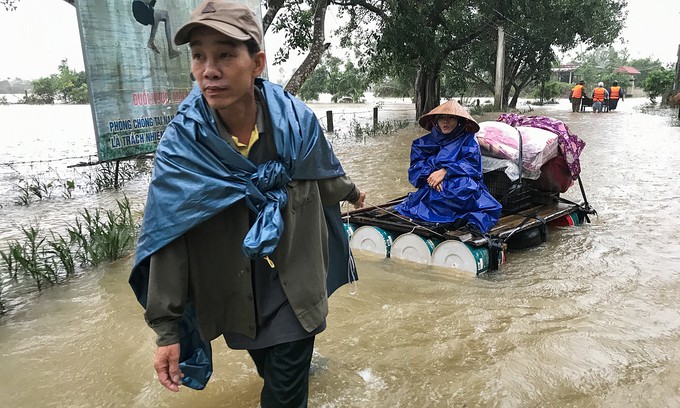 A family travels by a makeshift raft in the flooded Quang Tri Province, October 20, 2020. Photo: VNE
Last year, central Vietnam was struck by a series of storms and tropical depressions, triggering heavy rains, flooding and landslides. Over 200 people were killed and property losses amounted to around VND30 trillion ($1.3 trillion). Hundreds of thousands of homes were either destroyed or damaged, affecting the lives of at least 7.7 million residents.
The Vietnamese government has provided around VND770 billion to the region as emergency relief. Many international organizations and countries like the U.S., U.K. and Australia also provided aid to assist the resumption of normal life, according to VNE.