Vietnamese Community Assists Flood-stricken States in Germany
The Overseas Vietnamese community in Germany has handed over 30,000 Euro to representatives of Rheinland-Pfalz and Nordrhein-Westfalen states
The donation is reportedly raised from 382 individuals, households, enterprises, and associations. It is part of the Program "Vietnamese community in German Donates Flood-Stricken States in Western Germany" which lasts until August 20.
The program organizers had sent another 15,000 Euro to Rheinland-Pfalz's flood relief funds on August 11.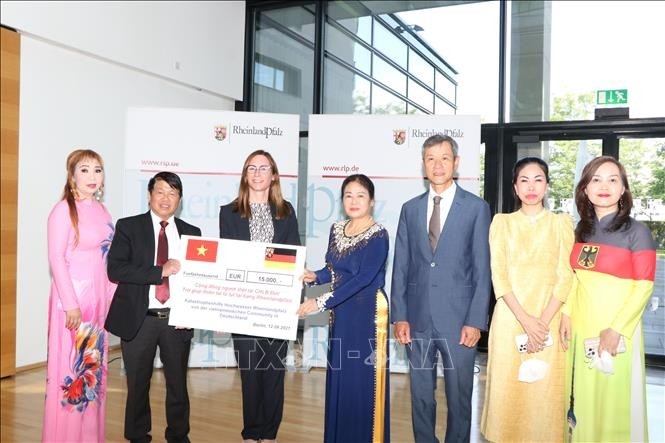 At the ceremony. Photo: VNA
Speaking at the ceremony taking place at the Rheinland-Palatinate State Representative Office in Berlin, Nguyen Minh Vu, Vietnamese ambassador to Germany expressed his sympathy to the loss. He hoped people at two stricken areas would soon overcome the difficulties and rebuild anew.
"Vietnam and Germany, as well as Rheinland-Pfalz, in particular, have a great cooperative relationship. The Vietnamese community in Germany consider the host country their second home," Vu said. "Hopefully, the bilateral cooperation relationship, especially in economy and trade, will be strengthened."
Meanwhile, Trinh Thi Mui, head of the Donation Committee, said the Vietnamese community was proud to live, work and study in Germany – their second homeland. The donation is a small sum, but represents the love and sharing spirit of Vietnamese people to residents of Rheinland-Pfalz and Nordrhein-Westfalen.
On her part, Britta Lenz, permanent representative of the state of Rheinland-Palatinate, expressed her pride to have Vietnamese friends who were sincere and supportive. She said local people were very grateful for the timely assistance of Vietnamese community during difficult times.
Earlier, the Berlin Golden Lotus Charity Association has crowdfunded 2,000 Euro from overseas Vietnamese in Germany. The money was later donated to Katastrophenhilfe organization to help flood-stricken Germans in Rheinland-Pfalz and Nordrhein-Westfalen overcome the consequences of natural disasters.
"Vietnamese people in Germany are living under the auspices of Germany, with calls for donations from local charities with the motto "helping people in need." This help is also a thank you to Germany for giving us a good life," President of the Golden Lotus charity group in Berlin Duong Thi Bich Ngoc.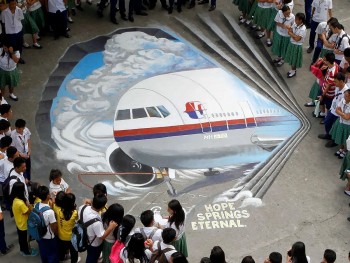 World
The world might never know what really happend when these planes went off the radar. Let's take a look at some of the unsolved mysteries of aircraft disappearances.