Vietnam receives over 8 tons of Covid-19 aid from Poland
Poland supports Vietnam in the fight against Covid-19 with medical supplies and protective equipment.
At the hand-over ceremony. Source: Polish embassy in Hanoi
Due to the complicated situation of the pandemic in Ho Chi Minh City, the Polish Government has decided to donate more than 8 tons of medical equipment to Vietnam.
An airplane carrying nearly 8 tonnes of humanitarian aid landed in Ho Chi Minh City, on Sept. 11 morning, as part of Poland's help for Vietnam, which is facing an increasingly difficult epidemiological situation, the Polish embassy in Hanoi announced.
Since April 27, Vietnam has been grappling with the largest wave of Covid-19 outbreaks since the beginning of the pandemic, with an unprecedented increase in the number of infections and deaths. HCM City is in a particularly difficult situation, with more than 280,000 cases within four months and more than 10,000 deaths.
The Vietnamese government, the local health system and the people are doing their best to save as many lives as possible. With this goal, the Vietnamese side appealed to the international community for support and help, and Poland stepped in.
In response to this call, Poland decided to provide in-kind humanitarian aid to Vietnam with 70 ventilators, 50 heart monitors, 267 mass pumps and 100 electric pumps, from the Polish government's Strategic Reserves Agency. Moreover, the Polish Ministry of Defense also organized the shipment of aid, providing an additional 400,000 protective gloves, 11,000 Covid helmets, 5,000 protective suits, 5,000 protective masks and 20,000 medical masks. The value of the aid shipment is PLN 14 million (US$ 3.6 million).
Vietnam is the first non-European country to which Poland provided the Covid-19 vaccine and medical equipment.
Medical equipment and supplies arrived in HCM City in the early morning of Sept. 11 by plane of the Polish Air Force. The equipment handover ceremony to Vietnam took place in the afternoon of the same day. On the Polish side, there was Polish Ambassador to Hanoi Wojciech Gerwel, and on the Vietnamese side, there was Deputy Minister of Health Nguyen Truong Son and Vice Chairman of the HCM City People's Committee Duong Anh Duc. The director of Thong Nhat Hospital - the agency receiving the aid shipment - also attended the event.
"Our priority is to provide this assistance as quickly as possible. We know, Vietnam needs it now. We know, Ho Chi Minh City needs it immediately. Last year, when we fought the pandemic, the Vietnamese community in Poland joined hands to help. I feel truly honored to be able to stand here today, on behalf of the Polish people, to respond to this act of deep and lasting friendship. I believe that the medical equipment and supplies that have arrived in HCM City today will help save many Vietnamese lives," Poland's ambassador Wojciech Gerwel said at the ceremony.
The humanitarian aid shipment to HCM City is a continuation of previous assistance to Vietnam. Three weeks ago, on Aug. 23, 501,600 doses of AstraZeneca vaccine – a gift from Poland arrived in Hanoi.
According to Gerwel, the donated equipment will be used in intensive care units where patients with Covid-19 are treated.
"The Vietnamese side provided us with a list of the most needed equipment, so we were able to respond to specific demands," he said.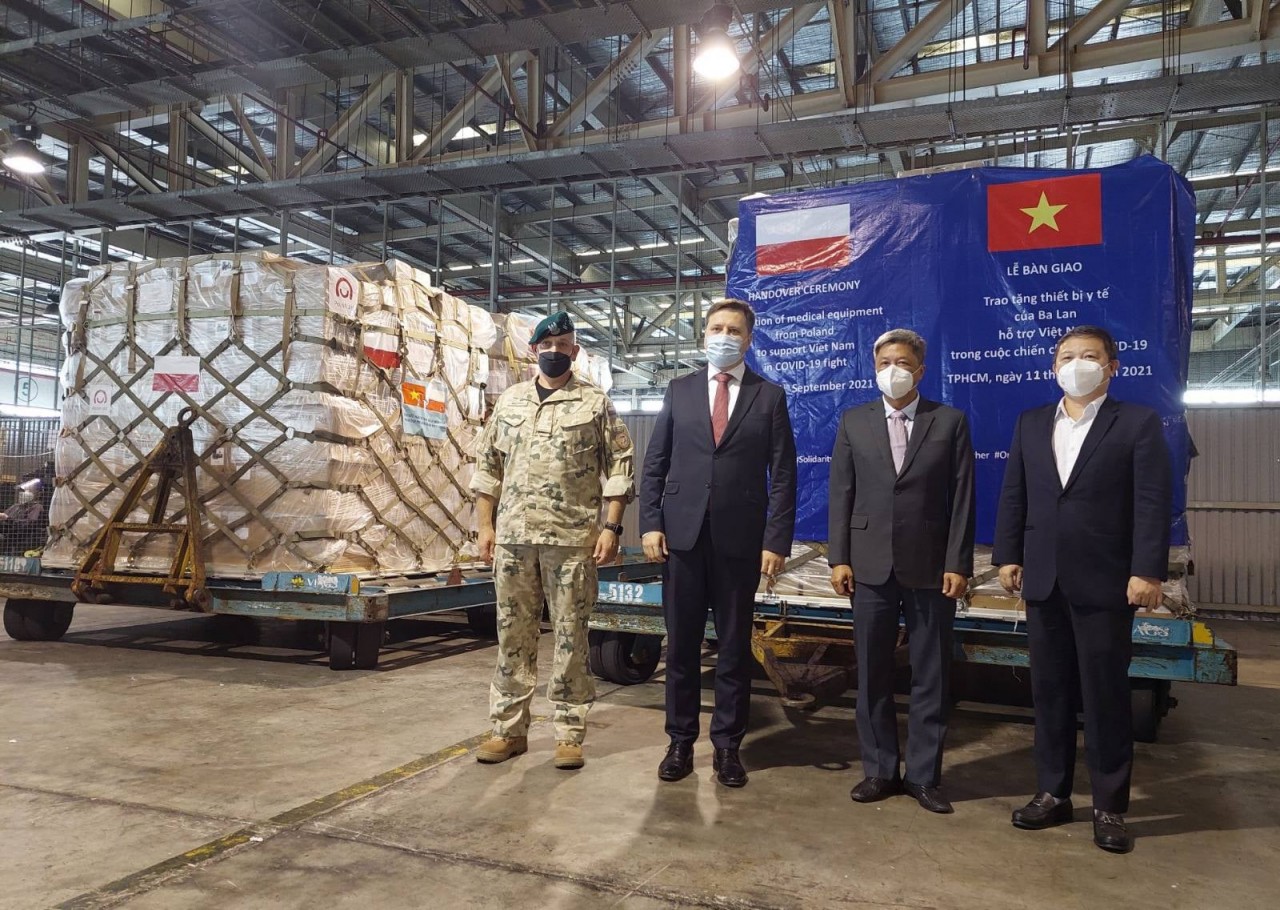 The shipment includes medical equipment such as ventilators, heart monitors and infusion pumps as well as personal protective equipment such as masks, protective clothing, gloves and visors.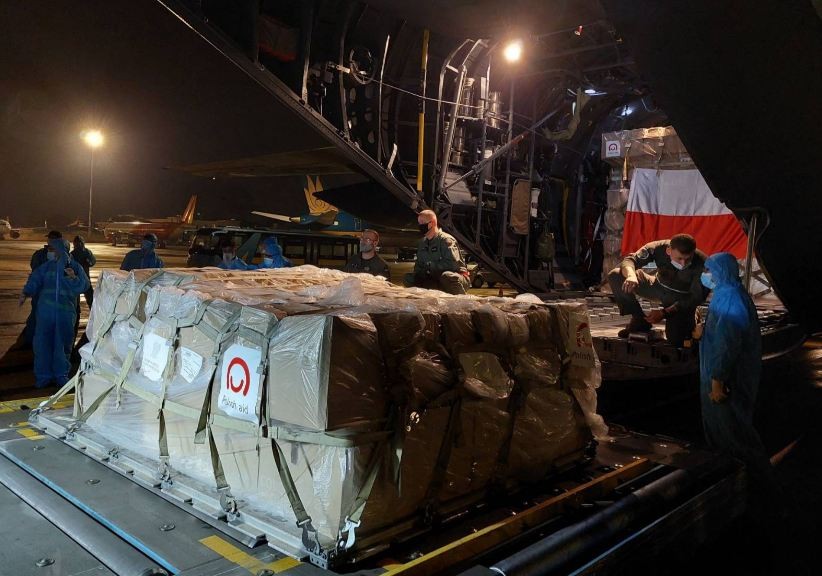 Medical aid from Poland.
On the same day Sept. 11, China's Guangxi Zhuang Autonomous Region donated medical supplies worth CNY 62.55 million (about US$ 9.7 million) in a ceremony held in Nanning.
The donations include 800,000 doses of Vero Cell Covid-19 vaccine, an ECMO machine and other medical equipment, which will be sent to border provinces of Vietnam. It was the largest-ever aid Guangxi has provided to a foreign partner, showing its great support for Vietnamese neighbouring localities, reported VNA.
Vice Governor of Guangxi Zhuang Autonomous Region Huang Junhua and Ambassador of Vietnam to China Pham Sao Mai took the occasion to discuss ways to further step up cooperation between Vietnam and Guangxi.
Mai asked Guangxi to continue facilitating customs clearance of Vietnamese exports, particularly agricultural products and seasonal fruits, to China to prevent supply chain disruption; and urge competent Chinese authorities to give farm produce from Vietnam broader access to the Chinese market.
The ambassador also requested the Chinese side to fully implement three legal documents regarding Vietnam-China land border and properly handle related issues to make it a border of peace, friendship, cooperation and development for the benefit of both peoples.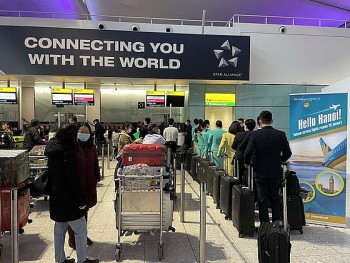 Economy
The first two commercial flights from Europe operated by national flag carrier Vietnam Airlines landed at Hanoi's Noi Bai International Airport on January 26 after a gap of almost two years due to the Covid-19 pandemic.