Vietnam – RoK Promote Tourism Exchange
On September 28, in Hanoi, the Vietnam Tourism Association signed a cooperation agreement with the Korea Tourism Organization to promote tourism between the two countries.
This memorandum of understanding was signed with the aim of promoting the exchange of visitors between the two countries, rapidly growing the number of Korean visitors to Vietnam and Vietnamese visitors to South Korea.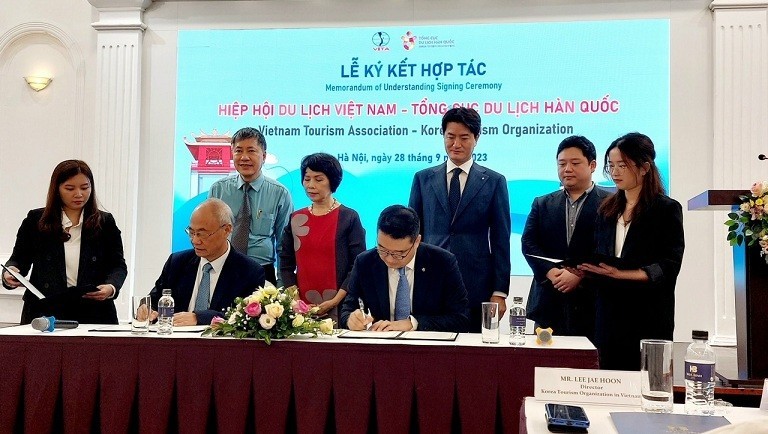 The agreement signing ceremony.
Accordingly, the two sides share information related to tourism policies, tourism market trends, and tourism statistics and promote exchanges between tourism businesses of the two sides. Member businesses of the Vietnam Tourism Association will be supported to build and promote Korean tourism programs and improve the quality of serving Korean tourists to Vietnam. Both sides will also make efforts to improve the quality of Korean tourism programs and ensure the rights of Vietnamese tourists when coming to Korea.
The two sides also coordinate to organize tourism promotion activities such as tourism fairs, seminars, famous...
The cooperation agreement is the premise for building highly professional Vietnam-RoK tourism programs from researching customer needs, building products, advertising, consulting for tourists, and organizing tours between the two countries.
At the same time, awareness of responsibility for travel companies will be promoted in organizing and managing tours and guiding tourists to comply with the laws of the two countries.
From this cooperation agreement, the two sides coordinate closely with state tourism management agencies to strengthen the quality of tourism programs, ensuring benefits for tourists such as travel insurance, quality assurance, goods procurement...; closely coordinate and manage tourist groups to ensure tourists get to their destination and return home.
In addition, several other things will also be strengthened such as developing the Korean outbound and inbound markets, attracting more Korean visitors to Vietnam, making RoK the largest source market of Vietnamese tourism, promoting the trend of Vietnamese tourists visiting Korea, making RoK a favorite destination for Vietnamese people...
After the signing, both sides will coordinate to immediately deploy several activities including a survey delegation of new tourism products in Jeonnam, Jeonbuk, South Korea and the Korea Tourism Organization will participate in introducing Korean tourism at the Vietnam International Tourism Fair - Can Tho 2023.